Determine the Home Health Care Startup Cost To Adopt a Funding Strategy
The home health care industry in the U.S. enjoys low entry barriers and high demand for services. With a nationwide market holding of 110 billion dollars, home health care agencies are a viable startup option for entrepreneurs.
If you are in the dark regarding the home health care startup cost, let DoNotPay's guide be your flashlight. We will help you figure out the essential elements and throw some light on adopting a functional funding strategy.
If you already have a budget in mind, use our app's business support tools to:
Find online lenders for business loans
Generate customized loan application letters
Sign up to use our assorted services!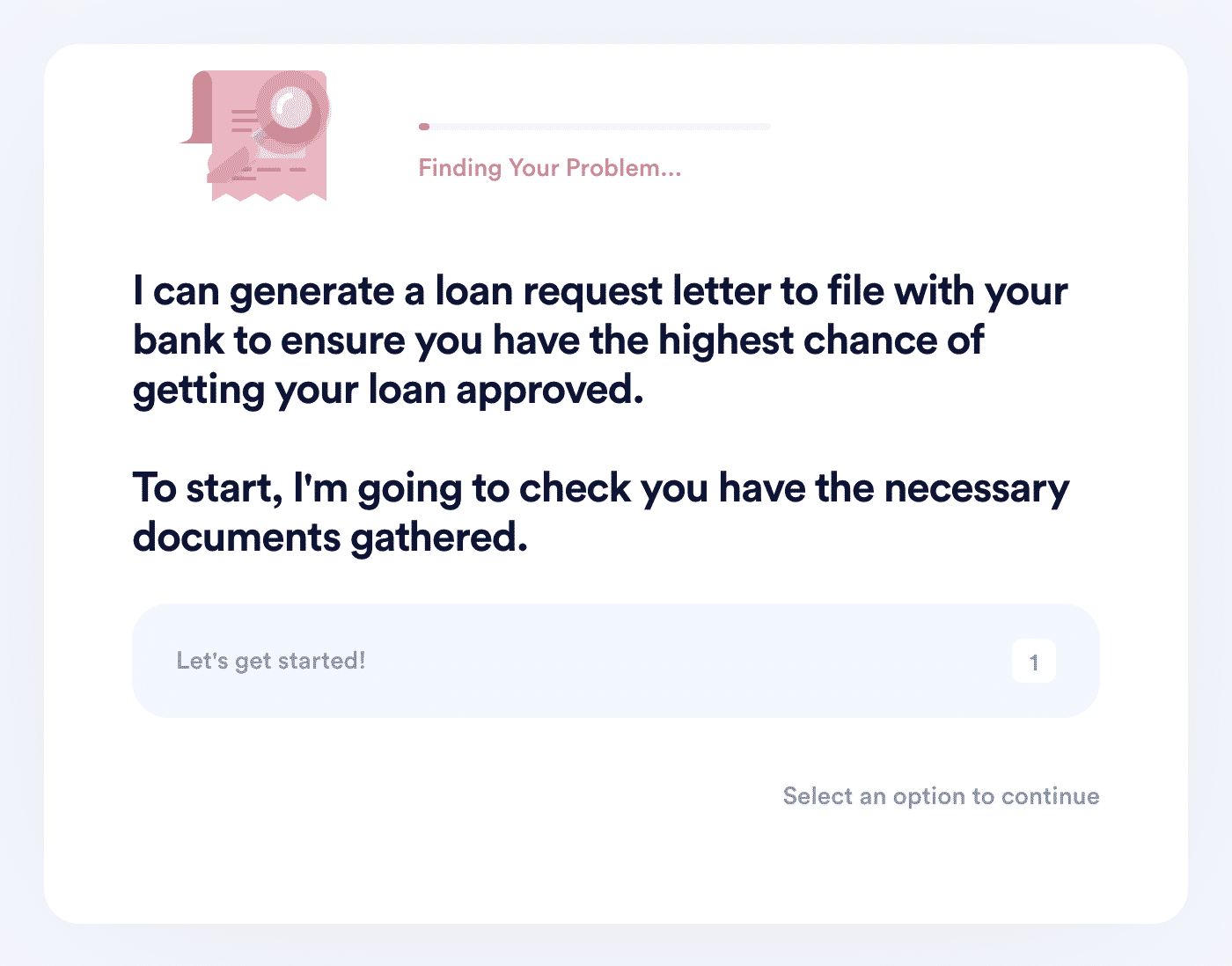 What Is the Total Startup Cost of a Home Health Care Business?
Home health care agencies provide both skilled and unskilled services, which impacts the overall startup investment. This table will give you a clear idea of the initial outlay:
Type of Startup
Service Description
Approximate Capital Requirement
Medical home healthcare agency (skilled services)
Providing nursing care and rehabilitation therapy as prescribed by a doctor
$150,000–$400,000

Providing skilled services means you need to spend a large chunk of your investment on getting expensive license certification and employing certified personnel

Non-medical home care agency (unskilled services)
Providing personal care services like:

Assisted living
Hospice care
Housekeeping
Mobility support

$45,000–$100,000

The capital input is relatively lower as non-medical labor is cheaper
Home Health Care Agency Startup Costs—One-Off Components
The one-time costs of the initiation process depend on your targeted scale of operations. Refer to the following table for the breakdown of relevant components:
Cost Head
Rough Payout Estimates
Accreditation, licensing, and deposits
You are looking at the expense of at least $5,000 paid towards:

Accreditation or certification from your local health department
Utility deposits

Equipment
$20,000 and up for:

Hardware set
Patient management software
Medical equipment and supplies

Leasing office space
$300–$1,500 per employee, depending on location and amenities
Furniture and signage
$4,000–$7,500
Advertising
$5,000–$10,000, including the costs of:
Franchise fee
If you are looking into franchise options, you have to pay an initial fee, ranging from $50,000 to $150,000, based on franchising terms. Franchises offer you credibility, so the steep fee translates into a quick market penetration
Startup Cost for Home Health Agency—Operational Expenses
You need to allocate about 40% of your initial investment towards your working capital for the first quarter. The percentage can be lower if you manage to break even or profit in the first few weeks.
Not sure what to expect in operational costs? Here's an average expenditure statement for a medium-sized healthcare business:
| Cost | Monthly Breakup |
| --- | --- |
| Personnel | $10,000–$40,000 |
| Utilities | $1,200 |
| Insurance | $500 |
| Transportation | $300 |
| Supplies and disposables | $5,500–$11,100 |
| Marketing | $300–800 |
| Contingencies | $200 |
| Royalties | 5–10% of revenue (only applicable for franchises and eligible for tax credit) |
Funding Due Diligence While Seeking Out Loans
Getting into the home health care business is a huge financial commitment. You need to conduct thorough research before you come up with a plan to seek loans for covering the home health care agency startup costs.
Going by industry standards, you can find loans with different features and qualifiers through the following channels:
The U.S. Small Business Administration (SBA)—If you reach out to SBA, they will connect you with the best banks and offer a repayment guarantee for a portion of your loan. SBA loan plans support:

Small-time entrepreneurs
Minority and underprivileged groups like women, veterans, Native Americans, etc.
Businesses struggling due to debt or pandemic setbacks

Direct lenders—You can submit a loan application directly to banks and credit unions. They will assess your credit score and financial health and offer you:

Alternative lenders—They are private lenders and microfinance companies that offer loans at high interest rates, strict terms, and tight repayment schedules. Alternative lending models also include peer-to-peer funding and asset-funding
Before you start applying, remember that the backbone of any loan application is:
A feasible revenue-generation plan
An attention-grabbing loan request letter
Your financial health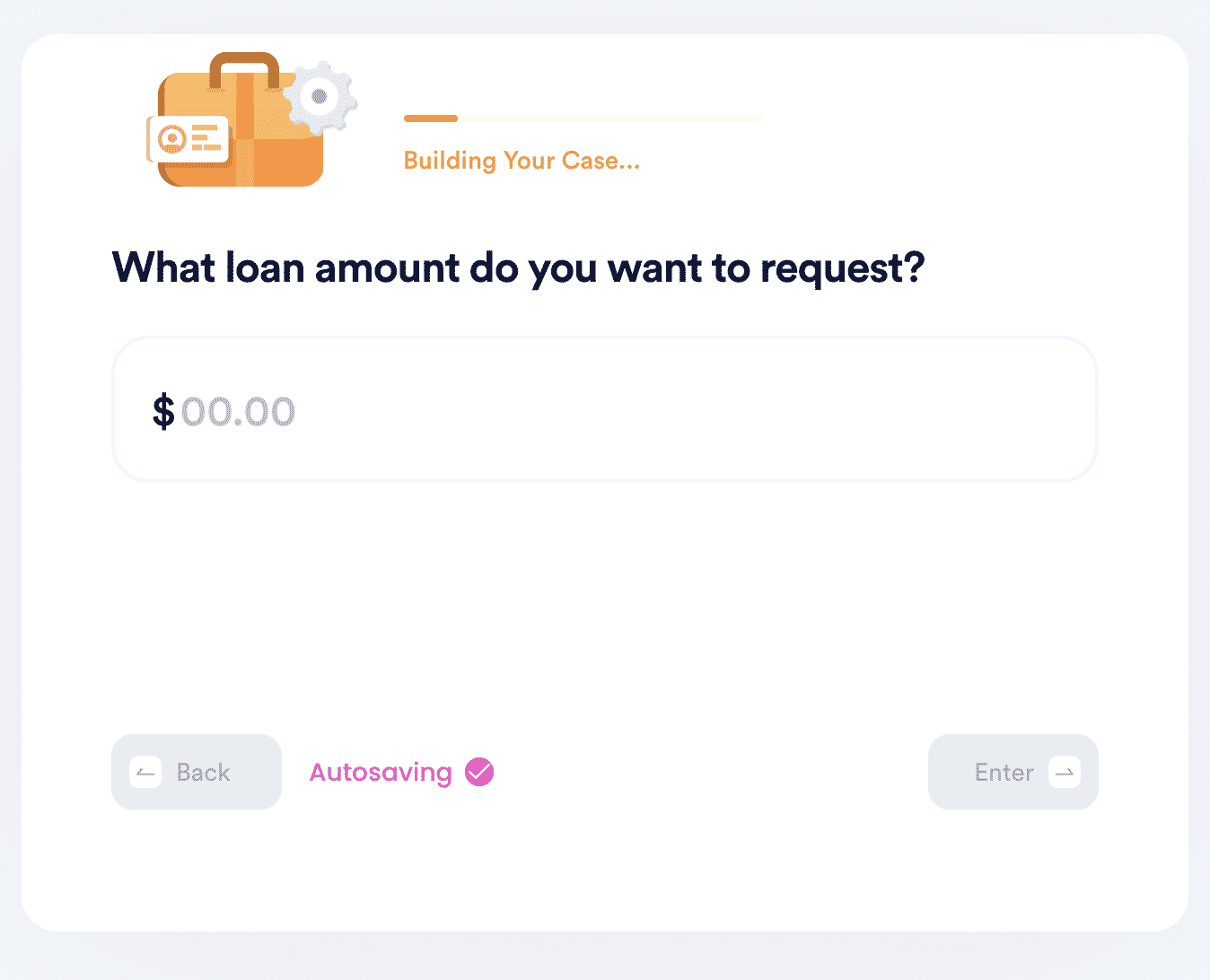 Bring Your Noble Vision to Life—Take the First Step Ahead With DoNotPay!
The home health care industry is pegged to grow at the rate of 7.88% from 2021–2028 as it has revolutionized the lives of sick, elderly, and disabled populations. If a mere loan is stopping you from getting your business plan in motion, let DoNotPay lend a hand.
Our Business Loan Request Letter product can draft a heavyweight loan application letter for you to:
Highlight the feasibility of your idea
Improve your chances of success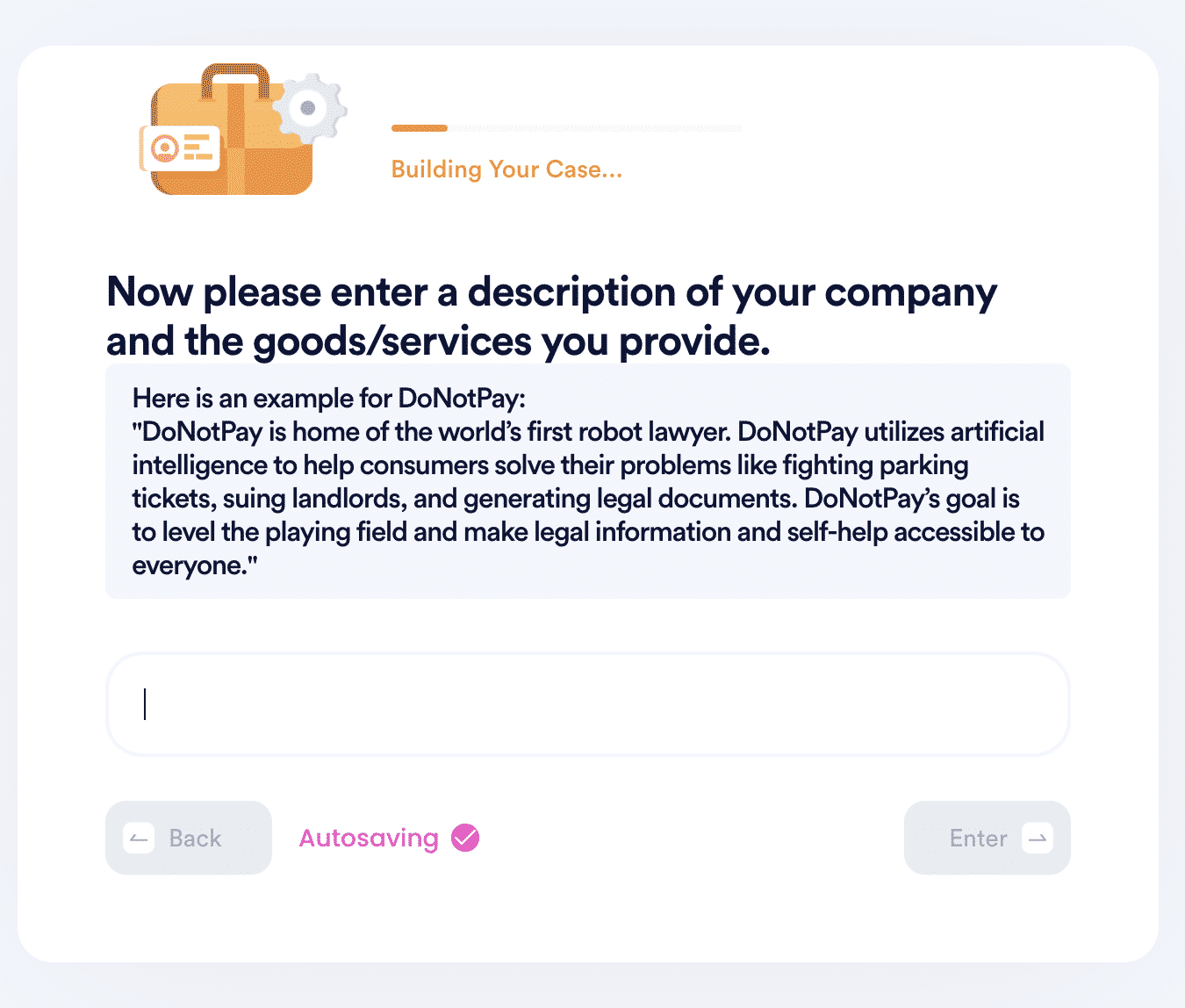 Follow these steps to use our services:
Open DoNotPay and select our Business Loan Request Letter product
Take note of the documentation required—your credit report, financial statements, etc.
Enter the following details:

Your business information
The amount and related timelines
The lender of your choice

Upload the paperwork as the final step
We will use your responses to generate a convincing and appropriately toned request letter and attach the uploaded documents before applying with the target lender.
If you are struggling to find an adequate funding source, use our Find Online Business Loan Lender product to evaluate online lenders.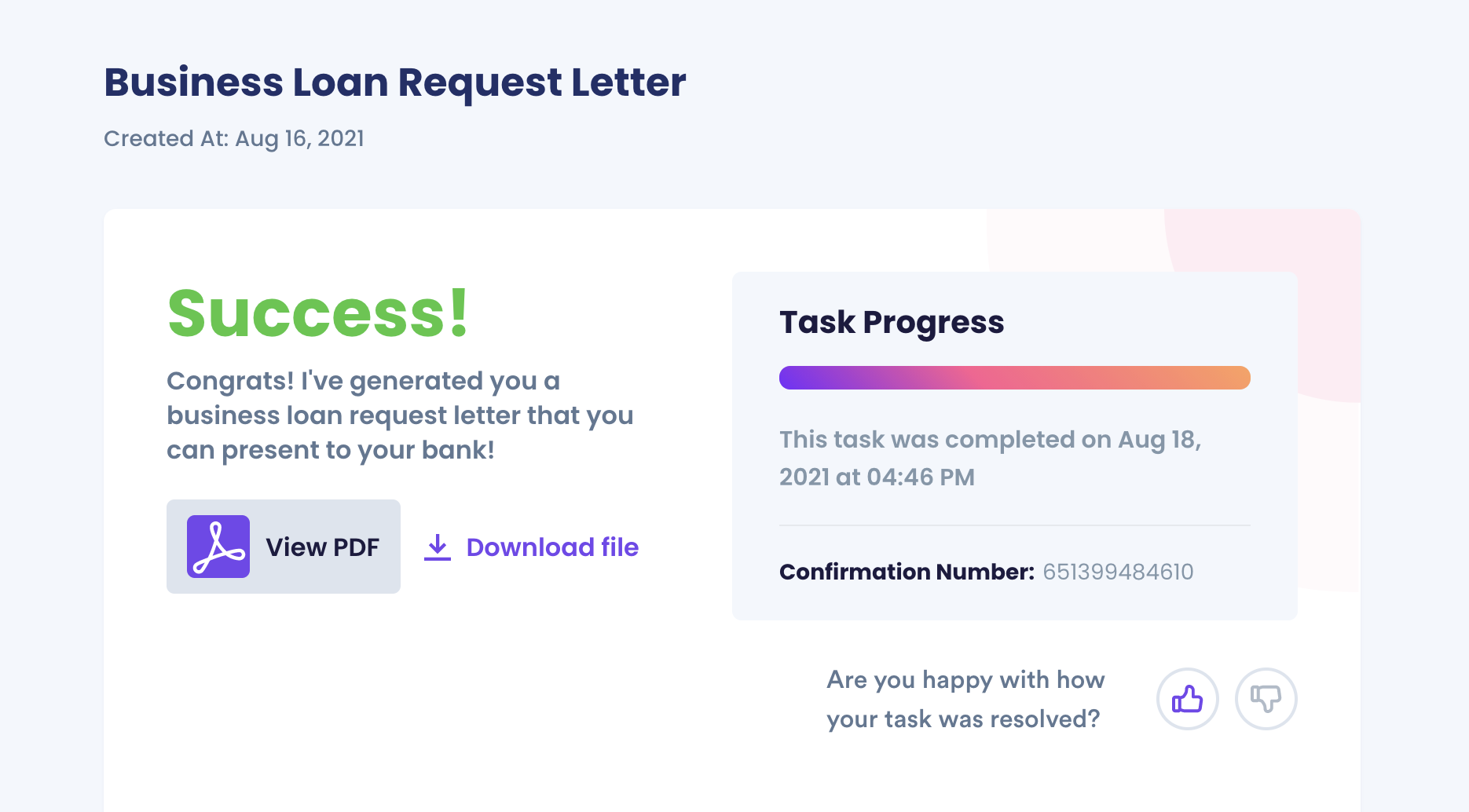 DoNotPay Goes the Extra Mile
Our app has much more to offer—products that will protect and elevate your business.
Count on DoNotPay when you want to:
Simplify Processes
Solve Issues

83(b) election form submission
Business loan application
Employer Identification Number (EIN) registration

Trademark infringement
Fraudulent chargebacks
Keep Your Company Safe
For your business to thrive, you need to be prepared for any problem that may come your way. This is where DoNotPay comes in! We can help you trademark your company name and even the logo or slogan. To avoid any copyright infringement issues in the future, you can use our app to register your DMCA agent. If you are worried about your clients' privacy, we will be glad to assist you in getting into the Privacy Shield program.
Are there any negative reviews online slandering your company? DoNotPay can help you get rid of fake comments potentially hurting your business.
As it all comes down to communication, we have developed a feature to help you reach your employees, associates, or clients the easy way. At no additional cost and no post office visit necessary, our AI-powered app can both fax and mail letters and documents.