Hold On To Rental Property With a Holding Deposit Agreement
We've all been there—looking for a place to live must be one of the most nerve-wracking experiences. When an endless, tiresome search for a great rental property bears fruit, you want to hold on to your excellent find—that's what a holding deposit agreement does for you.
If you need one, but you've never made legal documents or contracts, DoNotPay is here to explain how a holding deposit agreement works and how you can make one on your own.
What Is the Holding Deposit Agreement?
A holding deposit agreement is a legal document that specifies the terms and conditions of reserving a property for a prospective tenant. The tenant pays the landlord a certain amount of money—known as a holding deposit—so the landlord takes the rental property off the market until they both sign a leasing agreement or one of them withdraws from the deal.
What Are the Benefits of the Holding Deposit Agreement?
The holding deposit agreement ensures that the landlord doesn't lose money on unreliable tenants and that the tenants keep their hands on their chosen rental property.
How To Make a Holding Deposit Agreement on Your Own
If your budget doesn't leave any space for hiring a lawyer, you can always make your documents yourself. It might seem tricky, but with the right amount of help, you can write a brilliant holding deposit agreement without spending any money!
To make a solid holding deposit agreement, you need to know what the essential clauses are to ensure both signatories are safe. Those elements are:
Holding deposit payment details
Lease agreement deadline
Holding deposit return circumstances and deadlines
Holding Deposit Payment Details
The tenant will pay a certain amount of money to the landlord via the payment method they agreed on and on the date they specified in the holding deposit agreement.
Lease Agreement Deadline
The tenant should enter the property within the deadline they agreed on with the landlord in the holding deposit agreement and then sign a lease agreement. If the tenant needs to prolong or shorten the time frame, they can renegotiate this with the landlord in writing before the initial deadline.
Holding Deposit Return Circumstances and Deadlines
The circumstances under which the landlord can keep the holding deposit are when the tenant:
Provides incorrect information on the lease application
Withdraws from the deal
Doesn't take all steps towards signing a lease agreement
When the tenant withdraws from the property, the landlord retains a certain amount of the holding deposit. The exact amount they will keep depends on the profit loss the tenant caused with their reservation (a months' rent divided by the reservation duration).
The landlord must return the holding deposit when the tenant:
Signs a lease agreement (seven days after signing, unless the tenant states they want to use it to pay rent or security deposit)
Withdraws from the agreement
Doesn't make a lease agreement with the landlord before the deadline
For a better overview of what you need to include in your contract, check out the table below:
Clauses
Terms
Holding deposit payment

Date of payment
Payment method
Deposit amount

Lease agreement deadline

Deadline to move in and sign a lease agreement

Holding deposit return circumstances and deadlines

Circumstances under which the landlord can keep the holding deposit
Cases in which the tenant receives their money back
Make Agreements the Simple Way With DoNotPay
If you decide that drafting agreements on your own requires too much of your time and effort, but lawyers are still too pricey for you—skip the messy process and let DoNotPay draft your legal documents in a few minutes:
Access DoNotPay from your browser
Type in the name of the document you need in the search bar
Answer the chatbot's questions with important information you want to include in your document
After you download and sign your paper, you can get it notarized quickly using our Notarize Any Document feature—and you're good to go!
DoNotPay is the most accessible, affordable way to draft countless documents from various categories. Here are some of the currently available documents you can choose from:
Family
Business
Miscellaneous

Promissory Note
General Affidavit
Estoppel Certificate
Quitclaim Deed
Intent To Purchase Real Estate
Residential Lease Agreement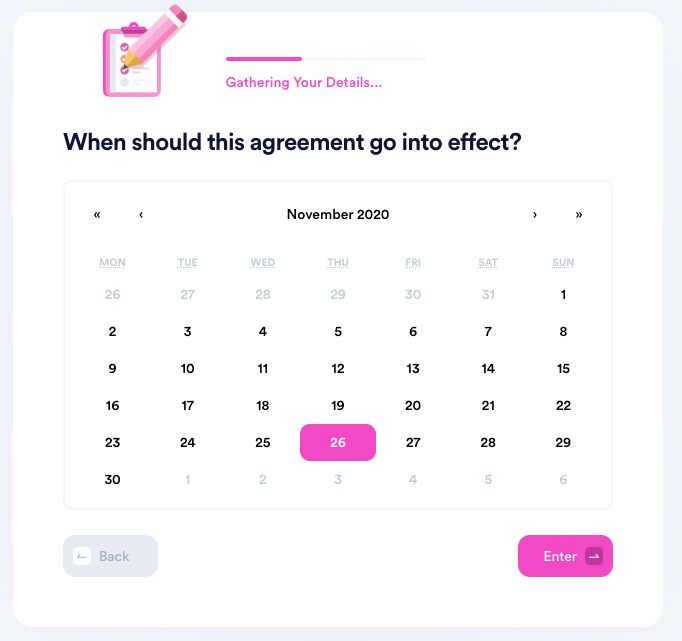 Is the Holding Deposit Agreement Legally Binding?
Yes, a signed holding deposit agreement is legally binding, and signees will face legal consequences if they breach the agreement. Landlords can also experience legal repercussions if they take more than one holding deposit per property—this discredits the whole point of a holding deposit. In addition, they should never state that the holding deposit is non-refundable because that is a breach of trading standards regulations.
Need Some Extra Money? Find Unclaimed Funds or Get Compensations
Whether you need help with bills, you're strapped for cash, or you just want to get your money back but you can't bear dealing with customer service, we know what to do!
DoNotPay can help you overturn your parking tickets, apply for a college fee waiver, lower your property taxes, and get free raffle tickets. We can also show you the best way to discover your unclaimed money and obtain different types of refunds and compensation involving airlines, gift cards, and late deliveries.
Do Not Let Companies Burn Your Pocket—Fight Back With DoNotPay
In the golden age of consumerism, it's easy to fall for greedy corporations' tricks and waste your money, sometimes without even knowing it. We are here to nip the money-grabbing techniques in the bud!
With your DoNotPay account, you'll be able to sign up for free trials without worrying about losing money once the trial expires. Are you also concerned about your privacy since most free trials require credit card info? With DoNotPay's virtual credit card, your privacy will remain intact.
Say goodbye to drawn-out refund and cancellation processes with the virtual assistant extraordinaire by your side.
If you need help returning an item or claiming its insurance or warranty, we'll help you throughout the entire procedure.