The Scoop on the
Hold Harmless Agreement
If you want to understand the Hold Harmless Agreement, you should read our guide and get all the info. In case you need assistance with creating other legal documents, you can count on DoNotPay as well!
What Is a Hold Harmless Agreement
?
A Hold Harmless Agreement, also known as a Hold Harmless Clause, is a legal contract between two parties in which one of them is released from the consequences of harming another one. This kind of legal clause can usually be found in construction contracts.
The Hold Harmless Agreement can be:
| | |
| --- | --- |
| Type of the Hold Harmless Agreement | Example |
| Unilateral (one-way) | When you hire a construction worker and wish to ensure you are not held accountable if they injure themselves while working on your property |
| Reciprocal (two-way) | When the construction worker asks for protection as well. In case one of the house tenants walks into the construction area and injures themselves |
Both parties may sign this clause before or after an activity takes place.
Why Is the
Hold Harmless Agreement
Important, and When Should You Use It?
A Hold Harmless Agreement is important because it offers you protection from liability. You should know that it is not absolute protection against lawsuits. There are several possible situations when you should consider using a Hold Harmless Agreement. Create an agreement if:
You are renting your house to someone and want to ensure you are not held accountable if they injure themselves

Participants are practicing sports in a property you own and want to protect your business if they injure themselves

You are hosting an event and don't want to be held accountable if the participants suffer an injury during it

There are contractors renovating your home at the time and you wish to protect yourself from liability if an incident occurs

You are planning on performing a dangerous activity and want to make sure no one is held liable if you hurt yourself (skydiving, for example)
What Should a
Hold Harmless Agreement
Include?
When creating a Hold Harmless Agreement, you should be careful about the info you include in the document. It is important to cover all key sections and ensure the protection of both parties if possible. If you find yourself in a situation that requires you to make a Hold Harmless Agreement, make sure to include these details:
Names of the individuals held protected or harmless and their addresses

The date when the document is signed

Signatures of both parties

The date of the agreement

Info about the person hosting the event and the location

The date the agreement takes effect

The length of the agreement

Event or activity specifics
Basic Types of Hold Harmless Agreement in Construction
You can find three different types of Hold Harmless Agreement in the construction industry:
Broad form

—In this type of agreement, a subcontractor assumes all liability for accidents and negligence of both the subcontractor and contractor. Because the terms of this form are broad, a lot of jurisdictions prohibit it

Intermediate form

—The agreement is not based on whether an action was a subcontractor's fault or not. It depends only on who caused the accident or who was acting negligently. In case both parties were negligent, a subcontractor would be held accountable for their actions

Limited form

— A subcontractor will be responsible only for the accident or negligence on a limited form. They will assume liability only for the proportional part of what they were responsible for
DoNotPay Can Help You Make Legal Contracts Easily
Drawing a legal document on your own without the right resources can be a nightmare. Hiring a lawyer to do so for you is easier but expensive. DoNotPay is an affordable assistant that can generate a legal document for you in a matter of minutes. You only need to follow these simple steps:
Open DoNotPay in your

web browser

Enter the name of the document

Type in your name, address, and other required info
You should bear in mind that the document still has to be signed and notarized to become official.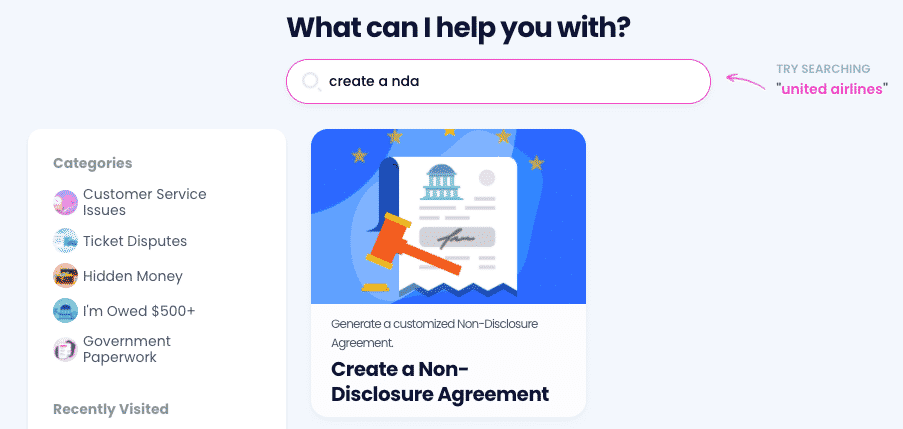 DoNotPay Can Generate Various Types of Documents for You
The best part about DoNotPay's Legal Document feature is that it is not fixed solely on one type of contract. We can tell you how to write any contract and provide you with contract templates. 
You can choose between numerous document types. Perhaps you need a non-disclosure or residential lease agreement? We can draw those for you.
Are you getting married but want to protect your assets? DoNotPay can generate a prenuptial agreement as well.
Here are all the other options available:
General Business Contract 

Promissory Note

General Affidavit

Child Care Authorization Form

Estoppel Certificate

Quitclaim Deed
Don't Let Companies Take Your Hard-Earned Money!
People love to subscribe to all sorts of services—especially if there are free trials involved. The problem is that most of them forget that they signed up for anything in the first place. Companies are aware of this, which is why they auto-renew memberships as soon as the free trials expire.
Don't let them get away with it—use DoNotPay to sign up for free trials and cancel subscriptions right before they renew. If you want to save even more money, use our platform to learn how to handle high bills, parking tickets, college application fees, canceled or delayed flights, or faulty services you should get refunded for.
Use DoNotPay To Stop Illegal Activities and Earn off Scammers!
Our AI-powered platform can assist you in dealing with all sorts of scammers. If you got any of the following, the world's first robot lawyer will help you seek justice:
Do you want to protect yourself and your loved ones from stalking and harassment as well? Use DoNotPay to learn how! If the situation with a stalker escalates, our app is going to help you take them to small claims court by preparing all the paperwork and your court statement.
Don't stop there—check out how you can bypass phone number verification, claim any type of warranty, or pass any government test with flying colors!