How to Deal With Hilton-Baird Debt Collection Fast
If you are sick and tired of phone calls demanding payment for past debts, there are some things that you can do. HiltonBaird Collection Services is one of the companies that may be calling you demanding payment. For certain, there are some things you should not do when receiving debt calls or letters–DO NOT IGNORE THEM. Debt collectors will not go away. They will continue to make demands, and ignoring debt collectors could end up in court with additional penalties and fines.
DoNotPay knows that dealing with agents and debt other collectors is stressful, interferes with your normal life, and can even be time-consuming. Plus, you probably are unfamiliar with your rights and the laws that protect you. That is where DoNotPay comes in.
With our new Debt Help product, we can help you determine if the collection company is in compliance with Financial Conduct Authority guidelines, and then contact the debt collectors on your behalf, with your demand letter. We will even help you report them if they aren't compliant. And it is so quick and easy! In just three steps, we will help to relieve your stress and get you on your way.
Who is Hilton-Baird?
specialises in collecting debt on behalf of third parties, the ones that claim that you owe them money. Collection companies operate by purchasing previously uncollectible debt at a greatly reduced price or working off of a percentage of the amount of money collected. Either way, they are not profitable if they don't collect money. Therefore, they will continue to pressure and annoy you until they get paid.
Hilton-Baird has been in business since 2001 and works with all types of businesses and financial institutions. They are primarily based in the UK but have other locations throughout Europe. The contact information for their UK headquarters is as follows:
Address
Hilton-Baird Group Southampton

Woollen Hall, Castle Way

Southampton, SO14 2AW

Contact Phone Number
023 8070 7392
Email Address
collections@hiltonbaird.co.uk
What Should You Do if Contacted by Hilton-Baird Debt Collection?
If you get a letter or phone call from Hilton-Baird debt collection, do not ignore it. Do not think that by not answering, they are going to forget about it. They won't! Here are some things you can do:
Contact Hilton-Baird, either at the above contact information or from the information contained in your correspondence or phone call.
Ask questions. Since Hilton-Baird is collecting for a third party, find out who the client is and ask for original invoices, statements, or whatever information is backing up the claim for payment.
Let Hilton-Baird know how you want to be contacted in the future. If you do not want calls, let them know and they must abide by that as long as you give them an alternate method of contact.
Determine if the debt is yours. If the collection is being made in error, dispute the charges with all the available information available.
Find out if the debt is statute-barred, usually over six years old.
If the bill is yours, and you can afford it, pay it as soon as you can. Dragging on collections does not benefit anyone, and you may be hit with late charges and penalties.
If you cannot afford to pay, and the debt is yours, you may be able to set up payments with Hilton-Baird to take care of the debt over time. You may also want to look at consolidating your debt through an IVA (individual voluntary arrangement.) With an IVA affordable payments are made for a fixed amount of time, and any balance is written off after the time is completed.
What Can Hilton-Baird Do if I Do Not Pay?
If you ignore Hilton-Baird's attempts for collection, they have several things that they can do, such as the following:
Continue contact, and escalate in penalties and frequency.
Add on additional charges such as interest and penalties.
Take you to court, where additional repossessed charges can be incurred.
Through a court order, your wages can be garnished or possessions repossessed.
How Can DoNotPay Help?
With DoNotPay's Debt Help product we can help you determine Hilton-Baird's compliance with legal guidelines, and help you determine the course of action you should take. We can contact Hilton-Baird demanding they stop harassing you or file a complaint regarding their actions to a governing agency for you.
It is simple and easy to get started:
Search "debt collection" on DoNotPay.

Answer a series of questions about the debt collectors, including when you were contacted and how you were contacted, so we can determine if they have violated any debt collection laws.

Decide which course of action you want to take based on our guidance, such as filing a debt verification request, demanding for the collectors to stop contacting you, or reporting them to a professional trade association.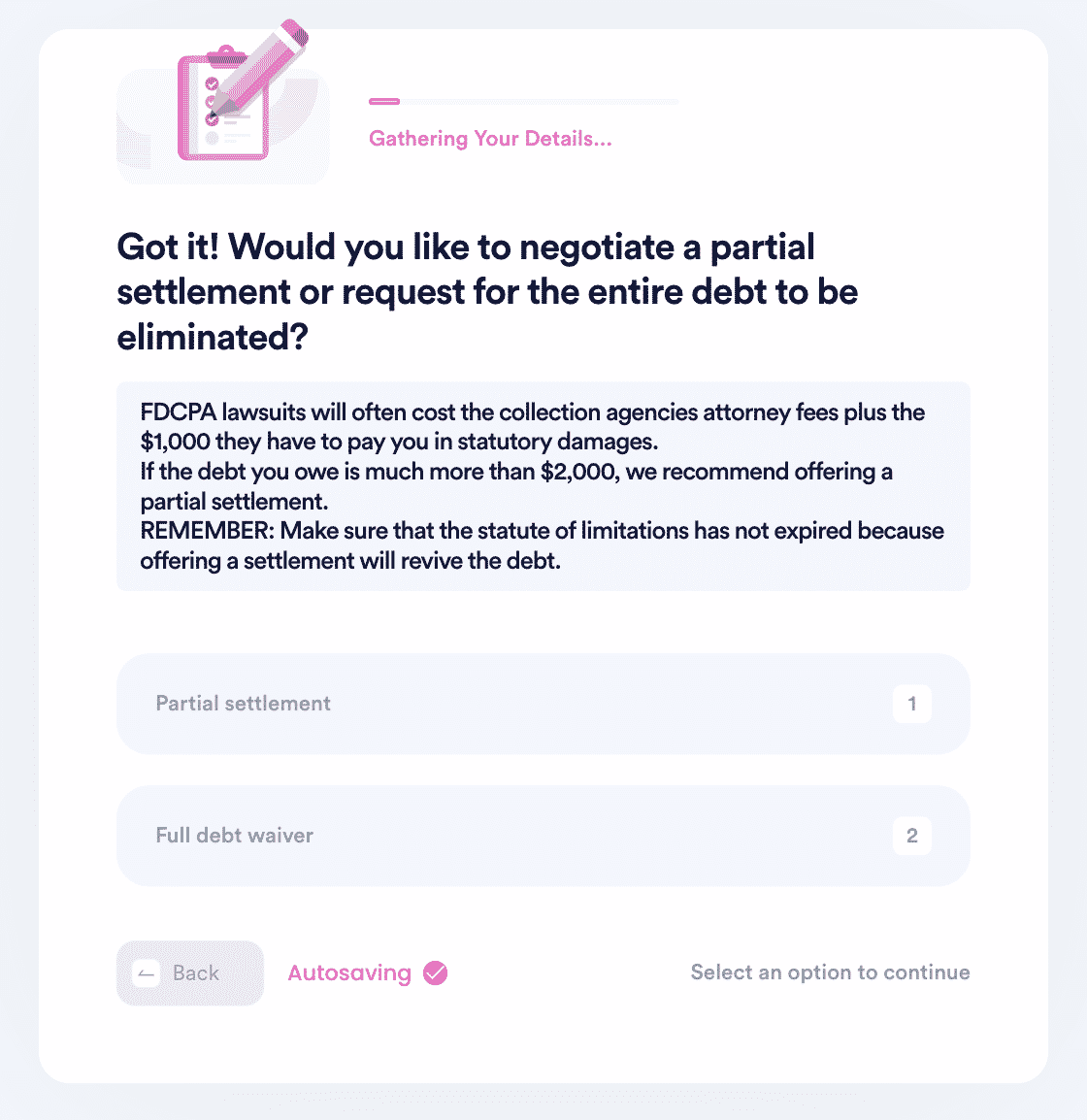 And that's it! Once you choose the course of action you want to take, DoNotPay will handle the rest. We'll deliver your request directly to the debt collectors via first-class mail, or file your complaint automatically with the relevant trade association or ombudsman.
Can DoNotPay Help With Other Debt Collectors?
You bet! We can help you if you are stressed out with many other debt collectors. Some of the many companies we deal with are:
DWP Debt Management
There are so many other ways that DoNotPay can help you save time and money. Check out our other products today!