DoNotPay Helps You Choose the Right High School Homeschool Curriculum
If you've taken your child from school to homeschool, you're probably searching for a suitable curriculum. Choosing one is hard if you don't know what to look for, especially when there's an abundance of them online.
DoNotPay will help you settle on a high school homeschool curriculum and draw up a perfect letter of intent to help you get started with homeschooling.
We also broke down homeschooling costs for you and can answer the following questions to help you on your journey:
What Is a High School Curriculum for Homeschool?
A high school homeschool curriculum is a required course of study comprising multiple subjects. The curriculum needs to help the student meet the learning standards and objectives with:
Assignments and projects the students are given
Books, videos, presentations, materials, and readings used in a course
Tests used to evaluate the students' progress
What Should Homeschool Programs for High School Include?
What a high school curriculum for homeschool needs to contain depends on the state. Usually, the following subjects are covered:
Math
History
Language arts
Social studies
Physical education
Art
Music
Foreign language
Life skills
What Does a Proper Homeschooling High School Curriculum Look Like?
A good high school curriculum for a homeschooler needs to:
Improve the student's skillset
Stick to a guided program of studies to help the student meet learning objectives
Be creative and contain versatile materials to enhance the student's experience
Provide the student with an individualized approach to learning
Help students maximize their understanding and retention of the subject
Be user-friendly to parents so they can homeschool their children more easily
What Are Some of the Most Popular High School Homeschooling Programs?
We've selected the most popular and well-reviewed high school homeschooling programs for you. Check out the table below for details:
High School Homeschool Curriculum
Details
Wordsmith
The Wordsmith series provides perfect step-by-step instructions to help homeschoolers improve their grammar and writing skills
Experience Astronomy
Do you plan on teaching astronomy as one of the science subjects? Experience Astronomy will provide you with video lessons and quizzes to help your homeschooler get the gist of astronomy over the course of 35 weeks
Khan Academy
This non-profit education organization offers various online tools and numerous video lessons on maths, history, literature, and more
Diana Waring's History Revealed
If you need a world history curriculum that isn't dull, this is the one for you. It is divided into three time periods:

Ancient history
Middle ages
Modern history

Apologia's Health and Nutrition
This is one of the best curriculums for health and P.E. you can find, and it covers:

Genetics and temperament
Mental health
Physical influences on thoughts and feelings
Diet and exercise
What To Do Once You Decide on a High School Homeschool Curriculum
Once you decide on a curriculum for your high schooler, you will need to obtain a letter of intent. This document shows your intent to homeschool, which you will need to submit before starting to teach your child. Creating the letter requires you to either:
Hire a lawyer—If you hire a professional to draw this document up for you, be prepared to set aside a lot of money
Write one yourself—Writing the letter yourself is tricky, especially if you don't know the homeschool laws. Even if you're acquainted with the technicalities, you'll waste a lot of time if you choose this option
If you're a homeschooling parent, use DoNotPay to get the notice of intent to homeschool in a matter of clicks! We can forward the letter to the superintendent of your school district or send it to you via email in PDF form.
Get a Top-Notch Letter of Intent To Homeschool With DoNotPay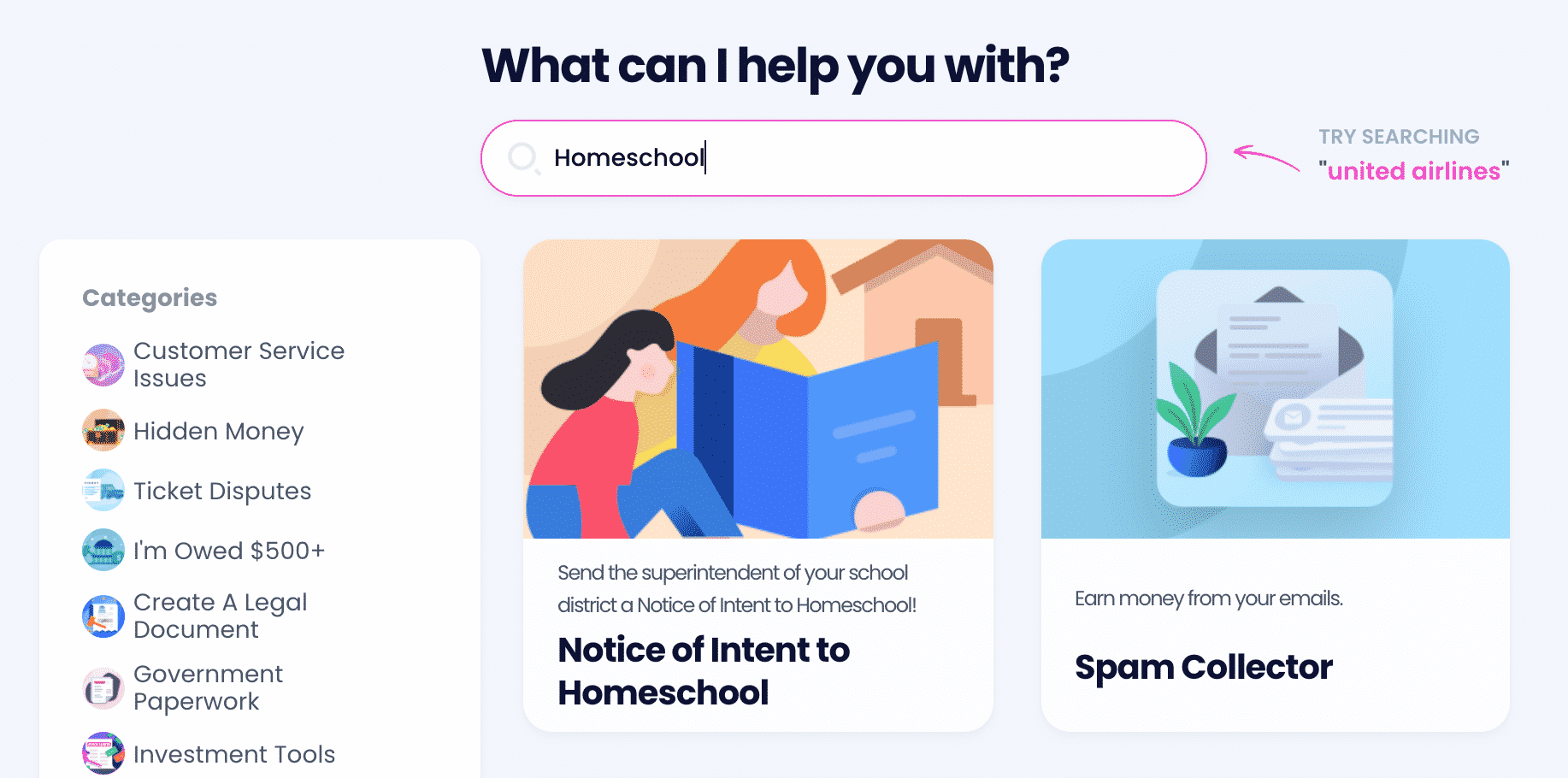 Need a letter of intent, but you don't want to waste a lot of time or money? Subscribe to DoNotPay, and we'll draw up this crucial document for you in minutes. We'll send it your way or forward it in your stead.
All you have to do is:
Select our Notice of Intent to Homeschool feature
Give us the necessary information regarding your school district
Provide us with details about yourself and your child
Opt for online notarization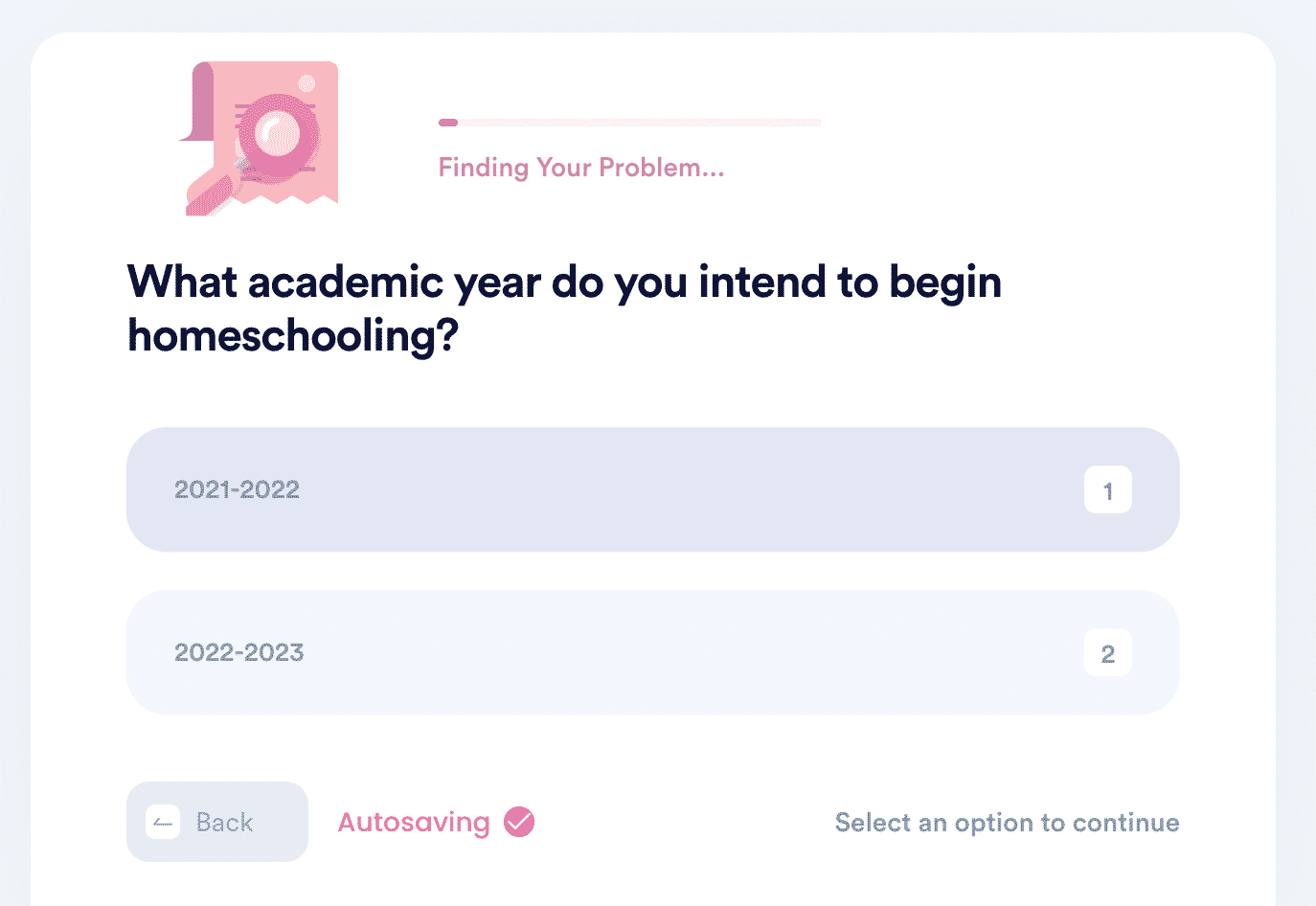 We'll process your request instantly! If you opt for online notarization, DoNotPay can help you get your document notarized from the comfort of your home.
Do you have more homeschooling questions? DoNotPay has the answers to the most popular ones, such as:
How Many Hours a Day Do You Need To Homeschool High School Courses?
You typically need to teach your high schooler four to five hours a day to complete a homeschool curriculum. If they need more than five homeschool hours a day, you should reassess your child's level and workload.
Discover DoNotPay's Solutions to Mundane Tasks
Our product range doesn't end there—we can also help you sue anyone in small claims court, cancel any subscription, start a free trial risk-free with our virtual credit card, get refunds and chargebacks, send anything through online fax, pay your utility bills, demand airline compensation, and deal with your annoying neighbors.
As soon as you sign up, we can also put an end to robocalls, copyright infringement, email and text spam, and stalkers and harassers. Our app's abilities don't stop there either—get perfect passport photos, free raffle tickets, compensation for victims of crime, or insurance or warranty instantly!
There's So Much More We Can Assist You With
Check out how else we can help—DoNotPay can:
Sign up now to take advantage of our nifty products!