Writing Letters to an Inmate at High Desert State Prison
Have you been wondering how to start writing letters to an inmate at High Desert State Prison but don't know how to do it? You have come to the right place! Let us take you on a step-by-step journey of how to start sending letters with ease!
We'll cover:
The importance of addressing letters correctly
What not to end the inmate
How DoNotPay's "Connect With An Inmate" product can make this an effortless process!
How to Gift an Inmate
Sending letters to your inmate is going to make them happy. But, there are other things you can do as well to brighten their days while they finish paying their debt to society. If you want to do something extra, try:
Sending magazines, books, or High Desert State Prison sponsored care packages
Set up a surprise in-person visit
Add funds to their commissary account
Add time to their phone account, so you can hear their voice
| | |
| --- | --- |
| Physical Address | 22010 Cold Creek Rd, Indian Springs, NV 89070, United States |
| Phone Number | +1 702-879-6789 |
| Website | HDSP Facility |
Are You Ready to Send a Letter to an Inmate?
So, you're ready to start communicating with your pen pal inmate at High Desert State Prison? There are a few things to learn about before you get started. This process can be difficult to maneuver for people who are not familiar with the system.
First, you'll need to understand:
The mistakes that are commonly made will prevent the mail from reaching the intended inmate.
How to make the letter you send even more special.
How DoNotPay can help you avoid all of the hassles by utilizing their user-friendly product.
3 Mistakes That Can Get Your Mail Rejected
Sending letters to High Desert State Prison is not as easy as you might think. Did you know that your mail can be rejected by simply not following certain practices for addressing and sending the letter? It's true, and you must make sure you follow all of the rules in order for it to reach the inmate.
3 Mistakes People Usually Make:
They didn't use the right envelope.
The prisoner ID was wrong or missing from the address.
The unit number was wrong or missing.
Sending Something Extra
Simply getting a letter in the mail for an inmate is a happy occasion. But why not send something personal that they can look at and treasure each day? Sending a picture is a great way to add that special touch.
Be careful not to include:
Pictures of people wearing revealing clothing.
Any pictures that may depict violence.
How to Start Connecting With an Inmate
DoNotPay is a revolutionary tool that has a plethora of products to make life simple and more convenient. The "Connect With An Inmate" product will do writing, addressing, and sending letters to an inmate a breeze. You don't have to go through the trial and error process; start communicating today.
Here's a quick breakdown of how this tool works:
1. Locate Inmates
Through our new search tool, users can easily locate their loved ones and the facilities at which they're being held, whether it's a federal, state, county, or ICE detention center.
All they need is the inmate's name and the state they're located in. It's an easy three-step process:
1. Locate the Connect With an Inmate service on DoNotPay.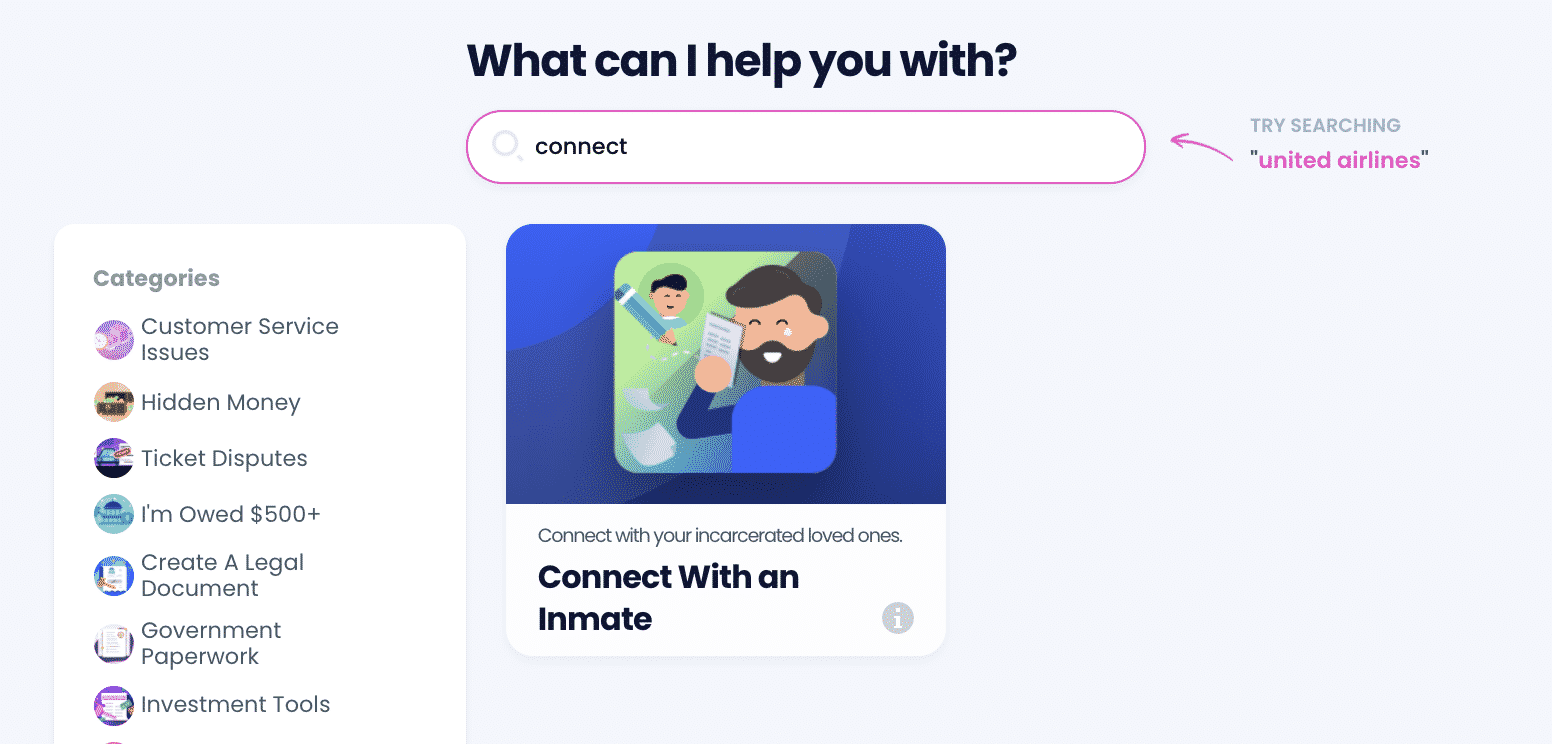 2. Choose whether you want to locate a loved one, create a virtual mailbox, or send a personalized letter.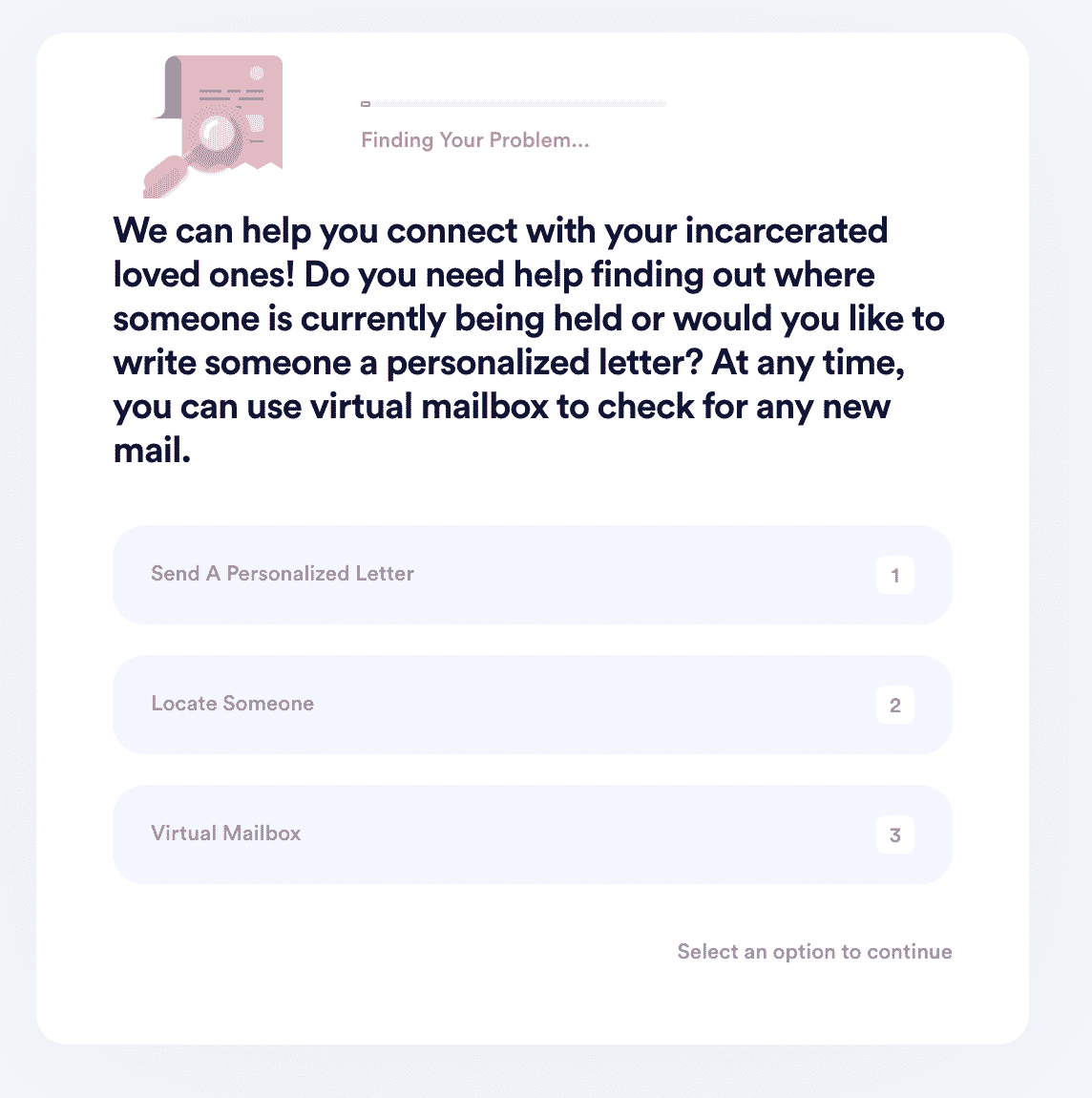 3. If you want us to find your loved one, provide his or her personal details and the state they are located in. We'll then conduct a search on the appropriate state database.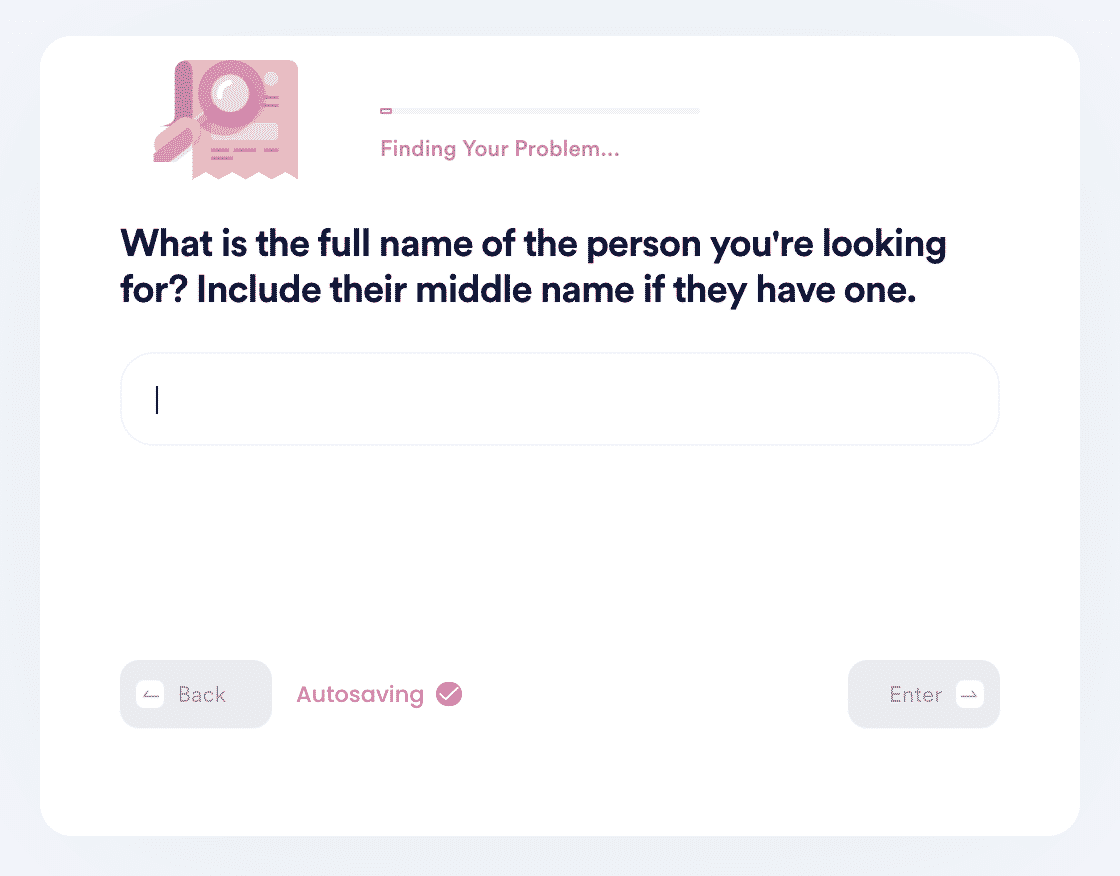 4. If you want to create a virtual mailbox, just provide your full name! We'll set one up for you so you can easily receive incoming mail from your loved one.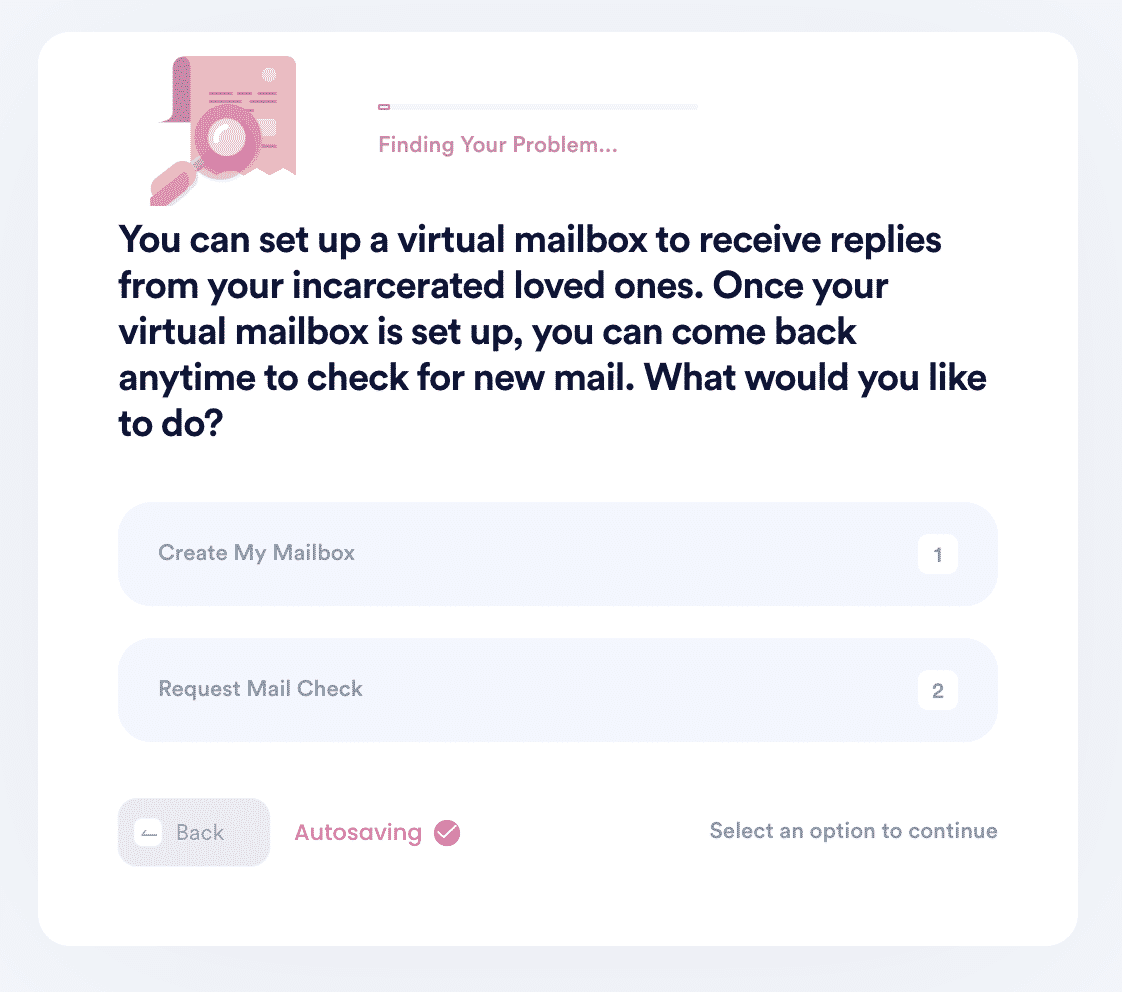 5. If sending a personalized letter, tell us which facility your loved one is located in and what you would like to say to them. You can even include a photo! Your letter will be delivered automatically - just wait 10 days for it to arrive to your loved one!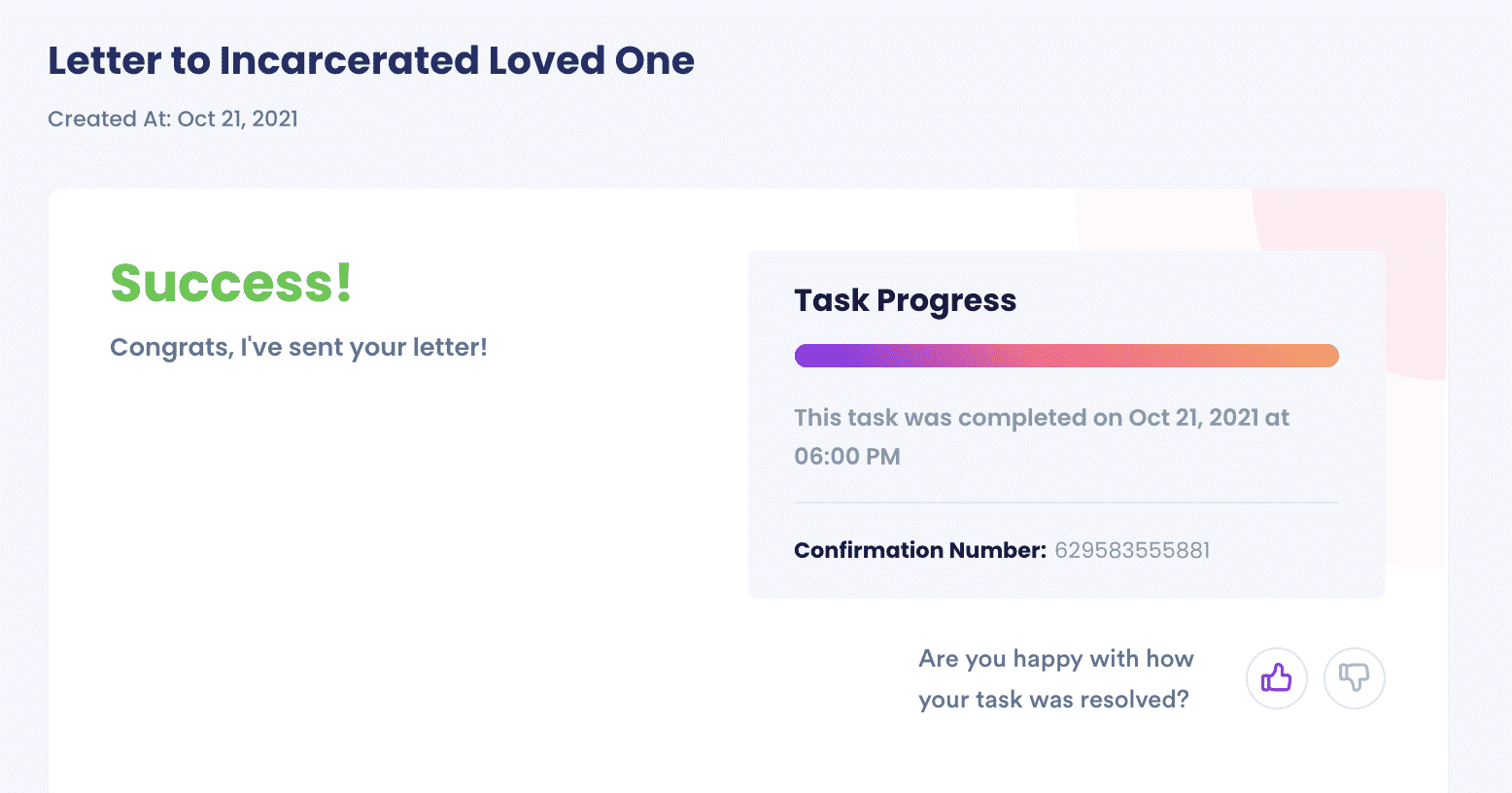 DoNotPay will take it from here.
2. Send Physical Letters to Inmates
Our second feature makes it easy for you to write to inmates. We remove the hassle of going to the post office and also guide you through the required steps so that you can focus on the most important thing—writing a message to your loved ones. All you have to do is write or upload your message through DoNotPay, and we'll make sure it gets delivered. The process is as follows:
Open the DoNotPay prison product.
We'll walk you through the required steps like adding the inmate's name, ID, and facility.
Write your message through our app/website or upload your own attachments.
Upload any photos or images you want to attach to the letter.
Choose from one of our customized letter templates.
DoNotPay will instantly print and send the letter upon completion, so it's guaranteed to be received as soon as possible.
To make this experience personalized, we offer various letter templates the user can choose from, as well as special edition letters for the holidays.
3. Receiving Letters From Inmates
Our third feature makes it easy for inmates to write back to users. By giving users the option to receive letters from inmates, we foster genuine dialogue between the user and their loved ones and help facilitate strong connections.
Users can receive replies through DoNotPay virtual mailbox:
The inmate will send their response to an address where the physical letter will be digitized, and the content will be sent to the user.
It has never been easier to write and send letters to an inmate. There is no longer a need to waste your time or patience trying to write and address error-free letters. DoNotPay takes the guesswork out of getting your mail through the system effortlessly.
What Else Can DoNotPay Do?
DoNotPay can solve other problems in your day-to-day life. Turn to our solution to:
Sign into DoNotPay to get started.