Guide to Creating a Heritage Living Trust for Your Children
All types of living trusts come with their pros and cons, but if you are looking for a way to ensure your inheritance is passed down to your direct descendants then you may need a heritage living trust.
Find out other unique benefits of a heritage living trust in this article. At the end, learn how you can set up a revocable trust right away!
What Is a Heritage Living Trust
A heritage living trust is a special kind of trust that enables you to protect your assets and inheritance and have them properly passed on to your direct descendants. In a perfect situation, your beneficiaries would be your children and grandchildren who can manage the inheritance. The trust would ensure your assets are only given to those under your generational bloodline. 
There is no perfect situation and at times, your children may mismanage assets or carelessly lose it through a divorce. Getting a heritage living trust — also known as a Lifetime Asset Protection Trust— helps you avoid any of that. You can protect your inheritance from  unexpected situations, creditors demands, and financial predators.
Features of a Heritage Living Trust
A heritage living trust is a type of living trust, so you will also enjoy most of the benefits that a general living trust offers as well. Some of the features and benefits of heritage living trusts have been captured below. 
Revocability
This means the trust can be cancelled or changed at any time, and you have the power to appoint trustees, include or exclude beneficiaries, and make changes to the assets in the trust as many times as you wish before your demise. The opposite of this type of trust is an irrevocable living trust.
Avoids probate expenses
As with all living trusts, a heritage living trust helps you to avoid the time-consuming process of probate. This can cost up between 1-10% of your total estate in most cases. Most states in the U.S are beginning to lax their laws on probate to make it less expensive in time and cost. 
Prevents sideways disinheritance
One of the biggest advantages of setting up a heritage trust is the prevention of sideways disinheritance.  When you marry a new partner and have children, they will be able to receive the assets in the trust as well. With a heritage living trust, you can make provisions for all your children and grandchildren no matter the outcome of complicated relationships. 
Ensures appropriate handover period
Heritage living trusts ensure minor beneficiaries are nurtured and cared for until they become of age to take control of the assets themselves. It can also be used to give extravagant benefits to beneficiaries without granting them access to the whole estate until they can manage it. 
Non-chargeable for care costs
People who end up in nursing homes and in need of care do not need to worry about the fate of their assets if they set up a heritage living trust. The cost of care will not be taken out of the trust. A heritage living trust can also be used to avoid certain types of taxes. 
Divorce-proof
Divorce-proof means that a heritage living trust ensures that getting a divorce or a re-marriage does not affect the rights of the beneficiaries (your children and grandchildren) from the inheritance you have left for them.
Creditor-proof
With a heritage living trust, all your creditors lose the right to place a lien on the trust assets. Creditors will not be able to go after the assets in the trust and keep your descendants liable.
Heritage Living Trust vs Wills
The major differences between a heritage living trust and a will are:
| | |
| --- | --- |
| Heritage living trust  | Will |
| Helps you skip probate | Does not help you skip probate |
| Keeps inheritance in the family to the third and fourth generations | Does not guarantee the passing down of inheritance to the third and fourth generation |
| Takes care of minor beneficiaries  | Does not take care of minor beneficiaries |
| Becomes active while alive  | Becomes active upon death |
Setting Up a Heritage Living Trust
To set up a heritage living trust, you can choose to hire a lawyer, use online templates or do it yourself. You'd normally have to spend between $2000 to $10,000 to hire a lawyer depending on your estate size and the state you live in.
Most experts advise against using generic heritage trust templates because they are not unique to your family situation and can breed legal loopholes that make your estate plan contestable in court.
If you would like to set-up a revocable living trust and set your children as your beneficiaries, use DoNotPay, the world's first robot lawyer! The process can be completed immediately. See below for the steps to set up your living trust with DoNotPay. 
How to Get a Revocable Living Trust from DoNotPay
You would need around 10 minutes or less to complete the process. You may want to make a list of your beneficiaries, assets, and trustees before you commence. If you have all your information ready, go to DoNotPay and:
Click on the Revocable Living Trust product. We'll ask for the state you live in and where you're getting the trust notarized.
Assign your beneficiaries and provide the assets to be given to them.

Assign trustees to manage the trust

when you die

.
After you enter all the details, you'll get a living trust in the form of a PDF and DOCX file. Feel free to review and make changes if you would like!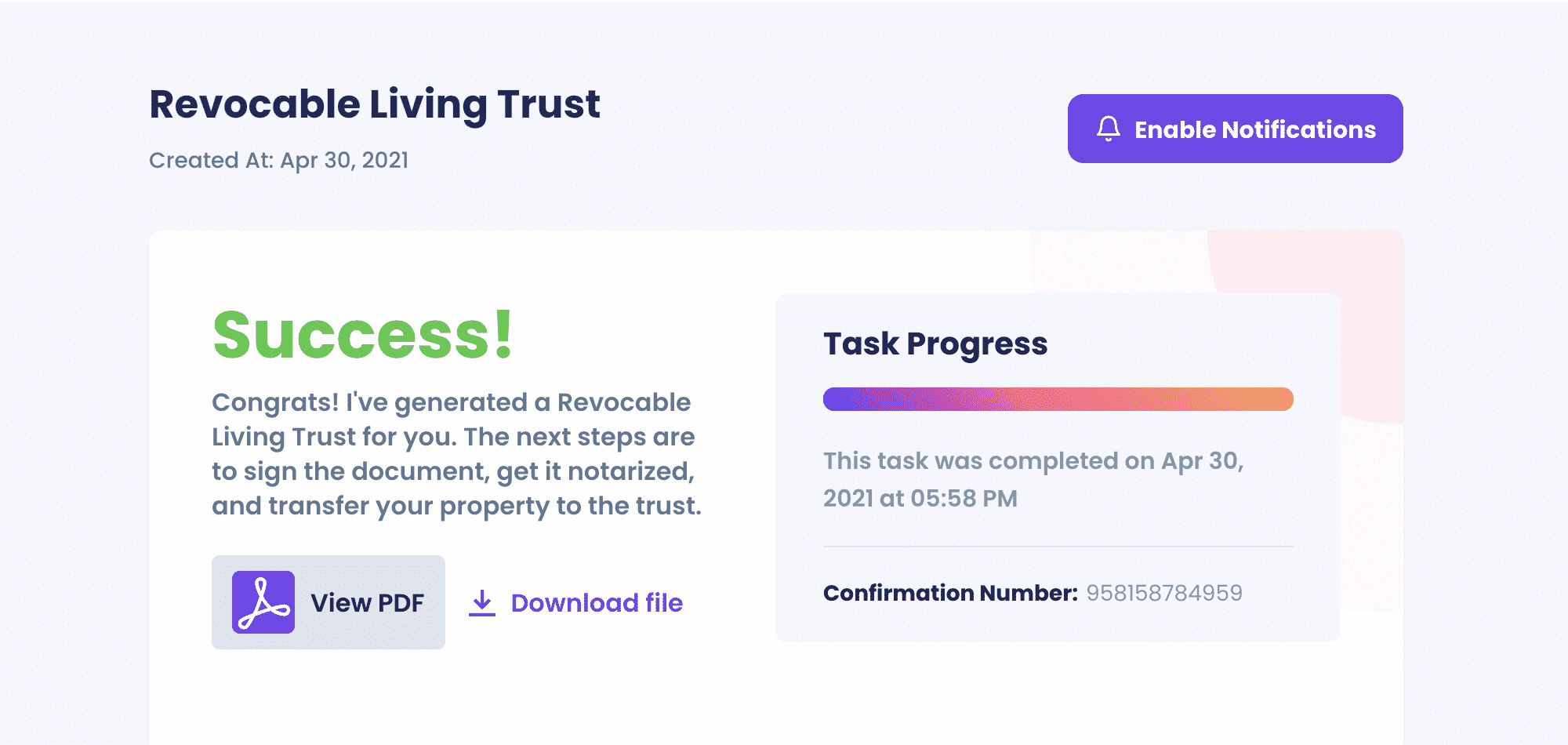 Living Trust Guides by State
Click your state if you need help with following the laws of your state and setting up your living trust:
What Else Can DoNotPay Help Me With?
DoNotPay is your personal assistant and lawyer in one app! Have another legal issue? DoNotPay can help you with:
Sometimes, it sucks having to deal with small things yourself. Let DoNotPay work on your chores for you: