Get Help with Property Taxes for the Disabled in a Few Easy Steps
Depending on your social status, property taxes can be a minor inconvenience or a major financial setback. Even in states with low property taxes, making property tax payments is challenging for disabled citizens.
Fortunately, most states provide property tax relief to individuals and organizations that meet specific criteria. If you want to know whether U.S. states offer help with property taxes for the disabled, look no further! DoNotPay knows what steps to take to lower your annual property tax burden in no time!
What Are Property Tax Exemptions?
Property taxes can be overwhelming for citizens with limited means. That is why federal, state, and local governments have established property tax exemptions for individuals and organizations that meet certain requirements. 
Property tax exemptions enable specific citizen categories and organizations to save money on taxes. Exemptions come in many forms, the most common being:
Subtracting a part of a taxpayer's income

—the state disregards that part of the income, so the tax bill is reduced

Reducing the value of taxable property
Here are some of the common exemptions that U.S. states offer:
Type of Property Tax Exemption
Details

Standard deduction

Federal tax laws give individuals and families tax deductions for filing returns

Tax-exempt organizations

Non-profitable organizations, such as churches, charities, and trade associations can operate without any tax income obligation

Property tax exemption

Most states allow these property tax exemptions:

Homestead

—an exemption intended to help homeowners who use the property as their principal residence

Public service

—this type of exemption is intended for

military veterans

, disabled veterans, and their surviving spouses

Age and disability

—

seniors

or citizens with disabilities are exempt from paying property taxes in most states
What Constitutes a Disability Property Tax Exemption?
In many states, disability represents the qualifying criteria for obtaining a property tax exemption. Every state has different qualification standards for getting a property tax exemption, so it is best to check individual state requirements. 
Depending on the state, disabled citizens can get full or partial property tax relief. Disabled seniors, veterans, and other citizens must submit certain documentation and go through a standardized procedure to get a property tax exemption. 
Property Tax Relief for the Disabled by State
Property tax exemptions for the disabled are set on state and local levels. Take a look at the table below to get an idea of how property tax exemptions for the disabled differ by state:
State
Property Tax Exemptions for the Disabled

California enables basic or low-income property tax exemption for its disabled veterans. The U.S. Department of Veterans' Affairs must deem them 100% disabled by a service-caused injury.

Oregon enables veterans who are over 40% disabled to apply for a property tax exemption. Other disabled homeowners can use a deferral program

North Carolina allows its disabled homeowners to apply for a reduction of up to 50% of their assessed property value. Disabled veterans can get as much as $45,000 in property tax relief for a service-caused injury

Maryland fully exempts its 100% disabled veterans from paying property taxes. Their surviving spouse can also get property tax relief. There are no property tax exemptions for non-military disabled homeowners

Veterans and homeowners with disabilities can apply for property tax relief in Illinois. The amount can vary depending on the type and severity of the disability

New Jersey allows its disabled veterans to be fully exempt from paying property taxes. The disability must be service-caused. Tax deductions are available for other disabled New Jersey residents

Florida allows different categories of disabled citizens to apply for a property tax exemption, including:

Paraplegic

Hemiplegic

Quadriplegic

Legally blind

Totally and permanently disabled citizens confined to a wheelchair

Veterans with service-related injuries
Apply for a Property Tax Disability Exemption With DoNotPay
Applying for a property tax disability exemption is hard work. Before submitting your request, you must find out whether you qualify and what steps you are required to take to get an exemption.
You don't have to go through all that trouble—DoNotPay can make the process much easier!
Our app can save you time and nerves by providing all the information you need in one place. 
DoNotPay collects essential data from you to create a personalized guide. You can use the guide to learn about:
Property tax exemption criteria for your state of residence

Forms you need to complete

Documents you are required to submit

The course of your application process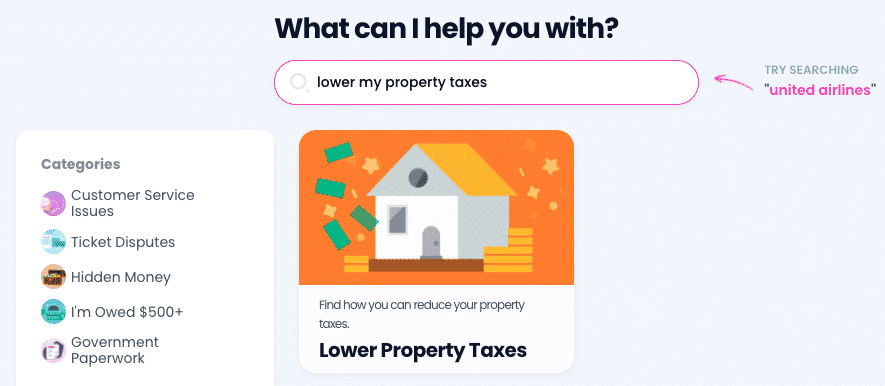 All you need to do is:
Open DoNotPay in a

web browser

Access the

Property Tax

feature

Answer basic questions about you and your property

Wait for your customized guide to arrive
Our guide can help you file a property tax appeal for a past assessment as well!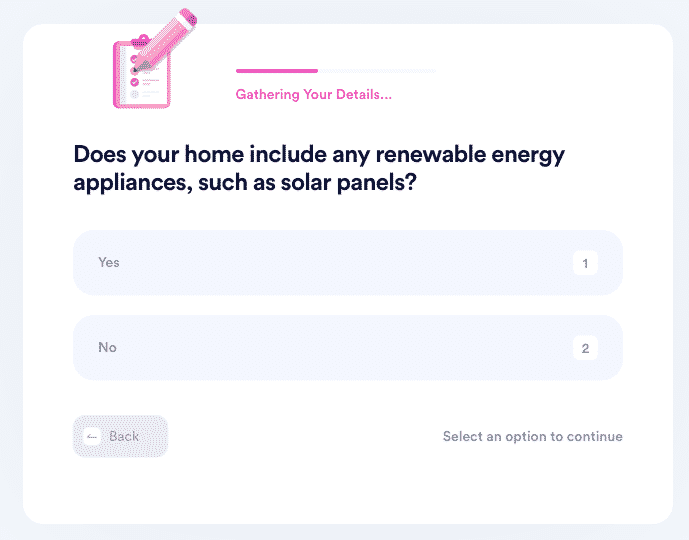 DoNotPay Leads the Way Against Spammers
Browsing the internet has never been more popular than today, but you must not forget to keep your private and financial information safe. You know you can cancel any streaming service or magazine subscription easily, but that won't stop them from using your personal details for marketing purposes.
DoNotPay has a solution for that! 
Is a company pestering you with incessant robocalls, spam emails, and text messages? Use our Virtual Credit Card to catch them in the act and claim compensation for your troubles. 
To prevent that from happening ever again, use our card to sign up for free trials—not only will you not pay a dime for the service, but you will be automatically unsubscribed as soon as the trials are up! 
If you want to avoid revealing your personal phone number, we'll generate a temporary burner phone for you so the company won't have any way to reach you.
Already Been Scammed? DoNotPay Knows the Way!
If you've already made the mistake and divulged your personal info to the wrong party or experienced any other kind of crime or injustice, you don't have to sit tight and suffer the consequences. DoNotPay can assist you in taking anyone to small claims court!
We'll help you gather evidence—correspondence proving stalking or harassment took place, customer service call recordings, denied chargeback and refund claims, online fax transcripts, or proof of copyright violation. Then, we'll fill out the relevant legal documents for you and draft a court script that you can use in your hearing.