Need Help With Payday Loans in Ohio? DoNotPay Can Save the Day!
Up until 2018, Ohio was one of the most expensive states for payday loans in the entire country. Borrowers sometimes had to pay an alarming 677% interest on their loans. Now, the maximum interest rate is still a high 28%, which means borrowers still need .
Payday loans are short-term, no-credit-check loans with high interest rates that are often considered predatory. If you need help with your payday installment loans or payday loan consolidation, your lender won't want to help, so DoNotPay is here to make your payday loan problems go away.
What Happens If I Stop Paying My Short- Term Payday Loan in Ohio?
Thankfully, Ohio prohibits lenders from taking criminal action against people who cannot pay back their payday loans, but there are still scary things they can do to get their money back. If you do not pay, lenders will sell your debt to a debt collection agency, which will then continuously contact you until you pay back the loan plus interest. In this case, the debt can, unfortunately, follow you around even after you 've paid it off.
If you're in default on your payday loan in Ohio, you should be allowed a 60-day grace period before fees are added.
Understanding Payday Loans in Ohio
By knowing payday loan rules in Ohio, you can protect yourself from dishonest lenders and try to lower your loans. Under House Bill 123 that passed in 2018, borrowers and lenders must follow these rules:
No payday loan can exceed $1000
The maximum interest rate is 28% APR
Lenders cannot give out more than one payday loan to the same person at once
Loans can be granted for 91 days to one year
The entire cost of the loan, including fees and interest, cannot exceed 60% of the original loan amount
Borrowers have three days to cancel the loan
Rollover loans are prohibited
Does an Unpaid Ohio Payday Loan Affect Your Credit Score?
Ohio payday loans are short-term loans with no credit check required, meaning you can get a payday loan even with poor credit. If you do pay your loan back on time, it will likely not positively or negatively affect your credit score because the lender did not report the loan to a credit bureau.
However, if you make late payments or no payments, then your lender will report this to a collection agency and credit bureau. If your unpaid loan goes to a collection agency, then this will also negatively affect your credit score and could remain on your credit report for up to seven years.
How to Try to Pay Off a Payday Loan in Ohio by Yourself
Rollover loans are not permitted in Ohio, which is similar to saying you can't pay for your credit card debt with your credit card. Instead, you can try to negotiate an extended payment plan where you pay off the debt in smaller loan installments , or you can try to get the lender to decrease the payments. Lenders will not like this renegotiation, but they will like it more than getting no money back if you declare bankruptcy.
If you need Ohio payday loan relief, there are some things you can do to try to get out of a payday loan before you're faced with a collection agency. It's an intimidating, challenging process on your own, but here's what you can try first:
If it's still under three days since you took out the loan, Ohio law allows you to still cancel this loan.
If it's been over three days, you must contact your lender either in person or by phone.
To try to convince your lender to extend your payment plan or lower your payments, draft a convincing negotiation letter that explains that you cannot pay your loans at the current rate.
Make sure you get the lender's agreement in writing.
Get ​​Help With Payday Loans in Ohio
Ohio payday loans are admittedly very confusing and complicated. If you tried to resolve this issue by yourself but still need help, you could reach out to a local debt relief lawyer to help you consolidate your debt. Keep in mind that this process is still time-consuming, and it can also quickly become expensive.
Get Faster Help with Payday Loans in Ohio With DoNotPay
Did you start to panic when you read "draft your own negotiation letter"? We completely understand. To stop paying payday loans legally, it sometimes feels like you need legal experience to even attempt it. That's why DoNotPay has created a much easier, automated solution.
How to Lower Your Payday Loan Using DoNotPay
If you want to lower your payday loan but don't know where to start, DoNotPay has you covered. Lower your payday loan in 5 easy steps:
1. Search "Negotiate Payday Loans" on DoNotPay.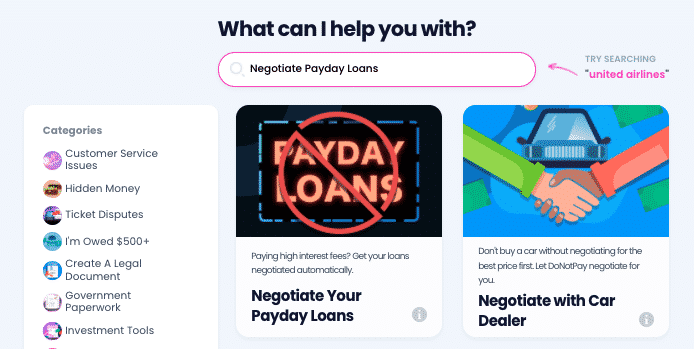 2. Enter the state you took out the payday loan in.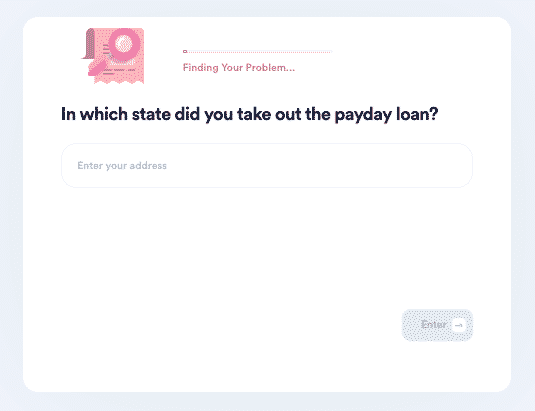 3. Tell us the amount you borrowed, the date you took out the loan, and when the payment is due.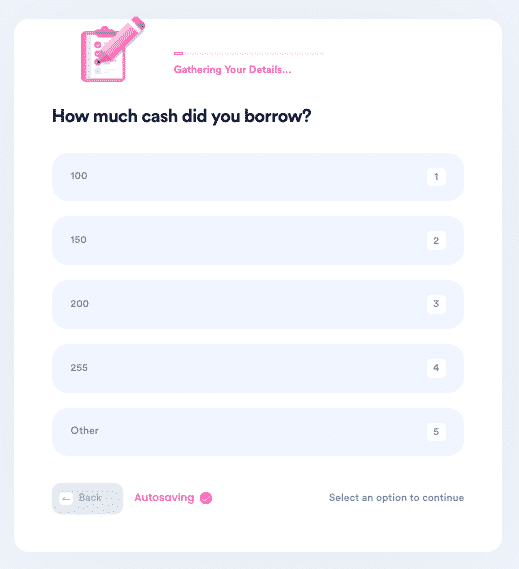 4. DoNotPay will automatically calculate the APR on your behalf, and determine the best way to negotiate your case based on the amount.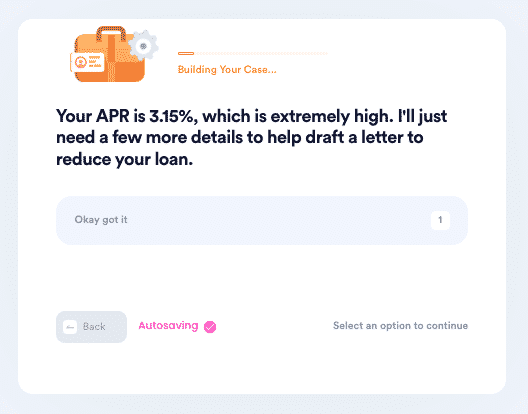 5. You're all set! You can generate your personal negotiation letter with one click, and use it to contact your lender to get better terms for your loan.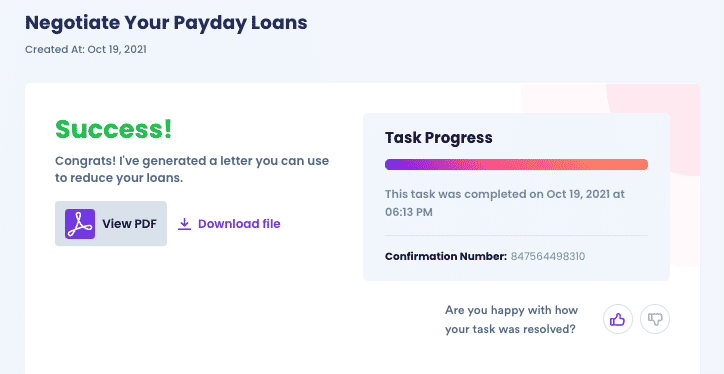 Why Use DoNotPay for Payday Loan Help in Ohio
Unlike many lenders or collection agencies, DoNotPay cares about you. We 'll look out for your best interests by drastically simplifying the Ohio payday loan settlement process. In a payday loan system that's designed to make you fail, we'll help you succeed by automating the negotiation process. Get fast, easy, and successful from DoNotPay.
| | |
| --- | --- |
| It's Fast. | You don't have to spend hours contacting loan companies, trying to balance your budget, or figuring out how you'll pay off your Ohio payday loan on your own. |
| It's Easy. | You don't have to struggle to fill out tedious forms. |
| It's Successful. | You'll get fast results and immediate help with payday loans in Ohio. |
DoNotPay Helps You Settle Loans in Ohio
Do you have other types of loans you need help with? DoNotPay can quickly and easily solve those other loan issues for you as well. We can help with lots of loan-related questions and problems. Student loans, small business loans, installment loans, and more--we can help!
Quickly Solve More Problems With DoNotPay
Just like our name states, DoNotPay is committed to helping you not pay for things you shouldn't have to pay for. We offer a diverse range of services to help you quickly, easily, and successfully solve your problems. Check out a few other things we can help with: