Need Help Paying Property Taxes? DoNotPay Has the Most Useful Hacks!
Property taxes are one of the biggest hits on people's budgets. How much financial damage they will cause depends on your state of residence.
If you need help paying property taxes, DoNotPay can offer valuable information and money-saving hacks on how to lower your property tax bills.
Understanding Property Taxes
If you own a property, you have to pay property taxes—the rule is as clear as day. What isn't so clear is why property taxes are so high.
The main function of property taxes is to generate revenue for local governments. The revenue is supposed to fund:
Parks

Roads

Schools

Libraries

Fire and police departments
Reliance on this revenue is one of the main reasons why property tax rates vary so much from state to state. Consult the table below to compare the states with the lowest and highest property taxes in America:
How Are Property Taxes Calculated?
The local assessor's office calculates your property taxes based on the property tax rate, the assessed value of your property, and any exemption you qualify for.
The value of your property depends on several factors, such as:
Property's age

Size of the property

Location

Construction type
Whether your property is residential, agricultural, apartment, office, or commercial space can also impact the final assessed value.
Depending on the state of residence, property tax assessment can be done once every year or less frequently. 
Strategies for Reducing Your Property Taxes
Before you start searching for charities that help pay property taxes, you should try some of the techniques for lowering your tax bill:
Avoid renovations close to the assessment date

Join the assessor during the evaluation to catch potential mistakes

Emphasize the flaws and damages

Check your tax bill for any mistakes

Hire a professional to help you find any potential irregularities

Find out if you meet the property tax exemption requirements

File a

property tax appeal

with

DoNotPay

's help
Property Tax Exemptions
Property tax relief programs are one of the most reliable methods of lowering your tax bills successfully. Different states, and sometimes even counties, can have different exemptions. The requirements can also vary. 
Here is a brief overview of the most common property tax exemptions:
| | |
| --- | --- |
| Property Tax Exemption | Description |
| | Many states offer some kind of property tax relief to people who served or still serve in the U.S. Armed Forces. Sometimes, the veteran exemption applies strictly to those having a service-related disability |
| | It applies to the primary residence, so to qualify, you must live on that property. Senior citizens and surviving spouses benefit the most from this exemption |
| | Almost every state offers a property tax relief program to senior citizens. It usually refers to people that are 65 years old or older and have an annual income below the annual income guidelines of the state of residence |
| Property tax exemption for persons with disability | It can sometimes intertwine with other exemptions. People can be fully or partially exempt from paying property taxes depending on the severity of their disability |
How To Get Help for Paying Delinquent Property Taxes
If you can't make ends meet and you're late with paying your bills and taxes, there is good news! Tax collectors and assessors can create special financial hardship funds and property tax installment plans for property owners who are delinquent with paying taxes.
These programs will enable you to pay your delinquent taxes in installments once you regulate your finances.
Each state and county specify terms, but in most cases, requirements include the following:
The applicant is the owner of the property, according to the assessor's records

The property owner must provide proof of financial hardship that caused the delinquency

The applicant has to pay each installment on time
DoNotPay Can Help With Property Taxes
Finding the right information is the first step to getting help with paying property taxes. The internet is full of answers, but if you stumble upon incorrect ones, you may end up in a worse situation than before. 
To help property owners manage their taxes and regulate debts, DoNotPay created a practical feature. Here is how it works:
Open DoNotPay in a

web browser

Choose the

Reduce Property Tax

service

Answer a couple of questions about yourself and your property
We will generate a property tax manual specifically for your situation. In this custom-made handbook, you can find rules, forms, guidelines, and other property tax-related info. DoNotPay can also determine which tax exemptions you qualify for and provide instructions on appealing previous property tax assessments.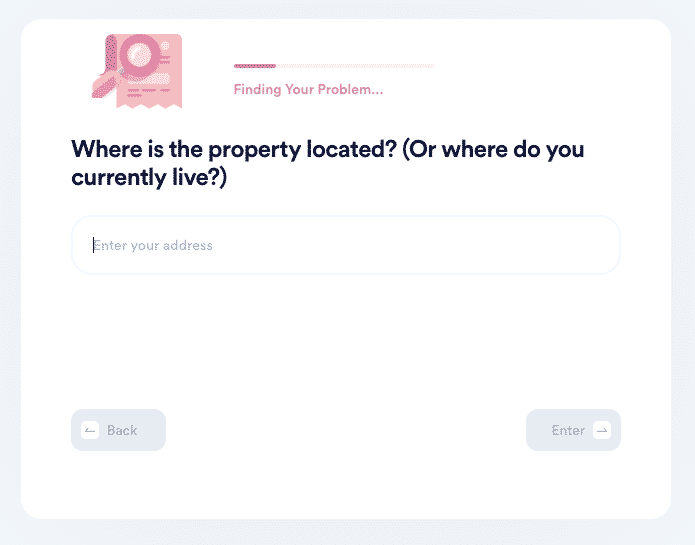 DoNotPay Is the Ultimate Money-Saving Assistant
Our app can help you manage bills that are too high to pay, but there are plenty of other money-saving possibilities out there we can help you with.
Want to challenge a parking ticket? DoNotPay can dispute parking citations in any city! Is someone getting revenue from your creative work? Cut the thieves off with DoNotPay!
 We can also help you get your college application fees waived, file any insurance or warranty claims, locate unclaimed funds in your name, or earn some extra cash from paid clinical trials in your area.
No More Risky Free Trials With DoNotPay
Do you love free trials but tend to forget to cancel your subscription before the trial ends? If this is the case, check out DoNotPay's virtual credit card for a risk-free experience.
With our virtual credit card, you can sign up for any service without worrying about unwanted charges. DoNotPay will even provide you with a random email address, which will help keep your inbox clean from spammy emails from the company.
Our app can also get in touch with the company's customer service, request a refund from them, or even escalate your issue to small claims court if the company is challenging to communicate with.