Need Help Paying Property Taxes in Michigan? Consult DoNotPay!
It can be challenging to pay taxes, especially in difficult times. If you are struggling and need help paying property taxes in Michigan, you can use our guide to your advantage.
DoNotPay can help you determine if you are eligible for a Michigan property tax exemption to reduce your tax bills.
How To Reduce Your Property Tax Bill
Most homeowners believe their property tax bill is too high. The value of your property is the basis of the property tax you are paying. Property taxes increase, and you cannot avoid paying them as long as you own a home.
Here are some steps you can take to lower your property tax bill:
Step
Description

Request the property tax card

Ask your local assessor's office for your property tax card. Check if the information about your property is correct. If there are any discrepancies, notify the assessor and ask them to correct the errors or do a reassessment

Avoid making home changes

All structural changes lead to new

assessments

and, often, to a tax bill increase. Building a swimming pool, shed, or any other facility increases the market value of your home and your property tax bill

Compare to similar neighborhood homes

Make sure your property does not seem more attractive than the neighboring ones since this can lead to a higher assessed value. Check your neighbors' property cards and compare them with yours. The assessor may have made a mistake, so if you find any inconsistencies, point them out and ask for a reassessment

Point out faults

During the (re)assessment, show the assessor all outdated appliances, cracks, or any other potential problems you will need to fix that could decrease the home value if you were to sell the property

Find exemptions

A lot of U.S. states and municipalities offer tax exemptions to

veterans

,

seniors

, agricultural properties,

persons with certain disabilities

,

religious

and government organizations

Submit an appeal

In case you have failed to negotiate with your local assessor's office about a reassessment or making changes to your tax bill, you can file a

tax appeal
Reducing your property tax bill is not impossible, but it will take you time and energy to collect the necessary information and paperwork.
If you come across any irregularities, you need to know who to turn to and what proof to present.
How Is Property Tax Calculated?
The tax office is in charge of determining your property tax bill. They calculate the amount by multiplying the assessed value of your property by the local tax rate.
Michigan's average effective property tax rate is 1.44%, which is above the national average of 1.1%. The property tax rate varies from county to county, and here's a list of some Michigan counties and their average effective property tax rates:
Wayne—2.35%

Oakland—1.55%

Macomb—1.68%

Kent—1.51%

Genesee—1.81%

Washtenaw—1.72%

Ingham—2.19%
You can use the Property Estimator tool to estimate your property taxes in Michigan.
Property Tax Assistance for Low-Income Households in Michigan
The State of Michigan offers a poverty exemption from property taxes. The basis for this type of property tax exemption is your total household income that has to be in line with the U.S. Federal Poverty Guidelines.
Income includes the following:
Money, wages, salaries, and regular contributions from people not living in the property in question

Regular Social Security benefits, unemployment benefits, railroad retirement payments, worker's compensation, public assistance, and veterans' or supplemental security income payments

Net receipts from the farm or non-farm self-employment

Private or governmental retirement money, regular insurance payouts, annuity payments, disability pensions

Alimony, military family allotments, child support

University scholarships, fellowships, assistantships, grants

Interest or dividends

Net income from rentals, trusts, estates, royalties, lottery winnings, or gambling
How To Get Help With Paying Property Taxes in Michigan
You can get different property tax savings in Michigan. Here are some available programs:
| | |
| --- | --- |
| Tax Exemption | Eligibility Criteria |
| Disabled Veterans Exemption | Disabled veterans or their surviving unremarried spouse who owns and uses the property as a homestead |
| Poverty Exemption | People who, because of poverty, are not able to pay public charges. Their poverty needs to be assessed by a local government unit |
| Principal Residence Exemption | Persons who own and use a property as their primary residence |
| Senior and Disabled Housing | Nonprofit, multi-unit properties |
| Supportive Housing Exemption | Nonprofit, single-family supportive housing property |
| Charitable Nonprofit Housing Exemption | Charitable nonprofit organizations that own residential properties used for housing low-income people can be exempt from property taxes for up to five years |
| Neighborhood Enterprise Zone Act | Rehabilitation or development of residential housing properties within eligible distressed communities |
DoNotPay Helps With Paying Property Taxes in Michigan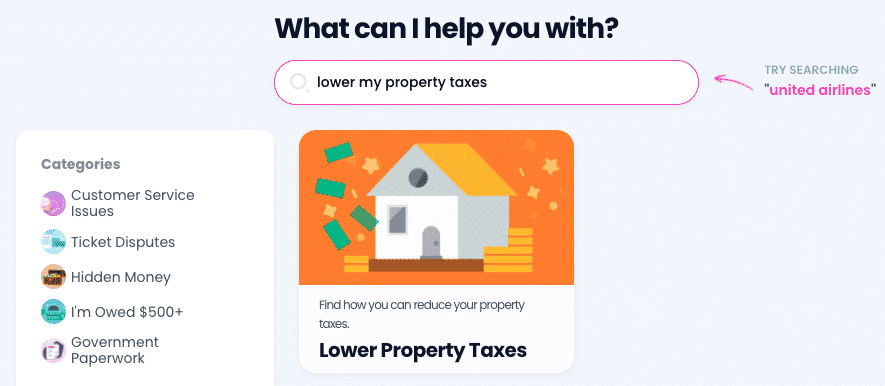 DoNotPay can guide you through the whole tax exemption process smoothly. We understand how burdensome the process can be and how much information you'll need to collect to deal with tax-related issues.
That is why we have designed the Property Tax feature to help individuals compile all required data in one place.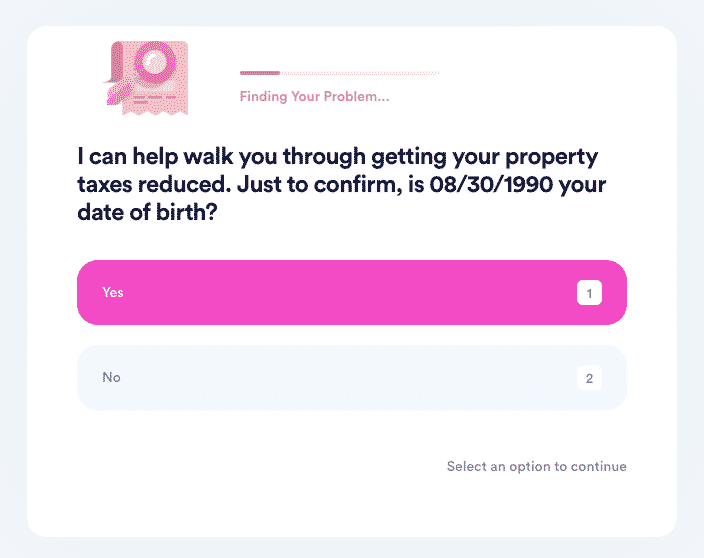 You provide essential information, and we will use our comprehensive tax database to create customized guidelines for you.
Here is how:
Sign up for DoNotPay from a

Choose our

Property Tax

feature

Answer a few questions about you and your property

Wait until the app generates your personalized guide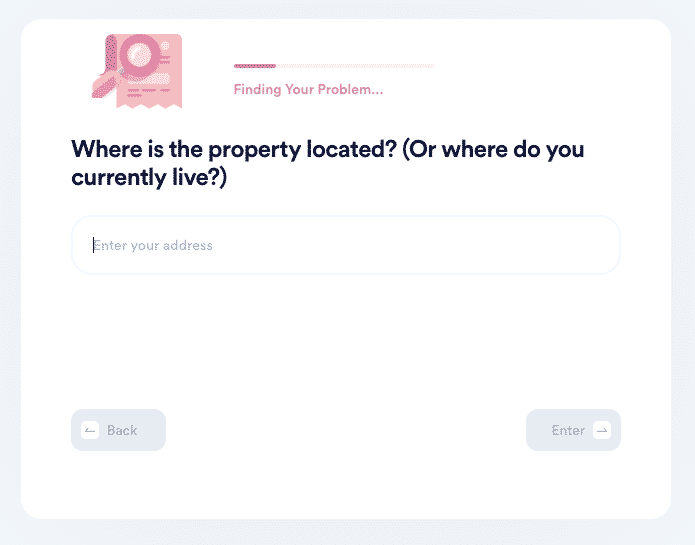 Click a few times, enter basic info, and get a personalized step-by-step guide. You will know who to turn to and what evidence and paperwork to gather. DoNotPay can contribute to the reduction of your future property tax bills.
We also provide a list of U.S. states with low property taxes if you decide to buy real estate outside Michigan.
Appeal Your Michigan Property Tax Assessments With DoNotPay
If you have tried to negotiate with your local assessor or tax office and they are not willing to make changes to your tax bill, you have the right to appeal.
helps with this tax aspect, as well. We will generate a helpful guide with a whole section explaining the appeal process.
The guide will offer instructions on how to negotiate with the assessor and what evidence you need to collect to reduce your property's assessed value and your future property tax bills. You should follow the same steps listed in the previous section.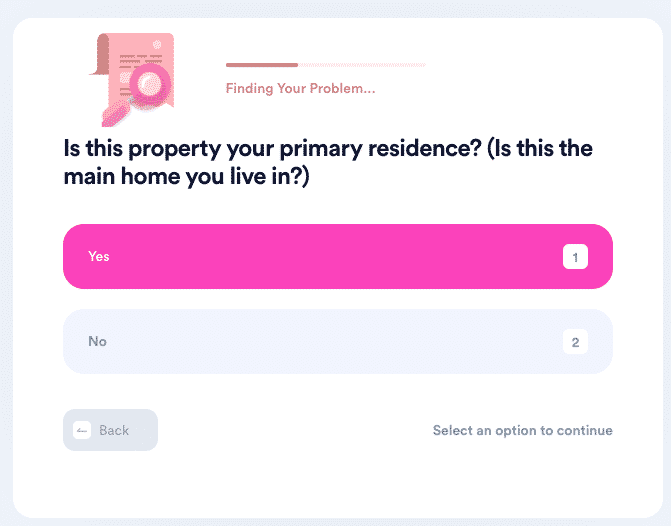 DoNotPay can also help Michigan residents:
Clear Out Your Daily Tasks Fast With DoNotPay
Are your parking tickets piling up, but the process of appealing them is way too complicated? Do you struggle to pay your bills but are not sure how to get an extension? Is it time to extend your driver's license, but reaching the DMV is a nightmare?
DoNotPay will turn all of these dreadful tasks into easy-to-do items you can check off your agenda quickly!
Get rid of spam emails, texts, and calls quickly using our AI-powered app!
Learn how to secure compensation from airlines, get your college fees waived, claim your lost funds, or reduce your property tax—all with a few clicks!
Subscription Issues? DoNotPay Can Help!
If you are looking to test out a service, think twice before disclosing your payment info. Companies will often ask you for your credit card details even when signing up for a free trial—they charge you once the trial expires.
Use our virtual credit card, and don't worry about unwanted charges!
Our credit card gets automatically approved for any free trial, but it rejects any real charges since there is no money on it.
DoNotPay will locate and cancel all your unwanted subscriptions without you having to deal with customer service reps.
We can also help you request refunds from companies or take them to small claims court if they refuse to cooperate.