File a Health Insurance Claim Without Any Trouble
Americans spend a lot of money on healthcare, reaching a total of $3.8 trillion in 2019. It is predicted that the USA will spend $6.2 trillion on healthcare by 2028.
What happens when you visit a doctor? You need to fill out a form providing your insurance information. Once the doctor performs the check-up and runs any necessary tests, you will get a bill.
In case you have coverage, you should file a health insurance claim and request payment or reimbursement for the received medical services.
DoNotPay can help you file health insurance claims efficiently, but why stop there? Use our app to claim unemployment, life, accident, flood, hail, or hurricane insurance in a few steps!
What Is a Health Insurance Claim?
A health insurance claim is a request you file to your insurance provider to receive the medical services covered in your policy.
For the services and treatment you received, you can claim your insurance policy in one of the following ways:
Cashless claims

—your insurance company settles all the bills directly with the medical institution

Reimbursement

—you pay all your medical expenses and request the insurance provider to reimburse them later
Understand the Health Insurance Claim Process
There are two common options for filing a health insurance claim. The most convenient one is when your medical service provider files the claim to your insurance company directly.
The other way is when you complete the claim form and submit it to the insurance provider by yourself. You will have to file the claim yourself if the medical institution you visited is not in your health insurance plan network.
What Information To Provide When Filing Health Insurance Claims
If you have a health insurance policy that you need to submit on your own, here is what you should provide in the claim form:
The policy number, member, or group plan number

The purpose of the appointment

The name of the person who received the medical service—e.g., you, your child, or spouse

Whether there is dual coverage or coinsurance
How To File a Health Insurance Claim by Yourself
If your health provider cannot file the claim for you, you must check what options are available.
Most insurance companies accept insurance claims online. To find out what the health insurance claim process is like with your provider, check your policy or visit their website.
Here is what you can expect to do when filing a health insurance claim:
Steps To Take
Explanation

Get an Itemized Bill

An itemized receipt should list all medical services and medication you received together with their single cost.

Make sure you get the original itemized bill to enclose with the claim form

Obtain the Claim Form

Contact the insurance provider or check on their website for the claim form.

Review the form to see what additional information or documentation you need to get from your doctor

Make Copies

Make copies of all the documentation you obtain.

In case you need to reclaim or add changes to the form, you will need all the copies as proof

File the Claim

Before sending the completed claim form, get in touch with the insurance company to check whether you have provided all the necessary information and supporting paperwork.

File the claim online or send it to the address provided on the claim form
A lot of insurance companies offer an online form on their websites. To file the claim form online, you first need to register and then follow the prompts.
Take a look at how you can file a claim for 21st Century, Fred Loya, The General, Allianz, Farmers, Alliance United, FedEx, Farm Bureau, Liberty Mutual, or Combined Insurance.
How To Submit a Health Insurance Claim With DoNotPay
DoNotPay can help you file your health insurance claim with no fuss! You should concentrate on receiving the best possible medical assistance and recovery, and we will make sure you do not have to pay for it out of your pocket.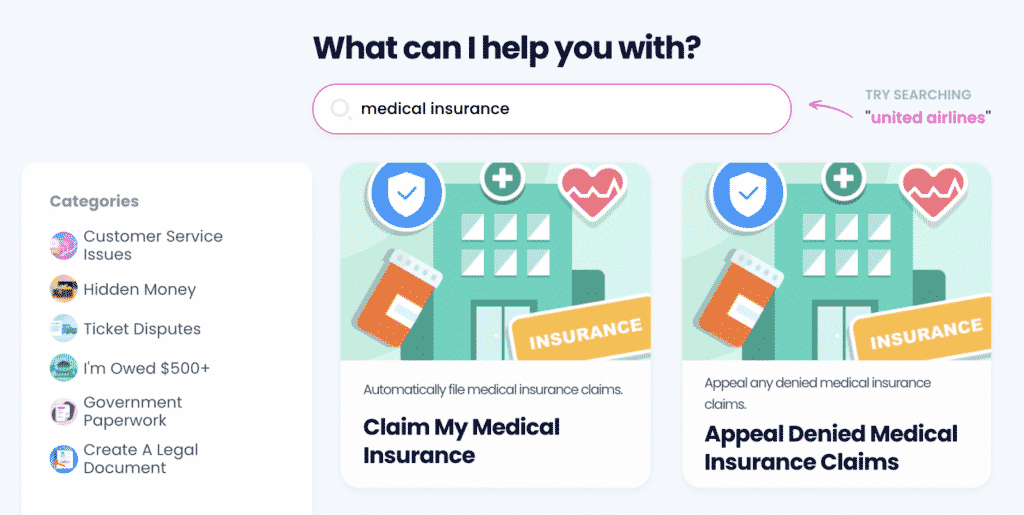 Do not fret over the administration, overly complicated procedures, and other tiresome issues. Our app handles everything for you!
Here is how you start the claims process:
Go to DoNotPay in your

Opt for

Medical Insurance

Provide essential information, including the policy number, provider, and holder

Describe your reasons for submitting the claim and give us the details related to the medical service you received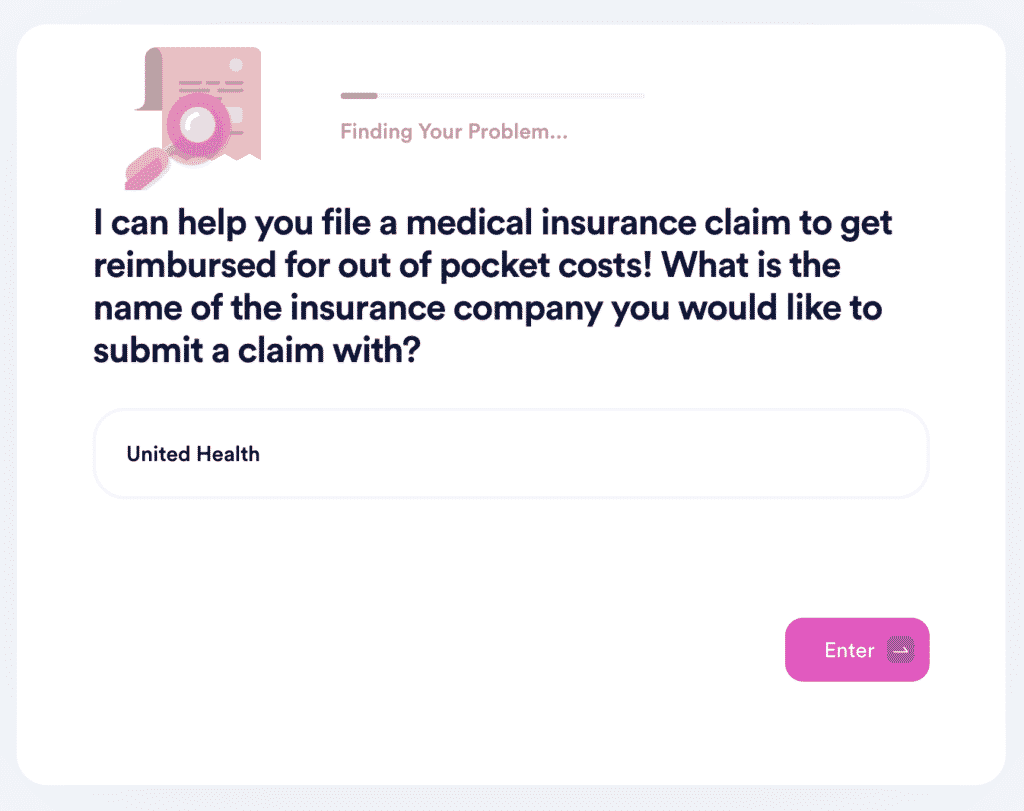 Is that it? Yes, you have finished your part, and DoNotPay takes over from here! We will create the claim and make sure your insurance provider gets it.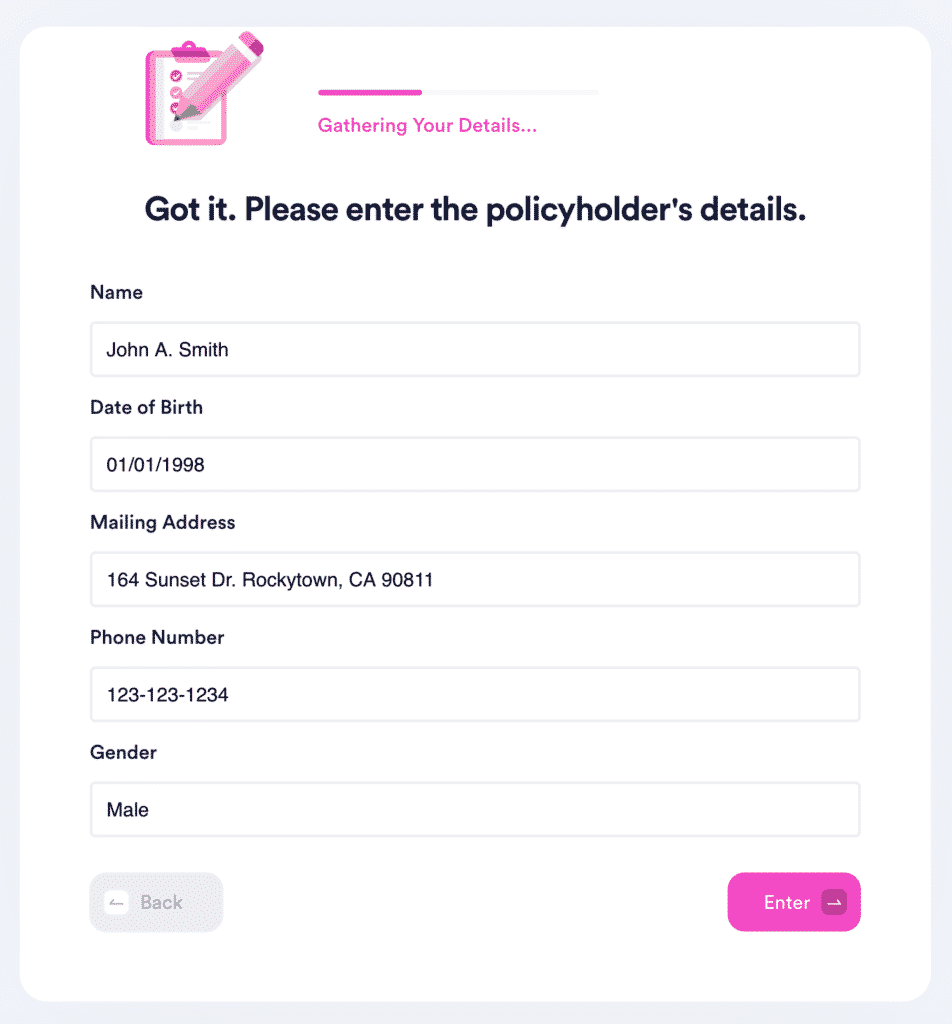 Our app will help you claim your insurance money efficiently! Ease your mind by opting for DoNotPay to take care of the claims process for you!
What Happens if the Insurance Provider Rejects Your Health Claim?
Do not sweat in case your insurance company denies your health claim. DoNotPay comes to the rescue!
Here is how we can help you:
Go to DoNotPay in a

Select

Medical Insurance

Click on

Appeal a Denied Insurance Claim

Follow our simple prompts
We will ensure your insurance company gets the appeal letter quickly.
How Else Can DoNotPay Help You Find and Save Cash
Our Missing Money feature helps you find any unclaimed assets in your name in any state. An additional perk is that you can claim your money right in the app—no need for further research!
We can also make sure you do not pay for any unfair parking citations and get the rightful compensation from airlines for any canceled or delayed flight.
Do not let big companies scare you into not claiming your warranties or insurance. DoNotPay helps you file these claims and appeal any rejections in minutes, which brings you closer to getting your money.
We can also delay your bill payments, get your college fees waived, or sign you up for paid clinical trials to earn some extra cash!
DoNotPay Keeps the Spammers Away
Whether you are dealing with email spam, text scammers, robocalls, or severe harassment, DoNotPay can help.
Use our virtual credit card or the Burner Phone feature to sign up for free trials safely—without revealing your real info. DoNotPay will make sure that no company can reach you when you use our tools.
We provide a fake email address, credit card info, and phone number that are in no way connected to your real data.
We can also help you cancel services or request a refund without you having to contact the company directly.