The Most Common Health Insurance Claim Denial Reasons
Your health insurance claims can get rejected for various reasons, and it is never a fun experience. You can prevent this from happening by understanding the common health insurance claim denial reasons and learning how to appeal the denial using DoNotPay.
Why Was My Insurance Claim Denied?
Here are some common reasons for a health insurance claim denial:
Errors in claim forms

Missed claim submission deadline

Duplicate claims

Insufficient medical necessity

Network provider
Check the table below for a detailed overview.
Denial Reasons
How It Works

Errors in Claim Forms

Your claim can get rejected due to an error in a claim form, like misspelling your name or ID number.

In such cases, you can fix the problem quickly

Claim Submission Deadline

Not every company or insurer will have the same claim submission deadline nor the same policy for missing it.

Sometimes, you will be able to resolve this issue over the phone with your insurer. Other times, the process will drag on, and you will have to deal with pesky paperwork. You can avoid this by thinking ahead and filing your claim as soon as possible

Duplicate Claims

Sometimes the reason for the denial of your claim won't have anything to do with the claim itself.

It's not rare that a front office employee makes a mistake and resubmits your claim before an insurance company gets a chance to respond. In such cases, communication is crucial. Reach out to the company and ask them to resolve the issue as soon as possible

Insufficient Medical Necessity

If your insurer believes that your procedure isn't a medical necessity, they can refuse to pay for it.

In case medical necessity isn't clear-cut, try talking to your insurer, medical billing staff, and physicians to make an informed decision

Network Provider

Changing your insurance company may result in changing the healthcare providers you can go to, as well as the benefits you're able to receive.

It's possible that you only have coverage for certain services, and the one you want isn't covered under your health plan. You can try to change your healthcare provider or try to convince your insurance company that the provider you have chosen is the only one who can give you the service you need
Learn What To Do if Your Insurance Denies Claim—Tips on Appealing an Insurance Denial Fast
If your insurance company denies your claim, you can write them an appeal letter and fight the claim denial.
Contact your insurance company and ask them to explain the reason why they rejected your claim. Make sure to gather all evidence for your claim, provide all information they need, and follow the procedure to a tee to avoid any delays or complications.
If appealing a health insurance claim is too much work for you and you would like to get it done with no fuss, DoNotPay can take the burden off your back. Our app makes appealing a denied insurance claim feel like a piece of cake!
How To Appeal Insurance Claim Denial With DoNotPay
DoNotPay makes filing and appealing insurance claims super easy and convenient!
Companies tend to reject claims the first time you file them and be nit-picky for the most trivial reasons.
If your claim contains any error or inaccurate information, it will most likely get rejected.
The good news is that you can use our app to appeal the denial in a few steps! Sounds too good to be true? Don't take our word for it! Check out the steps below to see how simple it is:
Open DoNotPay in any

Select the insurance type you need

Tap the

Appeal a Denied Insurance Claim

feature

Follow the rest of the prompts to finish the appeal process
We compose and submit an insurance appeal letter so that you don't have to struggle!
You Can Also File Insurance Claims Using DoNotPay!
DoNotPay helps with more than health insurance claims. Car, home, accident, flood, unemployment, hurricane—you name it, we can do it!
Follow this quick guide to file any insurance claim with our app:
Go to your

and visit DoNotPay

Pick your insurance type

Give us your

contact

,

provider

, and

policy

information

Tell us why you are filing the insurance claim and provide any relevant details regarding the case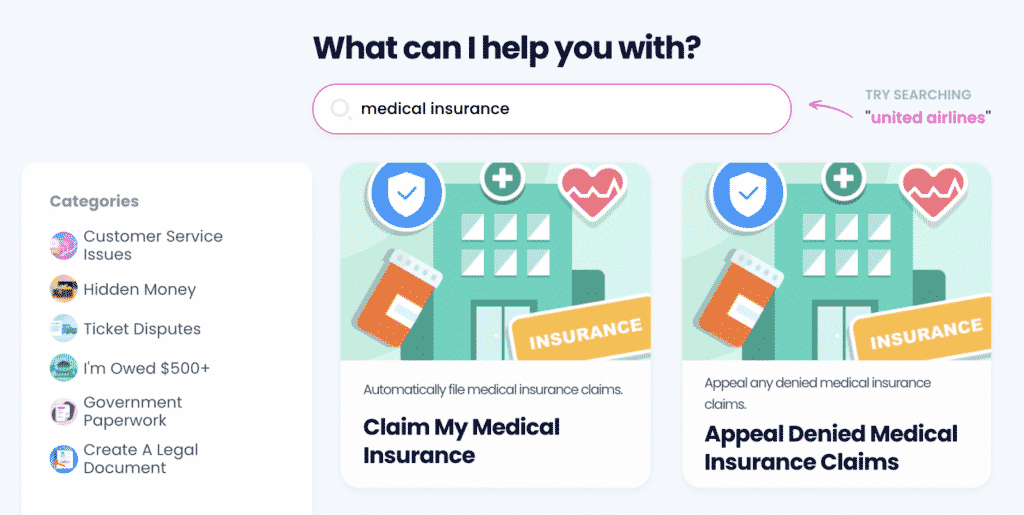 DoNotPay can help you handle various providers, such as StateFarm, Dairyland, Verizon, FedEx, Kemper, Mercury, uHaul, and ACCC!
Use DoNotPay To Sue a Company if You Are Not Getting the Desired Results
Companies can complicate the situation and refuse to provide the assistance you need, but that too can be resolved with the help of your trustful assistant—DoNotPay!
We make it super easy to sue companies in small claims court and help you with a lot more than showing you how it's done! Here is everything DoNotPay will assist you in:
Generating a demand letter

Filling out the required court forms

Serving the necessary documents to the company

Making sure your claim is eligible for a small claims court

Filing the claim with the court
Enjoy Services Worry-Free With DoNotPay
Do you want to try out a new service but are worried about being charged if you forget to cancel it before it ends?
With DoNotPay, you can sign up for free trials without worrying about auto-charges. Our virtual credit card makes sure you enjoy your trial run of the service and prevents any company from taking money out of your real account.
This free-trial card also protects you from email spam because it generates an alternate email address for the free trial sign up.
If you want to keep your phone number private and deter robocallers and text spammers, use DoNotPay's Burner Phone feature when subscribing to services.
In case the company does charge you, initiate a chargeback on your credit card transactions quickly with our app.
Discover DoNotPay's Amazing Features
DoNotPay is a virtual lawyer app that can take over annoying bureaucratic tasks from you.
We can cover anything you may need help with—dealing with customer service reps, booking appointments with the DMV, securing refunds and compensation from airlines, disputing your parking tickets, or getting you an extension on bill payments.
Our app can help you draft any legal document in minutes or access public records from state and federal databases.