Health Care Surrogate vs. Power of Attorney—The Analysis
If you become unable to think or communicate properly due to a disease or accident, it's recommendable to assign a person to act on your behalf. The question is—who should you choose to make financial or medical care decisions in your stead, and why is a power of attorney (POA) significant?
We bring you the answers in the form of a health care surrogate vs. power of attorney and health care proxy vs. power of attorney analysis anyone will understand! You will also learn how to use DoNotPay to create these documents with zero fuss.
What Is a Health Care Surrogate?
A health care surrogate is an individual appointed to make choices concerning your medical treatments and end-of-life care if you become unable to express your wishes. Depending on the area, this person is also called:
Health care representative
Health care proxy
Attorney-in-fact
Health care agent
Patient advocate
What Is a Health Care Proxy?
To legally appoint a health care surrogate, you should create a medical power of attorney, also called a medical or health care proxy. This document contains:
Appointment statement
Your info
Your primary health care agent info
Alternative health care representative info
Signatures of all participating parties, including one or two witnesses
A health care proxy is often combined with another type of health care directive—a living will. This document provides health care instructions for your doctors if you become incapacitated in the future.
Health Care Proxy and Medical Surrogate vs. Power of Attorney
The terms "medical power of attorney" and "power of attorney" mustn't be confused. The following table shows the difference between the duties of a medical surrogate and an agent you name via a power of attorney:
Question
Medical Surrogate
POA Agent
What can they do?
Decides about health care specifics only. They can't make decisions concerning other aspects of your life.
Has a broader spectrum of rights than a health care representative. They are allowed to act on your behalf when it comes to legal, financial, and estate matters
What do their duties include?

Accepting or rejecting specific therapies, surgeries, and other medical interventions
Choosing the medical personnel that should treat you
Picking nursery homes/health care facilities you should reside in
Making decisions related to:

Resuscitation
Artificial breathing and nutrition
Pain relief
Comfort/palliative care

Keeping your medical records
Staying in touch with your health care practitioner and attending medical personnel

Managing your bank accounts and performing financial transactions
Managing other property you possess
Filing taxes
Signing documents in your stead
Purchasing or selling real estate
Making investment decisions
Collecting your debts
Applying for public benefits
The person you choose as an agent must be of legal age (above 18) and trusted to make decisions that are in your best interest. They should also be of sound mind and know your preferences related to medical and end-of-life care or finances and property maintenance.
Create Killer Medical Powers of Attorney in a Snap With DoNotPay
Are you thinking about getting a lawyer who will create a perfect living will or a medical proxy in your stead? DoNotPay—the world's first robot lawyer—can help you avoid immense legal fees by providing you with a complete advance directive at an affordable price. There's an even better part—the entire process takes no more than five minutes!
What you should do is:
Search for the Advance Health Care Directive product
Designate a health care representative and name your witnesses
Explain your medical care wishes and preferences
Some states propose mandatory notarization for living wills and medical proxies. If this is the case, DoNotPay simplifies the process by connecting you with a reliable online notary so that you can have your document notarized electronically.
Are you thinking about appointing an agent to handle your finances? Our app also features a product that can help you create durable powers of attorney in a snap.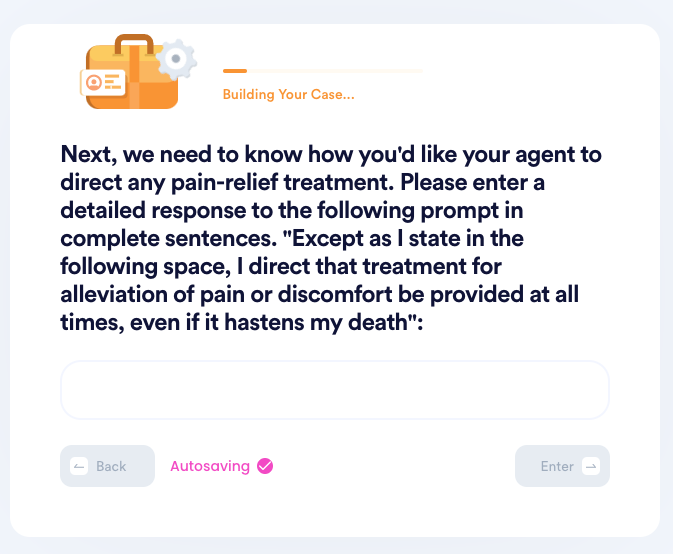 DoNotPay Offers More Assistance!
Our app boasts many features that can make your life easier.
Do you need help searching for unclaimed money or covering bills? Are you looking for clinical trials you can sign up for to earn some extra money? We can help you out in a flash!
Other tasks we can streamline for you are the following:
Forget Hiring a Lawyer—Use DoNotPay Instead
You don't want to spend a fortune on lawyer fees? No problem! DoNotPay—the world's first robot lawyer—is here to assist you! With our help, you'll be able to file complaints, sue anyone in small claims court, handle stalking and harassment, get crime victims' compensation, and draft numerous documents, including:
If you need to get a document notarized, you can also count on our help. We'll connect you with an online notary who will notarize your document in a flash.