The Basics of a Health Care Proxy
If you suddenly become incapacitated or extremely ill, you may not be able to decide on your medical care preferences. To prevent this from happening, you should prepare a health care proxy (sometimes known as a health care directive) and ensure all your wishes are complied with.
Not sure how to create such a document or what elements it should contain? Check out our A to Z guide to generating a comprehensive and customized healthcare proxy using DoNotPay!
What Is a Health Care Proxy?
A health care proxy is a legal document with which you appoint a specific person as your health care agent or attorney-in-fact. This person becomes responsible for making health-related decisions on your behalf if you become unable to speak for yourself. Such situations usually happen if a person is:
Demented
Unable to think clearly
Anesthetized
Injured and unconscious
Seriously or terminally ill
In a vegetative state
The term "health care proxy" also refers to a particular person you name as a health care representative. The main purpose of an agent is to convey your wishes to the doctors and ensure they comply with the health care requirements stated in the document.
When the term refers to a document, it's also known as:
Medical proxy
Health care power of attorney
Living will (in some states)
Note that this document is different from a standard power of attorney, which can also grant the agent powers to make financial decisions.
Who Can Serve as a Health Care Proxy if the Term Refers to an Agent?
When choosing an agent, you should consider an adult and mentally stable individual who cares about you and will carry out your wishes no matter what. They may include your:
Friends
Relatives
Spouse
Adult children
Long-term partners
What Can a Health Care Agent Decide About on Your Behalf?
Here are the responsibilities a medical proxy may bear related to your health care:
Treatment
Other Decisions

Receiving:

Specific medications
Blood transfusion
Dialysis
Antibiotics (in case of an infection)
Food and drink via a tube
Treatments the patient doesn't want to be subjected to
Hospice/comfort care

Undergoing surgeries and chemotherapy

Choosing facilities where you should be treated
Picking the doctors and medical staff members who should oversee your medical treatment
Naming a person responsible for your personal needs and hygiene
What Should a Medical Proxy Contain?
The exact content of a solid medical proxy varies from state to state. Here are general sections you should include in the document if you are creating it yourself:
Your name, address, and signature
Names and addresses of a primary agent and an alternate agent
Healthcare proxy duration—including the start and end date
Powers you want to transfer to your health care representative
Specific instructions related to organ and tissue donation
Signatures of one or two sane witnesses—the number of witnesses depends on the state where you created the document
Generate Your Medical Power of Attorney Effortlessly With DoNotPay
Drafting a medical proxy by yourself can be tricky, especially if you don't have any legal experience. Even though attorneys can do the grunt work, their services are pricey—ranging from tens to hundreds of dollars per hour. It's also possible to find a free healthcare proxy form online, but the quality of ready-made templates is questionable.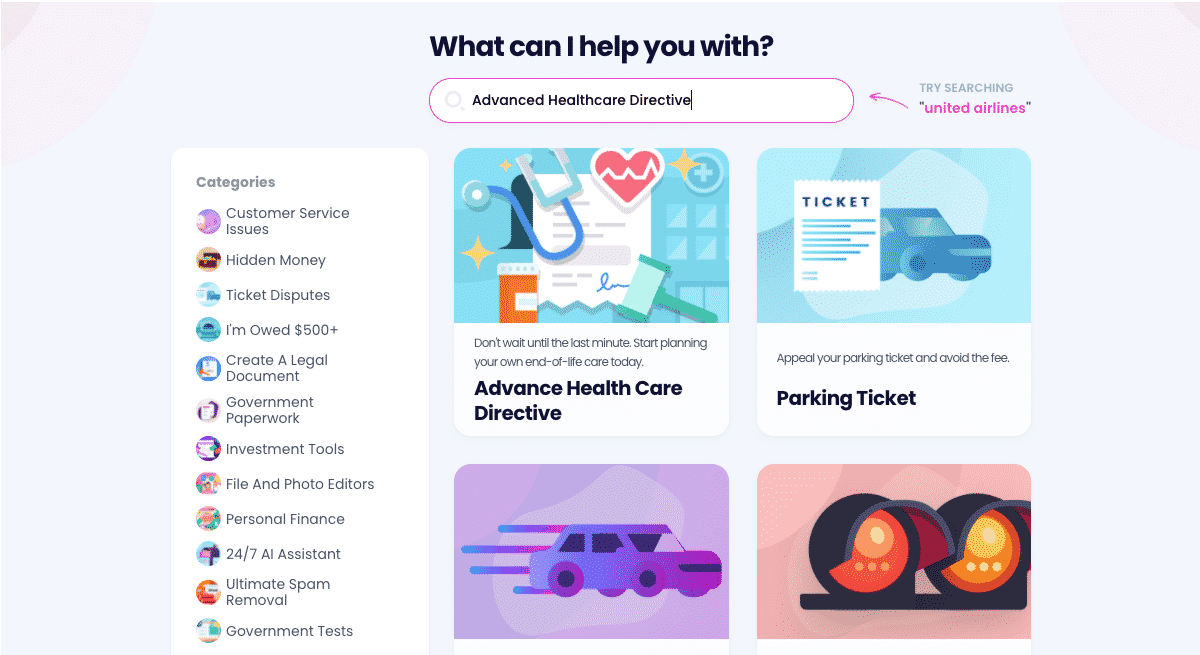 DoNotPay assists you by generating a fully personalized healthcare proxy, so you don't have to write it manually or pay astronomical sums for legal services. All you should do is:
Navigate to the Advance Health Care Directive tool
Provide the required details to our chatbot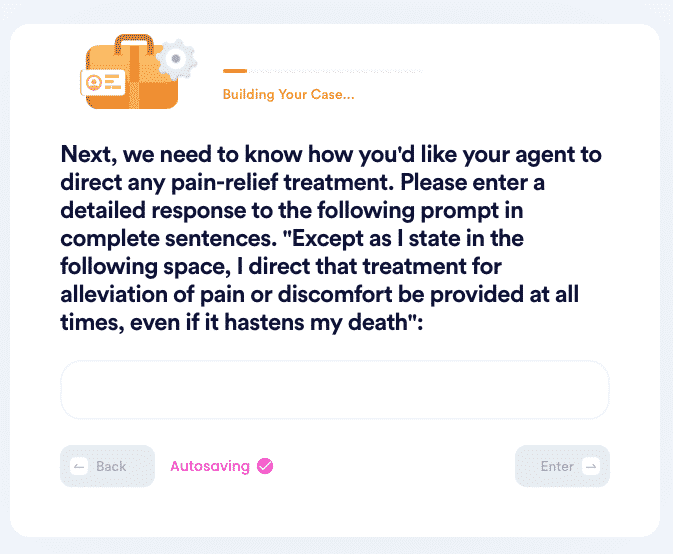 Upon receiving the document, you should get it notarized as you would do with any other power of attorney! Our app can connect you to an online notary so you can complete the process without unnecessary delays.
You can use DoNotpay to create living wills in any U.S. state easily and without stress!
DoNotPay Offers More Assistance!
Our app boasts many features that can make your life easier.
Do you need help searching for unclaimed money or covering bills? Are you looking for clinical trials you can sign up for to earn some extra money? We can help you out in a flash!
Other tasks we can streamline for you are the following:
Forget Hiring a Lawyer—Use DoNotPay Instead
You don't want to spend a fortune on lawyer fees? No problem! DoNotPay—the world's first robot lawyer—is here to assist you! With our help, you'll be able to file complaints, sue anyone in small claims court, handle stalking and harassment, get crime victims' compensation, and draft numerous documents, including:
If you need to get a document notarized, you can also count on our help. We'll connect you with an online notary who will notarize your document in a flash.