Health Care Proxy vs. Living Will—The Complete Analysis
Knowing there are documents that ensure your end-of-life wishes are respected and carried out can make your final stages of life more bearable and provide the emotional relief you seek. The documents in question are typically referred to as advance health care directives. Depending on your wishes, you can use one of the documents or the whole package to express your preferences and concerns regarding medical treatment (or lack thereof).
Health care proxy vs. living will—DoNotPay breaks down the difference between the two so you can decide which document suits your needs best.
The Main Difference Between a Living Will and a Health Care Proxy
Both a living will and a health care proxy (an alternate name for a medical power of attorney in some states) refer to the end-of-life medical care of the declarant. The main difference between the documents is who decides about the specifics of medical treatments.
Take a look at the table below to learn how each of the two documents works:
Document
Purpose
Living will
Allows the declarant to express their wishes regarding medical treatment and all aspects of end-of-life care, including:

Treatment of their body after death
Memorial preferences
Access to spiritual care

Health care proxy (or medical power of attorney)
Enables the declarant to designate a person (known as a health care agent) to handle all choices regarding medical treatment. The declarant should discuss their wishes and concerns with the health care agent. The document takes effect when the declarant becomes incapacitated
In cases where a declarant has both a living will and health care proxy, the former overrules the latter as it represents your explicit wishes.
How To Decide Between a Living Will and a Health Care Proxy
Both a living will and a health care proxy have their own benefits, but the final decision on which document is better depends on your wishes and needs. Check out the reasons that make each document useful, so you can opt for the one you deem better.
Reasons To Get a Living Will
Completing a living will form is the best option in situations when you:
Get diagnosed with a terminal illness, making further treatment only life-prolonging, with little to no chances of recovery
Don't want your family or friends to bear the burden of making hard decisions in your stead
Want to reduce the medical expenses your family will face after your death
Benefits of a Health Care Proxy
The benefits of having a completed health care proxy are best seen in situations where you:
Aren't sure whether to attempt or reject treatment
Haven't been diagnosed with a terminal illness but face a potentially risky surgical procedure
The health care agent you designate should be someone who can look at your medical situation from afar and make the best choice for you.
How To Create an Advance Health Care Directive
Whichever document you decide to get, the methods of creating them are the same for both. You can create a living will or health care proxy by:
Writing it from scratch—This method requires extensive research and a lot of time. You also risk missing some mandatory sections
Downloading and completing an online advance directive form—In the case of the living will, generic forms might not contain space to add optional circumstances about your end-of-life care you'd like to specify
Hiring a lawyer to draft the document for you—A lawyer will typically comply with your wishes regarding the information you want to include and create a legally rock-solid document, but the fees of hiring one can be too high
Using DoNotPay—If you'd like to avoid exorbitant legal fees that come with hiring a lawyer but want to get a personalized document of the same quality, our app can draft one for you in a matter of moments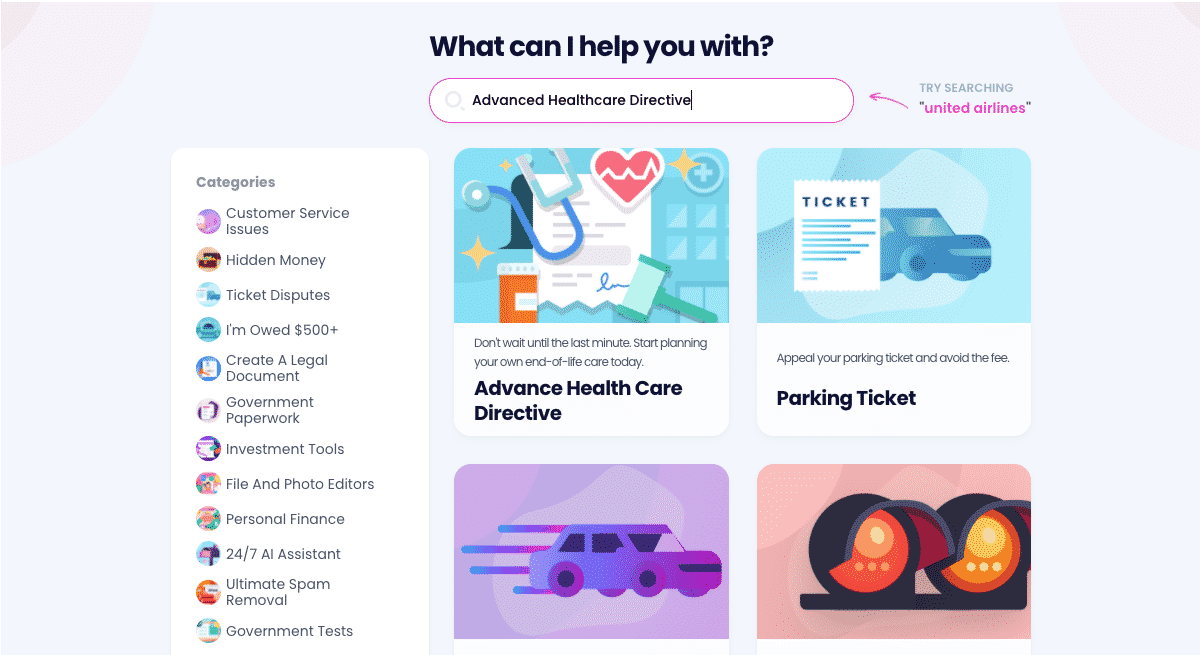 DoNotPay—The Quickest Way to a Rock-Solid Advance Directive
Getting your decisions regarding end-of-life care shouldn't be too costly or tiresome—that's why DoNotPay provides a simple way to create an advance directive in under five minutes! To get your personalized document, follow these steps:
Search for the Advance Health Care Directive feature
Provide details about the type of care you wish to receive or reject when you approach the final stages of your life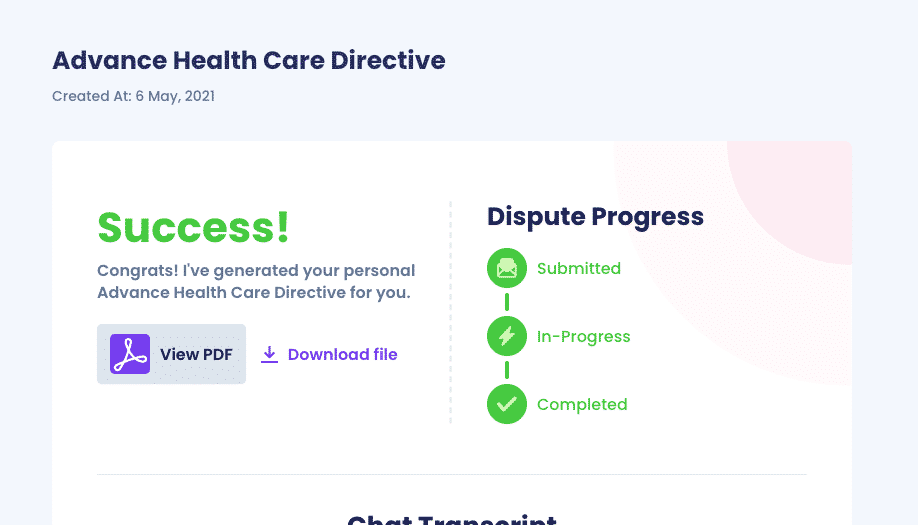 With DoNotPay, There's Always a Way
There's so much more we can do for you! As soon as you sign up for our AI-powered app, you will have a myriad of nifty products at your disposal. We can do any of the following and more:
Tired of Companies Mistreating You?
If you're sick of dealing with greedy companies, subscribe to DoNotPay—we'll assist you with any issue at hand.
If you want to get a refund, send an item return request, file a complaint, claim insurance or warranty, get a free trial without getting charged by using our virtual credit card, or put an end to robocalls, your AI-powered assistant will be there to help.
When you decide to take legal action, our app will support you along the way. Sue any company in small claims court worry-free!