The Easiest Way To Create a Health Care Proxy in NJ
If you want to know your preferences about medical treatments to get respected when you are no longer able to communicate your wishes due to an illness or an injury, you should state them in the appropriate legal document.
DoNotPay offers all the relevant info about drawing up a health care proxy in NJ and even generates one for you without trouble!
Advance directives are sensitive papers dealing with touchy issues. It's essential to learn how they work, so make sure to understand the slight differences between medical POAs and health care proxies to get a relevant document.
What Is Considered a Health Care Proxy in NJ?
A health care proxy is a legal document appointing an individual to make health care decisions for you if you become unable to make them yourself. It is part of a broader document known as an advance directive in New Jersey, sometimes also called:
Proxy directive
Durable power of attorney for health care
A health care proxy goes into effect even if your inability to make health care decisions is temporary—not only in end-of-life situations. The other NJ advance directive is called an instruction directive.
What Is an Instruction Directive in NJ?
An instruction directive, also known as a living will, is used to state your wishes about medical treatments. You do not need an agent to act on your behalf because the living will addresses the medical staff directly. You can include a description of your:
Beliefs
Values
General care and treatment preferences
Unlike the health care proxy, the instruction directive is used only in end-of-life situations and goes into effect when a doctor determines so. DoNotPay can also provide you with information on how to create a living will, the cost, and available forms.
Who Can You Appoint as Your Agent for an NJ Health Care Proxy?
The person you choose to make your health care decisions is known as an agent or a health care representative. They should respect your wishes and make the same decisions you would. If they cannot determine what you would want in a specific situation, they should decide what they believe is best.
Being a health care representative is not an easy job, so you need to choose one carefully. It should be someone reliable, so people usually opt for their:
Spouses
Adult children
Other family members
Close friends
Since anyone over 18 can perform this role, you can also opt for an impartial third party or a legal expert.
How Can You Create a Health Care Proxy in New Jersey?
If you want to create a health care proxy in the Garden State, you can do so in a few ways. Take a look at the table below to see your options:
| Create a Health Care Proxy By | Brief Explanation |
| --- | --- |
| Making the document yourself | The cheapest yet most risky option if you lack the required legal knowledge. You should steer away from online forms as well since they are not tailored to your specific case |
| Hiring a lawyer to handle the task | You can count on getting a well-written health care proxy, but you'll pay a hefty price |
| | The world's first robot lawyer will deliver the required results at a reasonable price |
Make a Health Care Proxy in New Jersey With DoNotPay
DoNotPay offers you a straightforward way to deal with what is otherwise a bureaucratic nightmare. We can generate a rock-solid legal document in a matter of minutes. Here is what you should do to get a top-notch proxy:
Choose the Advance Health Care Directive product
Appoint your agent and provide other essential medical information
Let us know what powers you want to appoint to your agent
Enter the names of the witnesses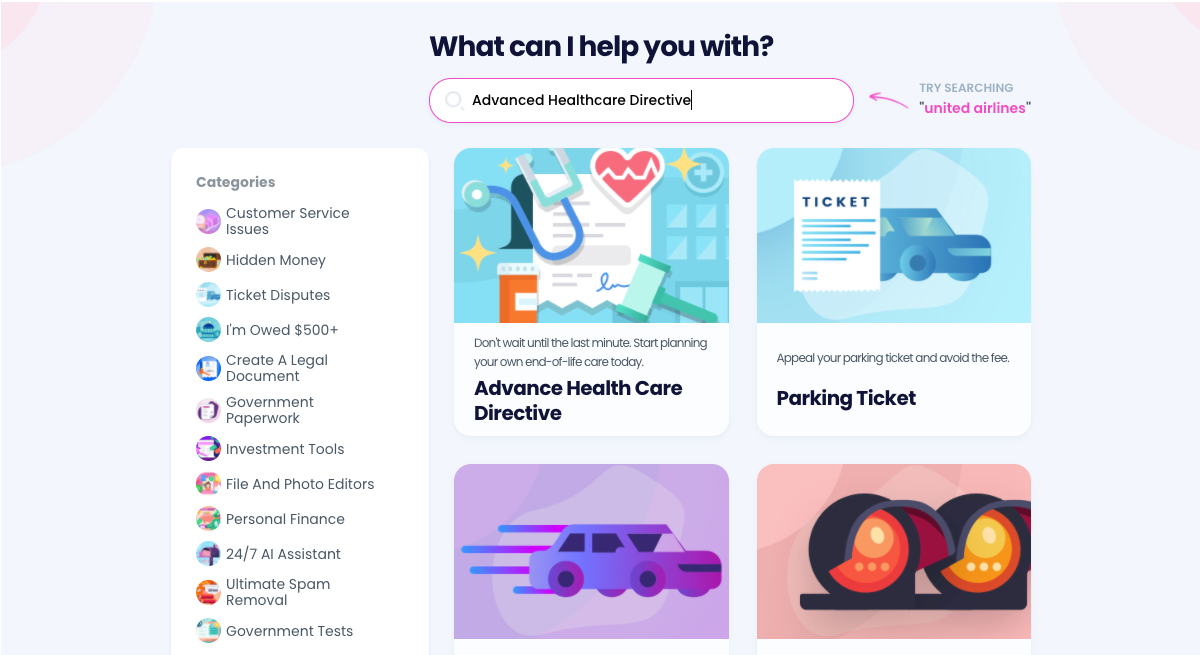 Deal With Administrative Issues With Ease
Drafting contracts and agreements, getting your documents notarized, disputing parking tickets, and creating passport photos will become a breeze once you sign up for DoNotPay.
We can also help you:
DoNotPay Helps You Protect Your Consumer Rights
Don't let companies take advantage of you! With our help, you'll be able to cancel any subscription or membership and request a refund.
As a consumer, you may be overwhelmed with endless steps and piles of paperwork you need to go through to get what you're owed. This is where DoNotPay comes in—let us be your assistant and fast-track the following:
Have you forgotten about a free trial you signed up for? Avoid being charged by using our app! With DoNotPay's virtual credit card, you'll get unsubscribed automatically without the company taking any money from you.
Are you getting spammed via email or text? Get rid of spam for good with our nifty app!