Don't Search for a Health Care Proxy Form in CT—Let DoNotPay Create the Document
According to Connecticut law, any adult and mentally stable resident of the state can create a medical power of attorney, also known as a health care proxy in some states. By preparing this form, you decide who will be responsible for making health care decisions in your stead if you're unable to.
The good news is that you don't need a health care proxy form in CT to create an adequate document. This article will teach you how to use DoNotPay to get a medical power of attorney or any other health directive swiftly and without unreliable templates!
Connecticut Health Care Power of Attorney Defined
A medical power of attorney in Connecticut is also called an appointment of health care representative. The document allows you to name a third party as your agent and authorize them to decide on your health care if an injury or disease leaves you incapacitated. It's different from a financial power of attorney as it doesn't address any financial or material issues.
To be effective, a Connecticut medical power of attorney must be:
Written
Dated
Signed by you and your agent
Witnessed by two adults
You can sign this document along with another state-specific advance directive form—a living will. It's a set of written instructions on how medical personnel should treat you if you become too ill to communicate.
What Can Your Agent Decide About?
The designated agent will be able to make choices related to all aspects of your medical care, including:
Life-sustaining procedures
Medical staff who should or shouldn't treat you
Nursing homes and other health care facilities you want or don't want to reside in
Receiving foods and fluids via a tube
Comfort care
End-of-life care
Organ donation
Who Can or Can't Be Your Health Care Agent in Connecticut?
The decisions made by the agent must comply with the personal wishes and beliefs of the patient. For this reason, you should choose an individual of trust who will act in your best interest.
The table below provides more info on who can or can't act as your agent in Connecticut:
Your Agent Can Be
Your Agent Can't Be

Mother
Father
Sibling
Adoptive parent
Adult child
Adult adopted child
Husband or wife
Long-term partner
Close friend
Member of your religious group

Minor
Your witness
Staff member in the health care facility you reside in
Owner, operator, or administrator of the hospital or nursing home where you receive care
Person who finances your health care or their employees
Main Elements of a Medical Power of Attorney in Connecticut
Whether you compose a medical power of attorney from zero or use a template, you must make sure it includes the following:
Your name and date of birth
Written appointment of primary health care agent, including their name and home address
Declaration of your alternate health care agent's identity (an individual who will take over if the primary agent can't perform their duties)
Appointment date
Signatures of all parties involved, including:

You
Your agents
Both witnesses

Printed names and addresses of your witnesses
Notary's signature and stamp (optional if you have witnesses)
If you don't have a living will, you can add a provision explaining the powers and rights you'll transfer to the agent.
Not Willing To Pay Lawyers To Draft Your Medical Proxy? Use DoNotPay
Do you want to create a fully personalized living will or health care proxy but don't have enough money to cover exorbitant attorney fees? Are you suspicious about downloading an online advance directive form? No worries—DoNotPay provides a solution!
Our affordable and efficient tool implements the basic info about your medical treatment preferences into an original document in record time!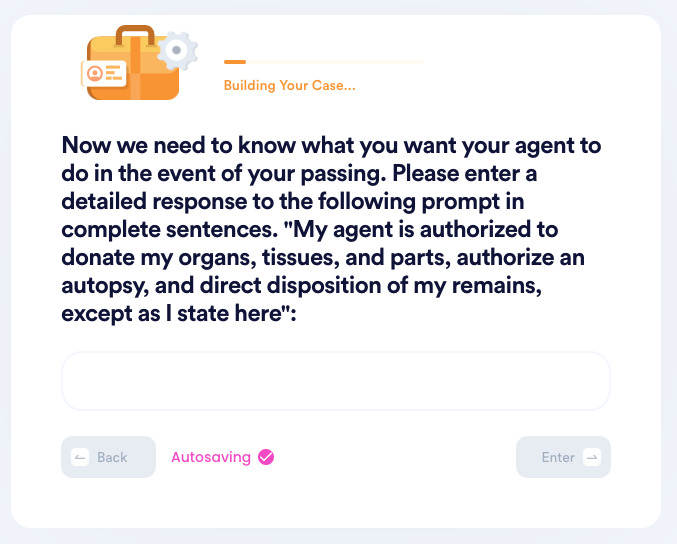 You should:
Navigate to Advance Health Care Directive
Provide details about:

Your agent
Witnesses
Wanted and unwanted medical care treatments
Do you need a notary to authorize the signatures on your health care proxy? Our app can help you get in touch with an online notary and have any document notarized in record time!
Rely on DoNotPay and Get Rid of Administrative Issues
Are you tired of returning items, canceling subscriptions, fighting parking tickets, and mailing letters? We can help you fast-track all these tasks and more! Do you need help reaching customer service, fighting workplace discrimination, submitting defamation demand letters, or filing HR complaints? Use DoNotPay and solve any issue without a hitch.
Feel free to also use our app to study for government tests, apply for scholarships, appeal low financial aid offers, and request college fee waivers.
Do you need help paying bills? DoNotPay can assist you in lowering your property taxes, getting gift card cash back, entering sweepstakes and giveaways, and getting refunds.
With us, you'll be able to both earn and save money!
Say Goodbye to Spammers With DoNotPay's Assistance
Getting spammed on the daily? Our app can put an end to this annoying issue! Block spam emails, text messages, and robocalls in a few clicks. We can even help you deal with stalking and harassment.
Thanks to our Burner Phone product, you'll get a temporary phone number that you can submit when registering on different platforms and protect your privacy.
Another way to keep your privacy intact is using DoNotPay's virtual credit card. Signing up for free trials without hidden charges and revealing your contact details has never been easier!