Health Care Proxy Examples—Do You Need Them?
Composing a medical power of attorney—in some states also known as a health care proxy—isn't a simple task. Many people get confused by the provisions they should include in the document and rely on online samples, which are often too generic for their needs.
Luckily, you can avoid health care proxy examples and advance directive forms and prepare a flawless document within minutes! Find out how to make the document you need without suspicious templates and enormous legal fees by signing up for DoNotPay!
General Definition of a Health Care Proxy
A health care proxy is a legal document that lets you delegate the rights to make health care decisions in your stead to another person. They act as your health care agent and decide on your behalf if you get permanently disabled or incurably ill.
The individual you appoint will be able to make choices related to almost all aspects of your medical and end-of-life care, including:
Treatments and medications
Artificial nutrition, hydration, and respiration
Cardiopulmonary resuscitation (CPR) and other life-sustaining interventions
Blood transfusions and dialysis
Tissue and organ donation
In some states, a health care (medical) proxy comes into effect only if you are terminally ill or in an irreversible coma. In others, it becomes effective in any situation in which you may be unable to speak or think clearly, such as:
Temporary unconsciousness
Stroke
Heart attack
Accident that caused injuries you can recover from
It's crucial to separate this document from a regular power of attorney as the latter serves to assign a much broader spectrum of rights.
People usually pair a medical proxy with a living will. It represents a health care directive that lists your medical care wishes and preferences doctors should be aware of if you become unable to communicate.
Where Can You Find Medical Proxy Examples?
You can get health care proxy samples from a few sources. They are presented in the following table:
| Way To Find Medical Proxy Examples | Explanation |
| --- | --- |
| Health care institutions | Some health care organizations offer acceptable medical proxy examples or forms. The content of these templates depends on the state you live in. Since each has specific requirements related to medical powers of attorney, you should double-check if the provided form matches your state's criteria |
| State laws | State codes often include a section featuring a recommended medical proxy form. Once you find it, you can modify it according to your needs and complete it with valid info |
| Online resources | You can find many medical power of attorney examples online. The main disadvantage of this option is that the available samples are often too generic or don't contain all the necessary provisions |
What Should a Medical Proxy Letter Sample Include?
Here is the information each medical power of attorney should provide, regardless of the state requirements:
The name and birth date of the principal—the person who appoints a health care agent
Declaration stating the legal name and home address of the designated agent
Secondary (alternate) agent info—if the primary agent becomes unable or unwilling to act on the principal's behalf
Transferred rights and powers
Limitations and special instructions
Date of signing
Signatures of all parties involved
Witness(es)' signature(s)
In Need for a Quick and Seamless Medical Proxy? Use DoNotPay!
If you decide to use a health care proxy sample, you will have to adapt it to your needs. This often includes rewriting or composing the document from scratch, which can be time-consuming and tiring.
DoNotPay has come up with an AI-based tool that can:
Gather all the info about your medical care preferences
Create a unique living will or medical power of attorney in your stead
Enable you to arrange an online appointment with a notary and get the document notarized with minimal effort
To use the tool, you should proceed as follows:
Select Advance Health Care Directive
Fill out the required fields related to your agent and witnesses
Answer quick questions about the desired future medical and end-of-life care
Once you follow the prompts above, we will provide you with a personalized document in less than a few minutes!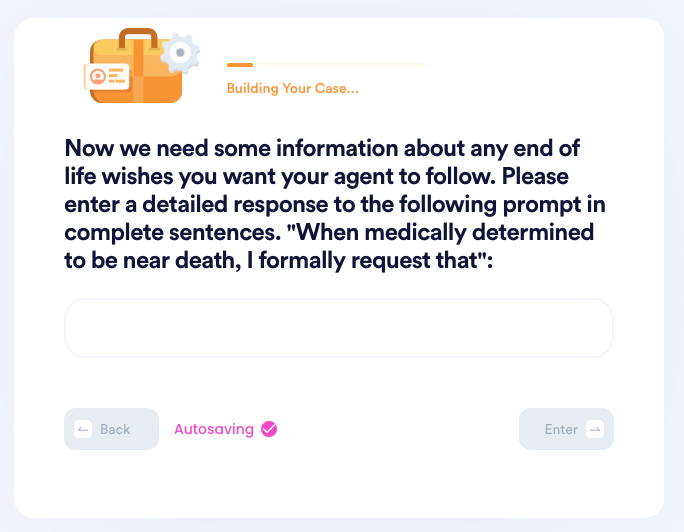 Save Time and Money Using DoNotPay
Being on hold while trying to reach customer service is no picnic. With DoNotPay, you can jump the phone queue and reach a rep with ease. Are you contacting a company to request a refund or cancellation? No need for that! Our app can get it done in a few clicks. We can also help you return an item or handle a late delivery.
Dispute parking tickets, claim your warranty or insurance, set up a DMV appointment, contact an embassy, and deal with any other task with our assistance.
You can also request access to public records, apply for tourist visas, or file complaints with the help of our AI-powered app.
We're Not Done Helping You!
Our multifaceted app keeps getting new features that can streamline numerous tasks and solve all kinds of problems.
Would you like to join sweepstakes or giveaways? Are you up for participating in clinical trials and earning some money? Are you interested in sending mail without visiting the post office? We've got it covered!
We will help you protect your privacy by putting an end to spam emails, incessant text messages, and robocalls. If you think you're being stalked, you can count on our assistance. You can also use our app to perform a sex offender search, fight workplace discrimination, and handle annoying neighbors.