The Ins and Outs of a Health Care Power of Attorney
While thinking and preparing for health problems you might face is never fun, you should plan ahead to prevent further complications.
Once you decide to address this topic, you need to get familiar with the necessary forms—advance health care directive, living will, and health care power of attorney (POA).
This article provides explanations regarding the last item on this list and shows you an efficient way to prepare this document.
What Is a Power of Attorney for Health Care?
A health care power of attorney is a legal document that lets you grant a person—i.e., your health care agent—powers to make medical decisions on your behalf in case you cannot speak for yourself.
This document is also known under the following names:
Keep in mind that a (durable) health care power of attorney form is often part of a more comprehensive document—an advance directive.
What Powers To Delegate in a Form for Power of Attorney for Health Care
Since you need to specify what powers you are granting to your health care agent, you should cover the following:
Health care you want to receive, including medical treatments, drug administration, or surgery
Medical providers to oversee your medical treatments
Health care facilities where you would like to receive medical care
Artificial administration of fluids and food
(Do not) resuscitate orders
Who To Choose for an Agent in a Health Care Power of Attorney
When creating a power of attorney for health care, you should appoint the right person as your health care agent since:
You will grant them powers to authorize or withhold medical treatment for you
They will give instructions to your physician or other health care providers
That is why you should select a person who is reliable and who will understand and respect your wishes.
While you need to check your state legislation regarding certain restrictions, in most cases, you can pick your:
Sibling
Parent
Spouse
Relative
Close friend
How To Write a Power of Attorney for Health Care
If you are not sure how to prepare a health care power of attorney, take a look at some options presented in the following table:
How To Create a Power of Attorney for Health Care
What To Pay Attention To
Hire a lawyer
While attorneys can draw up any legal document, you need to be aware that this might be the most expensive choice
Do it on your own
You can find a free medical power of attorney template online, but you should keep in mind that some are too generic, and you will need to:

Inspect them carefully
Change the forms considerably to fit your personal needs and legal requirements

You should use our affordable yet efficient robot lawyer to create a health care power of attorney for you in a matter of minutes
DoNotPay Generates a Power of Attorney for Health Care Automatically
Our AI-powered app can help you:
Make the necessary medical care decisions by providing you with an airtight health care power of attorney
Save time, energy, and money you need to spend if you choose to hire a lawyer or prepare the document by yourself
What do you need to do? and:
Access the Advance Health Care Directive product
Enter your agent's name and health care wishes
Specify the:

Powers you are delegating to your agent
Medical treatments you (don't) authorize

Provide the names of the witnesses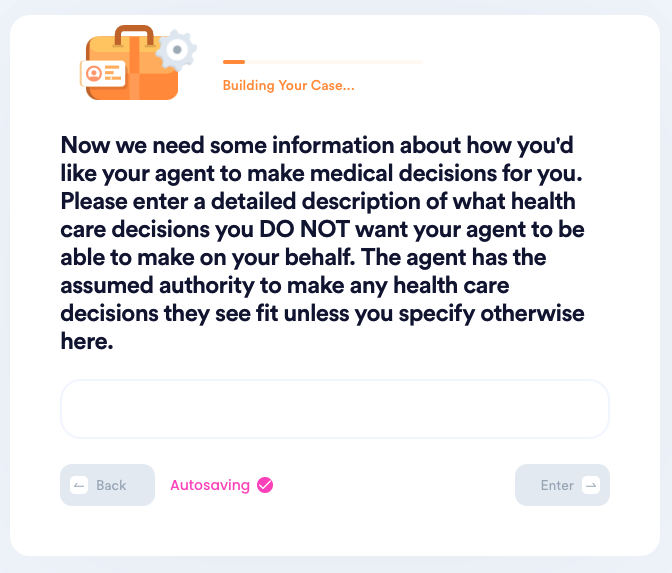 Keep in mind that some states require you to have this document notarized. DoNotPay can also help with this aspect by connecting you with an online notary public.
Solve Any Problem Within a Few Clicks
DoNotPay keeps adding new features that are designed to help you navigate your tasks and resolve issues. You can rely on your AI-powered app whenever you need to:
Earn and Save Money Using DoNotPay
When money is tight, every penny counts. DoNotPay can help you get what you're owed and also some extra cash.
Here are some of the ways our app can help you get paid:
We can also assist you in searching for your unclaimed funds, demanding a college fee waiver, and joining clinical trials.
If a company refuses to give you what you're owed, don't hesitate to file a complaint and take it to small claims court.