What Are the Health Care Power of Attorney Responsibilities? DoNotPay Knows
Being injured in an accident or getting diagnosed with a serious illness making you unable to communicate are situations that happen unexpectedly. To ensure your wishes are acknowledged even when you cannot speak, you should make a health care or medical power of attorney and designate the agent.
What exactly are health care power of attorney responsibilities? We will provide you with an answer and help you make this legal document once you register for DoNotPay.
Medical Power of Attorney Rights and Responsibilities
A medical power of attorney enables you to designate a person to act as your health care agent. The agent is also known as a medical proxy, patient advocate, attorney-in-fact, or health care surrogate. This individual will be in charge of making medical decisions on your behalf when you can no longer do so yourself.
The attorney-in-fact you choose will have as much power as you decide to transfer to them. Your agent has to:
Respect your wishes regarding medical treatments
Make decisions on your behalf in unexpected situations
A medical power of attorney can be used in any medical situation, not only in end-of-life circumstances. It also goes by other names, such as a health care proxy (note that some states recognize subtle differences between these documents).
Who Can Be a Health Care Agent?
The appointment rules regarding a health care agent might differ among the states, but in most parts of the country, this person needs to be at least 18 years old. You also need to make sure that they are reliable and trustworthy to be up for the task.
Consult the following table for more details about who your agent can be and what powers they can have:
Who Can Be Your Agent?
What Decisions Can Your Agent Make?

Spouse
Adult children
Close friends
Other family members

Life prolonging treatments
CPR and resuscitation
Tube feeding
Aggressive treatments—when to pursue and when to avoid them
Who Makes Medical Decisions Without the Power of Attorney?
If you don't have a medical power of attorney and become incapacitated, your health care providers need to act according to your state laws. In most states, this means that a spouse or a close family member will be called in to make decisions on your behalf while consulting with doctors.
The problem of not having a medical power of attorney arises if you don't have family members or when more than one person wants to participate in the decision-making process. This is why making a medical POA will save you and everyone else a lot of trouble.
Living Will vs. Medical Power of Attorney
A medical POA gives your health care agent the right to act on your behalf, but a living will lets you state your exact wishes in a legal document. A living will is mostly used in near-death circumstances when you are:
In a persistent vegetative state
Terminally ill
Both documents are equally important for providing peace of mind, and you can choose whether you want to make both of these advance directives or only one.
DoNotPay can show you how to create a living will and provide you with the information regarding the cost of the procedure and forms you might come across.
How To Create a Medical Power of Attorney With DoNotPay
If you are looking for a simple and budget-friendly way of creating a medical power of attorney, DoNotPay is the right choice. Unlike advance directive forms you can find online, our app will generate a rock-solid document that abides by your state laws and includes the instructions you provide.
These are the only steps you need to take:
Open the Advance Health Care Directive feature
Choose your agent and inform us about the powers you want to transfer to them
Enter the names of the individuals who will witness you signing the document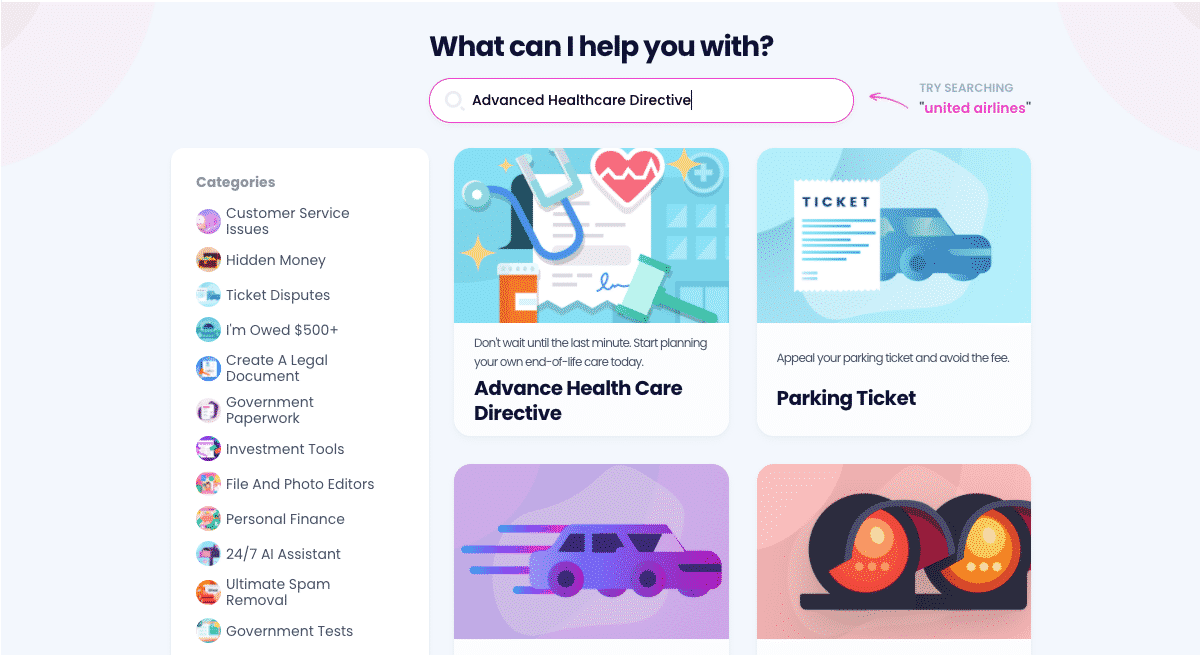 Turn to DoNotPay and Remove Bureaucratic Issues in a Snap
Does paperwork bring you to the edge of a nervous breakdown? With our help, you will skip all administrative impediments and get ready-made legal documents before you know it! No failed drafts or huge legal fees!
DoNotPay can generate:
Once you create the desired document, you can fax it online without a faxing machine or have it notarized with zero complications in the same app!
Your Info Is Safe With Our App
You don't need to leave your credit card info or personal details if you want to start free trials that won't turn into paid subscriptions without notice. DoNotPay will create a virtual credit card with a fake name and generic credit card number for you in just a few clicks. This way, greedy companies won't take a single penny from your account without your authorization!
Our app can also help you file anonymous HR complaints or create burner phone numbers to avoid disclosing your real info when signing up for apps and platforms.