Health Care Power of Attorney in Oregon Explained
If you don't choose an individual who will make medical decisions for you in case you become incapacitated, someone else might have to. The solution is to create a proper legal document that contains your wishes and instructions regarding certain treatments.
DoNotPay will help you learn everything about making a health care power of attorney in Oregon. We can also prepare the document for you in no time—all you need to do is register for our app.
Oregon Advance Directive—Basic Info
In Oregon, there are two types of advance directives used to express the instructions and wishes regarding your health:
Health care power of attorney
What Does a Health Care Power of Attorney in Oregon Entail?
A health care power of attorney is one part of an advance directive in Oregon. This document is used to appoint a health care representative who will make medical decisions for you if you become too sick to speak. A health care POA is also known as a medical power of attorney or a health care proxy, although there is a slight difference between the two.
What You Should Know About a Living Will in Oregon
In addition to the medical POA (appointment of health care representative), you can create a living will (health care instructions). This type of advance directive is used if you:
Are in a dying state and can't make medical decisions
Have an advanced progressive illness
Are permanently unconscious
Would suffer if kept on life support
If you decide to make this advance directive, you should inform yourself about the available forms and the cost of the process.
Who Can Be Your Health Care Representative?
The person you name as your health care agent needs to be a trustworthy adult (18 or older). The agent needs to understand your wishes and be willing to accept the responsibility of making medical decisions for you.
Consult the following table to discover who you can and cannot appoint for this role:
Can Appoint
Cannot Appoint (Unless Related by Blood, Marriage, or Adoption)

Close friends
Family members
Spouse
Adult children

Your attending physician
An employee of your attending physician
The owner, an operator, or an employee of the health care facility in which you are a patient
When Does a Medical Power of Attorney Go Into Effect?
Your medical power of attorney goes into effect when your physician determines that you can no longer speak and make decisions regarding your medical treatment.
Create a Medical Power of Attorney in Oregon With DoNotPay
If you don't want to spend a small fortune on lawyers' fees or risk making an invalid document using unreliable health care directive forms found online, DoNotPay is the way to go. We will make sure the document includes all the information regarding your wishes and protects your interests.
Our app offers a straightforward method of creating a medical POA—here's all you need to do:
Find our Advance Health Care Directive product
Name a health care representative and appoint the powers you want them to have
Enter other relevant medical information (your hospital, doctor, etc.)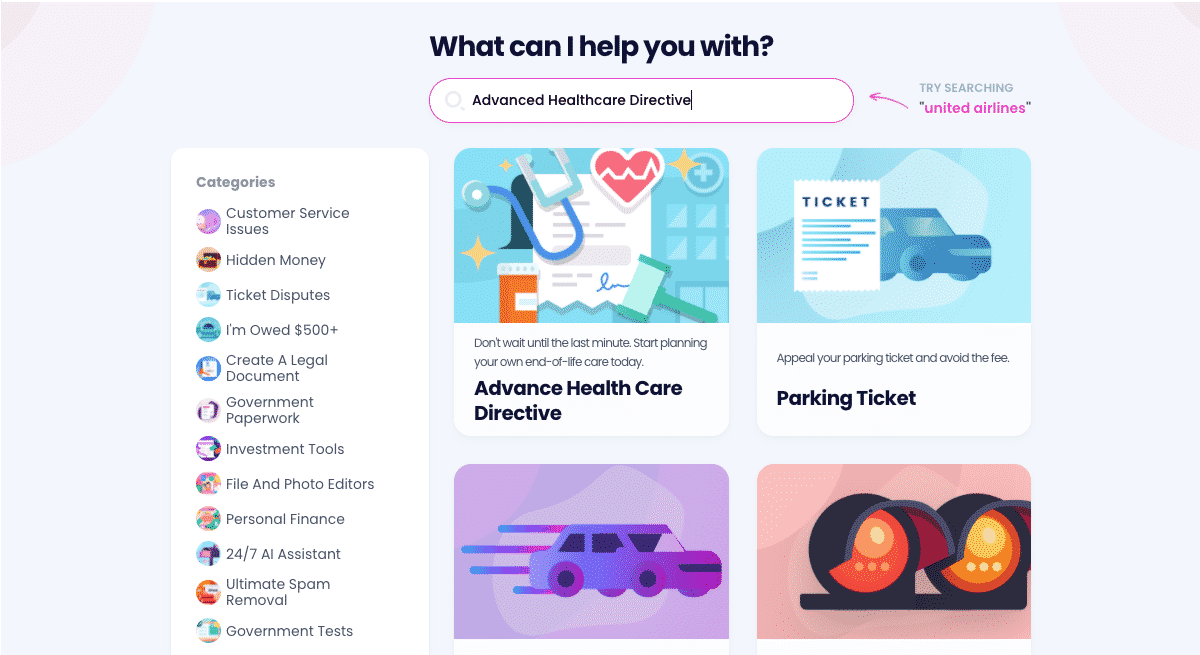 How Can You Make a Medical Power of Attorney Legally Binding in Oregon?
Oregon law mandates you to sign a medical POA or designate someone else to sign it for you. To make it enforceable, you need to do one of the following:
Get two witnesses to sign the document
Have the document notarized by a notary public
Your witnesses can't be your attending health care provider or health care representative. If you are a patient in a long-term care facility, one of the witnesses needs to be an individual appointed by the facility and qualified under the rules of the Department of Human Resources.
Skip the Bureaucratic Hurdles With Our Help
If your unfinished tasks are piling up each day, we can help save you time and energy. Let DoNotPay do the heavy lifting and complete the following for you:
| Bureaucracy | Spam and Harassment |
| --- | --- |
| | |
In one fell swoop, our app will draft legal documents, fax them online, and get them notarized. In case you need to request a college fee waiver, find unclaimed money, file a FOIA request, or contest parking tickets, you can count on DoNotPay's help.
We Offer Even More Ways To Assist You
Once you sign up for DoNotPay, there aren't many problems that we can't solve for you. Take a look at the table below to get an idea of what we can help you with: