The Ins and Outs of Hawaii Scholarships
Hawaii is an extremely popular tourist destination, but the state is also known for its range of high-demand colleges. You can even find plenty of scholarships to help you graduate debt-free while living in paradise! Hawaii scholarships cater to students of all kinds—even accommodating international and graduate students!
The problem is—you might have to go through a whole bunch of websites before you find one or more scholarships that are a good fit for you. If you want to simplify the process, sign up for DoNotPay to get a custom-made list within a few minutes!
Hawaii Scholarships—What To Expect
Since the state aims to make education affordable for all students, scholarships and grants are available aplenty—if you know where to look. Scholarships in Hawaii are awarded based on multiples factors, such as:
GPA or merit
Financial need
Ethnicity or minority status
Military or veteran status
Which Hawaii Scholarships Am I Eligible For?
Hawaiian and non-Hawaiian students alike may be eligible to apply for numerous funding options to offset the price of quality education. There are plenty of scholarships available for undergraduates, low-income students, college juniors, college freshmen, sophomores, and even doctoral students. Here are some scholarships in Hawaii that may cater to your needs:
| Scholarship | Amount | Requirement |
| --- | --- | --- |
| Fukunaga Scholarship Foundation | $20,000 | Applicants are required to demonstrate significant leadership qualities and have a minimum cumulative GPA of 3.0. An applicant must have attended a high school in Hawaii, must show financial need, and have a desire to build a career in business |
| Hawai'i Community Foundation Scholarships | Varies | Varies |
| OHA Native Hawaiian Scholarships | Varies | Applicants must be of Native Hawaiian ancestry and must have graduated from a Hawaiian school with a GPA above 2.8 |
| Bank of Hawaii Foundation Scholarships | $3,500 | Candidates must have a high school diploma or GED and a minimum GPA of 2.0 |
| Jeanne Allan Anderson Family Scholarship | $1,000 annually | Recipients must have excellent academic standing and show proof of financial need. They are also required to submit an undergraduate application form and FAFSA by March 31 |
Other Scholarships in Hawaii
Scholarships for women and groups in special situations are available in the state—if you have the patience to look for them. These opportunities include the following:
Alma White – Delta Kappa Gamma Scholarship
OHA Native Hawaiian Scholarships
NIADA Region IV Scholarship
Maui County Farm Bureau Scholarship
Henry and Joyce W. Sumid Scholarship
Alaka'ina Foundation Endowed Scholarship
Albert and Dorothy Shigekuni Scholarship Fund
Clem Judd Jr. Memorial Scholarship
How To Apply for a Scholarship in Hawaii
Scholarship applications in Hawaii follow the same steps as most states. One or more of the following documents are usually required:
Some programs' committees want to see proof that you are a Native Hawaiian or a resident of the state. A good rule of thumb is to always have multiple copies made of all your official documents. This is especially important if you apply for more than one opportunity since some schools may not return the paperwork to you regardless of your application status.
Applying for Scholarships in Hawaii—The Resources
The State of Hawaii has a number of official resources at hand for those who seek scholarships—especially for students planning to attend community colleges. These offices are dedicated to helping aspiring students with education- and scholarship-related issues.
Although you will not receive a scholarship just by reaching out, you can call one of the following numbers or visit the websites to talk to a representative and get answers to scholarship queries in your area:
Apply for Scholarships in Hawaii With DoNotPay
Although you can contact the university or the government to get information about scholarships, the chances are that it will waste a lot of your time. Even then, you will either get a limited list of opportunities or have to go through numerous pages—with tons of clickable links—that will just take you around in circles.
DoNotPay can make the process significantly easier by showing you a tailor-made list of scholarships that you are eligible to apply for! If you're not a fan of writing essays or reading through essay prompts, choose the no-essay option and apply for it automatically through our app!
All you have to do is:
Log in to DoNotPay and look for the Apply for Scholarships option
Select your current and intended levels of education
Input a few details about yourself
You're done! DoNotPay will show you a full list of scholarships that match your criteria, and you can pick the options that seem best to you!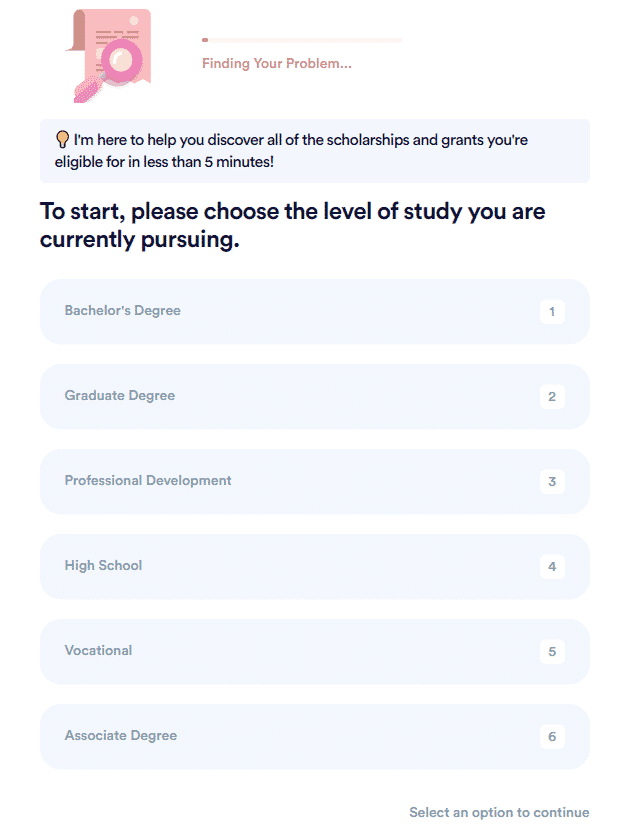 Is Bureaucracy Getting on Your Nerves? We Have a Solution!
We all know that dealing with bureaucracy isn't pleasant, and it often leads to overwhelming frustration. The good news is that DoNotPay has found a workaround! You can now do the following by using our app:
Let DoNotPay Make Your Legal Troubles Disappear!
Drafting contracts and other legal documents isn't a task you should handle on your own. Don't want to spend a fortune on lawyers? That is why DoNotPay—the world's first robot lawyer—is here to take the lead and help you out! Check out the list below to see some of the legal documents that our app can draft for you:
We don't stop there! Cut through the red tape and let DoNotPay assist you in taking anyone to small claims court, getting your documents notarized, submitting anonymous HR complaints, or requesting crime victims' compensation.