How To Plan for Your Hawaii Jury Duty
Getting ready for Hawaii jury duty can be a complicated undertaking.
To start, you'll need to know what to wear, how long your jury duty will last, and how much it pays. This article will answer your primary questions about what it means to be a juror.
One of your first tasks will be booking the necessary time off of work—DoNotPay's Request Jury Duty Leave product can help you do so.
Jury Duty in Hawaii
Jury duty is one of the few essential responsibilities shared by all Americans. All citizens are entitled to a fair trial by jury, and, in return, all citizens must serve on a jury.
Here is how jury duty works in Hawaii:
Eligible Hawaiian residents are drawn from a random pool
Prospective jurors complete a questionnaire to confirm their ability to serve or request an exemption
On the first day in court, the prosecution and defense select jurors by posing a series of questions to identify potential bias
6–16 jurors hear the details of the case and deliver a verdict
You can check whether you have jury duty by getting in touch with your local county court.
Jurors serve in state or federal courts. While the former deals with state laws, the latter is used to hear cases involving federal laws.
Hawaiian state laws prevent jurors from serving more than once per year.
Common Questions About Hawaii Jury Duty
You probably have a few questions about your impending jury duty in Hawaii:
Can I get out of jury duty?
How long does jury duty last?
What can I wear to court?
How much does jury duty pay?
How does jury duty affect my job?
Can I Get Out of Jury Duty?
Possibly—Hawaiian courts recognize the following categories as those who can request exemption from jury duty:
Active military members
Breastfeeding mothers
Law enforcement members
Healthcare workers
Firefighters
If you are not exempt, do not risk skipping jury duty. You may be fined up to $500 and face as many as 30 days in prison.
How Long Does Jury Duty Last?
Hawaiian jury duty lasts an average of 3–5 days. The length of a trial can vary depending on several factors:
Extent of evidence presented
Number of witnesses and length of testimony
Time required for the jury to reach a verdict
The more complicated the case, the longer the trial. The judge will usually inform jurors of how long they expect a trial to last.
What Can I Wear to Court?
U.S. courts impose a strict business or business casual dress code. You are not allowed to wear any of the following items as a juror:
Baseball caps
Tank tops
Tube tops
Open-toed footwear
How Much Does Jury Duty Pay?
Juror wages vary from state to state. In Hawaii, your compensation and reimbursements depend on the level of court in which you serve:
| Court | Pay per Day | Travel Reimbursement | Expense Reimbursement |
| --- | --- | --- | --- |
| State | $33 | $0.33 per mile | $0 |
| Federal | $50 | $0 | Up to $40 |
How Does Jury Duty Affect My Job?
Your first step as a juror is to inform your employer about your upcoming absence from work. Employers cannot fire employees because of jury duty. Those who do so are guilty of a petty misdemeanor and can face a fine of $1,000 and up to 30 days in jail.
DoNotPay Helps You Request Jury Duty Leave in Hawaii
Are you worried about having to ask your boss for leave from work? DoNotPay will make the process stress-free. Our Request Jury Duty Leave product streamlines the process of writing a professional letter to give to your employer.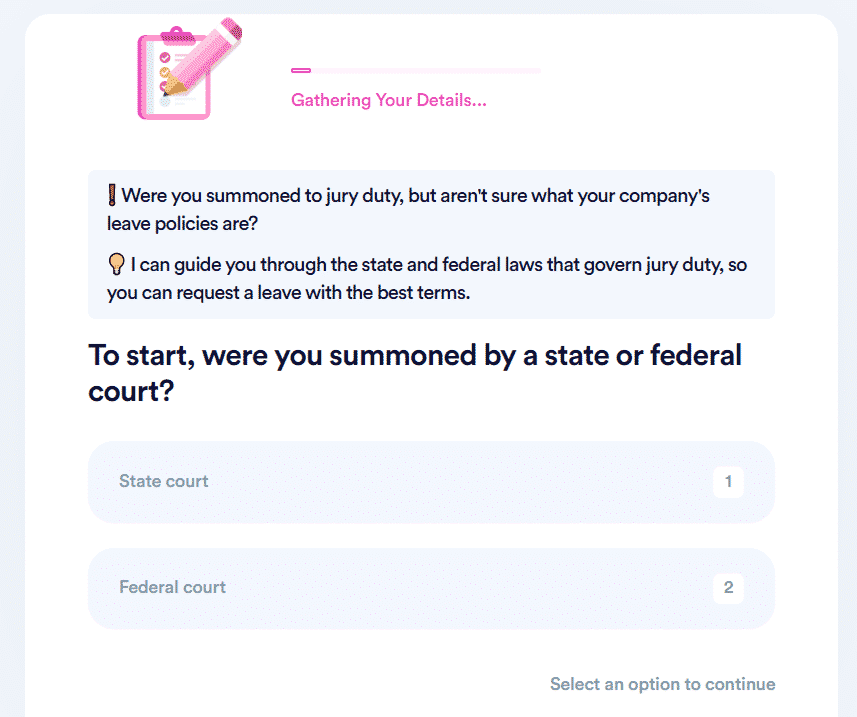 Here is what you have to do:
Choose the Request Jury Duty Leave product
Provide the required details about your jury duty
Choose the days on which you will be absent
Upload a copy of your summons as proof
After that, you can download a copy of the letter and send it to your HR directly or let DoNotPay do it on your behalf.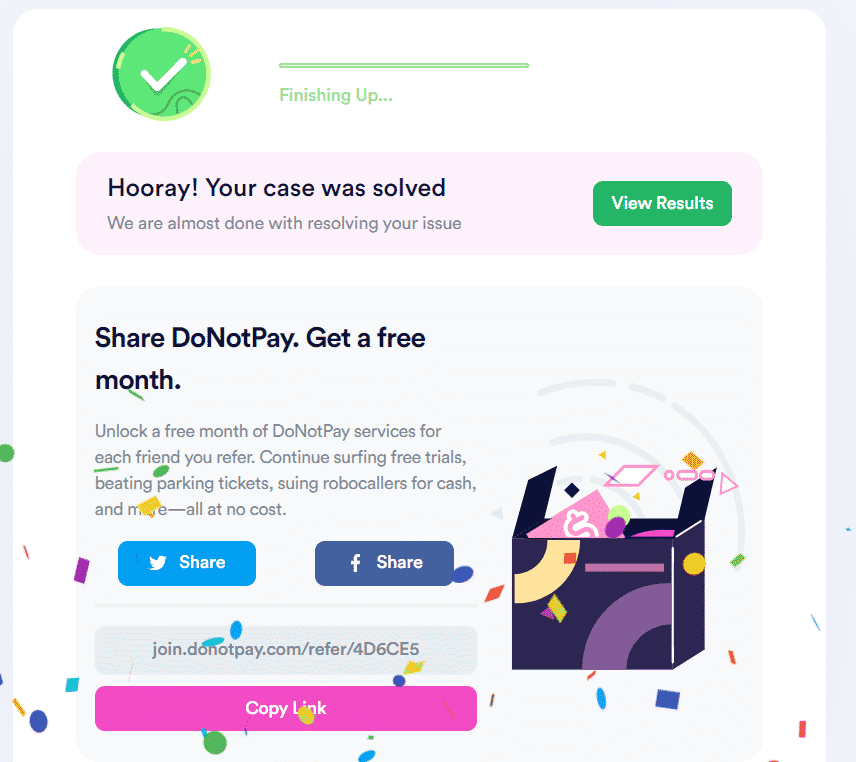 Save Time and Money Using DoNotPay
Being on hold while trying to reach customer service is no picnic. With DoNotPay, you can jump the phone queue and reach a rep with ease. Are you contacting a company to request a refund or cancellation? No need for that! Our app can get it done in a few clicks. We can also help you return an item or handle a late delivery.
Dispute parking tickets, claim your warranty or insurance, set up a DMV appointment, contact an embassy, and deal with any other task with our assistance.
You can also request access to public records, apply for tourist visas, or file complaints with the help of our AI-powered app.
We're Not Done Helping You!
Our multifaceted app keeps getting new features that can streamline numerous tasks and solve all kinds of problems.
Would you like to join sweepstakes or giveaways? Are you up for participating in clinical trials and earning some money? Are you interested in sending mail without visiting the post office? We've got it covered!
We will help you protect your privacy by putting an end to spam emails, incessant text messages, and robocalls. If you think you're being stalked, you can count on our assistance. You can also use our app to perform a sex offender search, fight workplace discrimination, and handle annoying neighbors.