How To Deal With Noisy Upstairs Neighbors—Revenge Plan
What to do when you can't sleep because of your noisy neighbors? Should you exact a noisy upstairs neighbors revenge? This article will tell you all about the ways you can deal with your noisy neighbors—from writing a letter to a neighbor about noise to getting back at them by filing a complaint.
You can also to generate a legal demand before going to the authorities.
Proposing a Solution Before Seeking Revenge
Before exacting revenge on your noisy neighbor, you might want to think of a different solution. You can try and block the noise on your own or talk to your neighbor. The chances are that they have no idea how much distress they're causing you.
Here are some of the potential solutions to your noisy neighbor problem:
If they have a barking dog—You can talk to them about how much the barking affects you and propose a sonic training device as a solution
If they're partying all night—Propose to your neighbor a day party or to have parties only on weekends
If they're having loud sex—Since this is a delicate topic, you should approach it with sensitivity. Go to your neighbor and explain how thin the walls are. They might get embarrassed, so be considerate
Try Negotiating With Your Noisy Neighbors
Noisy neighbor retaliation might seem like a good idea, but you might want to try negotiating first. You can follow these instructions on how to deal with noisy neighbors to try and negotiate your way out of the noise:
Choose the time of day when you know your neighbor is at home
Be calm and collected when you go for a visit
Bring some homemade baked goods if you want to be extra friendly
Knock on their door calmly
Inform them in a friendly but confident way of the noise they're making
Tell them how the noise makes you feel and why you need them to be quieter
Keep your head straight and be polite
If the friendly approach doesn't work, then it's time to take revenge on your noisy neighbors.
How To Get Revenge on Noisy Neighbors
If all else fails, you can always get back at your noisy neighbors easily—all you need is a little creativity. There are multiple ways you can exact revenge on your neighbors, but be sure that you're not doing anything illegal.
You can get revenge on your neighbors by:
Giving them a taste of their own medicine
Ignoring them
Getting a loud pet
Throwing a party
Putting jelly on their doorknob
Signing them up for junk mail
Filing a complaint with the Homeowner Association (HOA)
Calling the police
Top Five Ways To Annoy Upstairs Neighbors
We have come up with some ideas on how you can annoy your neighbors, but keep in mind that anything you do will have consequences.
Check out the table below for the top five ideas on how to get back at your noisy neighbors:
| | |
| --- | --- |
| The Deed | Detailed Explanation |
| Doorbell ditch | Choose an extremely inconvenient time to ring your neighbor's doorbell and run away. After they answer and see no one's there, wait for them to get back inside and do it again. Repeat the action a few times, but don't overdo it because they might expect it the next time |
| Send advertisers to their apartment | When someone rings your doorbell to sell you something, mention your neighbor as the perfect person for the product. Make the advertisers go to your neighbor's door |
| Bang on the ceiling | Use your broom or any type of tool with which you can reach the ceiling and bang on it. Make the noise while your neighbor is asleep |
| Use your vacuum cleaner after hours | When your noisy neighbors go to sleep, you can start your vacuum cleaner. The later in the day, the better |
| Play some loud music | If you play a musical instrument or own loudspeakers, play some music for your upstairs neighbors. Be sure to play something they don't like |
Let DoNotPay Help You With Noisy Neighbors in Minutes
DoNotPay suggests you deal with your noisy neighbors amicably. If they don't change anything, you need to escalate.
Using our Neighbor Complaint product, you will summarize all your complaints into a legal demand letter that DoNotPay will send to your neighbor. You can also send the arbitration notice along with the compensation and damages you seek.
The letter you create using DoNotPay will include a warning of further legal actions you might take if your neighbor doesn't stop. All you need to do is and follow these steps:
Type in Neighbor Complaint into the search field
Select the type of problem you're having with your neighbor
Provide more details about your situation—when the noise occurred, whether you've spoken to your neighbor about it, how much compensation you are seeking, etc.
We will generate your demand letter and mail it to your neighbor. DoNotPay can also help you deal with bad neighbors legally, especially if they are harassing you.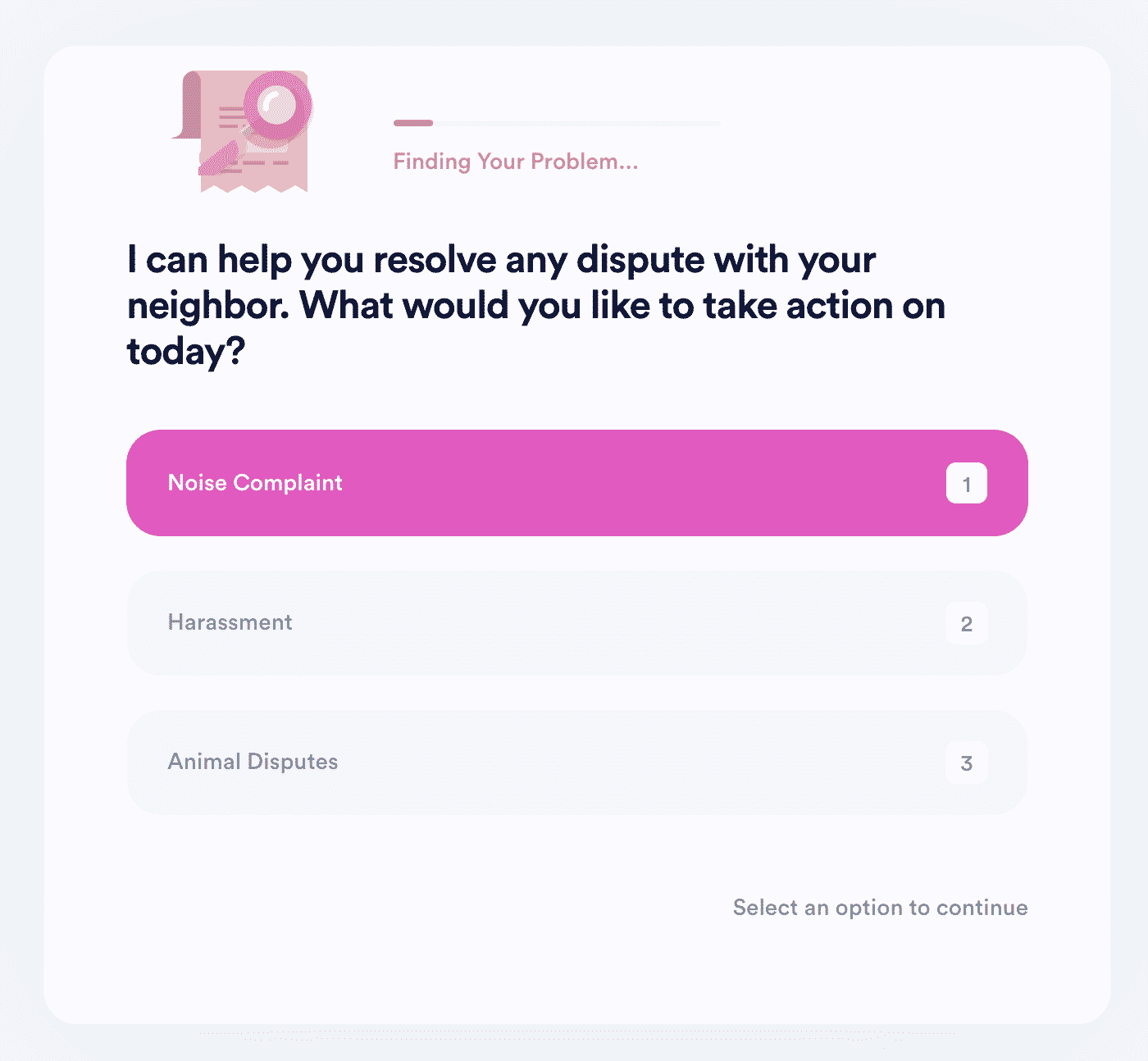 Use DoNotPay's Features to Your Advantage!
DoNotPay offers a myriad of helpful services you can use to resolve your everyday hurdles.
Do you need help paying bills or finding and claiming missing money? Are you interested in applying for clinical trials in your area? We can help you solve these and many more issues in no time!
Here are some other problems you can handle effortlessly with our help:
Hiring a Lawyer Can Cost a Small Fortune—Rely on DoNotPay Instead
If you're on a tight budget and can't pay a lawyer to help you create legal documents, file a claim in small claims court, or handle stalking and harassment, DoNotPay has a solution for you.
Our app will help you create various documents, including child travel consent forms and complaint letters for a problematic neighbor.
Are you a victim of a crime and need help applying for reimbursement of your crime-related expenses? You can sign up for DoNotPay and allow us to handle your crime victims compensation on your behalf.
DoNotPay can also connect you with an online notary and enable you to get your documents notarized from the comfort of your home.