Get
Harris County Property Tax Exemptions
Easily
As a homeowner in Texas, you could benefit from learning how to lower your property tax bill and save some money. A good way to do so is to apply for the available property tax exemptions in your area. DoNotPay can tell you if you qualify for Harris County Property tax exemptions!
What You Should Know About Property Taxes
The annual cost you pay for owning property is called property tax, and the calculation of your property taxes and the amount you pay is determined by your state or county. Several factors affect the amount you need to pay as a homeowner, such as your home's:
Age

Size

Location

Type
Even though property tax is a heavy burden for most homeowners, it is necessary because it helps various institutions in your local community. The tax money goes to fund the police, hospitals, libraries, and fire protection in your area.
What Are the
Harris County Property Tax Exemptions
?
If you want to pay less for property taxes in Texas, you need to learn if you qualify for property tax exemptions. Texas offers the following tax relief options:
Harris County residents have additional exemptions available, such as those for homestead properties and those for seniors, veterans, and persons with disabilities. 
Harris County Property Tax Homestead Exemption
The table below elaborates on homestead property tax exemptions available for all homeowners in Harris County:
| | |
| --- | --- |
| Homestead Property Tax Exemption | How Much Is Exempt |
| County taxes | 20% homestead exemption |
| School taxes | $25,000 on the value of your home for school district taxes |
| Optional exemptions | The amount of an optional exemption can't be less than $5,000, but it can be added to any other homestead exemption |
Harris County Property Tax Exemptions for Veterans, Senior Citizens, and Disabled Persons
Harris County also offers other property tax exemptions for specific groups of people, such as:
Find Out if You Are Eligible for a
Harris County Property Tax Exemption
With DoNotPay
Each of the property tax exemptions in Harris County comes with numerous requirements, and it is not simple to determine whether it matches your situation. If you don't want to deal with this process on your own, you should use DoNotPay! 
You are only a few clicks away from finding a way to lower your property taxes. Heed these instructions:
Access DoNotPay from a web browser

Find and choose the

Property Tax

feature

Answer some questions about yourself

Provide us with the details about the property you own
DoNotPay will generate your guide to property tax reductions. Your virtual assistant will be by your side to provide you with advice on completing the necessary forms and sending your application.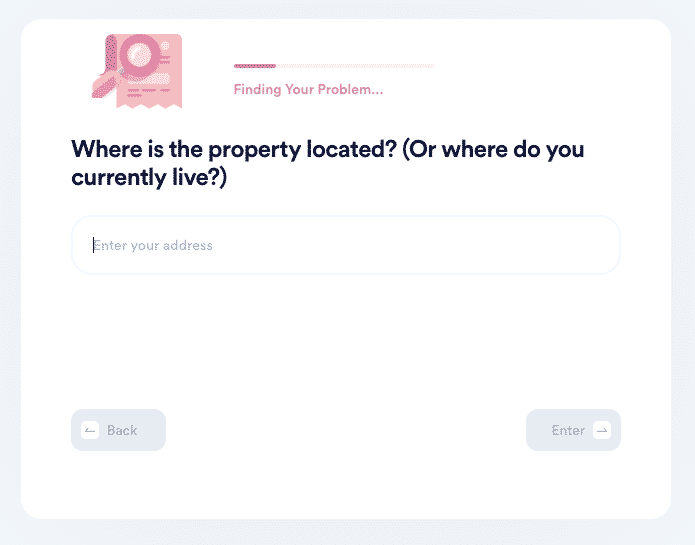 We also have all the info about the states with low property taxes. Learn more on how Arizona, Alabama, or Colorado are handling property taxes.
DoNotPay can also provide you with other ways that can help you pay property taxes, such as filing property tax appeals—in Texas or any other state!
DoNotPay Makes Appealing Property Tax Assessments an Easy Task
Another way of lowering your property tax assessment and ensuring lower property taxes is by filing an appeal. This is not a simple process to go through on your own, but luckily, you can count on DoNotPay for help.
Access our app in a web browser and let us help you with appealing your past property tax assessment in Texas. We can:
Provide you with solid arguments when negotiating with the assessor

Aid you with the process of collecting evidence for lowering your home's assessed value
Other Options for Reducing Property Taxes in Harris County
The two most effective ways of lowering your property taxes are property tax appeals and exemptions. You can also try some other methods to further reduce this annual cost:
Make sure to be present while the property assessor is doing their job to be certain they appraise your property fairly

Avoid making any home improvements before the assessment because they can increase the assessed value of your property

Check your tax bill because you may find some inaccuracies in the calculation of your property tax that you need to report
What if You Can't Pay Your Property Taxes on Time?
In case you can't make your property tax payments on time, you risk losing your home. You should contact the Harris County taxing authorities and let them know if you have a valid reason for being late with your payments. They could offer you an extension period for paying property taxes. Otherwise, your state might foreclose on your home.
DoNotPay Is Your Pocket-Sized Treasurer 
To pay or to DoNotPay—that is the question! Our nifty app finds money where you didn't even know you had it.
With our app, you can avoid college application fees, cancel unused subscriptions, explore free trials, and get out of paying for unfair parking tickets. 
We can also help you with high bills by composing due date extension letters or reducing property taxes, just as we can locate missing money that you can reclaim in any state you've ever lived. 
To top it all, we'll even assist you in requesting compensation from any airline—whether it is for poor in-flight Wi-Fi, a delayed, or a canceled flight.
Can't Find Your Head in All the Paperwork? DoNotPay Sorts It Out for You!
You no longer have to cash out on pricy legal advisors to do simple paperwork for you—our app can draft legal documents for you in a matter of minutes! 
We can write small claims court scripts, dispute letters for chargebacks and refunds, personalized letters to connect with inmates, DMCA takedown notices for copyright protection, and cease and desist letters for stalking and harassment protection. 
If you need to get a DMV appointment before taking a driving exam or any other government test, we're there to schedule it in your stead!