Getting Harris County Divorce Forms Is Easy With DoNotPay's Guide
If you want a fast and cheap divorce in Texas, filing for an uncontested divorce might be the best option for you. Before starting the divorce process, you'll need to obtain all the necessary Harris County divorce forms!
We'll provide you with all the details about where to find the required paperwork and how to file for divorce in Texas and Harris County.
Uncontested Divorce in Harris County—Basic Info
Getting an uncontested divorce can save you a lot of time and help you reduce the overall cost of your divorce.
An uncontested divorce is convenient because it doesn't have to involve lawyers and court hearings, and it's typically not as long as other types of divorces. Check the table below to find out more about key aspects of an uncontested divorce in Harris County:
Main Aspects of a Harris County Divorce
Explanation
Meeting the residency requirements
You fulfill the residency requirements if you or your spouse:

Have lived in Texas for at least six months before starting the divorce proceedings
Have been a resident of Harris County for a minimum of 90 days before filing for divorce

Stating the appropriate grounds for divorce
While Texas recognizes both fault- and no-fault -based grounds for divorce, an uncontested divorce must be based on no-fault grounds—irreconcilable differences
Agreeing on all terms of the divorce
An uncontested divorce is only possible if you and your spouse agree on all of the following terms:

If you and your partner don't get along on all divorce terms, mediation can help you reach a mutually acceptable understanding
What Harris County Divorce Forms Will You Have To Obtain?
The key forms for a Harris County divorce are as follows:
Depending on your circumstances, you might be required to file some additional Texas divorce forms—such as:
Where Can You Find Harris County Divorce Forms?
Getting an uncontested divorce implies that you'll have to collect and file all the necessary divorce forms by yourself. You can find them on the following website pages:
How Much Can the Filing of Harris County Divorce Forms Cost?
The cost of an uncontested divorce in Texas includes court filing fees. They differ depending on whether or not the divorce involves children, as follows:
How To File for an Uncontested Divorce in Harris County
After you've gathered all the necessary uncontested divorce papers, it's time to start the divorce proceedings. Here are the steps to filing for friendly and uncontested marriage dissolution in Harris County:
Create a divorce settlement agreement—Marital settlement agreement is one of the most important divorce papers in an uncontested divorce. It is a document that outlines all the crucial terms of your divorce, such as:

Child custody
Child support
Splitting of assets and property
Division of debts

File the divorce papers—File the original documents with the county clerk's office and make a few copies for you and your soon-to-be ex-spouse
Serve your spouse—Anyone who's authorized by the Texas court can serve the divorce papers, including:

Constable
Sheriff
Professional process server

Appear before a judge—If you complete all previous steps correctly, the judge should grant you a divorce by signing a Divorce Decree
You can use DoNotPay to create your divorce settlement agreement fast!
How To Create a Perfect Divorce Settlement Agreement With DoNotPay
Drafting a legally formatted divorce settlement agreement is crucial in any divorce proceedings. That's why you should rely on DoNotPay to draw up this document for you. Our platform knows all about state-specific divorce laws and will create your divorce settlement agreement according to them.
With DoNotPay as your reliable assistant, you'll achieve a low-cost divorce in no time!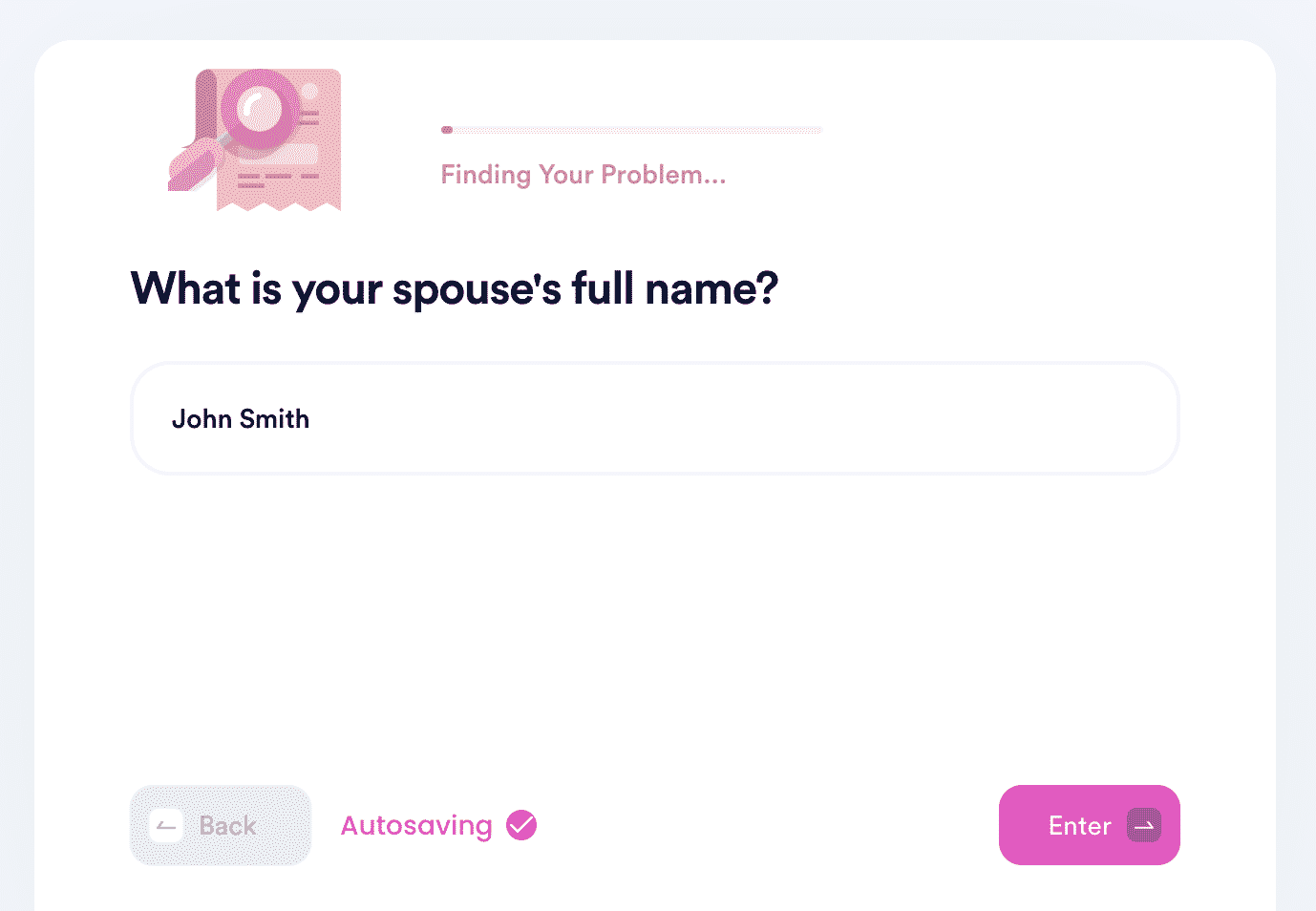 Here's what you need to do:
Open the Divorce Settlement Agreement tool
Complete the questionnaire about you, your spouse, and your marriage
Indicate how you want to divide your assets
Notify us if you need a notary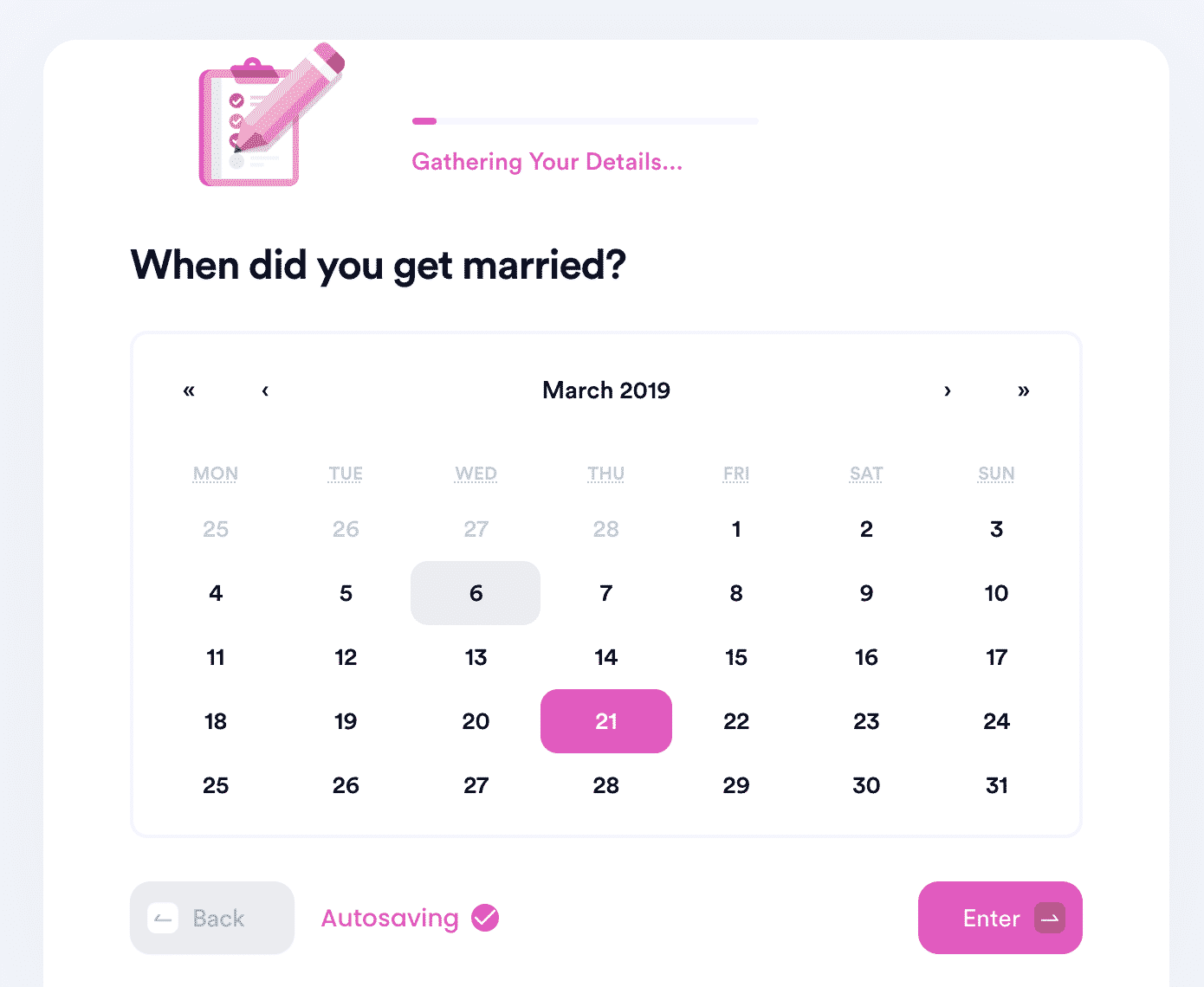 Our platform can answer all your divorce-related questions. Check out some of them below:
We also have guides on how to get divorced in any of the following counties:
Use DoNotPay To Deal With a Plethora of Bureaucratic Tasks!
Tired of dealing with bureaucracy? We understand the struggle, and that is why our app makes handling administrative tasks a breeze!
Regardless of whether you need to compose a legal document, such as a power of attorney or a child travel consent form, appeal property taxes or your parking tickets, file a financial aid appeal and a FOIA request, or get a document notarized, DoNotPay has got you covered!
In case you also need to submit anonymous HR complaints, our app will provide you with the easiest way to do so!
Go on a Stress-Free Shopping Spree With DoNotPay
Do you like to shop until you drop? With DoNotPay, you won't have to worry about dropping! We'll make sure you can:
If you need more money to continue your shopping spree, let our app help you find any unclaimed funds under your name and enter numerous giveaways and sweepstakes!