Hamilton County, TN, Divorce Filings—All the Deets You Need
If you're planning to file for divorce in The Volunteer State, you'll need to know all the ins and outs of Hamilton County, TN, divorce filings. DoNotPay will provide information about how the process works, which divorce papers you'll need, how long it can take, and how much it will cost you. Additionally, we can provide further assistance with uncontested divorces in Hamilton County, TN, that can get you an out-of-court settlement.
If you subscribe to our platform, we'll help you make a marital settlement agreement, which is one of the most important uncontested divorce papers.
Hamilton County Divorce Process—The Basics
To get a divorce in Hamilton County, you'll need to make sure that you meet all the requirements. You'll also have to familiarize yourself with the grounds for divorce. Check out the table below to find out more about the residential requirements and grounds for divorce in Hamilton County:
Main Aspects of Hamilton County Divorce
Details
Residency requirements
There are no specific residency requirements you need to meet, as long as the grounds for divorce occurred while the plaintiff was a resident of the state. If the grounds for divorce happened out of state, at least one of the spouses need to have lived in Tennessee for six months before filing
Grounds for divorce
There are two types of grounds for divorce in Hamilton County:

No-fault grounds—If you're filing for divorce based on no-fault grounds, it means that you agree with your spouse that no one is responsible for the breakdown of the marriage. No-fault grounds in TN are:

Irreconcilable differences
Separation without cohabitation for two years

At-fault grounds—If you base your divorce on fault, this means that your spouse did something that caused the marriage to end. The fault-based grounds for divorce in TN are:

Adultery
Conviction
Addiction
Wife pregnant by another during marriage without the other spouse's knowledge
Abandonment for one year
Bigamy
Cruelty

If you state fault in your divorce, it can't be uncontested
What Types of Divorce Are There in Hamilton County, TN?
There are two types of divorce in Hamilton County, TN:
Contested—In a contested divorce, you and your spouse can't agree on the terms of your divorce, and the judge needs to decide on your behalf in court. Typically, contested divorces are costly and can drag on for months or even years
Uncontested—You can opt for an uncontested divorce when you and your spouse agree on all terms of your divorce and create a divorce settlement agreement that spells out how you'll handle the following:

Child custody
Parenting plan and visitation schedule
Uncontested divorces are more affordable than contested ones, and they usually last for two or three months in Tennessee. If you and your spouse opt for this kind of separation, you will avoid hiring lawyers and attending court hearings.
Which Divorce Forms Do You Need for an Uncontested Divorce in Hamilton County?
To file for a friendly and uncontested divorce in Hamilton County, you'll need the following forms:
Civil Case Cover Sheet
Complaint for Divorce
Amendment
Summons
Affidavit of Service
Marital Dissolution Agreement
Final Decree
Divorce Certificate
Financial Declarations
If you and your spouse have underage children, you'll need to file some additional forms, like:
Permanent Parenting Plan
Temporary Parenting Plan
Parenting Class Certificate
How To File for an Uncontested Divorce in Hamilton County, TN
After you make sure that you meet the requirements for the filing, it's time to start your marriage dissolution process. Here are the steps to filing for an uncontested divorce in Hamilton County:
Attend mediation (optional)
Create a divorce settlement agreement
Gather all the necessary forms
Fill out and file the divorce papers
Pay the filing fees
Attend a final court hearing after a waiting period of 60 (if you don't have kids) or 90 days (if you have kids)
Where Can You Acquire a Divorce Settlement Agreement?
Since a marital settlement agreement is a vital document in an uncontested divorce, you'll need to make sure that it complies with the laws and rules of Hamilton County and that it covers everything so as to satisfy the judge. You have a few options to get your divorce settlement agreement:
Lawyer—Hiring a lawyer to draw up a divorce settlement agreement may seem like a good decision, but keep in mind that it could make you break the bank
Online divorce service—You can obtain your divorce settlement agreement via some online platform, but it's risky because you don't know whether the template complies with the laws and regulations of Hamilton County
DoNotPay—Our platform is the most affordable option out there, and it isn't risky because we have a comprehensive database of all laws
How To Obtain a Divorce Settlement Agreement Using DoNotPay
With DoNotPay's Divorce Settlement Agreement tool, you'll have your document ready in a few minutes. We will draft a professional and fully personalized document that meets all the legal requirements. We'll ask you to fill out a questionnaire, which will give us all the information we need to make a document tailored to your needs.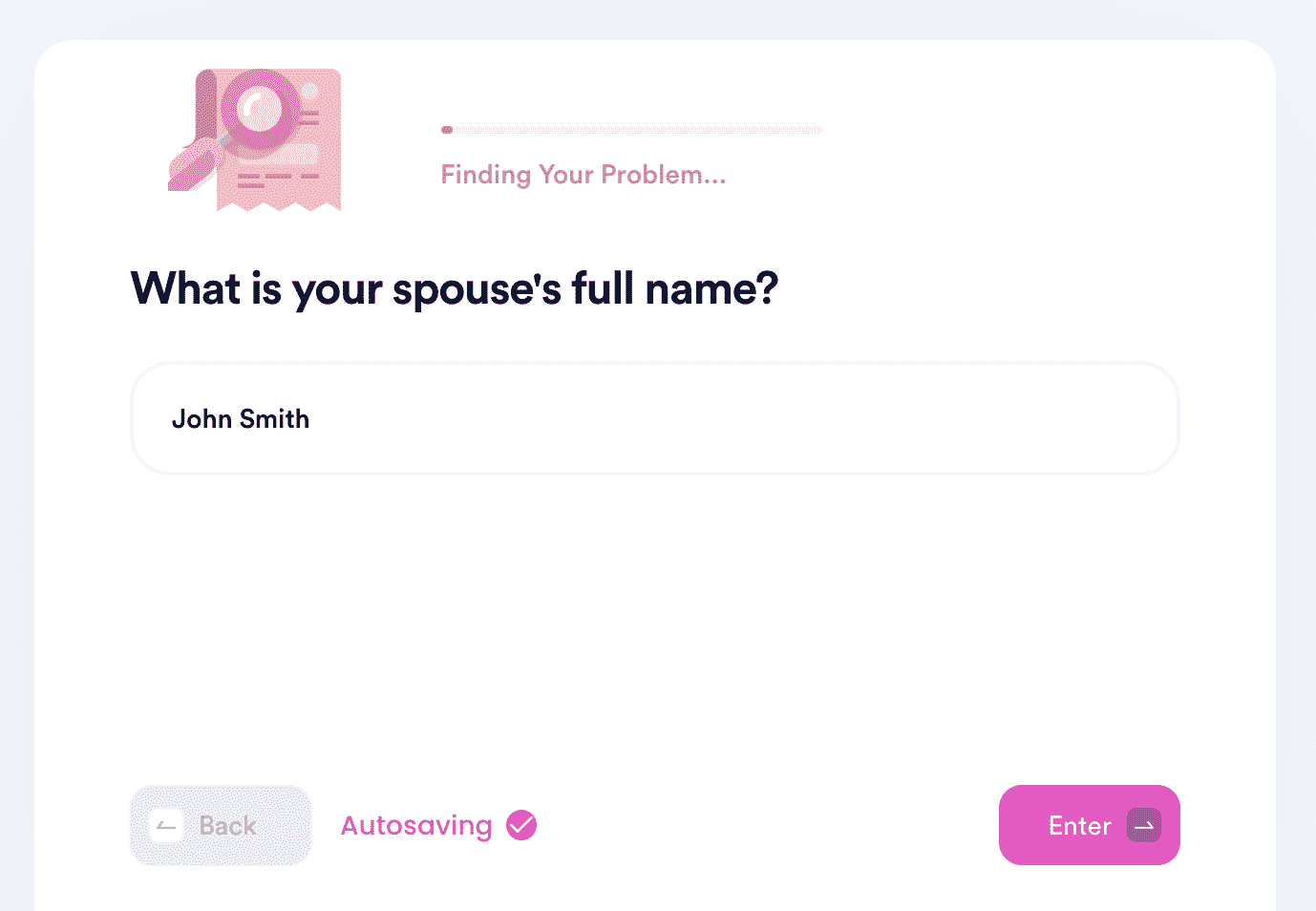 Register for DoNotPay and follow the steps below to use our product:
Select the Divorce Settlement Agreement feature
Provide all the required info
Indicate whether you need a notary
Once we have all the details, we will generate your document. You and your spouse can sign it and then get it notarized with DoNotPay. If you choose this option, we will connect you with an online notary in Tennessee who will witness your signing over a live video call.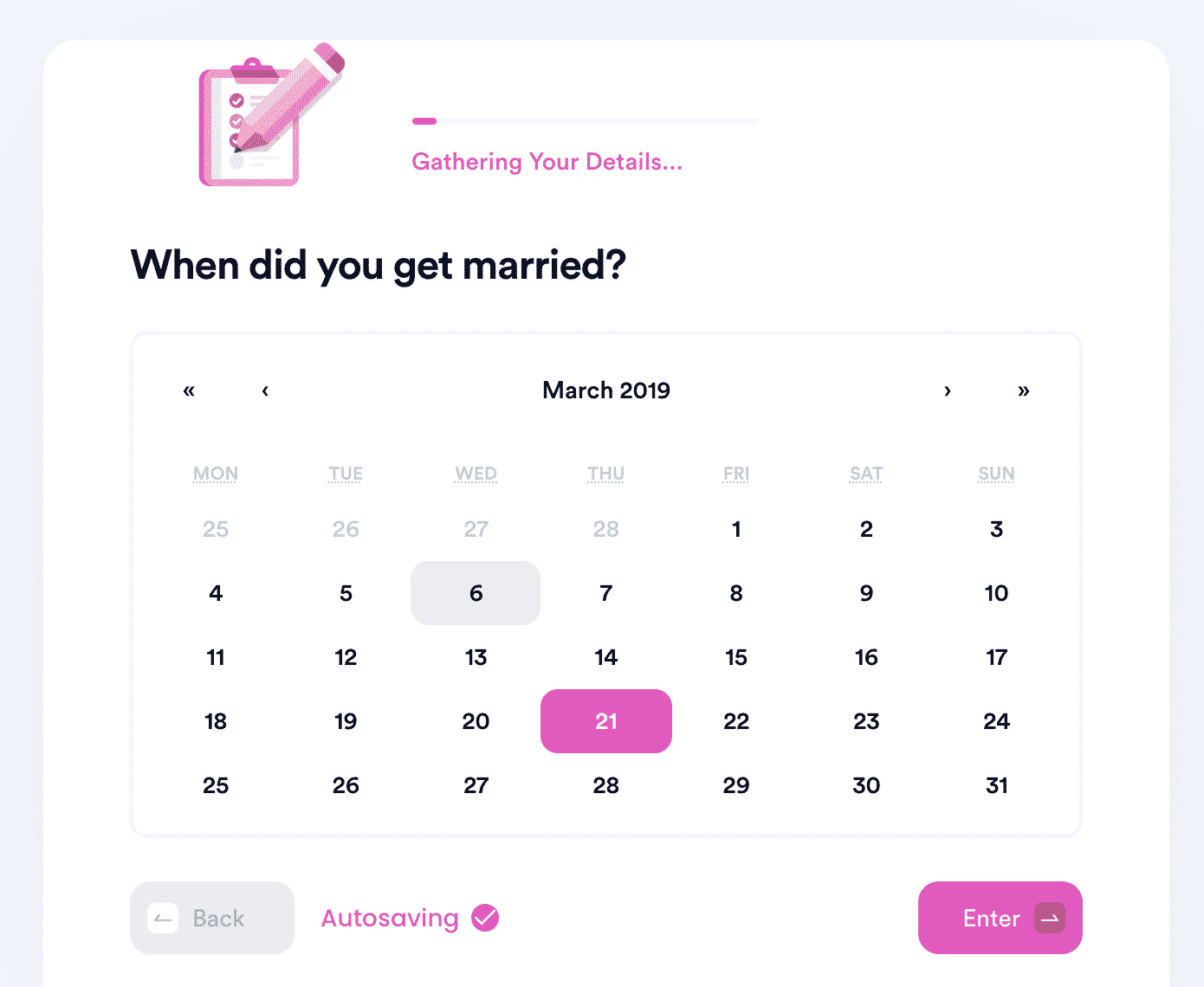 If you need additional information about divorces in TN, you can consult DoNotPay's learning center. We will answer all the questions you might have, including:
Use DoNotPay To Deal With a Plethora of Bureaucratic Tasks!
Tired of dealing with bureaucracy? We understand the struggle, and that is why our app makes handling administrative tasks a breeze!
Regardless of whether you need to compose a legal document, such as a power of attorney or a child travel consent form, appeal property taxes or your parking tickets, file a financial aid appeal and a FOIA request, or get a document notarized, DoNotPay has got you covered!
In case you also need to submit anonymous HR complaints, our app will provide you with the easiest way to do so!
Go on a Stress-Free Shopping Spree With DoNotPay
Do you like to shop until you drop? With DoNotPay, you won't have to worry about dropping! We'll make sure you can:
If you need more money to continue your shopping spree, let our app help you find any unclaimed funds under your name and enter numerous giveaways and sweepstakes!