Know Your Rights Concerning Hair Color Discrimination in the Workplace
There is often a fine line between what an employer is allowed to demand and what constitutes workplace discrimination. When it comes to your appearance, that fine line can easily become blurred between your employer's right to require a professional look and your right to self-expression.
DoNotPay helps you understand what an employer is allowed to demand and when those requests become hair color discrimination in the workplace.
What Does the Law Say About Hair Discrimination in the Workplace?
The cornerstone law relating to workplace discrimination is Title VII of the Civil Rights Act of 1964. This—and other anti-discrimination laws—make it illegal to treat an employee differently based on their:
These are known as protected classes. In matters of personal grooming, the question as to how far an employer can go before their demands become discriminatory is complex.
What Is a Grooming Policy?
Your employer wants to present a professional image to customers. This image is reflected in the way the company's employees dress and groom themselves.
A grooming policy in your company may include regulations on the following:
Grooming Regulation
Explanation
Hair
Your employer may require that your hair is well-groomed and not extreme in color.

In a 2018 anti-discrimination case, a UPS employee unsuccessfully claimed racial discrimination after she was terminated for having burgundy braids in her hair.

UPS had asked her to revert to a less extreme color, but she failed to do so despite committing to the request

Clothing
It is acceptable for your employer to set a dress code. There are various acceptable standards as follows:

Formal
Business casual
Casual Friday
Summer casual

Hygiene
A company can expect you to maintain a high standard of personal hygiene that includes regular washing, use of deodorant, and other efforts to minimize body and oral odor
When Does a Grooming Policy Become Discrimination?
A grooming policy can become discriminatory if it treats some employees differently from others.
There is no federal law that specifically deals with grooming and discrimination, but a grooming policy should take account of the needs of the following protected classes:
Disability
Religion
Race or color
Gender
LGBTQ+ status
Disability
If an employee suffers from a disability that requires modifications to the company's grooming policy, the employer must accommodate the need.
An example would be an employee with a diabetes-related foot complaint being allowed to wear sneakers despite a formal or business casual company dress code.
Religion
Your employer must allow you the freedom to conform to your religious dress and grooming requirements.
The wearing of a yarmulke, hijab, or turban and the growing of a beard or dreadlocks for religious reasons must be allowed by your employer.
Race or Color
Any grooming policy that bans hairstyles that are natural to a particular race is discriminatory.
An example would be a stipulation that employees' hair should be straight, thereby discriminating against naturally curly Black hair.
Gender
If your employer insists on gender-specific dress codes, they may be guilty of de jure or de facto discrimination for having used gender stereotypes to form the policy.
LGBTQ+ Status
Your employer must respect your right to dress and groom yourself appropriately for the gender you identify yourself as.
When Should an Employer Accept Your Appearance?
Your employer should avoid discrimination based on your appearance at every stage in your employment, including:
Hiring and firing
Promotion, advancement, and job allocation
Remuneration and benefits
Training and development
Use of company facilities
Bearing in mind that the law is not particularly clear, you should also exercise some common sense.
An example would be a young employee in a financial services company coming to work with brightly-colored hair. The company has the right to impose a formal dress code and could therefore request the employee to revert to a less garish hair color if that policy were in place.
Your employer should consider the following points, though:
The color must be allowed if it is part of a religious or racial ritual requirement (henna in the Hindu community, as an example)
Times are changing—bright hair color is increasingly acceptable even in formal situations
The policy must be applied uniformly—an employer cannot forbid purple highlights in a young employee while accepting a blue rinse in an older member of staff
The company will want to retain good up-and-coming staff members—it is possible that allowing more self-expression will help such employees feel comfortable at work
What Should You Do if You Are Experiencing Discrimination Because of Your Appearance?
You may feel you are experiencing discrimination at work due to your appearance, such as:
If this is the case, you first need to make sure that your HR department is given a chance to rectify the issue by your lodging of a formal grievance.
If this fails to solve the problem, you can lodge a complaint with the Equal Employment Opportunities Commission (EEOC).
The EEOC will investigate your case and determine whether it constitutes discrimination. If your employer is discriminating against you, the EEOC can:
Help mediate a settlement
Launch a lawsuit against your employer
Grant you permission to use a discrimination lawyer to commence private legal action
The first step is to file your complaint, called a charge of discrimination. This can be a complex process, as the EEOC often requires you to attend an in-person interview to discuss your case first. Luckily, DoNotPay has a way to get your charge of discrimination filed online in a matter of minutes!
File Your EEOC Charge With DoNotPay's Help
Yet again, DoNotPay has found a way to make your life easier—this time by helping you file a charge of discrimination in three easy steps:
Sign up with DoNotPay in your web browser
Use the search bar to find our Fight Workplace Discrimination feature
Fill in the details of your case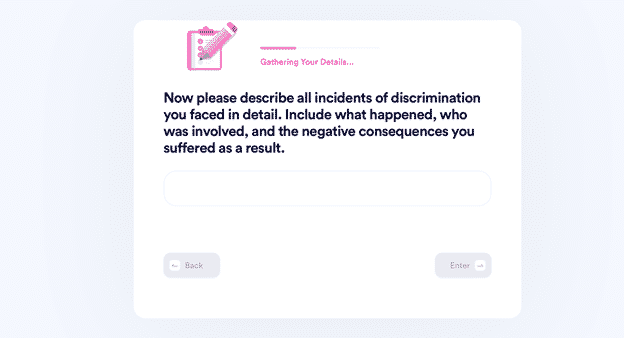 That's all you need to do. The EEOC will contact you to walk you through the next steps.
DoNotPay's Other Resources for the Victims of Discrimination
Fighting discriminatory bosses and colleagues is not the only item on DoNotPay's agenda. If your EEOC report doesn't work out, explore the option of suing the perpetrator in small claims court with our help.
Those who experience full-blown hate crimes can use our platform to file for crime victims compensation or deal with insurance claims. Lost a job because of discrimination? Use DoNotPay to get help with bills, reduce your property taxes, or find any unclaimed assets in your name.
We can also help you create numerous legal documents for personal, business, or real estate matters. You'll have a chance to fax your paperwork or find an online notary in the same app!
Use Our App To Right Other Wrongs
Injustice lurks around every corner, and DoNotPay won't have any of it. That's why we keep creating tools and services to help you fight back against all kinds of unfair treatment.
With our help, you'll be able to:
There's more where this came from because the good fight doesn't stop here.