Gym Startup Costs in a Nutshell
All companies spend their first several months not making any profit, but that does not mean they have no expenses. Before opening up a gym, you will need to have a sizable budget to cover startup costs and know that you cannot rely on any return on that investment.
In this article, we will go through gym startup costs and show you how much you should have to keep your business running. If you do not have the money, we will show you how to get a small business loan the easy way by using DoNotPay.
The costs will vary depending on what type of gym you want to open—these are the options to choose from:
Gym franchise
Independent gym
How Much Does It Cost To Start Up a Gym Franchise?
The first decision you have to make is whether you want a franchise or opt for an individual gym. Getting a franchise is the easier option, especially if you do not have a lot of experience in running a gym business. It does come with its drawbacks, as shown in the following table:
Pros
Cons

Equipment and staff training are free
Franchisor chooses the location
Franchisor works on the design and layout of the gym
Association with an established brand
Developed marketing and business plans

High dependence on your franchisor
High franchise fee
No creativity in decision-making
Royalty fee
Other franchisees affect your business' reputation
If you decide to go for a franchise, you will have to face the following terms:
Initial franchise fee investment—$56,000–$4,000,000, depending on the franchise
Royalty fee—Usually around six to seven percent
Length of the agreement—Ten years is the industry standard
Opening Gym Startup Costs—Independent Gyms
If you do not want to be part of a franchise, you can open an independent gym and work your way up. This is a costlier option as it requires a higher initial investment, but you get to keep more money in the long run as there are no royalties.
Opening your own gym can cost from $50,000 for a cycling studio to over $1 million for a fully-kitted gym—it all depends on how big you want to go.
The first investment you need to make is getting a place. You can rent or buy one. Either way, the price will vary based on the location of the gym. In some cases, if you decide to buy, the building can cost up to $800,000, with the average being around $100,000.
Take a look at the following table to see other average startup costs for a gym:
Item
Amount
Interior design
$15,000
Construction labor
$6,000
Gym equipment
$10,000–$50,000
Insurance:

Equipment breakdown
Business income and extra expense coverage
Professional liability
Worker's compensation
General liability

$6,000–$12,000
Licenses:

Business license
Employer registration
Health and safety certificate
Trade name registration

$3,000
Point-of-sale system
$1,500
Signage
$250
Uniforms
$1,000
Website
$0–$600
Total
$42,750–$89,350
Every sound budget should also include a 15% contingency for unexpected expenses—making the total go up to over $100,000.
Recurring Gym Startup Costs
There are not a lot of recurring costs for a gym startup as the equipment is the main expense. One cost that is unavoidable is renting a place, which usually amounts to $3 per square foot on a monthly basis.
As a gym owner, you will have to cover the following monthly expenses:
Utilities—$2 per square foot
Equipment maintenance—Around $150
Salaries:

Fitness instructor—$3,500
Gym manager—$5,750
Personal trainer—$4,800
Finding the Money—Small Business Loans
In the most expensive scenario, gym startup costs can amount to around $220,000 in the opening month. If you do not have that kind of money, that does not mean you cannot open a gym—a small business loan can finance your endeavor.
Although many banks and credit unions require you to be in business for a couple of years for you to qualify for a loan, you can find plenty of startup loans dedicated to newcomers to entrepreneurship. Bear in mind that these loans have higher interest rates as lenders take on a higher risk investing in a startup.
When doing your research, you will find there are many types of loans, such as:
These types differ based on loan terms and the purpose of investment. The best loans come with interest rates below 10% and have a several-year repayment schedule.
Get Your Loan Approved With DoNotPay's Help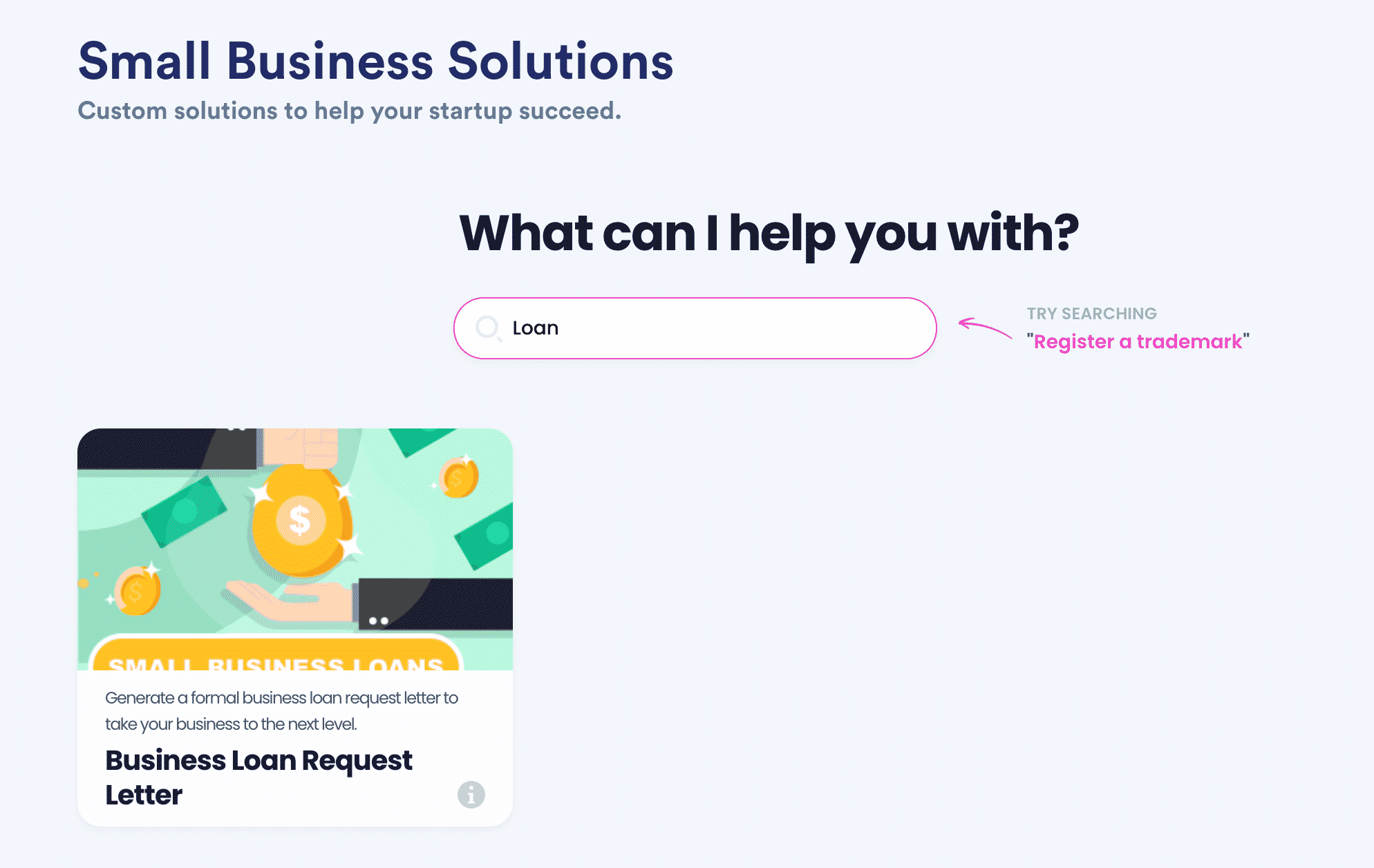 Small business loans work in a way that requires you to apply for them through a form that asks for details about you and your company. You will also need to submit many documents to prove your eligibility, including:
Resume
Business plan
Budget sheets
Financial statements
Collateral
The whole process is complicated, and many owners get rejected because they submit an incomplete request. You can use DoNotPay's help to avoid this scenario.
Our app will guide you through the process, making sure you do not leave out any detail or piece of paperwork necessary for your request to be accepted. All you need to do is sign up for DoNotPay and:
Navigate to the Business Loan Request Letter product
Gather your personal and business credit scores
Prepare paperwork to prove you qualify
Answer a few questions
Upload all the necessary documents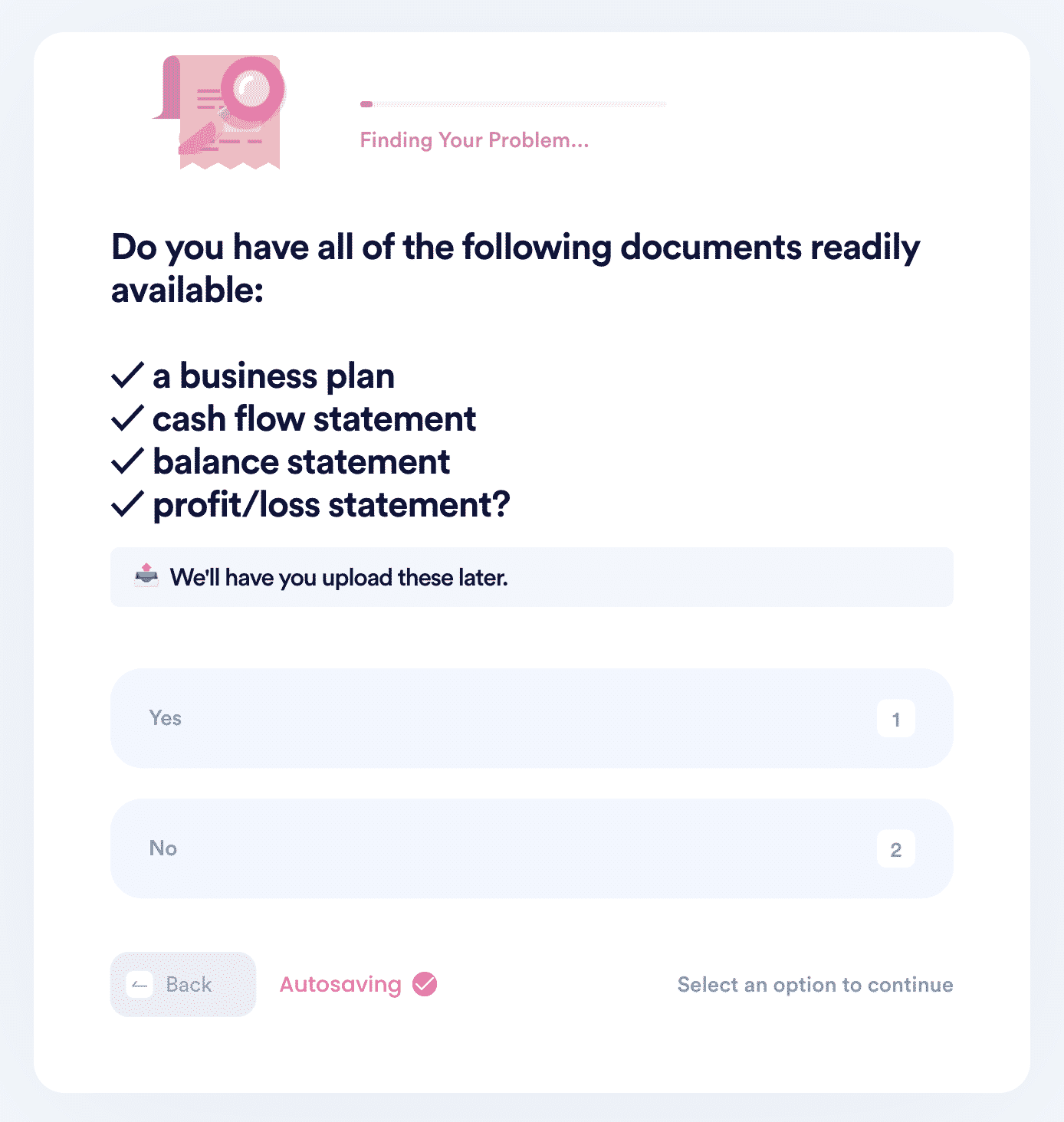 DoNotPay Finds the Best Lenders for You!
If you're still uncertain as to which lender you want to take out a loan from—we can assist you in finding the best one!
You can opt for our Find Online Business Loan Lender feature to get a list of three best lending institutions for the type of loan you need.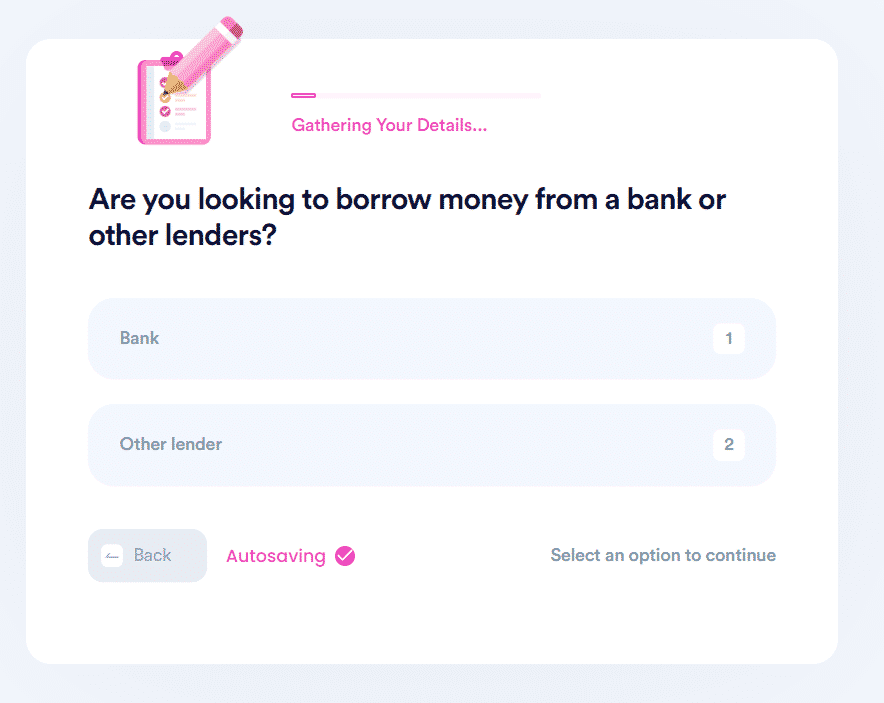 Alternatively, you can kill two birds with one stone—fire up our Business Loan Request Letter tool, tell us you don't have a specific lender in mind, and let us find you one and draft a letter you can send to them right away!
Let DoNotPay Help You With Boring Administrative Tasks While You Focus on Becoming a Business Mogul!
DoNotPay can assist you in dealing with a number of business-related tasks. We have developed a plethora of simple-to-use products that make running a business much easier and less stressful.
Do you need help registering your business name as a trademark? We have got you covered! Not sure how to write a convincing letter to request a small business loan? DoNotPay helps with that, too!
Use our app to get a perfectly generated chargeback rebuttal document, formally request payment from clients who breach the contract, and find out how your employees can file 83(b) election forms in a matter of clicks!
Check Out Our Other Nifty Products!
That is not all DoNotPay has to offer. Our awesome tools will make tedious administrative tasks easier to manage so you can concentrate on your business instead of wasting time waiting in lines and filling out forms. Rely on DoNotPay to:
Take care of DMCA agent registration and Privacy Shield program self-certification
Make sure no one else is using your trademark
Get rid of fake online reviews that harm your business reputation
Manage Employer Number Identification (EIN) registration
Enjoy the convenience of faxing and mailing from the comfort of your home or office