How to Fight Your Gwinnett County Traffic Tickets In 5 Minutes
If you're on the fence about trying to fight your , this article provides important information that every driver in Georgia should know. According to Statista, the U.S. had 228.2 million licensed drivers in 2020. Georgia comprised a little over 7.5 million of them. Nearly 18% (over 40 million) of drivers in the U.S. received traffic tickets in 2020 as well, despite the pandemic and mass lockdowns.
While statistics aren't clear on how many people driving in or through Georgia got ticketed that year, the state is among the top five in terms of issuing the most expensive speeding tickets. On average, a traffic ticket can cost upwards of $1,000 in some Georgian towns. However, the national average in the U.S. is roughly $150 to $160 — exceeding $6.2 billion annually!
So, if you're not sure if you want to contest your Gwinnett County traffic ticket, just ponder on why you would give them your money for an unjust citation. DoNotpay can help you if you want to fight a traffic ticket without hiring a lawyer. You can also use the app to contest tickets no matter where you are in the country. We've overturned traffic tickets in:
And more! Read on to learn how to successfully plead not guilty to a traffic ticket from your phone.
Some Jurisdictions Use Their Roads as 'Cash Registers'

Every community in Georgia has a different road network, making comparing traffic enforcement a difficult task that results in . For example in an urban area like Atlanta, arterial roads and interstates are often log jammed, resulting in fewer speeders. However, Atlanta has more violations related to equipment, registration, licensing, insurance, and traffic accidents. On the flip side, law enforcement in smaller towns like Lawrenceville deals with more speeders.
While the Georgia Department of Transportation (GDOT) tracks traffic volumes throughout the state, it doesn't track traffic volumes on a country-by-county, city-by-city, or town-by-town basis. Thus, no one is comparing the volume of traffic that flows through individual communities. If one were to compare revenues accumulated from traffic tickets alone, it goes without saying that the results would be skewed. DeKalb County and Atlanta, for instance, would automatically top the list due to population size alone.
In 2014, the Atlanta Journal-Constitution (AJC) analyzed remittances paid to Georgia's Driver Education Training Fund. In October 2015, the AJC published its findings, exposing jurisdictions throughout the state that were making a huge income from traffic tickets compared to their population size.
Rural Towns Accused of Being 'Speed Traps'
Based on the AJC's analysis, Georgia's rural areas are by far the worst "speed traps" or "ticket traps" in the state. No matter what state someone is from, most readers would agree that it's common knowledge rural areas are notorious for using traffic tickets like deposit slips. A string of small towns with routes going along the Georgia coast with populations under 500 residents was making more money from traffic tickets back in 2014 than big cities like Atlanta.
Popular cut-throughs and key connector routes such as the Georgia-Florida Parkway (Ga. 300) constantly have city patrol vehicles parked along with them. They're comparable to bears capitalizing on salmon runs during their mating season — simple sit and rake in the cash. And with the implementation of license plate readers has allowed small police departments to cash in on traffic tickets.
Be Wary of Traffic Ticket Scams
If you think you've heard of nearly every kind of scam out there, you should think again. Scammers like to use tactics that scare their victims and/or take them off their guard. Issuing people fake parking tickets accomplishes both. In February 2022, CBS46 warned drivers in the Atlanta metro area to watch out for fake parking tickets being placed on their vehicles.
CBS46 stated:
"The Atlanta Department of Transportation says it is aware of the scam and provided tips for drivers to avoid falling victim. According to ATL DOT, [the] real city-issued parking tickets will not have QR codes like the fake tickets do. ATL DOT also says that all city-issued tickets can be viewed and verified at ATLPLUSMOBILITY. If you ever have any questions or concerns regarding the validity of a ticket, before paying online, call 866-266-1360. The website listed on the fake ticket is 'ATLCitations.'"
Is Fighting a Traffic Ticket in Gwinnett County, GA Worth the Fuss?
It might seem like you're saving yourself the money and time by paying the fine outright. However, a guilty plea can be more trouble in the long run.
If you were issued a wrong ticket and you refused to fight it, you could:
Get additional points on your driving record. Enough points could make you lose your license.
Experience an increase on your insurance premium.
Be forced by your insurance provider to close your account and just transfer to another company. Admitting your guilt is synonymous with claiming that you are now a risk and a liability.
Lose potential job opportunities that require a spotless DMV record.
Pay a fine for a violation that you did not even commit. That just seems rather unfair.
Appealing your may seem intimidating, considering the need to make your case in court. Let DoNotPay guide you on how you can fight a ticket without a lawyer.
How to Make a Gwinnett County Traffic Ticket Payment on Your Own
According to the County of Gwinnett website, those who have been issued a traffic ticket and wish to pay it can access the following:
Online Payment
Online payments can be made by visiting their website and using a debit or credit card.
By Phone
Call 1-877-794-0988 and follow the automated prompts to make a payment using a debit or credit card. The hours to call are 8:00 a.m. through 5:00 p.m. Monday through Friday.
By Mail
Make payments payable to:

Gwinnett County Recorder's Court,

115 Stone Mountain Street

Lawrenceville, GA 30046-6900

Most common payment options are money order and check.

In-Person
At the address above, you can make in-person payments using cash, a cashier's check, money order, or debit or credit card. The office is open from 8:00 a.m. through 5:00 p.m. Monday through Friday.
Dropbox
If you can't make it before the office closes, you can make your payment using dropbox. No payment options were listed, so a money order is probably the safest way.
Please note that these options are only for people who don't have mandatory court dates. Also, remember that you can easily fight a traffic ticket using DoNotPay instead of paying the fine right away!
How DoNotPay Can Help You Contest a Gwinnett County Traffic Ticket
In June 2016, Business Insider reported about DoNotPay winning 160,000 cases out of the 250,000 tickets it appealed over 21 months, an astonishing 64% win rate. That's a whopping $4 million worth of fines saved by its users!
Your Gwinnett County Traffic Ticket can be the next win that DoNotPay makes.
Here's how to get started:
Log-in to DoNotPay and go to the Ticket Disputes category. Select the correct product based on your traffic ticket.

 

Upload a photo of your citation.

 

Provide us with some details on why you believe the citation issued is a mistake.

 

Select whether or not you want the letter mailed to the traffic ticket issuer on your behalf! 
That's it! You'll receive an appeal letter that contains state vehicle codes to boost your case.

 
Other Awesome Solutions DoNotPay Offers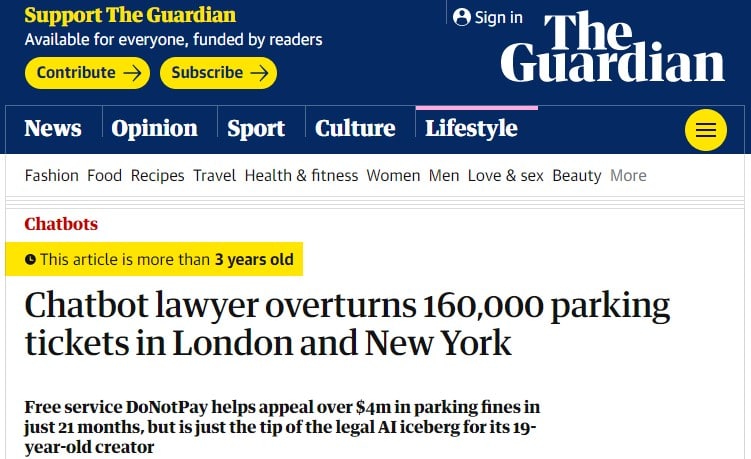 Founded in 2015 to fight parking tickets in the U.K. and NYC in the U.S., DoNotPay has since added a long list of other legal products to its skillset.
Take advantage of the following services:
If you're still not a member,  Discover an easier way in getting out of sticky legal situations without the need to spend on costly traditional lawyers.