Get
Gwinnett County Property Tax Exemptions
With DoNotPay's Help
Gwinnett County, GA, is an economically booming area, but it suffers from above-average property tax rates.
While Georgia is on the list of states with low property tax, Gwinnett County's rate of 1.19% is above both the Georgian (0.87%) and the national (1.07%) average.
DoNotPay is your one-stop resource for reducing your property tax, and we can give you specialized tips on easing your tax burden in Gwinnett County.
How Does Gwinnett County Calculate Your Property Tax?
Property tax is used to pay for the local services you take for granted. In Gwinnett County, your total property tax bill is dependent on two elements, namely:
Tax rate
Tax Rate
Each department or service requiring funding in Gwinnett County submits a budget each year. All the budgets are added together to produce a total annual funding requirement for the county that must be divided between all the county's real property owners.
The result is a tax rate that can be expressed as a percentage of your home's value.
The elements that make up the total tax rate in Gwinnett County are as follows:
| | |
| --- | --- |
| Element | Explanation |
| County tax rate | This is used to fund the county government and its projects |
| School tax rate | Schools in the county are funded through this portion of property tax |
| School bond tax rate | School bonds are the debts incurred to build new schools and are serviced using property tax revenue |
| Recreation tax rate | This funds parks and recreation facilities |
| City tax rate | Some cities in Gwinnett County receive funding from property tax. If you live outside these areas, you won't receive this charge |
The amount you have to pay in Gwinnett County is determined by multiplying the local tax rate by the assessed value of your property.
Assessed Value
Your real estate's value in Gwinnett County is appraised and set by the County Tax Assessor, who assesses property each year and sends out assessment notifications at the beginning of May.
Georgia law states that every property should be physically assessed every three to five years, but in practice, this doesn't happen. With over 283,000 properties to evaluate, the Assessor relies on desktop models, aerial photography, building permits, and fire reports.
The Assessor usually only conducts physical assessments of your property if you are a new owner or you have recently renovated or improved your home. The remaining assessments are reached by using the sales value approach, which compares your property's value with sales data for similar properties in your area.
To ensure property assessments in Gwinnett County remain fair and equitable, the County Assessor is audited annually by the Georgia Department of Audits and Accounts. Regular auditing is designed to make sure that your assessed value stays within 10% of the fair market value of your property.
Can You Claim a
Gwinnett County Exemption for Property Tax
?
Gwinnett County, in common with most of Georgia, offers several exemptions to help you lower your property tax bill.
The exemptions on offer are as follows:
Exemption

Explanation

Exemption Amount Off Assessed Property Value

Basic homestead exemption

This applies to all homeowners who live in their property as their primary residence

$10,000 off county taxes

$4,000 off school taxes

$7,000 off recreation taxes

Value offset exemption

Applied automatically to all recipients of the basic homestead exemption, this freezes your property value for the county tax portion of your property tax. Other portions rise according to your property's market value

A freeze on your property value for county taxes

Senior school exemption

Residents over 65 can apply for this exemption provided that they do not earn more than $100,552 per year

100% off school taxes

$10,000 off county taxes

$7,000 off recreation taxes

Regular school exemption

Applicants for this exemption must be over 62 and earn less than $10,000 net income

$10,000 off county taxes

$10,000 off school taxes

$10,000 off school bond taxes

$7,000 off recreation taxes

Disabled veteran exemption

Disabled veterans who are certified 100% disabled as a result of military service can claim this exemption

An annually adjusted reduction in the assessed value set by the

Secretary of Veterans' Affairs

Floating homestead exemption

Residents over 62 earning less than $30,000 a year can apply for this exemption, which freezes your assessed property value for some property tax categories. This cannot be applied for in conjunction with other exemptions

A freeze on assessed value for all categories except school taxes

Line of duty exemption

The unremarried spouse of a peace officer or firefighter killed in the line of duty can apply for this exemption

100% exemption from all taxes

Disability exemption

100% disabled persons of any age are eligible for this exemption

$10,000 off county taxes

$4,000 off county bond taxes

$4,000 off school taxes

$4,000 off school bond taxes

$7,000 off recreation taxes

$20,000 senior exemption

If you are over 65 and your household net income is under $10,000 a year, you may be eligible for this exemption

$20,000 off county taxes

$20,000 off school taxes

$20,000 off recreation taxes

City exemptions

Dacula, Grayson, Lawrenceville, Lilburn, Snellville, and Sugar Hill levy city-related property tax rates and may offer other exemptions specific to their area 
How Can DoNotPay Help You Claim Property Tax Exemptions?
DoNotPay is here to help you get any property tax relief you can. If you need help with paying your property tax, we have the solution for you.
Our app features a property tax guide that gives you personalized advice on the following:
Property tax exemptions

Property assessment appeals
Property Tax Exemptions
This section tells you which exemptions are available in your area, what documents you need, and where you can apply.
Property Assessment Appeals
You can find all the information you need on dealing with property assessors and lodging an appeal here.
How Can You Get DoNotPay's Property Tax Guide?
Your personalized property tax guide is easy to get. All you have to do is follow these steps:
Navigate to DoNotPay in your web browser

Sign up

and find the

Property Tax

product

Type in some personal details about yourself and your property

Wait briefly while we generate your customized guide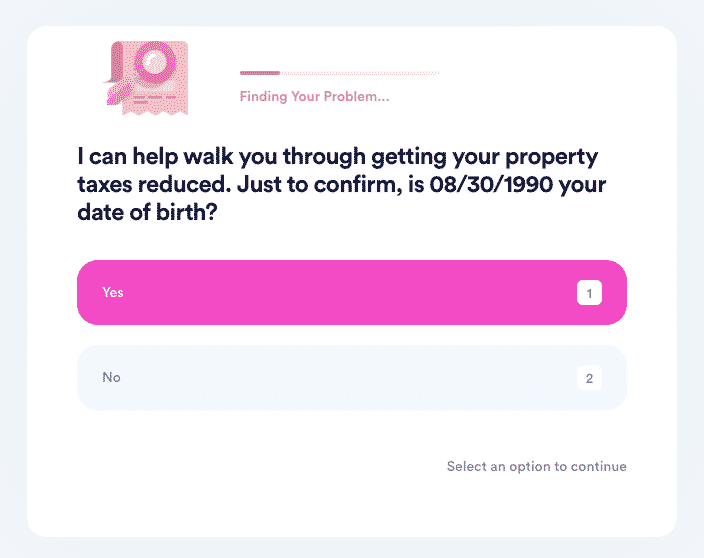 Lodging an Appeal With DoNotPay
If you have tried everything else, you could consider appealing the assessed value of your property.
Mistakes in assessments happen, and DoNotPay can help you understand how to appeal, collect the required documents, and lodge your appeal correctly.
Can Your Virtual Assistant Do This?
Hey, Siri! Make me ready for my upcoming small claims court appearance. No luck? OK, Google! Prepare a DMCA notice for that website that uses my photos without authorization. Still nothing?
DoNotPay is the virtual assistant that won't back away from issues that require legal expertise. Our lawyer bots work around the clock to get you due date extensions for utility bills, reduce your property taxes, or stop stalking and harassment before it gets ugly.
The world's first robot lawyer will provide assistance even with securing compensation for victims of crime!
DoNotPay Breaks Down Communication Barriers
Communication and new technologies walk hand in hand, and DoNotPay can smooth out any bumps on that road. On our platform, you can find useful tools for avoiding phishing emails and text messages, sending faxes online, stopping annoying robocalls, or signing up for new services without phone verification.
Contacting customer support is no party, but DoNotPay can make the process so much easier, whether you need to request a refund, demand compensation for a canceled flight, or file a warranty claim.
You can even use our platform for locating your loved ones in prison and sending them letters the proper way!