How To File a
Gwinnett County Property Tax Appeal
With Zero Hassle
While Georgia is one of the states with low property tax rates, many of Georgia counties have property tax rates above the state average. The effective property tax rate in Gwinnett County is 1.19%, which is both above the state and national average rate. 
If you live in this Georgia county, you should consider every potential method of lowering your property taxes, especially if you're unsatisfied with your property tax assessment.
This article will explain how the Gwinnett County property tax appeal works and where you can find step-by-step instructions on filing an appeal yourself.
Understanding Property Tax Assessments
Gwinnett County Tax Assessor's Office carries out property tax assessments every three to five years to estimate the value of each property and later calculate property tax bills.
The Georgia Counties Board of Assessors mails the Annual Notices of Assessment, usually in the first half of May, to every property owner in Georgia. If you are not satisfied with your property tax assessment, you can appeal it within 45 days from the date when the Board of Assessors mails the notice.
Why You Should File a
Gwinnett County Property Tax Appeal
If you receive an Annual Notice of Assessment that is unusually high, you should file an appeal. Before you do that, you can request to see the work papers the assessor used to determine the value of your property. More often than not, the assessor's work papers can unveil mistakes and irregularities, which you can use to strengthen your property tax appeal letter.
Here are some of the reasons why you should submit a Gwinnett County property tax appeal letter:
The property details are inaccurate

Your assessment includes assets or real property that is not yours

The assessor estimated the same property twice

The value of your property increased a lot compared to the previous assessment
How Does a
Gwinnett County Property Tax Appeal
Work?
To appeal your assessment on your own, you should do the following:
Check the property record card to see the details of the assessment

Fill out the

PT-311A

Appeal of Assessment Form

Submit the form

Online at the Gwinnett County Tax Assessor's Office official website

Via mail to

Gwinnett County Board of Assessors, 75 Langley Drive, Lawrenceville, GA 30046
While the process seems straightforward enough, if this is your first time dealing with a property tax appeal, you may need some assistance. To avoid making mistakes that can lead to a rejected appeal, sign up for DoNotPay and get a personalized manual on dealing with property taxes.
DoNotPay Has All the Information about the
Gwinnett County Property Tax Appeal
Process
Dealing with property taxes can be quite demanding, especially if you don't have any experience or knowledge about it. The Board of Equalization can easily reject your appeal letter because of a seemingly small mistake or inaccurate information.
It is good to know that you don't have to hire a tax accountant or legal advisor to help you with your property taxes issues—the world's best virtual assistant is at your service.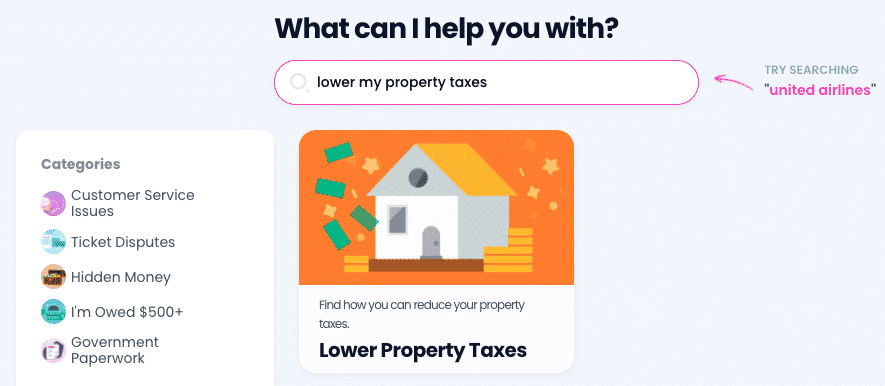 DoNotPay created a service that can help you successfully deal with all the issues you have regarding your property taxes, and here is how to use it:
Locate the

Property Tax

product

Answer several questions about your property
Once you complete these steps, we will generate a personalized guide that you can use whenever you need it.
What Does the Personalized Guide Contain?
Our customized manuals on property taxes usually contain information like:
Deadlines for filing property tax appeals

Documents you will need for the appeal process

Instructions on how to negotiate with your local assessor

Property tax exemptions

you are eligible for

Evidence you need to reduce your property's assessment value

Any other information that your state or county considers crucial
Other Ways To Reduce Property Taxes in Gwinnett County
If you need help paying your property taxes, you should explore some other options before trying to appeal your property tax assessment.
In the following table, you can find several strategies on how to lower property taxes:
Lowering Property Taxes Strategy
Explanation

Avoid improvements and renovations

Home improvements increase the value of the property, which is why it's best to make renovations after the scheduled property tax assessment is over

Accompany the assessor during the assessment

Tax assessors are professionals, but they can make mistakes. You should keep them company during the assessment and point out any flaws and damages they may not see

Check your property tax bill

Finding irregularities in your property tax bill can prevent you from paying the sky-high amount of money. If you find a mistake, you should notify your tax assessor's office

Apply for a property tax exemption

Property tax exemptions are the best and safest way of lowering your tax bills. You should check your DoNotPay's personalized manual to see if you're eligible for one of Gwinnett County's many property tax exemptions, including:

Value offset exemption

Senior school exemption

Regular school exemption

State senior school exemption

Disabled

veteran exemption

Floating homestead exemption

Senior surviving military spouse exemption

Spouse of a peace officer or firefighter killed in the line of duty

$20,000

senior citizen exemption
DoNotPay Is an Ultimate Money-Saving Assistant
Our app can help you manage bills that are too high to pay, but there are plenty of other money-saving possibilities out there we can help you with.
Want to challenge a parking ticket? DoNotPay can dispute parking citations in any city! Is someone getting revenue from your creative work? Cut the thieves off with DoNotPay!
We can also help you get your college application fees waived, file any insurance or warranty claims, locate unclaimed funds in your name, or earn some extra cash from paid clinical trials in your area.
No More Risky Free Trials With DoNotPay
Do you love free trials but tend to forget to cancel your subscription before the trial ends? If this is the case, check out DoNotPay's virtual credit card for a risk-free experience.
With our virtual credit card, you can sign up for any service without worrying about unwanted charges. DoNotPay will even provide you with a random email address, which will help keep your inbox clean from spammy emails from the company.
Our app can also get in touch with the company's customer service, request a refund from them, or even escalate your issue to small claims court if the company is challenging to communicate with.