Gwinnett County Divorce Forms on the Button With DoNotPay
Filing for divorce is never a pleasant process, but it needn't be fraught with difficulties.
In Gwinnett County, GA, the superior court provides most of the documents you need to make the process manageable, but you will need time and care to fill them out.
DoNotPay is here to provide a complete rundown of Gwinnett County divorce forms to help your divorce stay fast, cheap, and painless.
What Is the Divorce Process in Gwinnett County?
There are three basic steps to getting a divorce in Gwinnett County, as follows:
Filing divorce papers
Serving the papers on your spouse
Agreeing on a settlement
Filing Divorce Papers
There is no provision in Gwinnett County for a joint petition for divorce, so you need to file the court-approved papers on your own and pay the filing fee of up to $400.
Serving the Papers on Your Spouse
Once you have filed your papers, your spouse must receive a copy and sign to confirm receipt.
You can have the papers delivered by a deputy sheriff or a professional process server for around $50. From the day of servitude, Gwinnett County imposes a mandatory 31-day cooling-off period before any further action is taken.
At this time, your spouse can file a response to the summons received, signaling whether the case will be contested.
Agreeing on a Settlement
Two types of divorce are recognized in Gwinnett County, namely:
| Type of Divorce | Explanation |
| --- | --- |
| Uncontested | A divorce is classified uncontested if you and your spouse agree on a settlement and sign a legal document to that effect before embarking on the divorce. The agreement is filed with your divorce papers, and the case is marked as uncontested. In such cases, you may not have to attend court |
| Contested | Divorce cases are regarded as contested by default, but they can be re-assigned as uncontested divorces if you file a settlement agreement before your case comes to court |
What Forms Do You Need To File for a Gwinnett County Divorce?
Filing for divorce in Gwinnett County, Georgia, involves filling out around 40 pages of documents, as follows:
Complaint for divorce—with or without minor children
Summons—to be served on your spouse
Case filing information form—a cover sheet outlining the type of case and the parties' details
Financial affidavits—detailing the assets and liabilities in the marriage
Verification form—verifying that the plaintiff filed for divorce in person
Acknowledgment of service—to be signed by your spouse upon receipt of the summons
Consent to trial—to be signed by both parties acknowledging that the case can be heard 31 days after servitude
These forms are available from the Gwinnett County Superior Court
What Should You Do About a Settlement Agreement?
If you and your spouse are aiming for a friendly divorce with an out-of-court settlement, you can draw up a settlement agreement either before you file or before the 31-day cooling-off period has elapsed.
Your divorce settlement agreement regulates all of the family and financial aspects of your marriage and states how they should be handled after your divorce.
These aspects include:
If the judge is satisfied that your agreement covers every area of your marriage adequately, nothing should stand in the way of your divorce being granted.
Where Can You Get a Settlement Agreement Prepared?
A settlement agreement has to be negotiated, agreed upon, and drafted in the correct legal terminology to render it valid in Gwinnett County. You have a couple of options for negotiating your agreement, namely:
| Settlement Agreement Negotiation Options | Explanation |
| --- | --- |
| Lawyer | You and your spouse can hire separate lawyers and let them negotiate your settlement on your behalf. While this is the traditional route, it could result in your costs exploding—Georgia lawyers charge an average of $250 per hour, and you will pay for every meeting, email, phone call, and photocopy. Your costs could come to thousands of dollars per spouse in no time |
| Mediation service | A registered mediator can help you and your spouse negotiate a settlement at a fraction of the cost of a lawyer, but you will have to be prepared to work together without legal representation. This is your best option if you agreed on most points but need help with minor details |
Once your negotiations are complete, you need to have the settlement drawn up as a legal document. For this task, you can use:
Your third—and best—option is DoNotPay. We can for you in a few clicks!
All the Gwinnett County Divorce Boxes Ticked With DoNotPay!

At DoNotPay, we want your Gwinnett County divorce to be as fast and hassle-free as possible! Our Divorce Settlement Agreement product sets you up with exactly the document you need with no need to pay lawyers or wait for them to deliver.
To get your customized settlement agreement, follow these steps:
Open our Divorce Settlement Agreement feature
Fill in the points you have settled on with your spouse
Your document will be ready in an instant, and you and your spouse can sign it in the presence of a notary. Don't know where to find a notary in your area? No need to worry—you can use our online notarization service to get your agreement verified!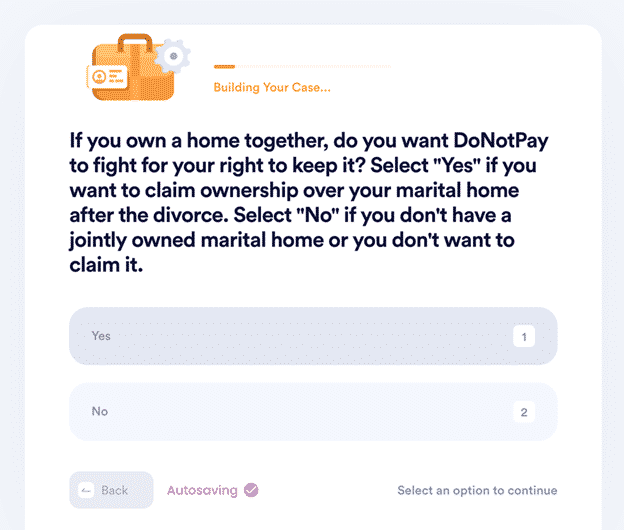 Other Georgia Counties DoNotPay Can Help With
If you are looking for info on divorce in other GA counties, here are some examples of what DoNotPay can offer:
Our App Solves Your Legal Issues!
Do you really have to set aside astronomical amounts to pay lawyers for drafting legal documents or taking a person or business to small claims court?
The answer is no—all the cash remains in your pocket, thanks to DoNotPay! From now on, you can perform many legal tasks from home with the help of our app. It enables you to create flawless powers of attorney, divorce settlement agreements, and child travel consent forms in a snap.
That's not all—once we generate these documents for you, we also help you have them notarized via a video meeting. No need to waste your time and fuel visiting notary offices.
Check Out Other Perks DoNotPay Offers!
DoNotPay provides a wide selection of services, from creating virtual credit cards and burner phone numbers to getting refunds from companies and canceling subscriptions. Have you received an unfair parking ticket? Appeal it with our app before you know it! Are email spam and robocalls making your life a living hell? No scammer stands a chance against our efficient AI-powered tools and features!
We also work in your favor when it comes to safety. Our app offers perfect ways to prevent copyright infringement, stalking and harassment, work discrimination, sex offenses, and disputes with annoying neighbors.