Everything You Need To Know About Connecting With An Inmate Of Gulf Correctional Institution
Gulf Correctional Institution is a level V facility situated in Wewahitchka Florida. It holds around 1,570 adult male prisoners. This facility holds minimum, medium, and closed custody inmates.  Also, the facility offers many programs to enhance skills. These programs are set to empower the inmates with basic adult education. Gulf Correctional Institution offers abuse treatment and vocational programs. All such programs are designed to improve the skills of inmates. The visitors are encouraged to call, send mail, and visit the inmates. Thus, helping inmates to overcome the stress of their life.
Are you looking to contact or visit any known inmate? If yes, you first go through a set of long rules and regulations. If you don't have time to read out the rules, DoNotPay can help. It is a platform that will help you to send mail or packages to inmates.
General Information Required to Connect With an Inmate Of Gulf Correctional Institution
Know the important information about Gulf Correctional Institution before you connect an inmate.
Physical Address
Gulf Correctional Institution

500 Ike Steele Road

Wewahitchka, Florida 32465-0010

Phone Number
(850)-639-1000
Website
http://www.dc.state.fl.us/ci/109.html
Fax
(850) 639-1182
General Email
GulfCI.WardenOffice@fdc.myflorida.com
Inmate Mailing Address
Inmate Last Name, First Name, ID Number

​Gulf Correctional Institution

500 Ike Steele Road

Wewahitchka, Florida 32465-0010
What to Know Before You Visit an Inmate Of Gulf Correctional Institution? 
If you wish to personally visit an inmate, here is all you should know. First of all, the Florida Department of Corrections must approve you for visiting. This can be done by connecting with your inmate via call or mail. And then, you must ask the inmate to mention your name on the visiting person list. Once you're done, you will get a visitor application. Fill out the application with all the necessary information required. After completing the form, send it back to the facility.
Visiting Hours 
Here are the visiting hours in which you can visit an inmate.
Visiting Hours -  8:00 a.m. to 2:00 p.m. Central Standard Time. This time is given just for two days - Saturday and Sunday.
Registration will start at 7.15 A.M
In order to visit an inmate, you must reach the facility before 1.00 PM
Visiting Procedure 
Gulf Correctional Institution follows a visiting process before allowing any visitors to enter. The officers will start the process by asking many questions from the visitors. And then a number of searches take place to check for violations. Here is the visiting procedure followed at the facility.
The research will start by asking about contraband. It is prohibited to carry cell phones or drugs with you.
Search for the property is carried on.
The person is detected with a metal detector and a Magneto Static Detector.
Pat search
Barrier search by the canine handler
Note - You must not carry any prohibited items with you. If you carry any prohibited item, you will be arrested on the spot.
Things to Bring on Your Visit 
Before you plan to visit, make sure you carry only the listed items. Keep other things at home to ensure that your visit won't be rejected.
Money up to $50.00 in a small wallet or pouch.
One car key or keyless entry device.
A dose of medicine in a prescribed container.
A few necessary things for an infant visit.
You can't carry any syringe or needle on your visit. Cell phones, drugs, and weapons are prohibited.
What You Need to Know While Sending Mail or Package? 
Are you looking to send a mail or package to the inmate held at Gulf Correctional Institution? If so, you must follow the criteria of rules. If not, your mail will be directly rejected by the authorities.
Letters must contain only 15 pages.
Electronic and non-paper parts aren't allowed.
Greeting cards can be sent to the inmate.
Pictures are allowed except nude photos or polaroids.
Mail should be properly packed with inmate particulars written on it. Don't use bubble or peanut packs as it is not allowed. Even though you can connect inmates on your own, it isn't easy. You have to take care of small details to avoid rejection. If you are looking to save booze on visiting, DoNotPay can help.
How to Connect With An Inmate Of Gulf Correctional Institution Using DoNotPay? 
Follow the steps and get started with DoNotPay's services.
1. Locate the Connect With an Inmate service on DoNotPay.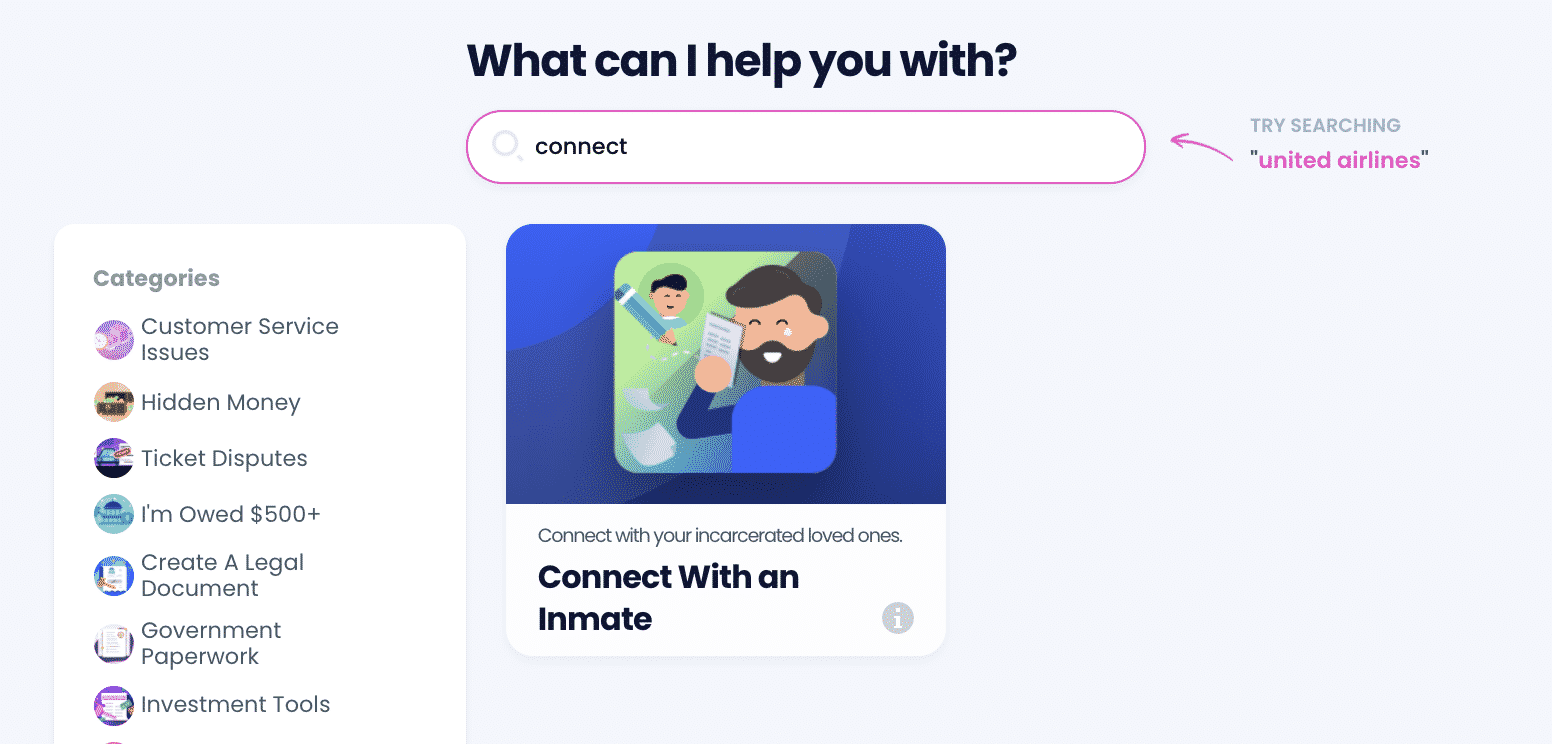 2. Choose whether you want to locate a loved one, create a virtual mailbox, or send a personalized letter.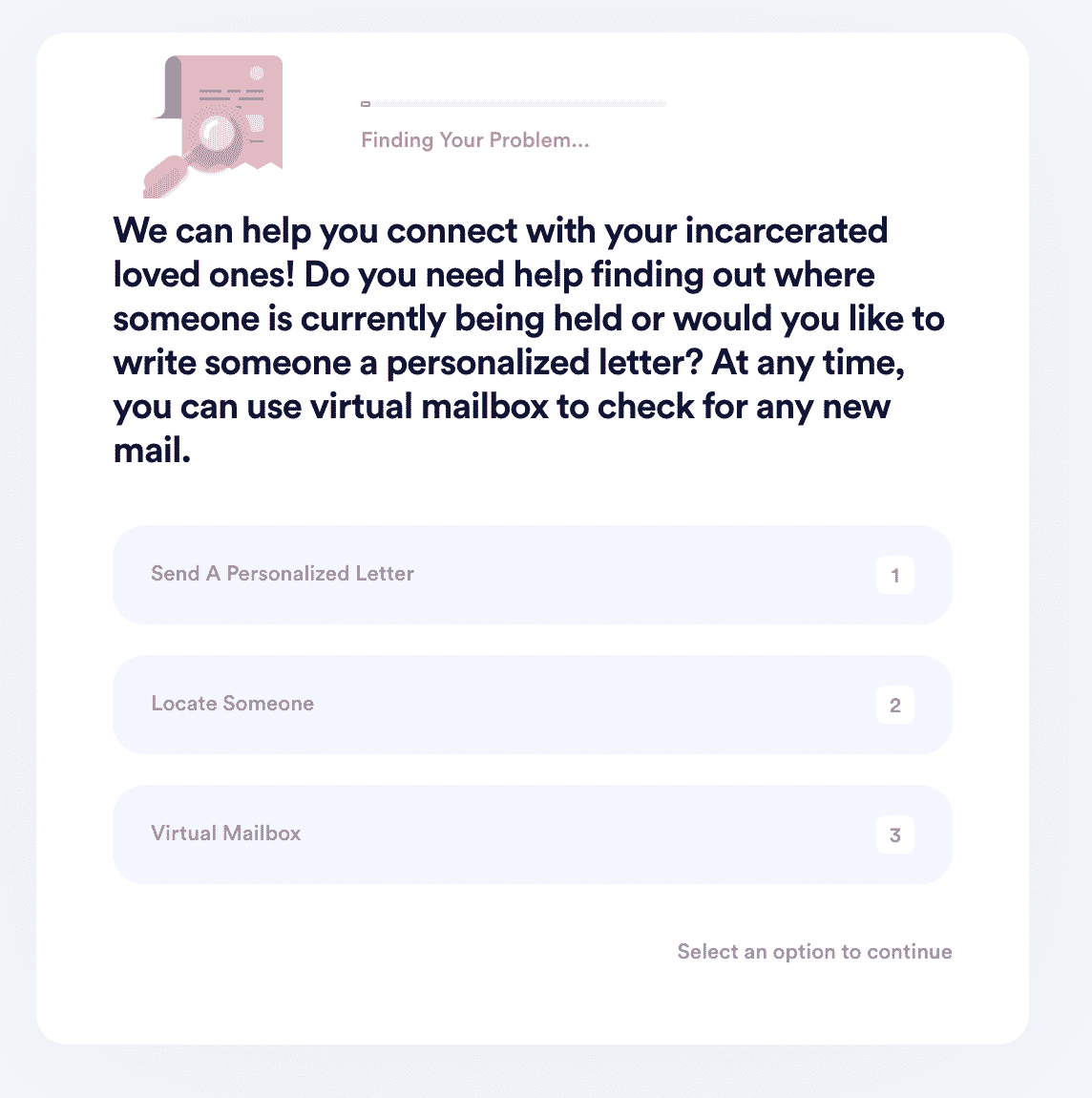 3. If you want us to find your loved one, provide his or her personal details and the state they are located in. We'll then conduct a search on the appropriate state database.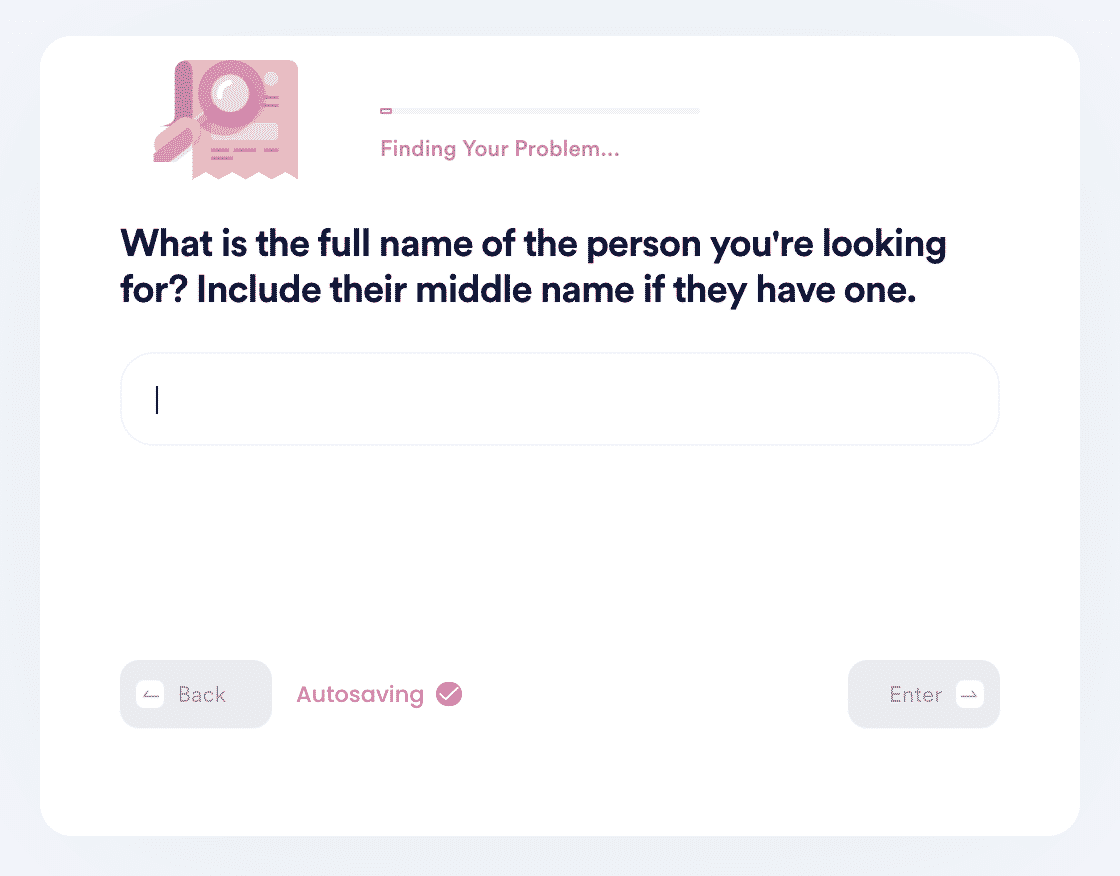 4. If you want to create a virtual mailbox, just provide your full name! We'll set one up for you so you can easily receive incoming mail from your loved one.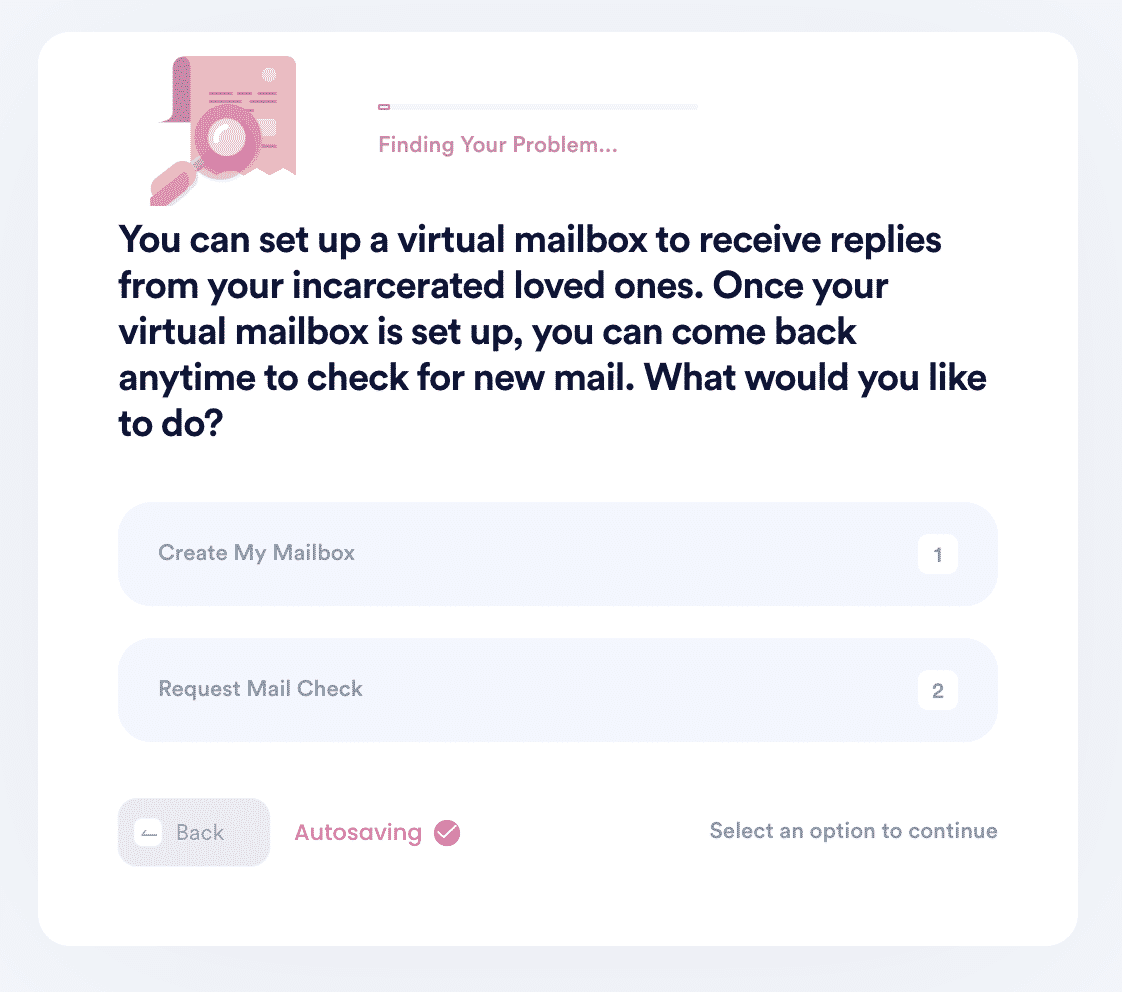 5. If sending a personalized letter, tell us which facility your loved one is located in and what you would like to say to them. You can even include a photo! Your letter will be delivered automatically - just wait 10 days for it to arrive to your loved one!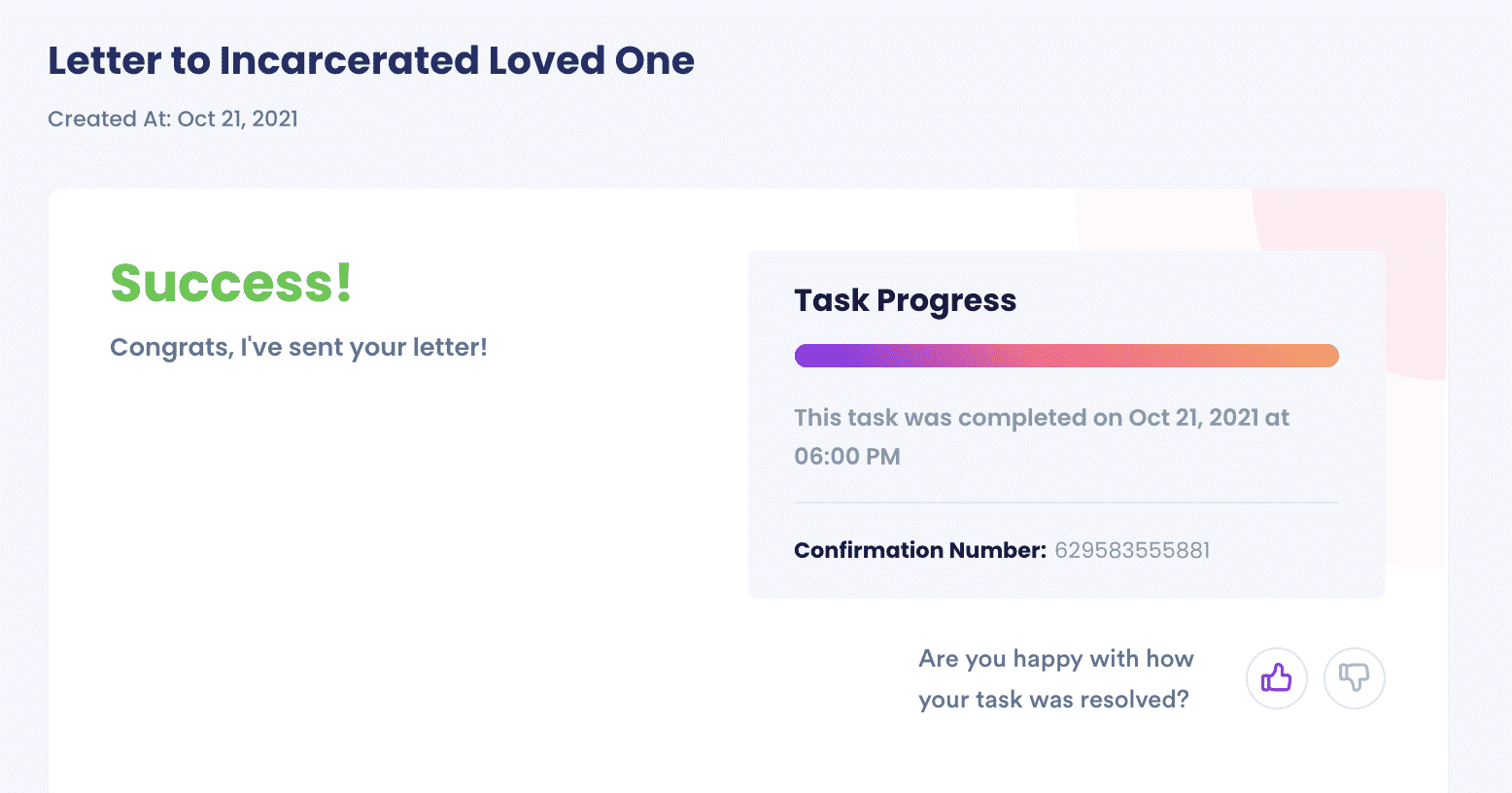 Why Choose DoNotPay to Connect With an Inmate? 
If you are unsure about why you should choose DoNotPay, here are a few reasons. Check out and make sure you are following the right path to connect with an inmate.
Get guaranteed results with zero chances of errors. Meaning, you can 100% locate and connect with an inmate using DoNotPay.
Just finish up a small working process, and then you can relax. DoNotPay will do everything and help you connect with your imprisoned friend.
There's no need to read the rules and regulations of the prison. DoNotPay will assist you in even locating an inmate.
What Are the Other Services That DoNotPay Offer? 
Here are the other services that DoNotPay offers. Feel free to create an account and reap the benefits that we offer, including:
DoNotPay can also help with other types of everyday problems, like:
Contact us right away to avail yourself of DoNotPay's services.