What You Need To Know About Guaranteed Small Business Loans
Businesses face various financial difficulties, which is why they often need to take out business loans to cover their costs. Choosing the right loan for a small business can be difficult, especially with countless options to choose from. A guaranteed small business loan is one of the many viable choices, but not many people understand how it works.
In this article, we will explain what it means to have a "guaranteed" loan, how many types of guaranteed loans are available, and how to use our product to:
Write a compelling loan request letter to boost your chances for loan approval
Find top lenders in a matter of minutes
What Is a Guaranteed Small Business Loan?
A guaranteed small business loan is a type of funding that has a payment guarantee in the form of agreement, collateral, or deposit. This means that even in the scenario where the borrower has no budget to repay their debt, the lender will still receive repayment.
When it comes to guaranteed loans, you have two options to consider:
Personal guarantee loan
Personal Guarantee Business Loan
Personal loans use personal assets such as real estate, cars, or saving accounts as guarantees. These types of loans can be categorized as follows:
Limited guarantee—The lenders can only collect a percentage of the guaranteed assets. This type of personal loan usually has multiple borrowers who can pay a portion of the debt, lowering the burden of defaults
Unlimited guarantee—The lenders can collect the entirety of the assets to recover outstanding debts
Small-Business-Administration-Guaranteed Business Loan
An SBA loan is a type of financing that is supported by the federal government but offered by independent lending institutions (such as banks or credit unions).
This small business loan works by having the government pay a percentage of a loan if you, the borrower, are unable to repay it. The policy is called a guarantee, and the amount it covers depends on the loan program you choose.
For most SBA loans, the percentages are as follows:
85% of the loan if the borrowed amount is less than $150,000
75% of the loan if the borrowed amount is higher than $150,000
Types of SBA Loans
SBA provides various types of loans with varying individual repayment terms and conditions. Consult the table below to determine which program would be the best one for you:
| Program | Purpose | Maximum Loan Amount |
| --- | --- | --- |
| SBA 7(a) Loans | A loan that supports working capital, equipment purchase, and business expansion | $5 million |
| SBA 504 Loans | A long-term loan for major fixed assets that support facilities, land, and machinery | $5 million |
| SBA Express Loans | Fast financing for real estate, equipment, working capital, and business expansion expenses | $350,000 |
| Microloans | Loans for machinery, equipment, inventory, supplies, and other working capital | $50,000 |
| SBA Community Advantage Loans | Loans issued by mission-based or nonprofit organizations to support economic development. This loan cannot be used in revolving credit agreements | $250,000 |
| SBA Disaster Loans | Funding to help various businesses and nonprofits repair or replace business and personal property that was destroyed in disasters | $2 million |
How To Apply for an SBA-Guaranteed Small Business Loan
SBA loans are one of the most competitive loan options. Before applying for an SBA loan, make sure your business qualifies for one. Lenders will evaluate borrowers based on the following criteria:
At least two years in business
Promising yearly revenue
Good to excellent credit scores (over 690)
Adequate collateral (when applicable)
Once you have met the requirements, you can start gathering the necessary paperwork. Visit the SBA website if you need an application checklist. Some documents you will need include:
Business tax returns
Personal financial statement
Business license
Business financial statement
One-year cash flow forecast
Loan request letter
The lender of your choice may take a while to approve your application. If you apply in a bank, the entire process can take up to 30 days or more.
Boost Your Loan Approval Chances With a Meticulous Loan Request Letter From DoNotPay
Even if you meet the requirements, your loan request letter may still be rejected if it is not convincing enough. This is why you should rely on DoNotPay to get an error-free and compelling loan request letter.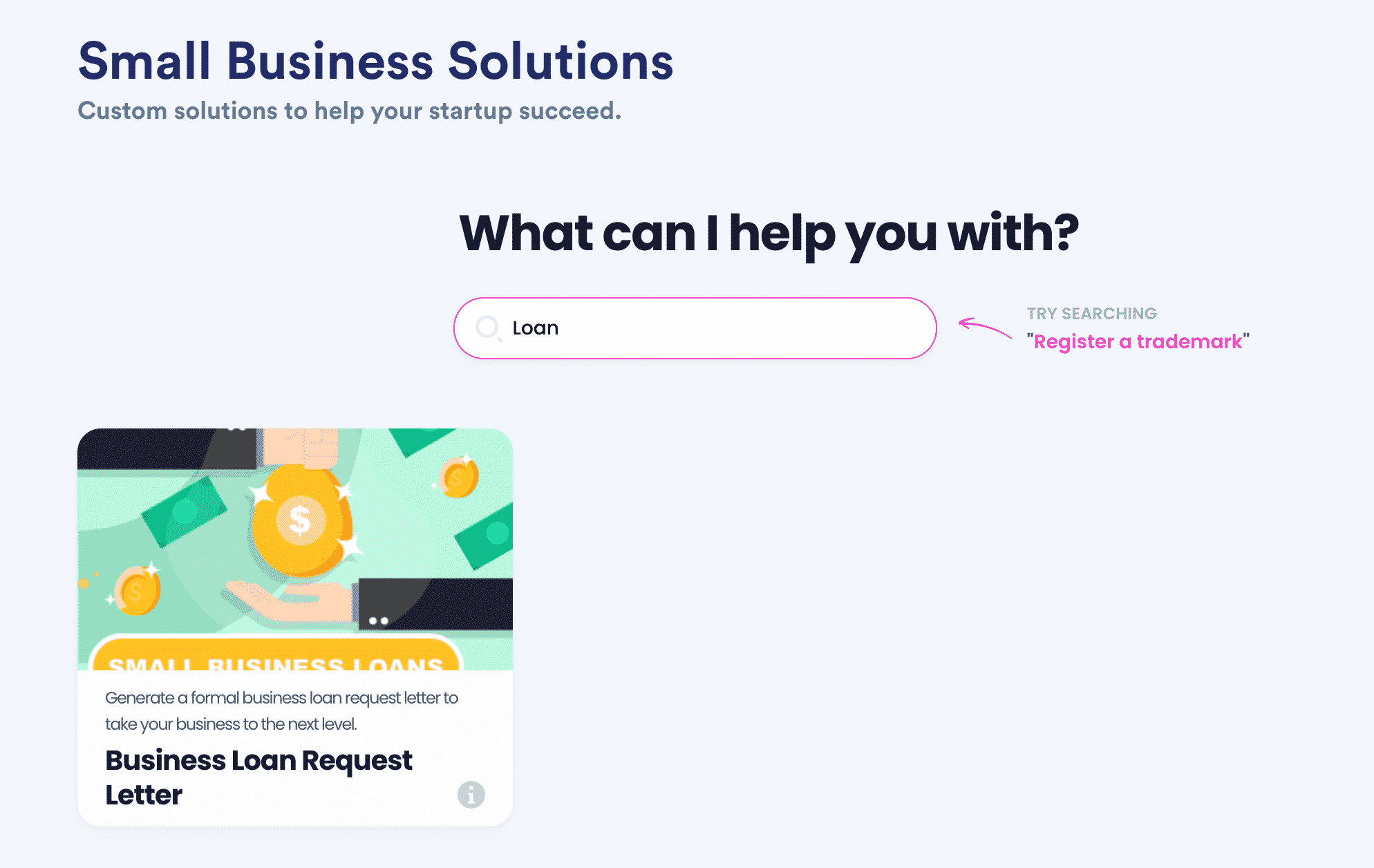 To use our app, you should:
Locate the Business Loan Request Letter feature
Prepare your credit scores and relevant business statements
Answer the chatbot's questions and upload the documents
We will create and send your letter in a matter of minutes!
Locate Top Lenders Easily With the Help of DoNotPay!
The SBA loan application process is tedious enough—you do not need to waste more time looking for a lender. With DoNotPay, you can find reputable lenders in just a few clicks, as follows:
Choose the Find Online Business Loan Lender feature
Complete the form with your business details and loan requirements
Set your business type and industry
You will receive a list of numerous lenders ranked based on interest rates, speed, terms, and loan amounts.
Get the Upper Hand With DoNotPay
The business world is extremely competitive—that is why it is always good to have some extra capital set aside when you need to invest in your company. You can leave the bureaucratic task to us—DoNotPay will draw up business loan request letters in your stead.
If your finances are taking a hit, rely on our app. With our assistance, you will be able to:
Fight fraudulent chargebacks
Remove fake negative reviews online
Register and protect your trademark
Send mail and faxes at no additional cost
Handle clients breaching contracts and get what you are owed
Whatever the task at hand, our AI-powered app will see it through successfully.
DoNotPay—The Assistant Every Business Needs
You cannot escape bureaucracy in business. What you can do is let DoNotPay deal with it. Whether you need to register a DMCA agent or complete an Employer Identification Number (EIN) registration, our app will lead the way.
Using DoNotPay, you will also not have to worry about 83(b) election forms or Privacy Shield self-certification. From generating to filing important documents and from dealing with employees to handling clients on your behalf, our AI-driven app is your go-to solution.
Grow and protect your business with the world's first robot lawyer!