Do You Have the Grounds for Divorce in Texas? Find Out Here!
Are you filing for divorce in Texas? There are some rules and requirements you should get acquainted with. When filing the petition, you'll be asked to cite the reasons for your divorce. Don't fret about it—DoNotPay provides the necessary information about the grounds for divorce in Texas.
What Are the Legal Reasons for Divorce?
You can have many reasons for getting a divorce, but not all of them are accepted by the court. Your state's laws regulate the grounds for divorce. Depending on the legal reasons, a divorce can be:
Fault-based—The spouse who's filing for divorce blames the breakup of marriage on their partner
No-fault-based—None of the spouses has to take the blame for the divorce. The petitioner can base their divorce on irreconcilable differences
All states in the U.S. recognize no-fault grounds for divorce, but not all accept fault-based ones. Only the District of Columbia and the following 13 states recognize fault-based grounds:
Alabama
Alaska
Arkansas
Connecticut
Georgia
Delaware
New Jersey
New York
Maryland
Virginia
Vermont
South Carolina
North Carolina
What Are the Grounds for Filing for Divorce in Texas?
In Texas, you have the choice of filing for divorce on both no-fault and fault-based grounds. Check out the list below to learn the legal reasons for divorce in Texas:
No-fault divorce—If you decide to go with a no-fault divorce, you'll need to allege to the court that your marriage is insupportable because of a conflict of personalities. The conflict of personalities contributes to the breakdown of marriage, and there's no hope of reconciliation. Based on these grounds, you can proceed with your divorce even if your spouse tries to avoid or delay the process. No-fault divorces are typically less expensive and time-consuming than fault-based ones
Fault-based divorce—Since Texas allows fault-based grounds, you can ask the court for this type of divorce. Keep in mind that you'll need to have sufficient proof of your spouse's wrongdoings. When you start your Texas divorce process based on fault, you're stating that your spouse is responsible for the marriage breakdown. Your spouse can contest the divorce if they disagree with the grounds, so it's crucial that you can prove their misconduct
No-Fault Grounds
Fault-Based Grounds
Irreconcilable differences

Adultery
Cruelty
Felony conviction (imprisonment for at least one year)
Abandonment by one spouse for a minimum of one year
Living separately for at least three years
Mental incapacity of one spouse
What Is an Uncontested No-Fault Divorce in Texas?
An uncontested divorce is the one in which you and your spouse agree on all essential matters and don't need lawyers. With this type of marriage dissolution, you can avoid court trials and save tons of money.
You can get your friendly and uncontested divorce in Texas based on no-fault grounds, while divorce based on fault grounds can only be contested.
If you wish to file for uncontested marriage dissolution in Texas, you need to meet the following requirements:
Either you or your spouse must have lived in Texas for at least six months
At least one of you must have lived in the county where one of you is filing for divorce for a minimum of 90 days
How To File for an Uncontested, No-Fault Divorce in Texas
If you want to get an uncontested divorce in Texas without a lawyer, you'll need to agree with your spouse on the following matters:
The steps to filing for an uncontested divorce in Texas are:
Collecting all the necessary paperwork
Getting at least two copies of your divorce papers
Filing the forms with the appropriate county
Creating a divorce settlement agreement
Attending a hearing
In case you can't agree on all the terms of your divorce, you should think about attending mediation. The mediation process can help you reach a mutually acceptable agreement.
If you decide to go with an uncontested divorce, you'll need a divorce settlement agreement. You can find the document online, but keep in mind that the templates are generic, so the agreement won't be personalized to your case. One of the alternatives is to hire a lawyer to draw up your marital settlement agreement, but this option might cost you a small fortune. If you want a more affordable option, register for DoNotPay.
Create an Airtight Divorce Settlement Agreement With DoNotPay
If you opt for DoNotPay, you'll get a fully personalized and legally formatted document in a snap.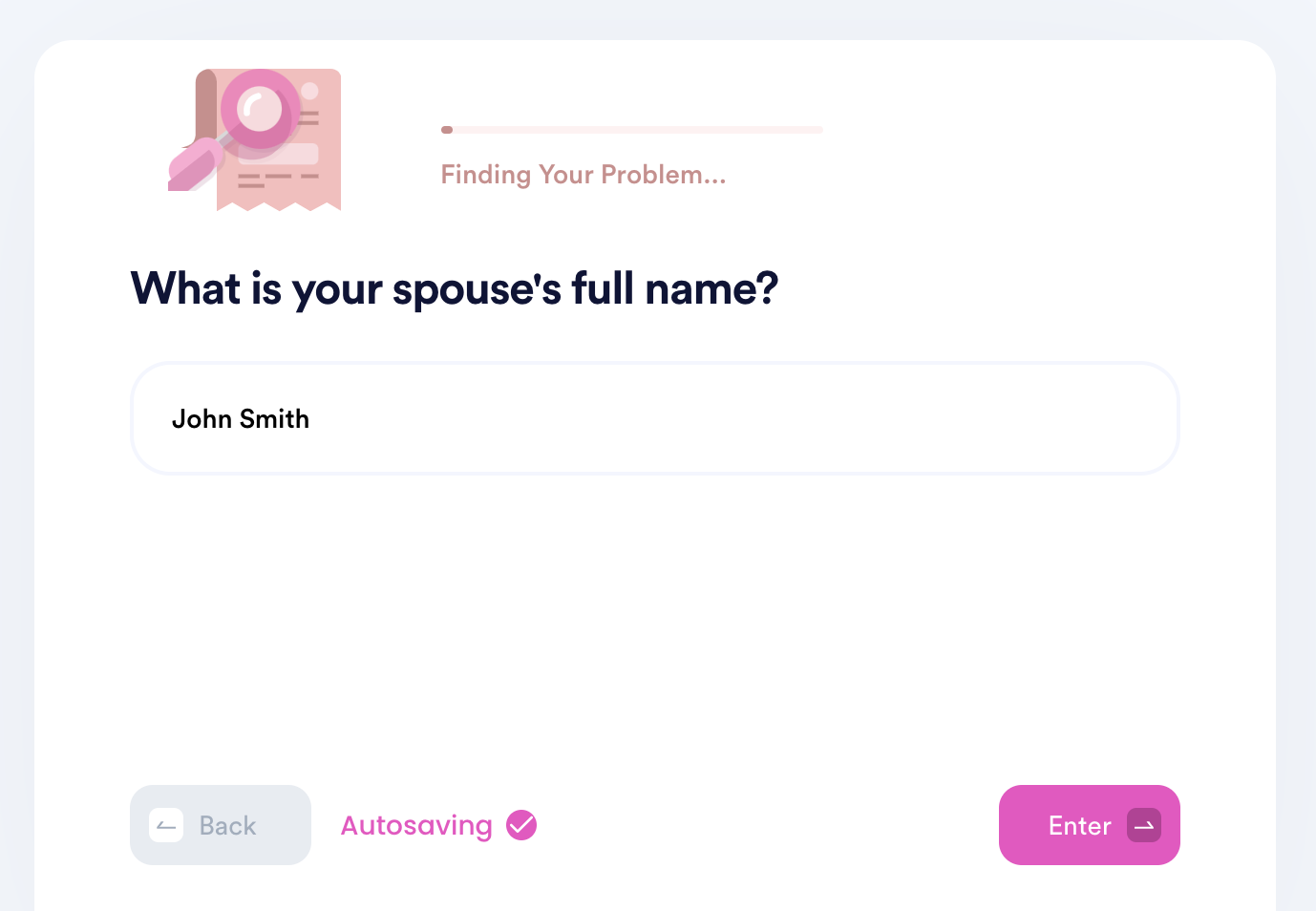 Sign up for DoNotPay and follow the steps below to create a divorce settlement agreement:
Select the Divorce Settlement Agreement product
Answer a few questions about your spouse, marriage, property, and children (if any)
Tell us if you want to get your document notarized with DoNotPay's help
As soon as you complete the instructions above, we'll create your divorce settlement agreement. DoNotPay will tailor the document to your wants and needs.
Need to get your documents notarized? We'll schedule a meeting with an online notary in Texas, who will notarize your document virtually.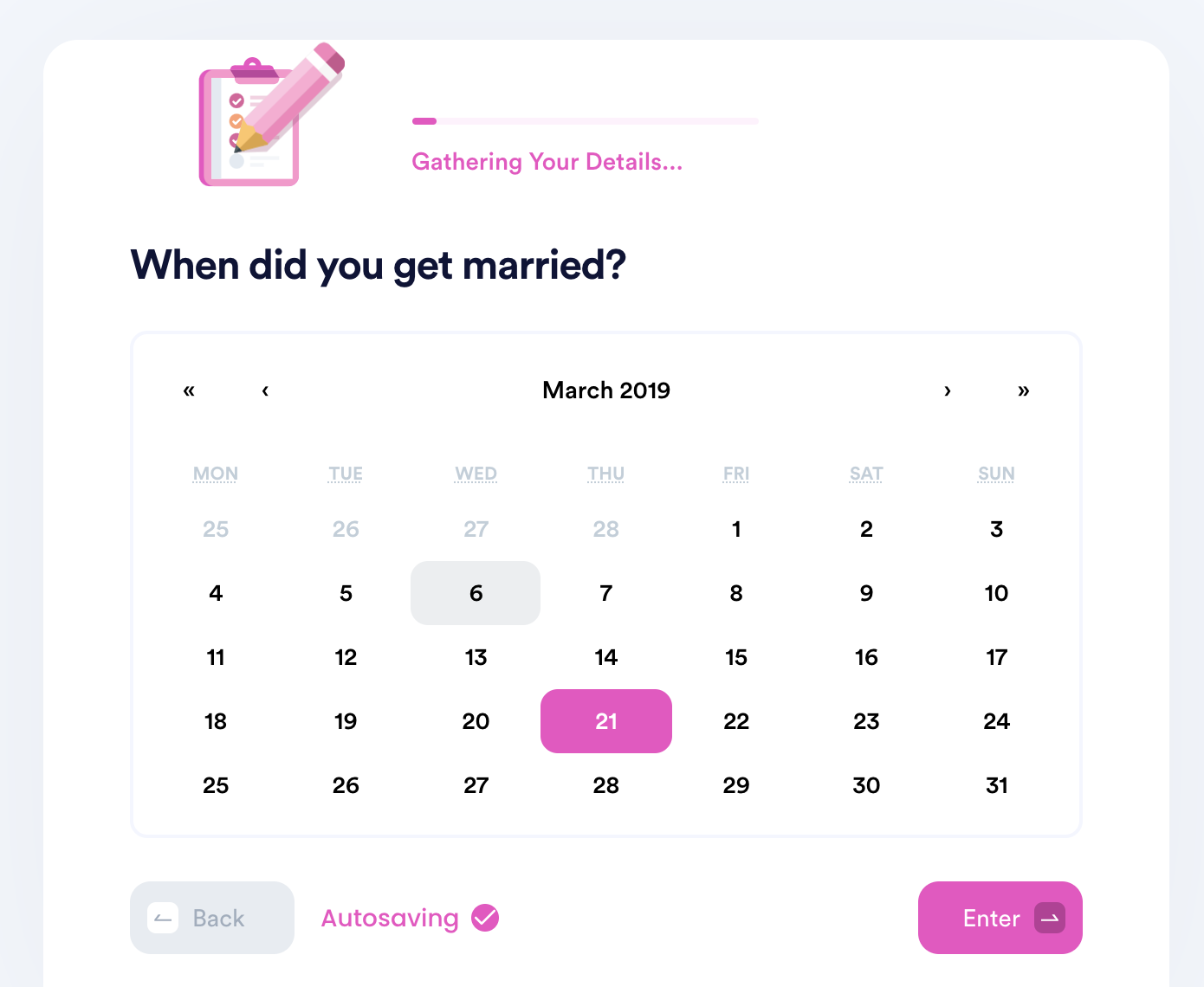 Do you need more information about divorces? Consult DoNotPay's comprehensive knowledge base and find out:
DoNotPay can also provide information about marriage dissolution in the following Texas counties:
Tackling Administrative Issues Has Never Been Easier
DoNotPay was created to help you deal with burdensome everyday tasks you would rather skip. The features we offer will make sure you can:
Dealing With Legal or Security Issues? DoNotPay Will Make Them Go Away
Has a company refused to issue a refund you are entitled to? Sue it in small claims court and get your money back with the help of the world's first robot lawyer! You can also turn to us if you want to protect your work from copyright violation, prevent stalking or harassment, or get virtual credit cards to avoid disclosing your credit card info.
Besides assisting you in seeking justice and security, DoNotPay can help you arrange DMV appointments, contest parking tickets, prepare divorce settlement agreements, and compose various legal documents.