The Rundown on the Grounds for Divorce in MS
To petition for a marriage dissolution anywhere in the U.S., you need to state the reasons for divorce. Every state has its grounds—some have no-fault, others are fault-based, and several states recognize both groups of legal reasons for divorce.
Knowing the difference and understanding the law is of utmost importance when terminating a marriage. In this article, DoNotPay provides the most useful information and lists all acceptable grounds for divorce in MS!
What Are the Grounds for Divorce in Mississippi?
Divorce in the Magnolia State can be both:
Fault-based
No-fault-based
Consult the following table to see all legally acceptable grounds for divorce in Mississippi:
Legal Grounds for Divorce
Details
No-fault grounds

Irreconcilable differences

Fault-based grounds

Adultery
Bigamy
Natural impotence
Alcohol abuse
Habitual and excessive use of substances, such as opium, morphine, or similar
Criminal conviction and imprisonment
Willful desertion for at least one year
Spousal domestic abuse (and other forms of cruel behavior)
Mental illness or intellectual disability during the marriage (without the other spouse's knowledge of it)
Wife's pregnancy by someone other than the spouse
Confinement in a mental institution (for at least three years during the marriage)
Fault-Based Divorce in Mississippi
Mississippi is one of the states where you have the option to accuse the other spouse of the breakdown of the marriage. Only the injured party can file for divorce based on these grounds. Keep in mind that, if you're alleging fault, you must have proof of the spouse's wrongdoings—pictures, documents, and witnesses—and present them in a trial.
Having fault-based grounds for divorce can impact the case and the judge's decision regarding essential matters, such as:
Custody
Child visitation time
Division of the property
Irreconcilable Differences Divorce in Mississippi
An 'irreconcilable differences' divorce is a quicker, less expensive, and less complicated method than the fault-based one. Also called an uncontested dissolution, an 'irreconcilable differences' divorce can be carried out with no lawyer and without going to court.
Mississippi Irreconcilable Differences Statute regulates divorcing based on these grounds. According to the Statute, a couple can get an uncontested divorce if they:
Meet residency requirements—Either one or both of you must have lived in Mississippi for at least six months before filing the petition
Can reach an out-of-court settlement—You and your spouse must discuss and agree on important matters before filing for divorce, including:

Alimony (amount and payment details)
Legal and physical custody of minor children
Child support (health insurance and medical expenses)
Visitation schedule (parenting plan)
The main focus of this marriage dissolution type is a divorce settlement agreement. This document should outline all the terms that you and your spouse have agreed on. It legally binds both you and your spouse to respect its provisions, which helps prevent any disputes in the future.
How To File for Irreconcilable Differences Divorce in Mississippi
Once you make sure you qualify for an uncontested divorce, you should commence the process. Here's how to file for divorce in Mississippi based on irreconcilable differences:
File the paperwork—You should start the process by preparing the right Mississippi divorce papers. There aren't ready-made sets of forms that you can download from the government website, so the best way to get them is to visit your local clerk's office
Serve divorce papers—If you and your spouse have a friendly or civil relationship, you should file a joint divorce petition. In case that's not possible, you should deliver the papers to your spouse after petitioning
Attend the hearing—Mississippi has a 60-day mandatory waiting period. After the waiting period is over, you should attend the hearing at court, where the judge will decide whether to grant you divorce or not
How To Make a Divorce Settlement Agreement
You can acquire a divorce settlement agreement in several ways. Here are your options:
Hire an attorney—Having a lawyer draft the agreement for you is a reliable but not the cheapest option
Download a template—Many websites offer the service of creating legal documents for unreasonable subscription fees. Aside from being expensive, this option can be risky. Your settlement agreement should include your specific details, and templates can't provide that
Use DoNotPay—Our service is fast, inexpensive, and undemanding. We use the most exhaustive database and the information you provide to ensure the agreement you get abides by the state rules and covers the specifics of your case. Sign up for DoNotPay to get an ironclad divorce settlement agreement in a flash
Streamline Your Uncontested Divorce With DoNotPay's Custom-Made Settlement Agreement
Are you looking for a quick, low-cost, and hassle-free way to draw up a divorce settlement agreement? With our app, creating this uncontested divorce document is as easy as ABC!
Everything you need to do is access DoNotPay and follow these steps:
Choose the Divorce Settlement Agreement feature
Give us details about your spouse, assets, and children (if any)
Specify if you need a notary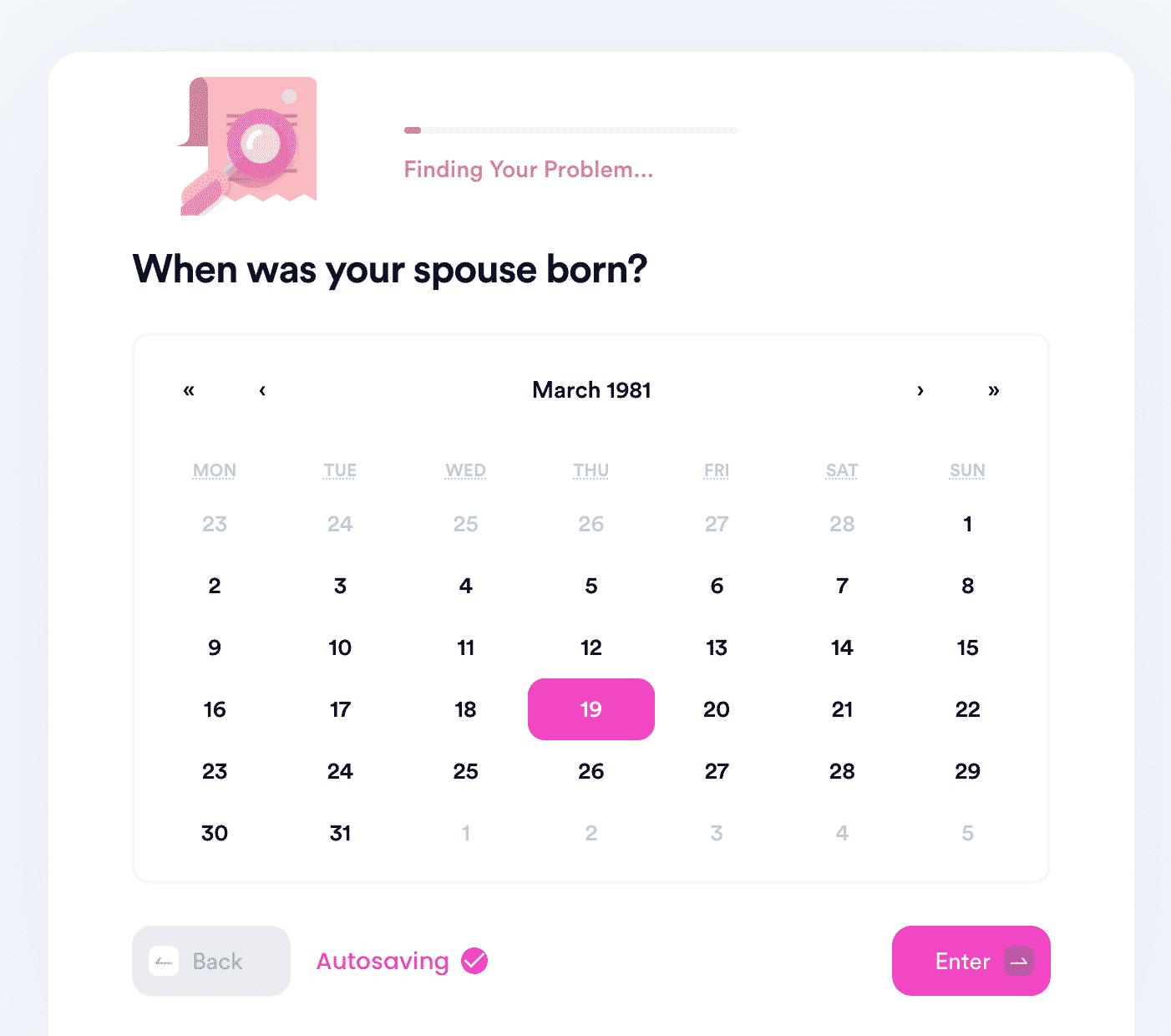 We'll customize a settlement agreement based on the details you provided and send it to you right away!
DoNotPay offers more assistance with divorce-related matters! Visit our knowledge base if you have more questions, such as:
What Other Issues Can Our App Solve?
DoNotPay can support you through various burdensome procedures and turn them into a breeze! Here's a table showing a tiny part of our extensive offer:
| DoNotPay Can | Services |
| --- | --- |
| Create various documents | |
| Protect your safety and privacy | |
| Get your money back | |
DoNotPay Is Your Ticket to Simpler Life
Don't bother going through complicated tasks alone—we are here to take care of them! Seek our help if you want to get in touch with customer service instantly, fax anyone online, or get your documents notarized. Besides providing these amazing services, DoNotPay can make preparations for your travel adventures by assisting you in getting passport photos at home and obtaining tourist visas.