Understanding the Grounds for Divorce in California
When filing for divorce, you need to establish the legal grounds on which you're basing the petition. Your reasons to end the marriage might be valid, but in some states—such as California—the details don't matter for further proceedings.
In this article, DoNotPay explains all about the grounds for divorce in California—what they are, why they matter, and how they affect the marriage dissolution process.
Besides providing insight into legal reasons for divorce in the Golden State, we can help you finalize the process by drafting a marital settlement agreement! All you need to do is , and we'll draw up this legal document in a breeze!
What Are Legal Reasons for Divorce?
A person may want to get a divorce for many reasons, but the court does not accept them all.
Depending on state-specific laws, a divorce can be:
Fault-based—The petitioner blames their spouse's behavior for the breakdown of the marriage
No-fault-based—None of the spouses has to take the blame for the divorce. It's enough to state that the marriage is irretrievably broken
Every state in the U.S. recognizes some form of no-fault-based divorce. The fault-based grounds are accepted only in the District of Columbia and 13 states, including:
In the following table, you can find the most common legal grounds for divorce:
No-Fault Grounds for Divorce
Fault-Based Grounds for Divorce

Irretrievable breakdown
Incompatibility
Irreconcilable differences

Bigamy
Adultery
Incest
Desertion
Mental abuse
Domestic violence
Mental illness
Alcohol or substance abuse
Impotence or infertility
Imprisonment or criminal conviction
Mental incapacity at the time of marriage
Is California a No-Fault State for Divorce?
California is the first state to recognize no-fault grounds for divorce. The state fully adopted this divorce reform with the Family Law Act of 1969. Both the law and no-fault divorce became effective in 1970.
California is an absolute no-fault divorce state, meaning that the court doesn't consider fault when making decisions regarding custody, alimony, child support, division of the property, or anything else. There are exceptions to this rule, such as the custody cases when one of the spouses is abusive or incapable of taking care of the children.
What Are the Grounds for Divorce in California?
There are two primary reasons for divorce in California:
Irreconcilable differences
Permanent legal incapacity
Irreconcilable Differences
Irreconcilable differences are the more common reason for divorce in California. The specifics often don't matter in the court—it's enough to prove that the differences were too difficult to overcome, which lead to an irretrievable breakdown of the marriage. People usually cite irreconcilable differences when they can't agree on:
Finances
Parenting
Religion and culture
Communication
Relationship with extended family
Permanent Legal Incapacity
Permanent legal incapacity means that a person is incapable of making decisions for themself, as a result of illness, traumatic injury, or mental disorder. A doctor must determine if a person is permanently incapacitated.
It's more complicated to obtain a divorce based on these grounds. Depending on the type of incapacity and the severity of the case, you need either psychiatric testimony or medical documentation that proves your spouse:
Was suffering from incurable insanity when you filed for divorce
Will remain incapacitated
Do Reasons for Divorce in California Matter in a Simplified Dissolution?
Since California is a no-fault state, you can get a friendly divorce based on either of two legal grounds. The process is quicker and less complicated in case of irreconcilable differences, though.
Besides specifying reasons for the dissolution of marriage, you have to qualify for an uncontested divorce. Make sure you meet the following requirements before filing for divorce in California without a lawyer:
Either you or your spouse has been a California resident for at least six months before petitioning
Both of you are willing to sign the paperwork
You and your spouse agree on the following matters:

Reasons for divorce
Division of assets and property
Child custody and support
Visitation schedule (parenting plan)
Shared parenting duties
Division of debts
If you have trouble negotiating these issues but you want to reach a settlement without going to court, you should try divorce mediation.
Do You Need a Divorce Settlement Agreement for a Divorce in California?
If you're filing for an uncontested divorce in California, you're going to need a marital settlement agreement. This legal document serves an important purpose—it lists all divorce terms you've agreed on with your soon-to-be ex-spouse and makes them legally binding.
After drafting the agreement, you can continue with the process of filing for divorce. When you prepare all the paperwork, you should make copies of each document and file them at your local clerk of the court's office in your county. If you and your spouse are co-petitioners, you don't need to serve the papers.
Once the mandatory waiting period (six months) is over, you should attend the hearing in court. The judge will review your settlement agreement and other uncontested divorce papers before issuing the final judgment.
DoNotPay Can Expedite Your Uncontested Divorce in California
Avoid paying sky-high attorney's fees and spending time and energy on writing a divorce settlement agreement by yourself. to get the document professionally written in three breezy steps:
Open the Divorce Settlement Agreement feature
Answer our chatbot's questions
Specify if you need our help notarizing the agreement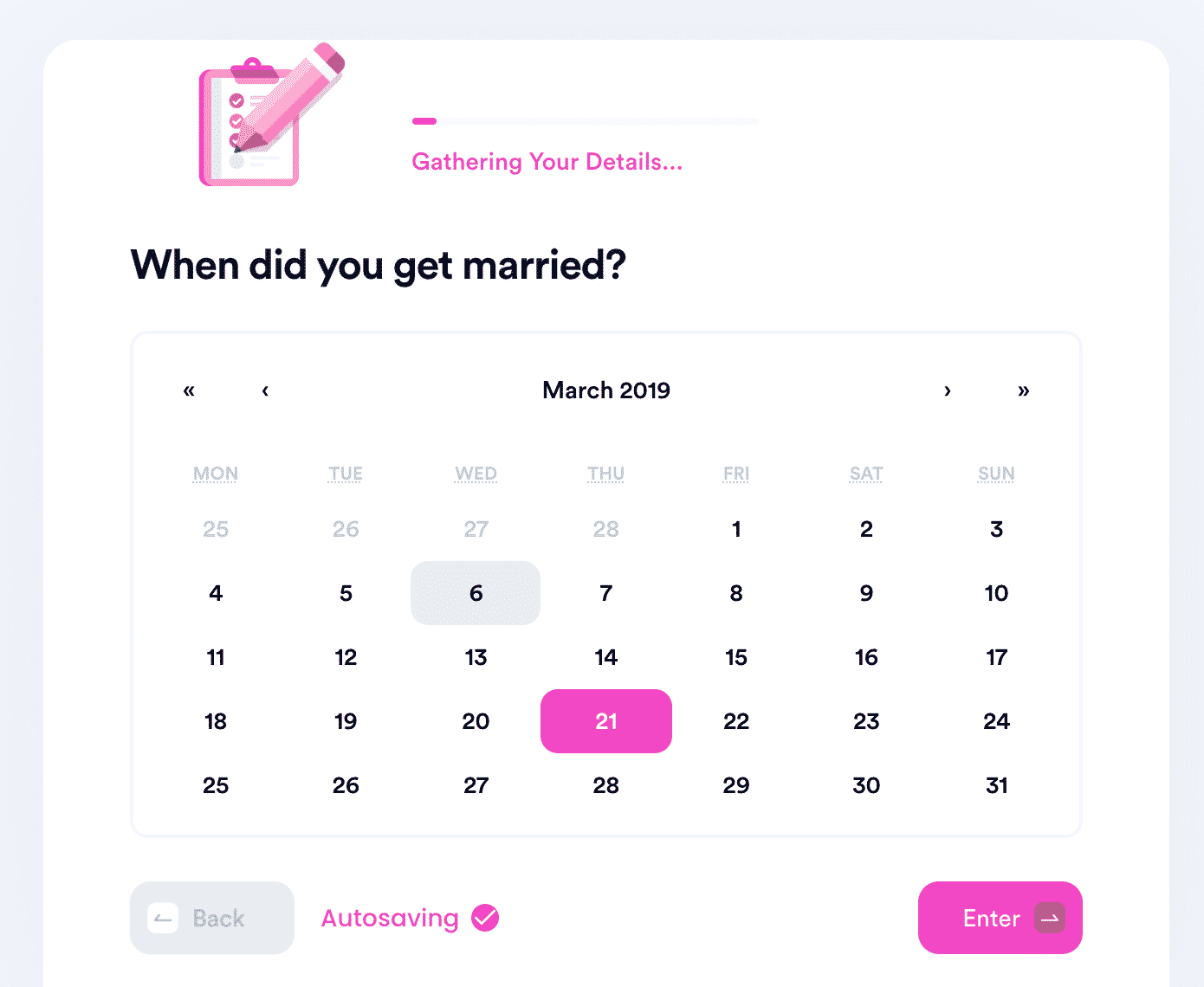 You'll receive a custom-made divorce settlement agreement that meets both your needs and state requirements!
DoNotPay has all the information about the divorce process in California counties, including:
You can also find some of the frequently asked divorce-related questions in the table below:
FAQ
General
Divorce in California
Deal With Your Problems Like a Pro With DoNotPay
Looking for an app that's got enough features to solve any issue you're facing? Look no further—DoNotPay has got your back! Whether you can't sleep from your noisy neighbors or you want to connect with your locked-up relatives, we'll be able to help. We'll bring justice to any person or company that has wronged you and take them to small claims court for you.
The robot-lawyer app can generate numerous legal documents in your name, including:
Once you receive the documents, we can set you up with an online notary so you can get your agreements notarized from the comfort of your home.
Possibilities With DoNotPay Are Endless
DoNotPay stands out not only by the quality of products it offers but by the sheer amount of features it boasts. Check the table below out to see only some issues we can help you resolve: