Launch a Fruitful Business With DoNotPay's Breakdown of Grocery Store Startup Costs
Running a grocery store can put you at the heart of your community—and turn a worthwhile profit if planned and run well.
Groceries are everyday purchases, so if you can harness the loyalty of a sizable shopper base, you could become the daily provider for your entire catchment area.
If this sounds enticing, DoNotPay can help you work out the grocery store startup costs and give you tips on how to finance them through a small business or startup loan.
How Do You Set Up a Grocery Store?
The three pillars of making a grocery store successful are:
Getting new customers through the door
Harnessing their loyalty
Increasing the number of goods they buy
Your grocery store needs to be set up with these goals in mind. This means your it must:
Be in a convenient location
Have everything your shoppers require daily
Offer a one-stop-shop for as many other needs as possible
You need to address these aspects in your planning and budget accordingly for the following startup costs:
Premises
Shopfitting, decor, and signage
Fixed equipment
Ancillary equipment
Licenses, permits, and certifications
Marketing
Inventory
How Much Will the Grocery Store Startup Costs Come To?
The total grocery store startup costs you can expect will depend on the size and location of your store, but you should reckon with:
Premises—$100,000 for 12 months' lease, paid upfront
Shopfitting, decor, and signage—$20,000–$40,000
Fixed equipment—$40,000–$70,000
Ancillary equipment—$20,000
Licenses, permits, and certifications—$5,000
Marketing—$10,000
Inventory—$100,000–$150,000
You should add to the fixed upfront costs the expenses you will incur in the first six months of running the business, including:
Wages
Insurance, workers compensation, and medical cover
Utilities
Professional services
Security levies
Taking all these factors into account, your startup costs for a medium-sized grocery store could come to between $300,000 and $500,000.
The killer blow for any store is when your turnover can't cover your expenses in the startup phase.
Running out of cash could result in you not being able to pay:
Where Can You Get the Money To Launch a Grocery Store?
Few people can call on cash reserves or credit lines to the tune of half a million dollars, so your grocery store will probably require some form of small business loan to cover your startup costs.
Small business loans are granted based on your:
Business plan
Revenue forecasts
Credit Score
Your personal credit score will be taken into account to determine whether you are a good risk for financing.
Business Plan
A financial institution will study your business plan to check it is:
Logical
Based on facts
Comprehensive
Revenue Forecasts
Most lenders will have revenue data from outlets similar to your proposed grocery store—they will scrutinize your forecasts to check that they are realistic.
You can approach the following institutions for finance:
Your chances of getting a loan are largely dependent on the way you put your business case across. Making a good case will allow you to secure the best loan deal, with:
This is where DoNotPay comes in—we can generate a business loan request letter that will present your plan in the best possible light.
Get Your Grocery Store Launched With DoNotPay's Help!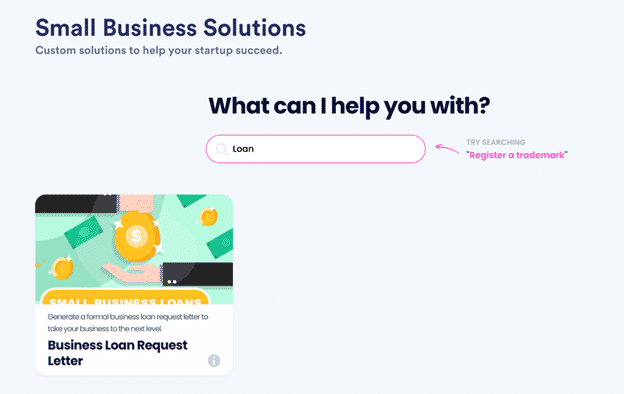 DoNotPay understands how much rests on securing startup funding for a business.
Our Business Loan Request Letter product is designed to help you over this hurdle—we will take care of this so you can concentrate on advancing your plans.
We will take your credit history, business plan, and revenue forecasts and create a convincing and comprehensive letter for you to present to your chosen financier.
All you need to do to have your letter drawn up is:
Go to our Business Loan Request Letter feature
Collate and upload your credit score and financial records
Tell us about your proposed store, the amount you need, and your revenue projections
We will take it from there—in no time, you will have the perfect loan request letter ready to submit to your chosen financial institution.
As an integrated add-on, DoNotPay can also help you source your funding.
Our Find Online Business Loan Lender feature can take your request and match you to the top three financiers you could approach—including rates, terms, and timelines to get your loan.
You should be able to move ahead with planning your grocery store launch party!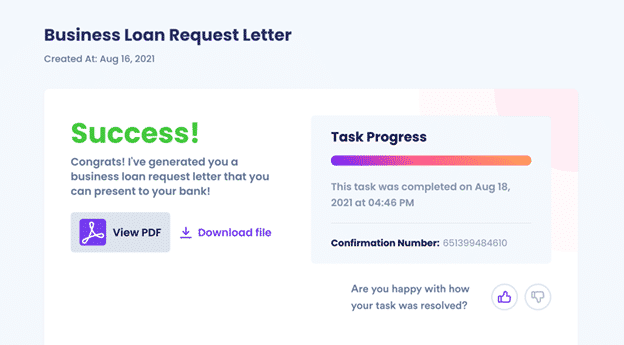 Use DoNotPay To Stay Ahead of the Curve
Why would you do things the old-fashioned way when we can help you pave the way? Use our mailing and faxing service to send letters and documents online without leaving your office or using an obsolete machine.
Do not sit on your hands when faced with complicated issues—DoNotPay offers easy solutions. Whether it's a breach of contract, fake review, or fraudulent chargeback, we know what to do. We will make sure every solution takes several clicks.
To keep growing and bettering your business, you may need additional funds. With DoNotPay's help, you will be able to submit small business loan applications swiftly.
There Is No Shortage of DoNotPay Products That Help Your Business
Running a business comes with numerous benefits but also with endless paperwork. Let us take some tasks off your plate by handling the following:
Employer Identification Number (EIN) registration
Privacy Shield Framework registration
83(b) election forms submission
If you want to have a designated DMCA agent, we can help you register them with ease. DoNotPay can also assist you in getting a trademark registration. You can rely on us to also provide monthly trademark infringement checks to keep your business safe.