How to Contact the Greek Consulate in Chicago
Whether you are a Greek citizen, or an American planning a trip to Greece, the Greek Consulate General in Chicago offers a wide range of consular services to help in processing your requests and helping you with any issues and inquiries.
However, although the consulate plays an imperative role, finding the proper way to contact it can be rather difficult, especially with the varying office hours and the suspension of many services due to the ongoing COVID-19 pandemic.
Don't worry! This article will guide you on how you could contact the Greek Consulate General in Chicago and explain the consular services that they offer and the requirements for travel. It will also introduce you to an easier and faster way to contact any embassy or consulate in the U.S. with DoNotPay.
The Greek Consulate General in Chicago
The Greek Consulate General in Chicago is one of 9 consulates representing Greece in the United State:
Washington D.C.
San Francisco
Boston
Los Angeles
New York
Chicago
Tampa
Atlanta
Huston
All Greek consulates are under the supervising authority of the Greek Embassy in Washington DC. The Greek Consulate in Chicago is located near the prestigious Northwestern School of Law in Street Ville. Its exact address is:
650 North St. Clair St.
Chicago, Illinois 60611
United States of America
The following public transit lines have routes that pass near the consulate:
If you are taking the bus, choose buses number: 146, 147, 151, 2, 3, 65, 66
If you are taking the train, choose trains: MD-W, ME, SSL, UP-N, UP-NW
If you are using Chicago "L", choose: RED LINE
How to Contact the Greek Consulate General in Chicago?
Address

650 North St. Clair St.

Chicago, Illinois 60611

United States of America

Office Hours

Monday to Friday

9:30 AM – 2:00 PM

Note that: office hours may vary, be sure to contact the consulate before your visit.

The Greek Consulate in Chicago is close on the following dates:

January 1st,
January 6th
March 15th
March 25gh
April 30th
May 3rd
May 31st
June 12th
July 5th
September 6th
October 28th
November 25th

Phone Number
+1 (312) 335-3915
Email
grgencon.cic@mfa.gr
Website
https://www.mfa.gr/usa/en/consulate-general-in-chicago/
Fax
+1 (312) 335-3958
Consul General
Aikaterini Dimaki
Special Announcements from the Greek Consulate General Regarding the COVID-19 Pandemic
As of the 14th of May, travelers arriving in Greece are required to present either a negative PCT test certificate for COVID-19 taken at a laboratory within 72 hours of their arrival in Greece, or a negative rapid antigen certificate for COVID-19 taken within 48 hours of their arrival. This is mandatory for all tourists above the age of 12, regardless of the epidemiological situation in the country of departure.
A negative test certificate is not required for travelers who have been fully vaccinated, given that 14 days have elapsed since the last vaccination, appropriate to the make of the vaccine. A vaccination certificate should be presented in this case. Acceptable vaccines are Pfizer BioNtech, Moderna, Novovax, Astra Zenica/Oxford, Johnson & Johnson, Sinoppharm, Sinovac Biotech, Gamaleya (Sputnik), and Cansino Biologics among others.
Proof of a negative test for COVID-19 is not required if the traveler has tested positive in the last 2 to 9 months. Instead, a positive PCR molecular or an antigen test result by an authorized laboratory or a medical certificate confirming that the traveler tested positive with SARS-CoV-2 infection can be present.
All arrivals in Greece, regardless of the certificate they provide, are subject to undergo a mandatory random health screening. Refusing to cooperate gives authorities the right to refuse the traveler's entry into the country.
The countries from which entry without the requirement of subsequent self-isolation are: the European Union and Schengen countries, USA, UK, Australia, Albania, Bahrain, Belarus, Bosnia, Canada, China, Japan, Kuwait, Lebanon, Montenegro, New Zealand, North Macedonia, Qatar, Russia, Rwanda, Saudi Arabia, Serbia, Singapore, South Korea, Thailand, UAE, Ukraine. If you are arriving from Montenegro or Russia, you must carry both a negative PCR test result or antigen test taken within 72 hours of arrival, and a vaccination certificate.
All certificates must include the critical information (number of doses given and their respective dates) and the person's full name as written in their passport or travel document.
Tourists must fill the Passenger Locator Form no later than 23:59 of the day they arrive in Greece.
Upon arrival in Greece, selected travelers must take the Rapid antigen tests at the entrance gates of the airport.
If anyone tests positive for COVID-19 following a sampling test, they will have to accommodate in quarantine hotels where further PCR testing will be done to confirm the diagnosis. The expenses are covered by the Greek state.
Services That the Greek Consulate General Offers
The Greek Consulate in Chicago offers a wide range of services to applicants and visitors, the following services are the most popular:
Passport Information
Power of Attorney
Greek Citizenship
National Service Information
Registrations and Declarations: Birth, Marriage, Death certificates
Driving License Conversion
Wills and Inheritances
How to Contact the Greek Consulate General in Chicago With DoNotPay in Minutes
Processing delays and extended wait times are expected due to the ongoing COVID-19 pandemic, which may make it more difficult to contact the consulate. Let DoNotPay do the work for you and contact the consulate on your behalf in a much faster and simpler process! All you have to do is follow these 4 simple steps:
1. Search Contact Embassy on DoNotPay and select the product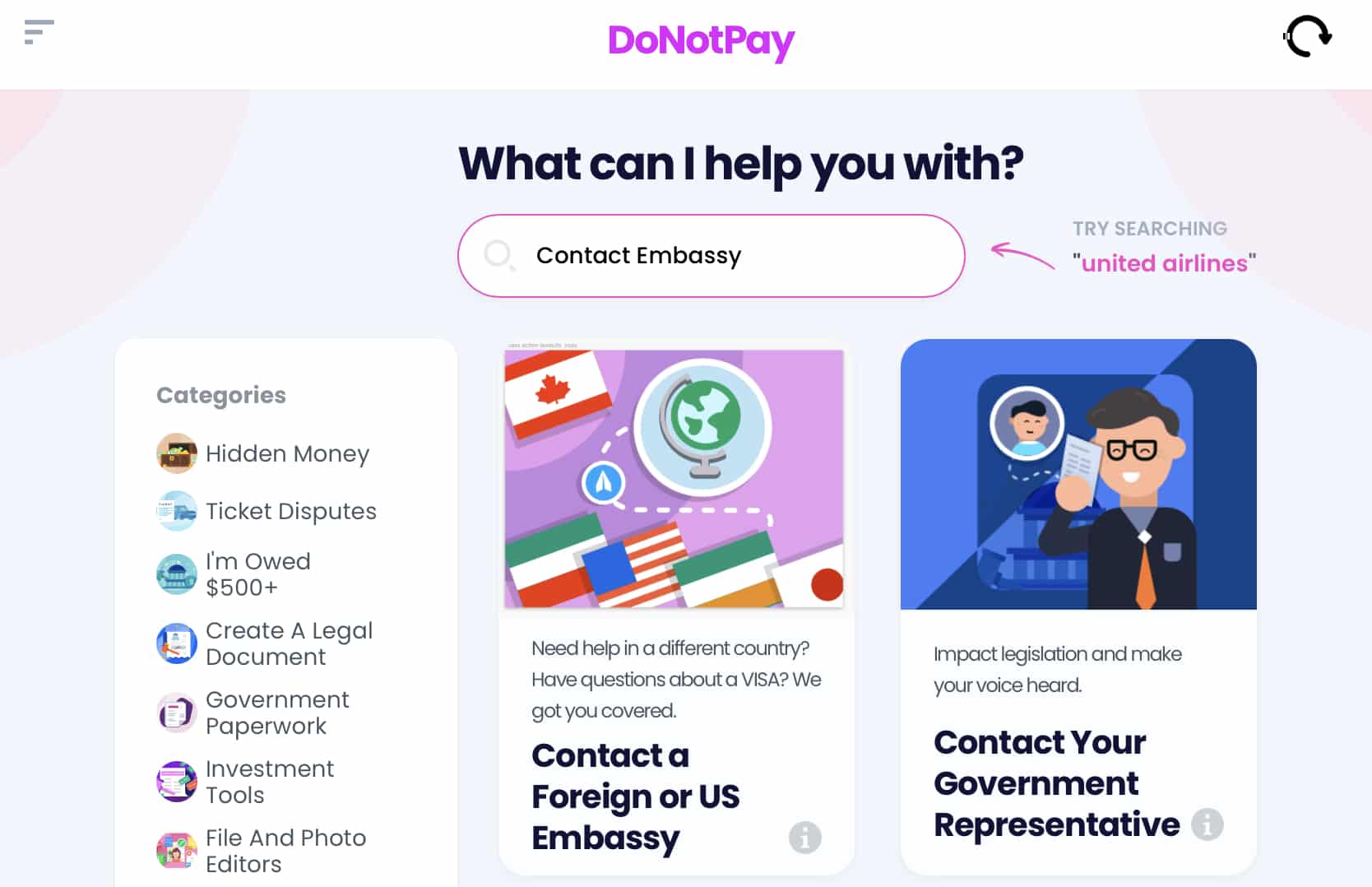 2. Choose the option "Foreign Consulate in the US"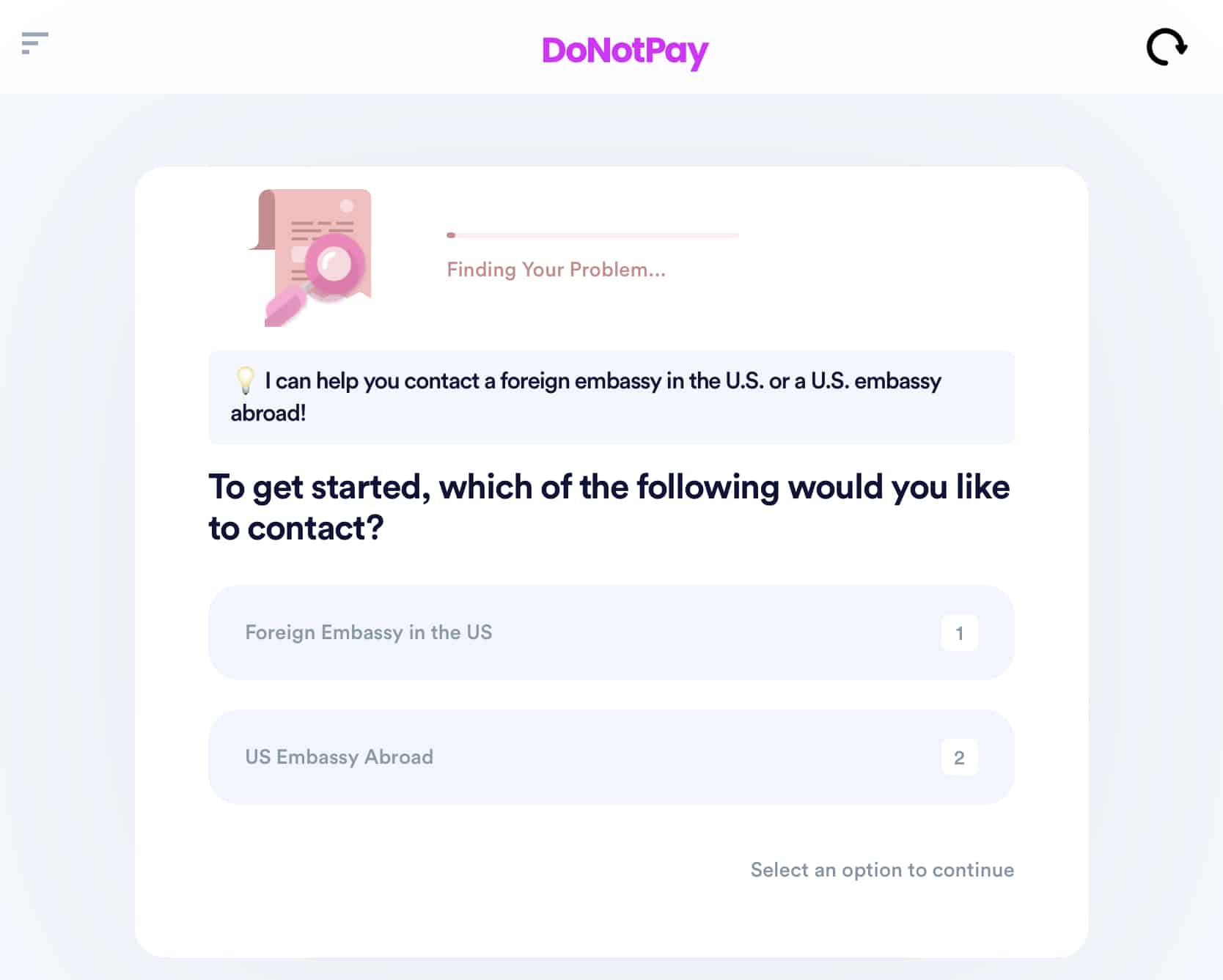 3. Briefly explain your inquiry or issue that you want to resolve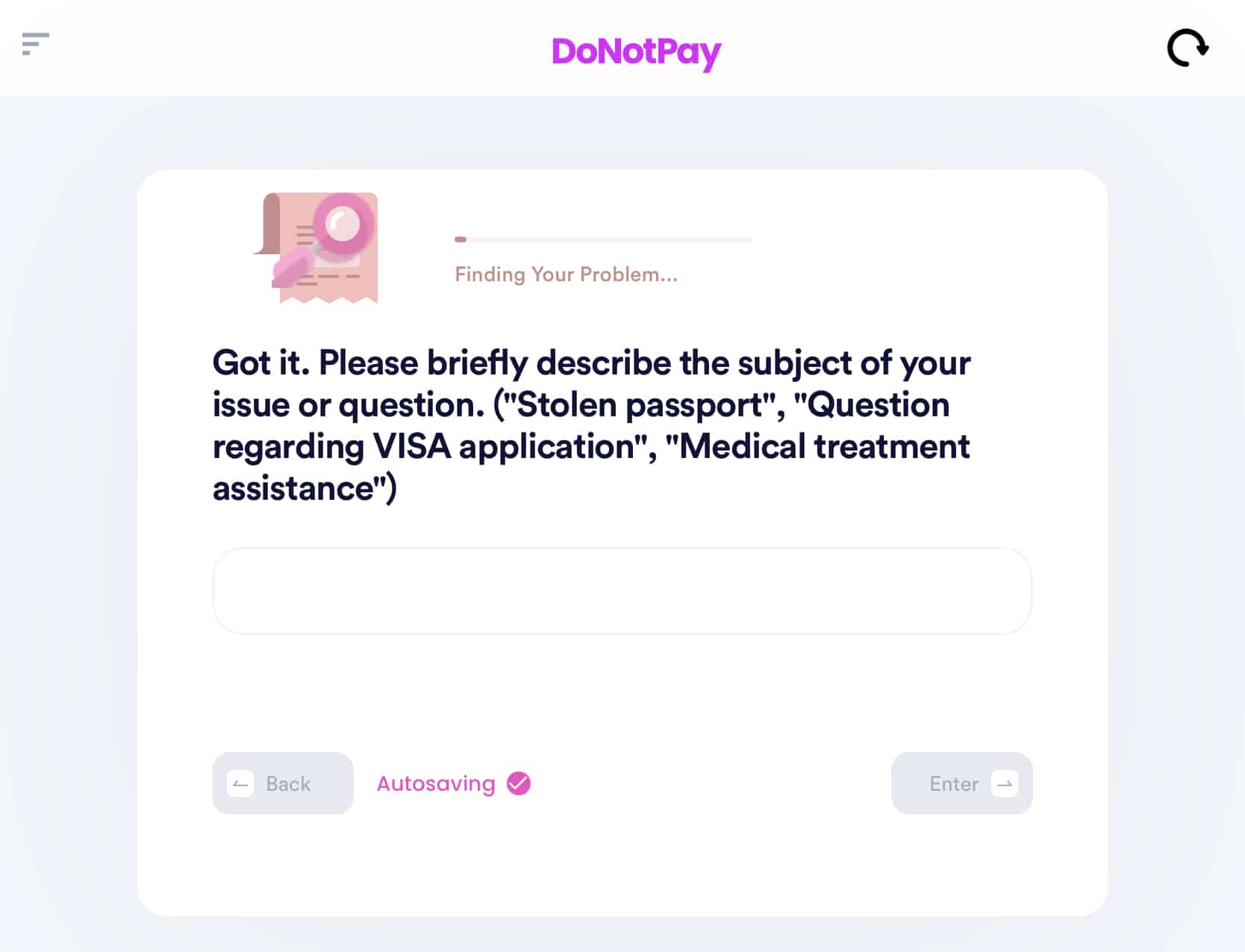 4. Type the City/Country of the consulate you wish to contact – in this case, type in "Greece"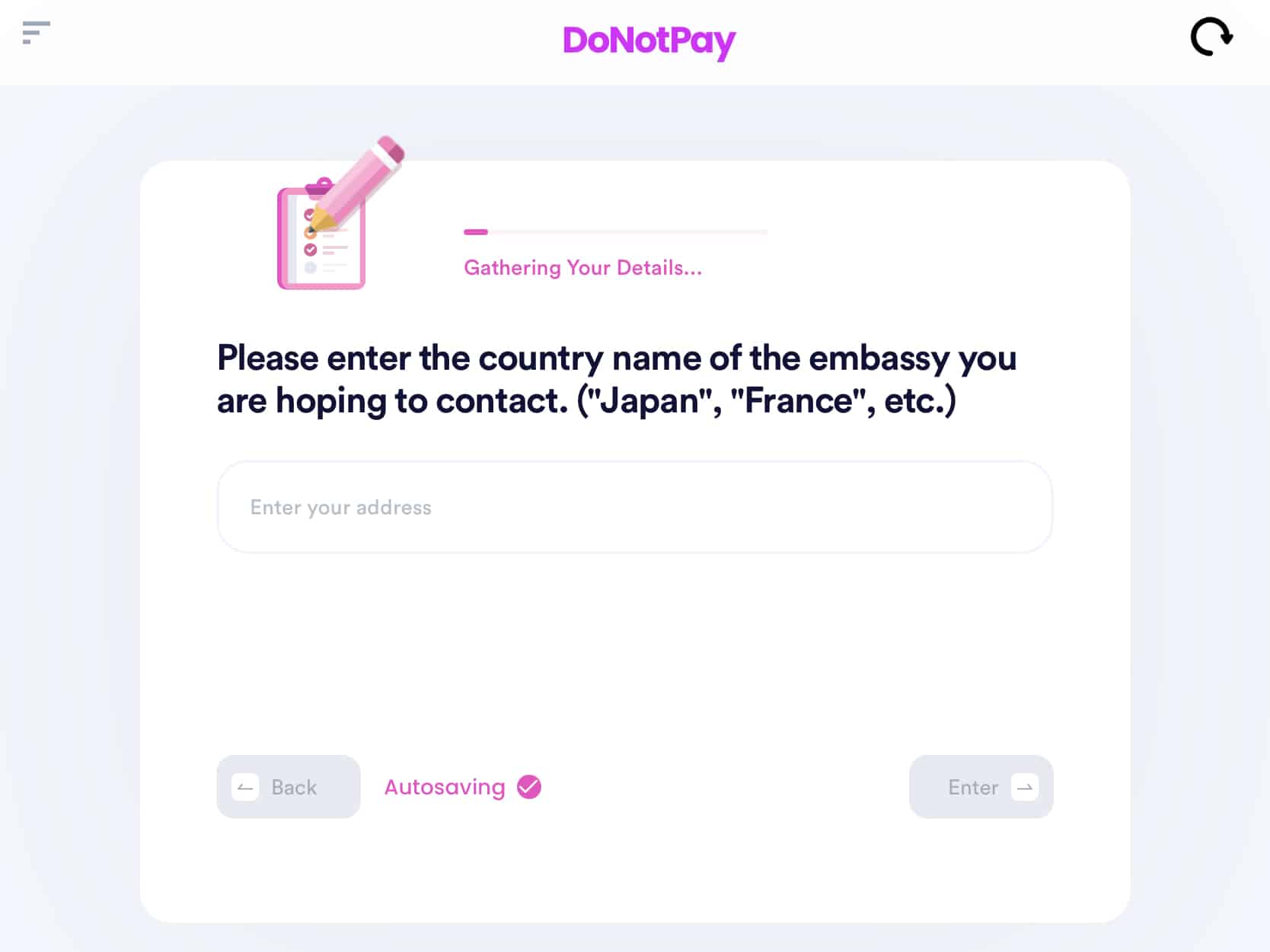 That is it! DoNotPay will contact you with them on your behalf, and you can expect a direct response from the Consulate of Greece to your issue by email.
DoNotPay Also Helps You Contact