Getting a Greece Tourist Visa—The Best Guide
Greece is an ideal touristic place for anyone who yearns for endless beaches, breathtaking historical sites, and friendly hosts. Before you start dancing Sirtaki or fall in love with traditional cuisine, you must tackle the less exciting part of the trip—your Greece tourist visa.
What are the requirements for traveling to Greece as a U.S. citizen? What documents do you need to collect in advance, and what does the application process look like? Don't let these questions confuse you—we offer the answers to all of them! Find out how subscribing to DoNotPay can help keep track of all the necessary steps you should complete and simplify your visa request submission!
Do You Need a Tourist Visa for Greece as a U.S. Citizen?
Greece belongs to the Schengen area that allows U.S. citizens to stay in its countries without a visa for up to three months. This means that you probably won't need to get a tourist visa if you are planning to visit Greece for tourist or recreational purposes.
The situation changes if you belong to the following categories:
People holding U.S. Official or Diplomatic passports
U.S. permanent residents/green card holders
U.S. visa holders
These travelers must apply for a Greece Schengen visa. It's a special authorization that lasts for six months and allows staying in the country for up to 90 days. If you belong to one of these groups, you should get this document from the Greek Embassy or Greek Consulate before setting off on a trip.
What Are the Greek Tourist Visa Requirements?
Here comes the exhausting part—collecting all the required documents you need for a valid application. Here is the common necessary paperwork and some additional documents that must be submitted by specific candidate groups:
Basic Required Documents
Additional Documents

Valid passport or any other travel document that has been:

Issued in the last ten years
Valid for at least three months before traveling to Greece

U.S. Alien Resident Card/U.S. Visa—if you are a holder of these documents
W-2 forms for the last two years
Passport-sized photo
Bank or credit statements for the last three months
Travel insurance
Proof of hotel reservations
Official itinerary
Proof of sufficient funds—besides bank statements, it can be:
Credit card
Payslips
Letter of sponsorship
Traveler's cheques
Proof of employment
Proof of prepaid transport

For employed candidates:

Reference letter from your employer stating your monthly or annual income and current job position

For self-employed candidates:

Letter from the bank you are collaborating with stating that the company operates solidly

For students:

Form I-20
Reference letter from the college/university you are attending that confirms you are in good standing

For candidates that were invited by someone

Notarized letter of invitation

For candidates that are married to Greek or EU citizens:

Valid marriage certificate
Your spouse's passport or identification card
How To Apply for Tourist Visas for Greece
Once you obtain the requested documents and fill out the necessary forms, you must:
Complete Greece Schengen Visa application and glue a passport-sized photo on it (you shouldn't staple it since this can cause rejection)
Set an appointment with the embassy or consulate—a specific date for the meeting will be sent to your email address
Bring the completed application form and all supporting documents to your Greece Visa interview
Provide your biometrics—fingertips and photo—if you haven't been in the Schengen area for the past five years
Pay the required fees
Your safest bet is to submit the application three months before your travel date, which is the earliest option. The latest you can apply is five weeks before the trip.
How Much Do Tourist Visas for Greece Cost?
Here's a table showing the Greece visa application costs based on your age or category:
| | |
| --- | --- |
| Candidate Category | Price |
| Children between six and twelve years of age | $48 |
| Adults | $96 |
| Family members of EU/EEA nationals | Free |
| Students and their teachers traveling for school trip purposes | Free |
Don't Know Where To Start With Your Application? Ask DoNotPay!
Are you tired of compiling the necessary visa application info from multiple sources and not knowing whether they're reliable? Don't waste your time—let DoNotPay gather all the details you need in one place and help you request your visa without fuss!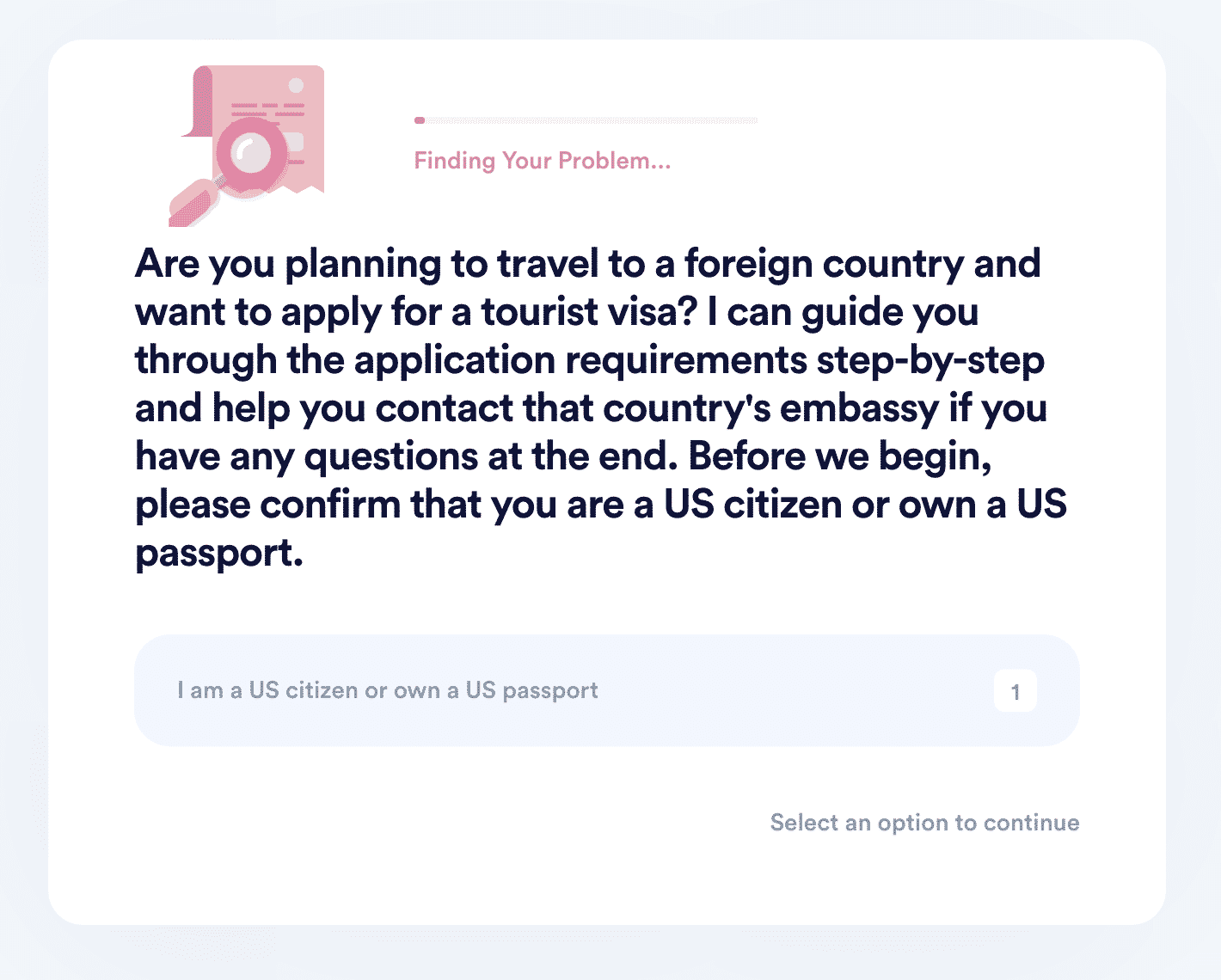 Follow the instructions listed below to use our help:
Visit DoNotPay and sign in to your account
Click on Tourist Visa Guide
Confirm that you possess a valid U.S. passport
Enter the name of the state where you want to travel
Our system will:
Scan the details provided and check if you need a tourist visa for the particular country
Walk you through collecting all the paperwork you may need
Reach out to the appropriate embassy and ask whether it accepts email applications once all the documents are ready
Help you complete the required application form by:

Offering you a direct link to the online application
Creating a PDF version you can download, print, and complete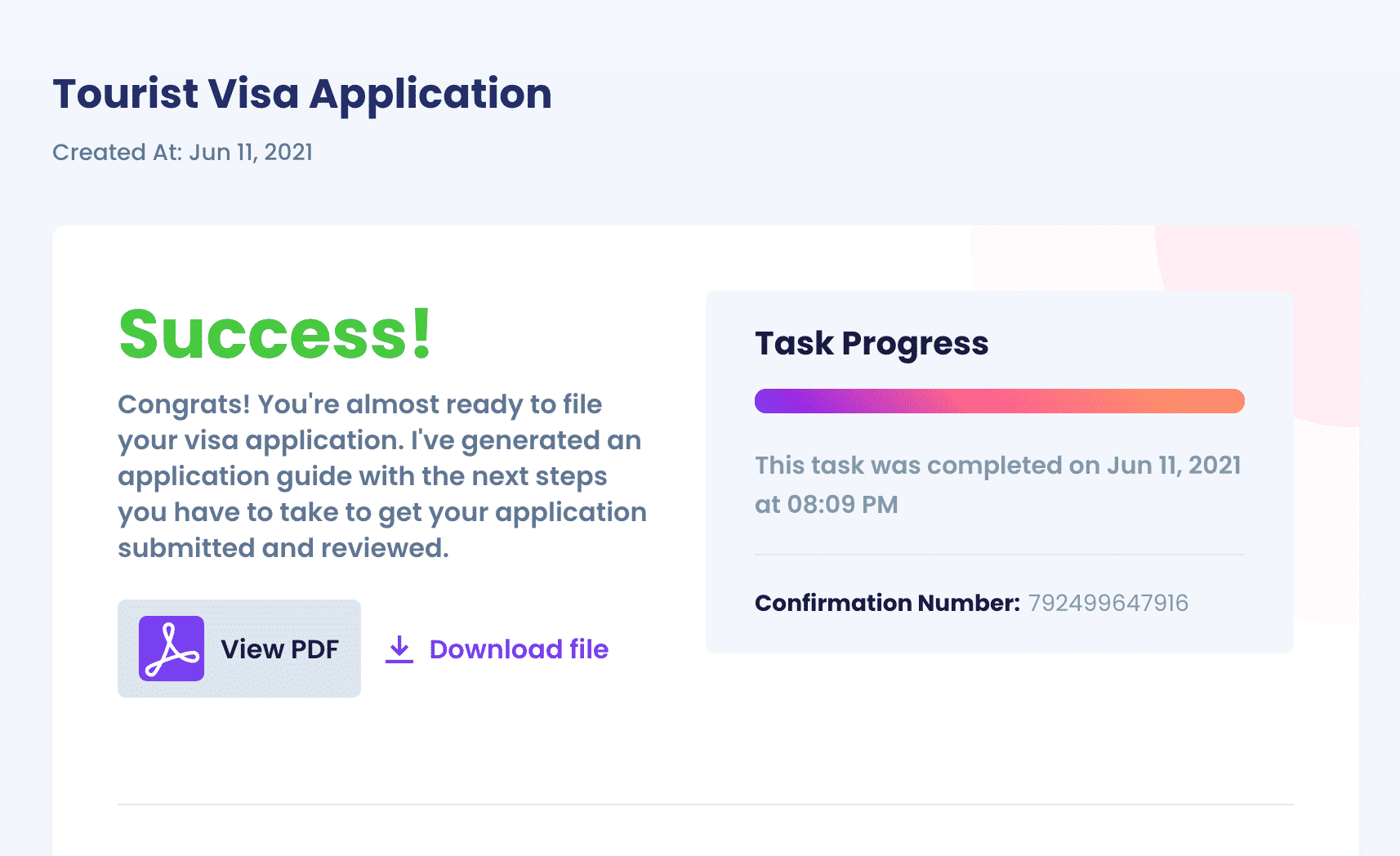 Get Other European Visas the Easy Way With Our Help
Don't miss out on other European countries—learn how to apply for tourist visas in:
DoNotPay Is the Best Solution for Your Bureaucratic Problems!
A wide range of handy features DoNotPay offers can assist you in resolving administrative issues without breaking a sweat! Our app provides the easiest way to:
Get What You're Owed in a Few Taps!
Shopping is fun, but retailing companies can sometimes be difficult to negotiate with, especially when things go wrong. With DoNotPay, you can reach their customer service without spending hours on hold and get a refund fuss-free! Should the merchant refuse to collaborate, we can help you get justice by suing them in small claims court.
Our app can also file an insurance or warranty claim in your name, request gift card cash back, or initiate returns for dissatisfying products.
If you want to check whether you have any unclaimed money in old bank accounts, using DoNotPay is the easiest way to do it!