Everything You Need To Know About Filing Grange Insurance Claims Fast
Grange Insurance is an insurance company that provides life, home, auto, and business protection. The company is located in Columbus, Ohio, and it provides protection for 13 states.
If you have been in a car accident or want to file an insurance claim for any other reason, we can help you avoid the unnecessary administrative process. DoNotPay can take you through a smooth five-step procedure of writing and sending insurance claim letters.
With DoNotPay, Filing Claims Will Never Be Difficult Again
Having an insurance policy is supposed to protect you from any unfortunate occurrence, but the reality is a bit different. Insurance companies tend to make filing insurance claims so complicated that it deters many people from the idea.
DoNotPay decided to step in and make filing insurance claims as easy as possible. We created a special feature that you can use to complete the process within five minutes. Our chatbot will ask you a few questions to make sure that you don't forget to include any vital information.
If you miss something in creating a claim letter, the company might refuse your claim. This is why DoNotPay is the best option for filing claims—you will not miss anything.
After you open our platform in any , we will help you file a claim for three types of insurance: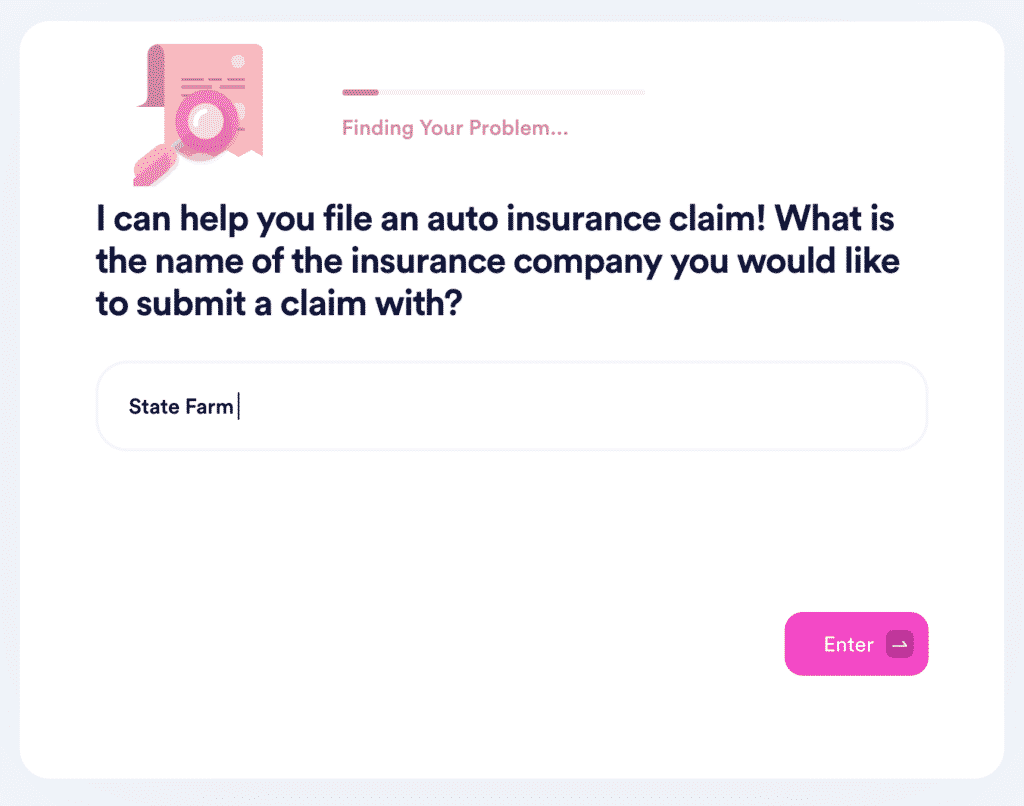 If your property is damaged due to natural causes such as a hurricane, hail storm, or flood, you can file a claim using DoNotPay. We also enable our clients to file unemployment insurance claims via our platform.
How To File a Grange Insurance Claim Using DoNotPay
A simple guide of only four simple steps will take you through this process smoothly. To file a Grange insurance claim via DoNotPay, open our app in your and:
Type in the keyword into DoNotPay's search field—

Grange Insurance Claim

Provide your general information like a full name, policy number, etc

Tell our chatbot the reason for filing the claim and details about the incident

Submit the claim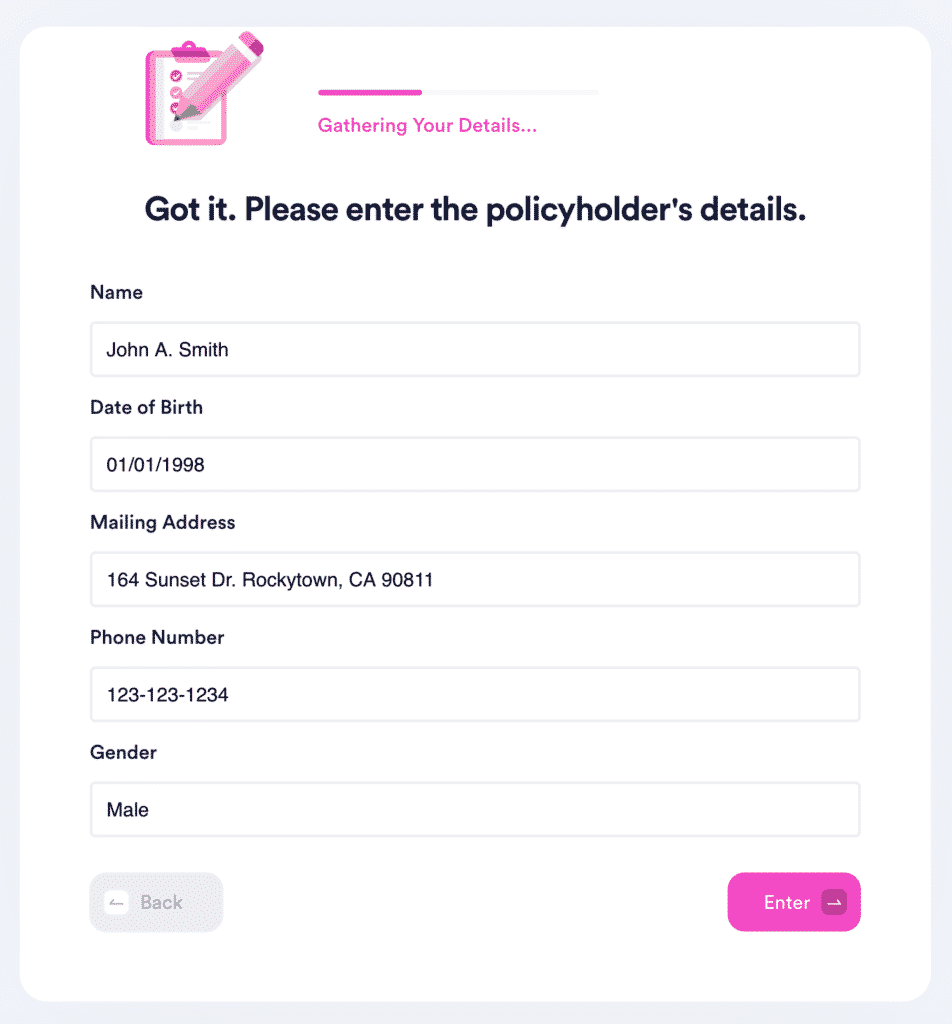 After completing these steps, DoNotPay will send your request to Grange, and the company will reach out to you directly regarding your claim.
How To File Grange Insurance Claim on Your Own
You can file your Grange insurance claim in two ways:
Via online account

Over the phone
How To File a Grange Insurance Claim via Your Online Account
Visit the MyGrange Account Login page and follow the instructions below to file your insurance claim:
Log in to your account

Select the type of insurance claim you want to file

Provide your personal information and policy number

Submit your claim

Wait for the company to contact you
Steps to Filing Insurance Claim With Grange Over the Phone
To file your Grange insurance claim over the phone, follow these steps:
Call the Loss Reporting Center at

800-445-3030

Tell the claims representative that you want to file an insurance claim

Give them your contact details and policy number

Explain the incident and why you're filing a claim

Follow their further instructions
What Happens After You File Your Insurance Claim
The process that will ensue after you file your insurance claim will depend on the type of your claim. Find the details in the table below:
The Type of Insurance Claim
How Will the Process Go

Life

You'll need to obtain a death certificate

The beneficiary will fill out Grange's official Life claim form

The company will determine whether the beneficiary of the policy is a minor and mentally competent

A legal guardian will need to sign the Life claim form for a minor or mentally incompetent person

Auto

The company will call you to gather details about the loss and accident

They will instruct you to choose a repair shop if your car can be repaired

Grange will collect all available information to determine the Actual Cash Value (ACV) of your car if it's totaled

A claim representative will send generated claim forms to you

Grange will call to propose a settlement after determining ACV

Homeowner

Grange will contact you within eight hours after you file your claim

The company will go over the details of your policy

They will ask about the damage

You will be assigned an adjuster

The adjuster will inspect the damage and give an assessment of how much the company should pay you

Commercial

The company will contact you as soon as you file the claim

A claim representative will explain your rights according to your policy

They will schedule an appointment during which an adjuster will assess the damage

The adjuster will give an approximation of the payment
DoNotPay Can Help You Appeal a Denied Insurance Claim
The number of rejected claims is quite high, which is probably why people avoid filing them. Don't be discouraged by a denied claim because DoNotPay can help you appeal against any company's decision.
We will help you create an insurance appeal letter that will enhance your chances of claiming the money you're owed.
Report Companies or Individuals That Won't Give You a Break
DoNotPay also makes it easy for you to report and earn off persistent robocalls, email spam, spam text messages, and stalkers and harassers.
Once you sign up for our handy app, you won't have to deal with any of these. We'll even make it easy for you to schedule a DMV appointment or jump the phone queue when getting in touch with any company's customer service!
Want To Avoid Tiresome Admin Processes? DoNotPay Will Handle Them
Applying for a clinical trial, free trial, copyright of your work, or any service without phone number verification is a time-consuming task many people want to avoid. Fortunately, such processes are DoNotPay's specialty.
If you feel like a company or individual has wronged you, you can sue them in small claims court. DoNotPay will handle the paperwork, and all you need to do is show up in court and win the case!
With our robot lawyer's help, you will also be able to deal with various credit card issues, deal with high bills you cannot pay, and appeal speeding, parking, and traffic tickets in no time.