Grandparent Power of Attorney Explained in Detail
It's not uncommon for grandparents to raise and take care of their grandchildren if the parents are incapable or not around. For grandparents to take full-time care of the children, parents or legal custodians need to grant them legal authority, which a power of attorney (POA) can provide.
In this article, you can find all the necessary information about a grandparent power of attorney.
Do you need a power of attorney document? Sign up for DoNotPay, and we'll draft it for you hastily!
Power of Attorney in a Nutshell
A power of attorney is a legal document used to transfer rights and responsibilities between two parties:
Principal
Agent or attorney-in-fact
With a POA, the principal grants the agent legal authority to act, make important decisions, and sign legal documents in their stead.
Depending on the powers they want to grant, the principal can choose among several power of attorney types:
What Is a Power of Attorney for Grandparents?
If the parents are alive and can be located, they can write a power of attorney letter and give the grandparents legal authority to take full care of the child.
Grandparents can become power of attorney agents if the parent is:
Seriously ill
Incarcerated or about to be incarcerated
Temporarily unable to provide parental guidance or financial support
Homeless or without a residence since the current one is uninhabitable
Enrolled in a substance abuse treatment program
In the following table, you can check out which powers the grandparent POA grants:
A Grandparent POA Gives the Right To:
A Grandparent POA Doesn't Give the Right To:

Consent to dental, medical, and psychological treatment of the child
Agree to any school-related matter, such as trips, after-school activities, and similar
Obtain educational and behavioral information about the child
Enroll the child in school

Consent to child's marriage or adoption
Obtain legal custody of the child
Affect the parents' future rights, decisions, and responsibilities of the child
All About the Grandparent Power of Attorney Ohio Law
Grandparents' rights are not the same everywhere. Some states took better care when regulating the legal authority people can obtain over their grandchildren, and Ohio is one of them.
In 2004, Ohio law was changed to provide grandparents two possibilities to gain care, control, and physical custody over children. The revised law enables grandparents to execute a:
Power of attorney (with parents' consent)
Caretaker authorization affidavit (if parents cannot be located)
Grandparent Power of Attorney in Ohio—Requirements
The grandparent POA can be filed only if it meets all of the following requirements:
The grandparent(s) residence is in Ohio
The child is under the age of 18
There are no ongoing legal procedures involving the child
The POA form is:

Legible
Identical in content to the form prescribed by the Revised Code of Ohio

The POA:

Needs to be signed by at least one of the child's parents
Contains the address of each parent who signed the document
Includes the name, address, and county of the grandparent(s) residence
Contains the child's name and date of birth
Is properly notarized (dated and signed), sealed, and stamped by a notary public in Ohio
Was signed and notarized within the past five days
Is accompanied by a completed affidavit
When Does the Grandparent Power of Attorney End?
A power of attorney for grandparents terminates whichever of the following occurs first:
POA gets terminated by court order
Child ceases to live with the grandparent
Parent revokes the POA
Child who is the subject of the POA dies
Grandparent dies
You Can Count on DoNotPay To Draft a Rock-Solid Grandparent Power of Attorney
Once you and the child's parent(s) agree to execute a grandparent power of attorney, the next step is writing one. You can do so in a few ways, but one stands out—DoNotPay!
With the world's first robot lawyer, you don't have to pay an arm and a leg or worry if an online template will cover the specifics. We offer a simple and budget-friendly quick fix—the Power of Attorney product!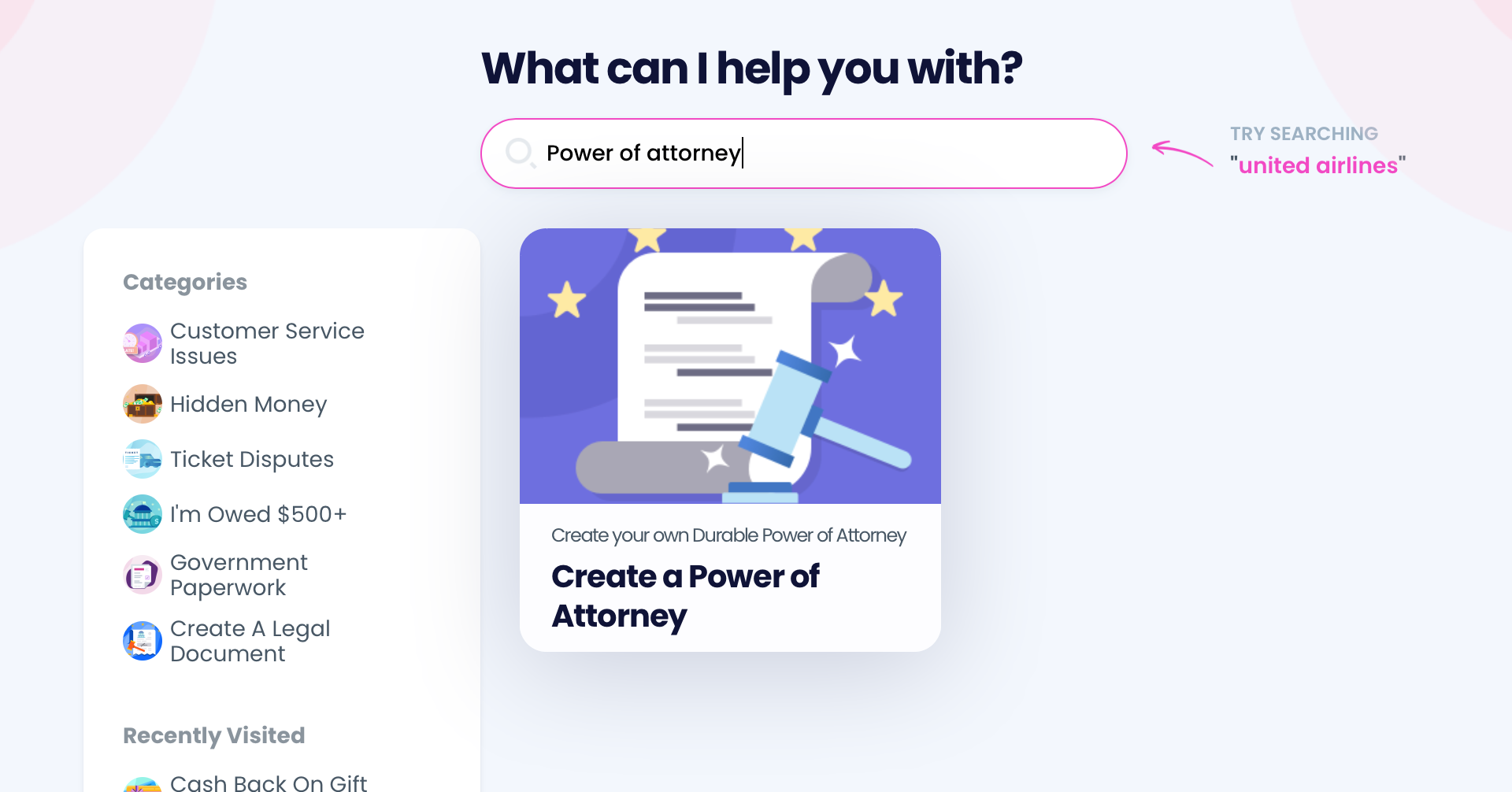 All you need to do is follow these steps:
Locate the Power of Attorney feature
Provide more information by answering our chatbot's questions
DoNotPay will instantly generate a power of attorney document for you. Besides the POA letter, you will receive two notices—one for the principal and the other one for the attorney-in-fact.
POA documents often need to be notarized, and with our help, you can do it with zero hassle! Let us know if you need a notary for your power of attorney document, and we will help you set up a meeting in the blink of an eye.
DoNotPay Answers All Your Questions About Powers of Attorney
A power of attorney is a substantial legal document, so it's no wonder you have some questions regarding it. DoNotPay has answers to many of the POA-related questions, such as:
DoNotPay Covers All the Bases
From getting you ready for various government tests to helping you reduce your property taxes, DoNotPay offers valuable assistance with the tasks that make most people at least roll their eyes. Dealing with bureaucracy isn't fun, but it also doesn't have to be as difficult as it is.
Every product in DoNotPay's portfolio is designed to efficiently deal with a specific issue within a few minutes and without sacrificing your comfort. Take a look at the tasks our app can make much more simple:
A Little More Money Never Hurt Anybody
Hardly anyone would turn down a chance to earn some more cash. That's why DoNotPay not only protects your rights and interests but also offers great opportunities to improve your financial situation.
With our help, you can find paid clinical trials, locate your missing money in any state, get your cash back from used gift cards, or enter various raffles and win great prizes.