A Guide to Grand Jury Duty in Massachusetts
Got summoned for grand jury duty in Massachusetts? Are you wondering what this entails? You've come to the right place! This article will help you prepare by outlining:
What a grand jury is
How jury duty works in Massachusetts
We will also show you how to to notify your superior about your jury duty.
Overview of the Grand Jury Duty in Massachusetts
Unlike petit jurors, grand jurors don't decide whether a defendant is innocent or guilty. Grand jury proceedings are conducted in private so jurors can evaluate whether the evidence presented by the prosecutor is enough to charge someone.
Grand jurors are randomly chosen from a pool of eligible citizens to ensure a fair representation of the judicial district. Every year, the Office of the Jury Commissioner (OJC) updates the jury pool with names of the citizens who fulfill the following criteria:
Citizens of the United States
18 years of age or older
Able to comprehend and communicate in English
Permanent residents of Massachusetts or live there at least 50% of the year
Grand jury duty is mandatory, and you mustn't skip it without a good reason, or you risk facing legal repercussions.
What Are the Exemptions From Grand Jury Duty?
There are some excuses that may allow you to skip serving as a grand juror, such as:
| Situation | Overview |
| --- | --- |
| Guardian of a child or an adult | You can be excused from duty if you provide a doctor's note stating that the person under your care would be in great danger if you left them alone |
| Criminal charge | If you have been convicted of a felony within the last seven years, are currently charged with one, or are serving a sentence, you can be excused from serving on a grand jury |
| Old age | As a senior citizen (70 years old or older), you can request permanent excusal from jury duty for any reason as long as the OJC is notified |
| Mental or physical disability | An automatic exemption is granted as long as you submit a doctor's report documenting your condition |
| Prior or other jury duty service | If you have served as a grand or a petit juror in state or federal court in the last three years or are scheduled for one, you can skip your grand jury duty |
| Moving out of the district or the state | If you moved out of the state and you don't plan on moving back in the upcoming year, you must provide your new address to be excused from serving in Massachusetts |
Do You Need To Go Through a Selection Process?
Yes, summoned candidates need to go through an examination process to prove their impartiality. Attorneys in charge of the case will question the candidates about their backgrounds, relationships to the case, prejudices, and beliefs.
What Happens After You Get Selected?
You will be called to serve for at least three months, although some proceedings may take up to one year (or three years if it's a federal case). In Massachusetts, most grand jury meetings are held in January, April, July, or October.
How Much Is the Grand Jury Duty Pay?
Massachusetts requires employers to pay employees serving on a jury for the first three days of service. From the fourth day onwards, the court will pay $50 per day. If unemployed, the court will give the compensation starting from day one.
In the federal court, the compensation is:
$50 a day for the first 45 days
$60 for every day thereafter
Let DoNotPay Draft a Jury Duty Leave Request Letter for You
While Massachusetts prohibits employers from firing employees who serve on a jury, you still need to notify your boss of your summons. Not sure how? Our app can help you if you complete these steps:
Find the Request Jury Duty Leave product
Answer our chatbot's questions
Upload the photo of your summons and submit the form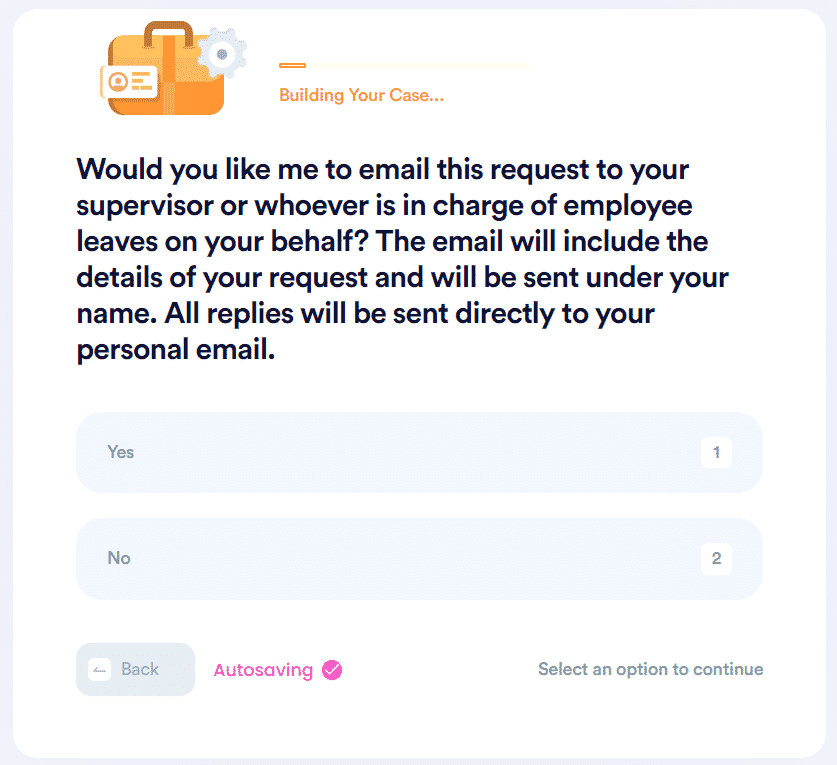 Make Your Money Troubles Go Away
If you want to join free trials and not worry about automatic renewals, our app is what you need. With DoNotPay's virtual credit card, you'll be able to avoid charges and keep your personal details to yourself.
We can also help you get a refund or request a cancellation.
Getting your money back is our field of expertise—Use DoNotPay to:
No Task Is Too Difficult for DoNotPay
Signing up for our app brings you an AI-powered assistant. Check out the benefits of having a DoNotPay account in the table below: