The Easiest Way to Track and Pay Your Good to Go Bills Online
How many times have you felt that the process took too long to go through, or maybe it didn't go through at all? Well, you're not alone. Many Washington residents have complained of having an incredibly hard time paying for their Good to Go tolls. It's been nothing but chaotic.
Worse still, some Good to Go pay ahead passes are simply too expensive to afford. Passes cost between $5 and $15, and for the average American who's just recovering from a devastating pandemic, that's a tad bit too much. Besides, Washington is awash with multiple toll roads, bridges, and tunnels, which means you'll have to dig deeper into your pocket every time you cross these points.
So is there a way you can lower your Good to Go bill and prevent it from making a huge dent to your monthly finances? Let's explore some options below and check what can be done.
How Do I Pay My Recurring Good to Go Bills?
There are three ways to go if you want to pay your Go to Go toll bills:
Via a Good to Go account
Via mail
Via phone
Let's look at each one of these in detail:
Paying via a Good to Go account
This is by far the cheapest and most convenient way to pay for tolls in Washington. Plus, it gives you the convenience of automatic payments. To create a Good to Go account, simply visit the website or get in touch with their customer service team at 1-866-936-8246.
Paying via mail
Amidst the hustle and bustle of the city, you might find yourself driving on a toll road without a Good to Go account. Perhaps you were running late for an interview and forgot to check in to your Good to Go account, or maybe you thought you had a pass somewhere in your car only to find out you didn't. Either way, paying tolls via mail is a bit of an inconvenience. Besides, Good to Go pay by mail rate is $2 higher.

Upon reaching a toll checkpoint without a pass, the authorities will take a picture of your license plate and mail a bill to the address on your vehicle registration with the Department of Licensing. From there, you'll get your bill emailed to you within 24 hours.

Paying via phone
You can also pay for your toll bill directly by reaching Good to Go's customer service team at 1-866-936-8246. Upon getting in touch, you'll be required to provide your vehicle's information as well as payment information—a valid credit card, debit card, or checking amount information (bank account info and routing number). The owed fee will then be deducted from your account.
Ultimately, none of these methods are as smooth as they seem. For one, signing up for a Good to Go account involves at least six intensive steps. One wrong input and you're back to zero. The password requirements themselves are mind-boggling and time-intensive.
Two, you'll be charged $2 more every time you pay your toll bill via mail. Once everything adds up, the initial monthly toll fee you signed up for may seem like the stuff of dreams.
Lastly, paying via phone can be tedious and frustrating at times, especially if there's no one on the end of the line.
What Happens if You Fail to Pay Your Good to Go Toll Bill?
The main issue with not paying your tolls bills is that your vehicle registration can be withheld. This is a particularly nasty outcome that involves costly penalties and extensive paperwork. You should try to avoid this situation as much as you can.
Good to Go will not resort to this option right away, though. They are obliged to follow a protocol which involves:
Applying a $5 late fee for every unpaid toll bill (issued if a bill is not paid in full by the due date)
Applying a $40 civil penalty for each unpaid toll trip (issued tolls are still unpaid 80 days after you traveled)
If you don't receive any of these fines, the company is not allowed to withhold your vehicle registration.
The bad news is that they will not release your vehicle registration until you clear the outstanding debt, or at least a portion of it.
How Do You Solve Your Good to Go Bill Problems?
The best advice you can follow when it comes to paying your Good to Go toll bills in Washington is to try to solve the problem directly with the company. The provider may be after your money, but they still want you as their customer. That is why they'll be reasonable in figuring out a solution with you.
Make sure you do the following:
Stay in constant contact with the provider
Try to negotiate your bill
Stay in Touch With Good to Go Throughout
No matter how late you are with payment, you must never break communication with Good to Go customer service reps. Don't ignore their calls nor their emails. Be upfront from the start, and let them know that you're working towards clearing your debt.
Negotiate With the Provider
This may come as a surprise, but the truth is that toll bills are negotiable. If push comes to shove and you're truly unable to clear your debt, reach out to Good to Go representatives and negotiate accordingly.
The good news is that Good to Go offers a one-time waiver for all unpaid late fees and penalties. However, for you to qualify for this program, you must have paid all of the original tolls at the time of the request.
When arguing your case, maintain a polite and friendly aura. If the customer service reps sense that you're being rude, they might deny you the aforementioned waiver altogether. Kindness may open many doors, so stay nice and lower your tone.
In some instances, you might not have any money to offset the original tolls, which means you can't qualify for the penalty forgiveness program. If that's the case, ask Good to Go to break your debt into manageable installments. Alternatively, request a discount for high toll bills.
How Can DoNotPay Help With Good to Go Toll Bills?
If you want to set up recurring check payments but don't know where to start, DoNotPay has you covered in 6 easy steps:
1. Go to the Bill Pay product on DoNotPay.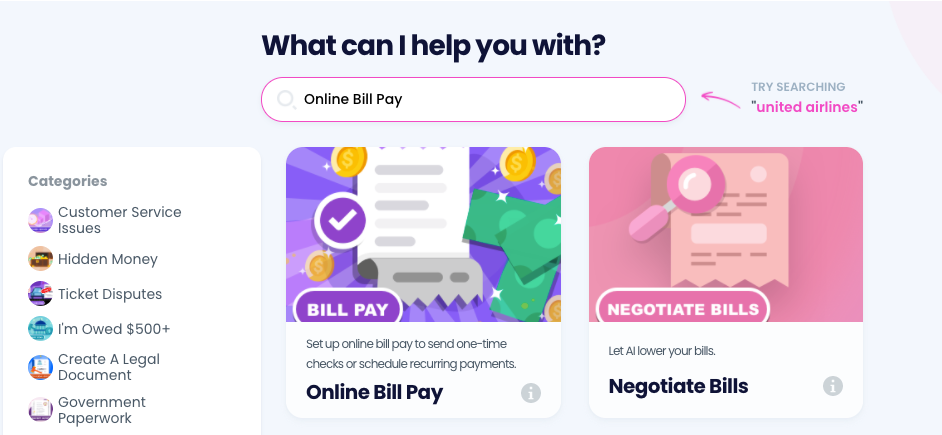 2. Connect a bank account if you haven't already.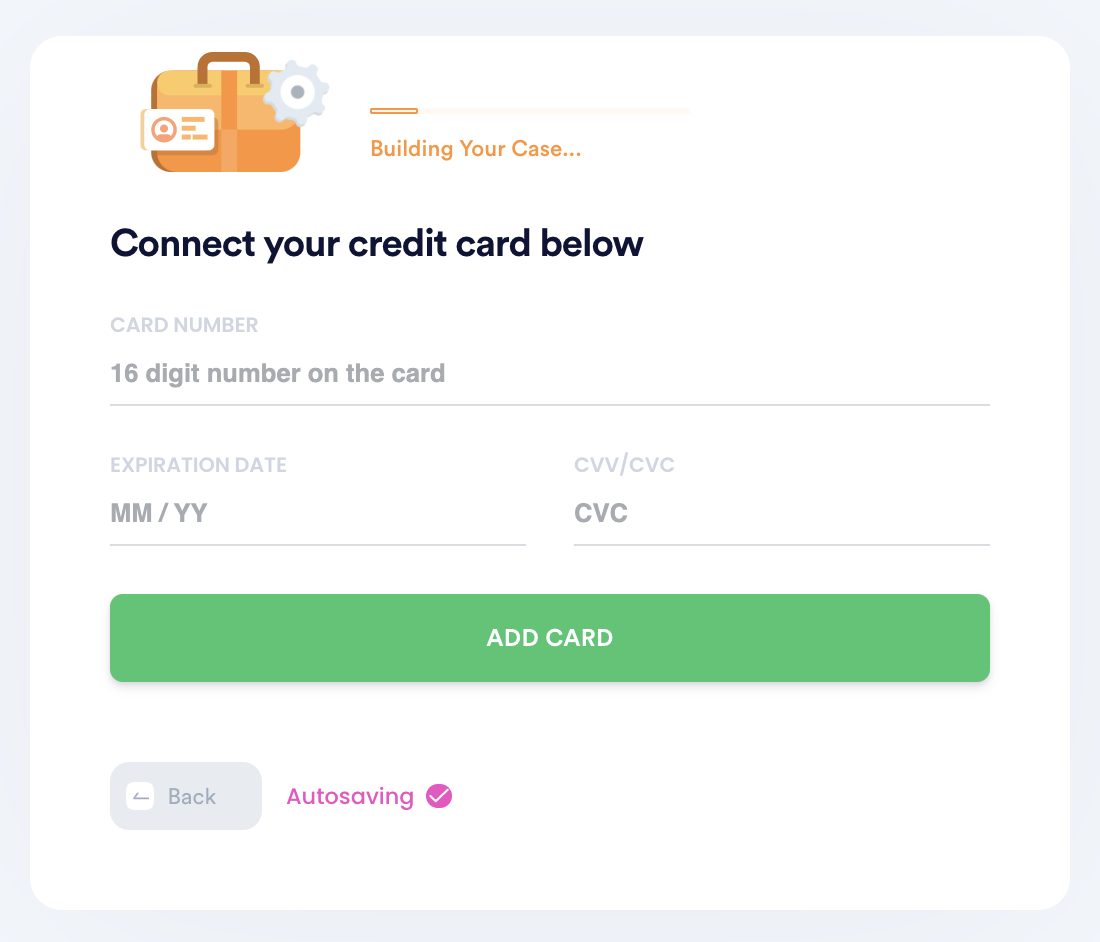 3. Schedule recurring or one-time payments by entering the person you want to address the check to, the payment amount, and their mailing address.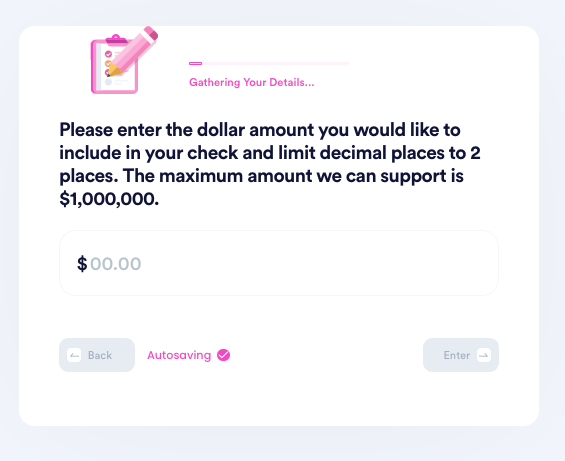 4. Customize the payment with a PDF attachment, image, and memo.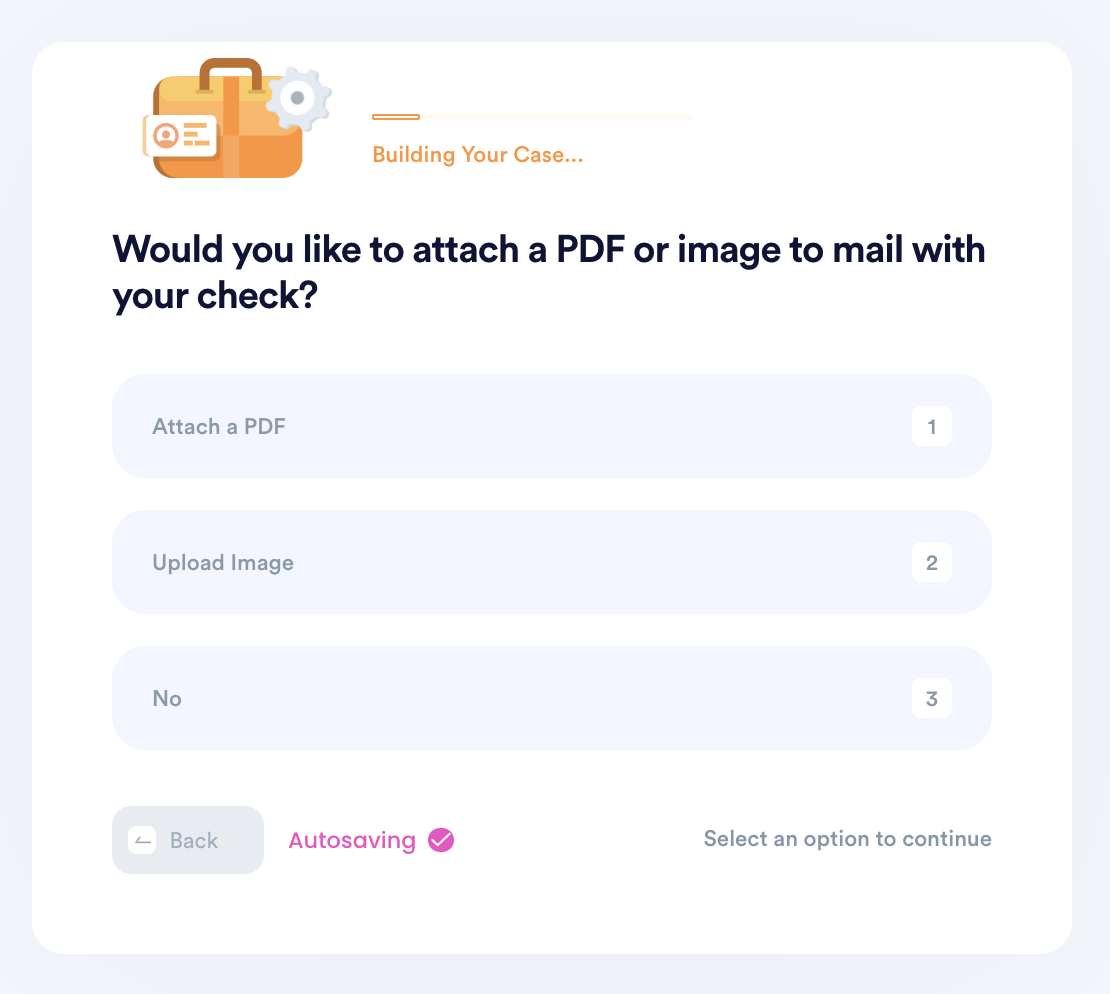 5. Enter your contact information, including email, address, and phone number.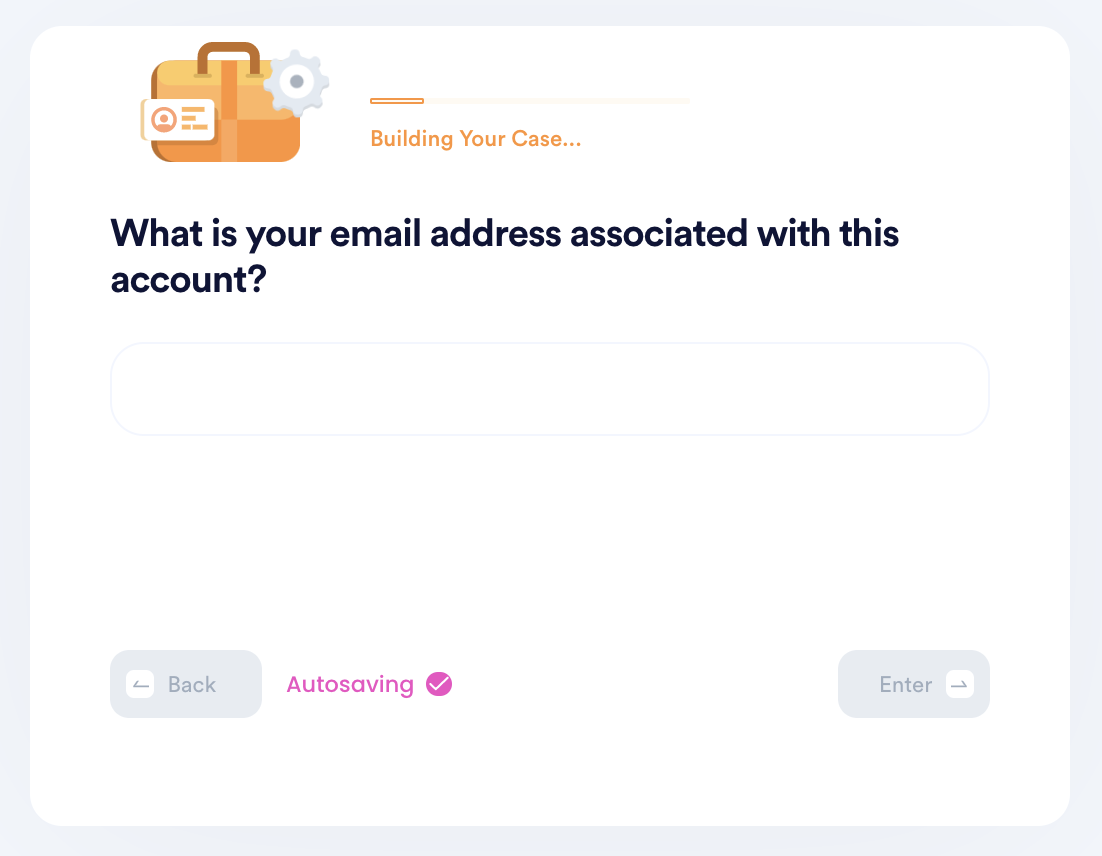 6. Submit your task! DoNotPay will mail the check on your behalf, and make sure it gets sent each recurring period if you set up recurring payments. You can always return to the product to delete or add new payments.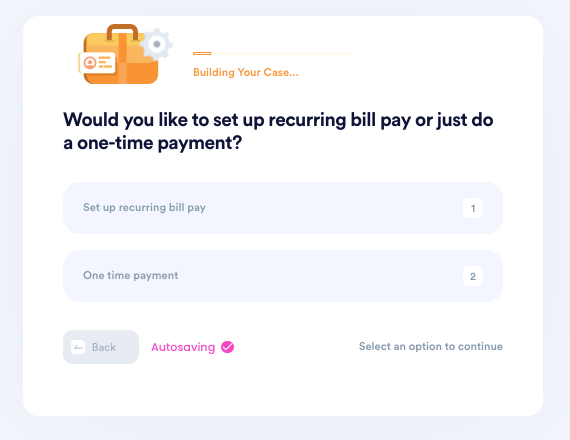 What if I Need More Help With Paying My Good to Go Bill?
Dealing with toll bills, however little, involves a lot of formal communication and lengthy paperwork. As such, most people get lost in the red tape. DoNotPay is a free app that helps people all over the U.S., including Washington State, to navigate the bureaucratic maze. Being the world's first robot lawyer, our goal is to assist Americans in dealing with appeals, fines, tickets, waiver letters, and other nightmares.
If you have an issue with your Good to Go toll bill, ask DoNotPay for assistance. The procedure is pretty straightforward and hassle-free:
Log into DoNotPay through your
Choose Corona Relief from the Menu by clicking on "Get Protected"
Tell us what you need help with (in this case, select Other bills)
Choose between extending your payment due date or waiving your late fee
Answer a few questions as directed by our chatbot
To be able to help you more effectively, our chatbot will ask you for the following information:
The reason why you're currently unable to pay your toll bill
Once it has all the necessary information, DoNotPay will quickly assess the gathered details and come up with an optimal solution to your request. Talk about convenience!
What Else Can DoNotPay Do to Make Your Life Easier?
DoNotPay is designed to remove the cobwebs and time-sucks out of administrative tasks. There's no need to spend days on end trying to resolve your Pay By Plate (MA) bill issues or Washington Gas payment bottlenecks. Let our robot lawyer handle that for you—in less than five minutes.
Many people give up on what they truly deserve because of the bureaucratic red tape. DoNotPay can handle that for you so you can focus on more important things. Reach out if you need us to:
Request a National Fuel bill cancellation on your behalf
Sort out your Dominion Energy bill problems