An A to Z Guide on the Good Faith Agreement
When signing an agreement, the primary concern of all the parties involved is to safeguard their rights and prevent fraud. They want to ensure that the other signer will act openly and honestly. One of the best ways to achieve this is to include a good faith agreement clause in the contract.
If you aren't sure how to do it, we have got your back! Our tips will help you understand the concept of good faith and highlight the possible ways to create it. We will also teach you how to draft other contracts and other legal documents in the blink of an eye with DoNotPay!
The Good Faith Clause in a Few Words
A good faith clause is a specific section in a contract that obliges the parties to perform the agreed-upon tasks with honesty and maintain a fair collaboration with each other. The rules vary from state to state, but in most cases, this clause should be a mandatory part of every agreement. The signers can also draft good faith as a separate contract if necessary.
The main purpose of this contract section is to ensure that none of the parties do anything to violate each others' rights or prevent each other from taking advantage of the deserved benefits. 
The clause refers to the specific regulations the parties have already negotiated. If any signer fails to comply with these rules or acts in bad faith, they can bear serious consequences, such as financial penalties.
How Does Adding a Good Faith Clause to a Contract Affect Your Business?
Signing a good faith agreement or adding a good faith clause to your contract brings a significant level of protection for the signers as it:
Doesn't allow the parties to mislead or deceive each other

Prohibits the signers from providing wrong information to each other on purpose

Prevents both signing entities to negate the rules and the purpose of the agreement
It's important to note that the clause can affect a project or a business negatively if the parties violate the rule it imposes. Fines and other penalties may reduce the budget for the project and make the performance more difficult.
Methods of Creating a Good Faith Clause
The following table shows the three most popular options for creating a good faith contract or clause:
Method

Details

Writing a contract/clause by yourself 

Composing a legal document on your own is free and gives you a chance to add any specifics you want to the contract. Even though it may look simple, performing this task can be tricky since it requires a specific level of legal expertise and solid writing skills 

Using professional services

Hiring a lawyer is the safest option for the ones who don't feel they can compose an agreement themselves. Professionals are proficient in drafting such documents, and they keep up with the latest updates of the law. The drawback is that their services are usually too expensive—the cost of a single contract draft may exceed your monthly salary

Filling out online

contract templates

Online samples and templates are usually free or quite affordable. You can access plenty of them by searching on Google. Note that the templates you find online may lack project-specific clauses or not comply with your state's laws
How To Draw Up a Flawless Contract in a Snap Using DoNotPay 
A good faith clause might be simple to compose, but you may not be that lucky with other agreements and legal documents. If you make a mistake or refer to an outdated law, your document may remain invalid, and all your efforts could go in vain. 
If you believe that the only remaining option is to hire a pricey lawyer, we are happy to inform you that you are wrong! DoNotPay has developed a product that enables you to get a personalized contract based on your state laws in a matter of minutes.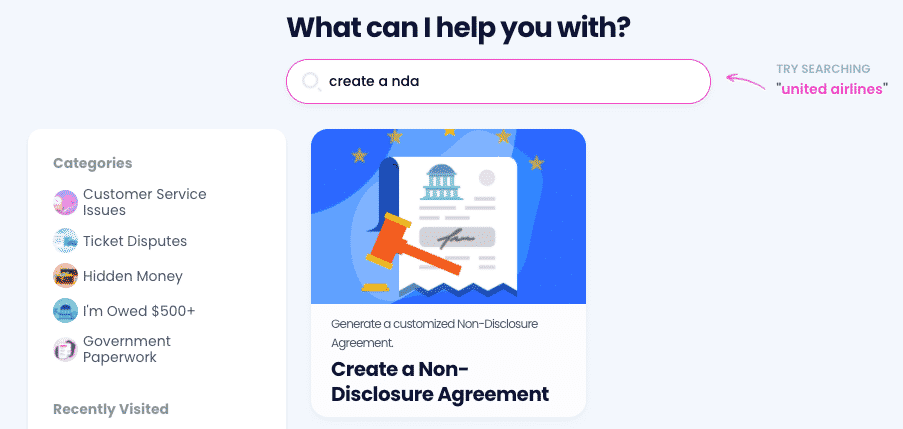 The procedure is simple, and it consists of the following steps:
Create an account on DoNotPay

and log in

Look for the document you want to create by entering the keywords in the search field

Respond to a few questions of our chatbot
The result is a complete and comprehensible document you can make valid by signing and having it notarized if necessary.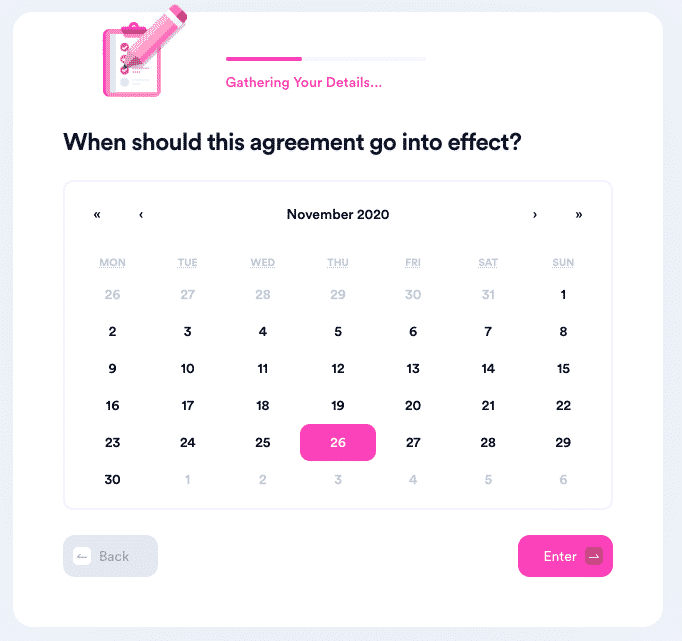 What Documents Can You Generate With DoNotPay?
Here are some of the standardized legal documents DoNotPay offers:
General Affidavit

Intent To Purchase Real Estate

General Business Contract

Quitclaim Deed

Promissory Note

Child Care Authorization Form
DoNotPay Lets You Have Any Document Notarized With No Sweat 
If your agreement needs a notary's signature to become enforceable, you can have it notarized remotely with DoNotPay. The biggest advantage of our Notarize Any Document feature is that it enables you to schedule a meeting with an online notary without having to postpone or cancel other obligations. Our system can connect you with the officials that operate 24 hours a day, and you can pick the date and time that fits your schedule best.
Here's how to book your appointment via DoNotPay:
Go to the

Notarize Any Document

feature

Pick the document you want to get notarized and upload it

Input your email address
You will receive a link that will take you to a notary's timetable—all you should do is check the time slot that works best for you.
Learn About DoNotPay's Awesome Products!
DoNotPay is a multifunctional app that can solve numerous everyday challenges swiftly. 
You can use our app to protect your work from copyright violations, schedule your driving exam or any other appointment with the DMV, reduce your property taxes in a few steps, and similar.
We have created many useful products to help our users take care of their issues through the same app. With us, you can:
DoNotPay Connects You With Your Loved Ones
Sending letters to inmates can be difficult since you have to follow certain rules to a T to avoid having your letter rejected. The situation is even more complicated if you don't know where your incarcerated loved one serves time. DoNotPay's app can help you locate prisoners and correspond with them without worrying whether you're breaking any rules. 
Do you want to send a letter, but you don't feel like heading over to a post office? By using our mailing service, you can mail as many letters as you want from the comfort of your home. With DoNotPay, you can also send online faxes in under five minutes!
Email and text spam is something that everyone experiences at least once in their lives. DoNotPay has a solution for that too. Access your DoNotPay account and count on us to help you block spam and get compensation by reporting pesky robocalls.