The Ins and Outs of Using a Gift of Equity in a Purchase Contract
Family relationships can sometimes be tricky, and you might be eager to steer clear of making business deals with your relatives. You shouldn't always follow that instinct, especially when it comes to real estate. After all, the word gift in the gift of equity is there for a reason!
In this article, you'll find everything there is to know about a gift of equity in a purchase contract. Besides learning about a myriad of contracts, you can use our help to draw up many of them—register for DoNotPay to get customized legal documents in a breeze!
Purchase Contract in a Nutshell
A purchase agreement—purchase contract or sale and purchase agreement—is a legal document that defines the terms, conditions, and requirements regarding the purchase of a property. It carefully outlines all steps of the purchase—from the down payment to the closing cost. When the signing parties are relatives, the contract has to include a gift of equity provision.
What Is a Gift of Equity?
When buying a real property from a family member, you are buying it for a price that is below its current market value. The difference between the property's actual sales price (what you are paying) and its market value is what's called a gift of equity.
Mortgage lenders typically allow using a gift of equity as a down payment. Not every property can be a subject of purchase with a gift of equity. A residence that a person is buying with a gift of equity can either be a primary residence or a second home.
How Does a Gift of Equity in a Purchase Agreement Work?
What is important to note regarding the gift of equity is that even if there's a significant difference in value, no physical money can change hands. The purpose of the gift is to create equity in residence for the buyer. Later, when the buyer is supposed to get a mortgage, they use the equity for the down payment instead of cash.
To understand how a gift of equity works, here are three aspects that you should keep in mind:
Appraisal—The sale and purchase agreement using a gift of equity can work only if the equity already exists. To check that, you need an appraisal of the property. For example, if the house is worth $250,000, and the seller owes $200,000 on the mortgage, they are left with $50,000 in equity. The seller decides how much of that equity they want to gift you (or another family member, for that matter). They can give you the entire equity of $50,000, which creates an excellent 20% down payment for the mortgage
Acceptable donor—An acceptable gift of equity donor can be the borrower's:

Child
Fiance
Spouse
Relative
Domestic partner
Other dependent
In other words, any individual who is related to the borrower by blood, adoption, marriage, or legal guardianship
Documentation—Even if the seller is your mother, there has to be proper documentation of the entire transaction because the lender will need to verify everything
Are There Any Requirements for Using a Gift of Equity?
To use a gift of equity in a purchase contract, you have to include a specific provision that states the following:
Relationship between the seller and buyer
Total amount of gift of equity
Seller's official paid appraisal completed on the house
Appraised value of the house
Difference between the appraised value and gift sale price of the property
The purchase contract also has to include a completed and signed gift of equity letter. Lenders decide on the specifics in the letter, but it should usually cover the following:
Contact information—full name, address, and phone number—of the donor
The dollar amount of the gifted equity
A statement explaining the relationship between the parties
A clause stating that repayment is not necessary
Gift of Equity—Pros and Cons
Even though it seems like the perfect solution moneywise, using a gift of equity also comes with some downsides. In the following table, you can see some benefits and downsides of a gift of equity for both parties:
Pros
Cons

Seller doesn't have to pay commission to real estate agents
Buyer has a down payment covered (sometimes in full)
House is sold faster
Buyer can avoid paying expensive mortgage insurance
Residence stays in the family

Seller has to pay the gift tax if the amount of the gifted equity is over $15,000
Buyer might end up paying the capital gain taxes that come from the reduced sale price
Sale/purchase might have a negative effect on the local real estate market
How To Create a Purchase Agreement
If writing contracts is not your strongest suit, you should leave it to professionals. While hiring a lawyer to draw up a purchase agreement for you is the safest option, it certainly isn't the cheapest. If you want to write a purchase agreement on a budget, you should consider using a contract template.
With a simple google search, you can find a myriad of templates online, many of which are free. The issue with contract templates is that they're too general. This is especially problematic if you have to include the gift of equity—with all the detailed information—in your purchase agreement.
Rely on DoNotPay To Create Tip Top Legal Documents
When you're creating other legal documents, you don't have to go through all the trouble of hiring lawyers and following templates. You can rely on the world's best robot lawyer to create a customized contract for you! Here's how DoNotPay's Standardized Legal Documents tool works:
Enter the name of the document you need
Provide more information by answering our questionnaire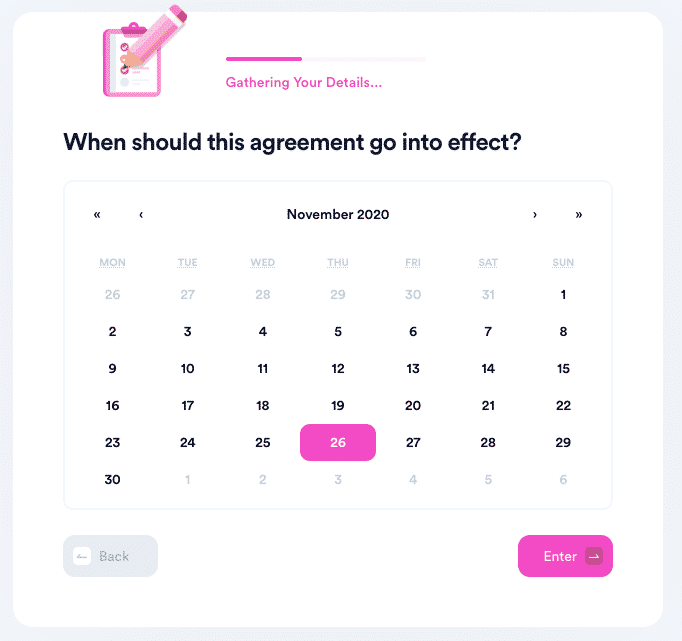 Once you get a personalized legal document, you should sign it, fax it to other signing parties, and get it notarized. You can use some of our other practical products for that!
Here's a still-expanding list of legal documents that DoNotPay can draw up for you:
Intent to purchase real estate
General business contract
Quitclaim deed
Promissory note
General affidavit
Child care authorization form
No Lawyer—No Problem! Rely on the World's First Robot Lawyer
When you're in a bind but you can't afford a lawyer, there is still something you can do—sign up for DoNotPay and let our award-winning app give you a hand. With our expertise, the following tasks will be a piece of cake:
Free Yourself From Boring Tasks With DoNotPay's Help
Our AI-driven app comes in handy for numerous bureaucratic or administrative chores that usually take up a lot of time. With DoNotPay's speedy service, even the most tiresome task will be complete in a flash!
You can forget all about waiting in line at the DMV and being on hold with customer service—we will get you to the finish line in a few clicks. Tired of the old snail mail? Use DoNotPay to mail letters fast. Better yet—fax your documents using our app. If your document requires a notary's signature, we can assist you in scheduling a virtual appointment.