Thanks but No, Thanks—How To Give a Gift Card Back and Get Cash Instead
We have all been there—receiving a gift card that doesn't float your boat as a present or getting stuck with so little credit on the card that you can't buy anything you want.
DoNotPay has the answer. Whether it's a used gift card, a card you got free and don't need, or an unwanted present, we bring you the best ways to give a gift card back for cash!
How Do Gift Cards Work?
Most gift cards are non-reloadable plastic or eGift cards that come pre-loaded with a monetary value.
Depending on the vendor the card comes from, the amount can be anything between $10 and $500.
Such gift cards can be swiped or presented as payment as many times as you want until the money on them is depleted.
If you have one of these cards and want to get cash for it, your first step is to find out how much money is still available.
How Do You Check Your Balance?
There are usually three ways to check the remaining balance on your gift card, as follows:
| | |
| --- | --- |
| Method | Explanation |
| Online | On the vendor's website, look for the gift card section, which should give you the option to check your balance by inputting your card number and PIN (if applicable) |
| By phone | Many vendors have a phone number dedicated to gift card balance inquiries |
| In store | You should be able to show your gift card to any cashier at one of the vendor's outlets to check your balance |
Once you have found out how much money is still on your gift card, you can choose the route you want to go to deplete your card.
How To Give Your Gift Card Back and Get Cash for Your Remaining Balance
If your card still has a considerable amount of money on it, you may want to spend it with the vendor. If not, you can get cash for your card using one of these services:
Mall Kiosk
If you are looking for instant cash for your gift card, many grocery stores have a kiosk that will make you a cash offer for your unwanted gift card.
Online Merchant
Several websites make money by buying and selling gift cards. Depending on the popularity and value of your card, you can provide your gift card and receive an offer that can be paid out by check, ACH, or via PayPal.
Gift Card Exchange Service
Gift card exchanges do not offer you cash, but rather offer you a swap of similar value for your gift card. The exchange may enable you to get a card that you want to use.
If you choose this way of getting cash for your gift card, you may find that the offer you receive is well below the actual value of your gift card.
Gift card merchants make money by buying for as low a price as possible and selling at face value or above. You will, therefore, only be able to get a maximum of 80–90% of your card's true value paid out.
What if Your Remaining Balance Is Only a Few Bucks?
If you have a gift card with $5 or less on it, you can take advantage of a way to get the full amount reimbursed by the vendor in cash.
In 11 states and Puerto Rico, there is a law—known as a gift card cash back policy—that forces vendors to pay gift card balances of $5 or less in cash. The exceptions to this amount are:
California—up to $10
Connecticut—$3 or less
Rhode Island and Vermont—$1 or less
This means you can go to any of the vendor's outlets in one of these states and give your nearly empty gift card back and get the remaining amount in cash.
While this is great news for some, the downsides are that you:
Have to be in one of the states with a cash back policy
Must get your money back by going to one of the vendor's outlets
May struggle to explain the law to a staff member who doesn't—or doesn't want to—understand
DoNotPay can save you all this hassle, though. Using our Cash Back on Gift Cards service, you can !
How Does Cash Back on Gift Cards With DoNotPay Work?

Yet again, DoNotPay has found a way to make your life easier and more lucrative.
All you need to do to use DoNotPay's Cash Back feature is:
in your web browser
Click on the Cash Back on Gift Cards product
Fill in the details of your gift card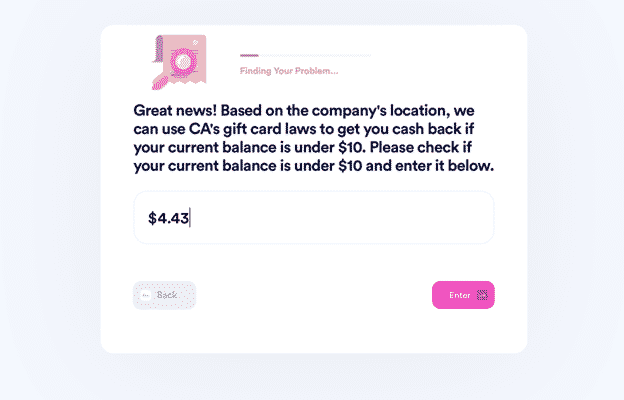 DoNotPay will automatically check whether you are in a state with a cash back policy. If you are, we will send your claim to your nearest vendor outlet. If not, we will look for the best vendor outlet in a cash back state and send your claim there. Either way, you should get your money within 14 days.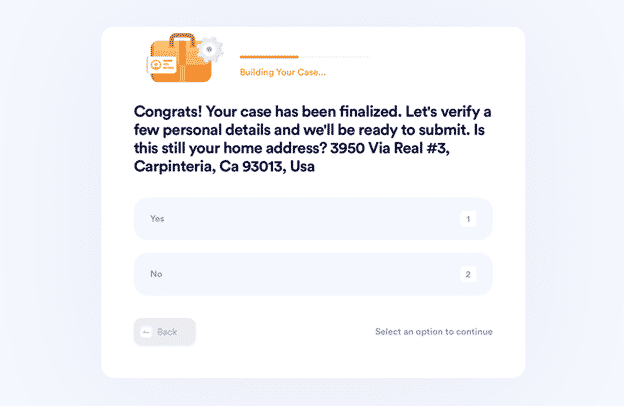 What Kind of Gift Cards Can DoNotPay Help You With?
The range of gift cards we can help you with is growing every week—here are a few examples of cards we deal with:
Money Troubles Got You Down? Use DoNotPay To Get What You're Owed!
If you need help paying bills, you could benefit from our hacks for saving and earning money.
Our app can help you get free trials with no hidden charges, thanks to DoNotPay's virtual credit card. If you want to get rid of a service, we can assist you in canceling it or requesting a refund. We'll get everything done so that you don't have to deal with customer service. In case a company is playing dirty, our award-winning app can help you take it to small claims court.
A slow bureaucratic process shouldn't stop you from getting your money back. This is where DoNotPay comes in! We provide the fastest way of:
Rely on DoNotPay To Manage Different Tasks and Issues
DoNotPay is a multifaceted app making your life easier in numerous ways. Here's how you can benefit from your DoNotPay account: