The Ins and Outs of Getting Divorced While Pregnant
Divorces are usually hard, but going through the process while pregnant adds a new level of difficulty. Knowing your state laws and which type of divorce to choose is crucial and can make the procedure easier.
That's why DoNotPay has prepared a guide explaining all about getting divorced while pregnant! Don't waste time or money, get a marital settlement agreement, and end your marriage the right way.
Can You Get a Divorce While Pregnant?
Whether you can get divorced while pregnant depends on the state you live in. In some states—for example in Texas—you can file for divorce, but the judge won't finalize it until the child is born and the following issues are resolved:
If you are determined to get divorced while pregnant, you can establish residency in a state that would allow you to do that, such as New Mexico, but you might have to live in it for six months before filing the divorce papers. Waiting until the baby is born is always an easier solution.
To find out more about divorce laws in your specific state, consult the table below:
Pregnant and Getting a Divorce? Here's What To Do
You should go over the crucial aspects of the divorce procedure with your spouse, and if you agree on everything, get an uncontested divorce. This predominantly amicable marriage termination is the best if you are expecting a child because:
It allows you to get divorced without going to court
The divorce will cost less because you won't have to hire a lawyer
You can create a parenting plan that will work for both you and your soon-to-be ex-spouse
Most couples keep a friendly relationship, which is crucial for the child
If you're not getting along with your spouse and can't reach a middle ground regarding your issues, opt for divorce mediation. The mediator will try to come up with solutions in joint or separate sessions and help you settle out of court.
Filing for an Uncontested Divorce While Pregnant
To file for an uncontested divorce while pregnant, you must complete the necessary documents and file them with the county clerk. All forms are available on the official government website or at the county house. You also need to pay the filing fee. If you can't afford it, request a fee waiver.
There's a predetermined waiting period before the divorce is granted, and it depends on the state of residence.
One of the crucial documents is the divorce settlement agreement because it outlines the terms of marriage termination. You can either spend big bucks on expensive lawyers to draw one up for you or try creating one yourself if you are familiar with the legal jargon and local laws. Another failsafe and affordable solution is to use DoNotPay and get the desired document in a few clicks.
Pregnant and Getting Divorced? DoNotPay Can Help You Out!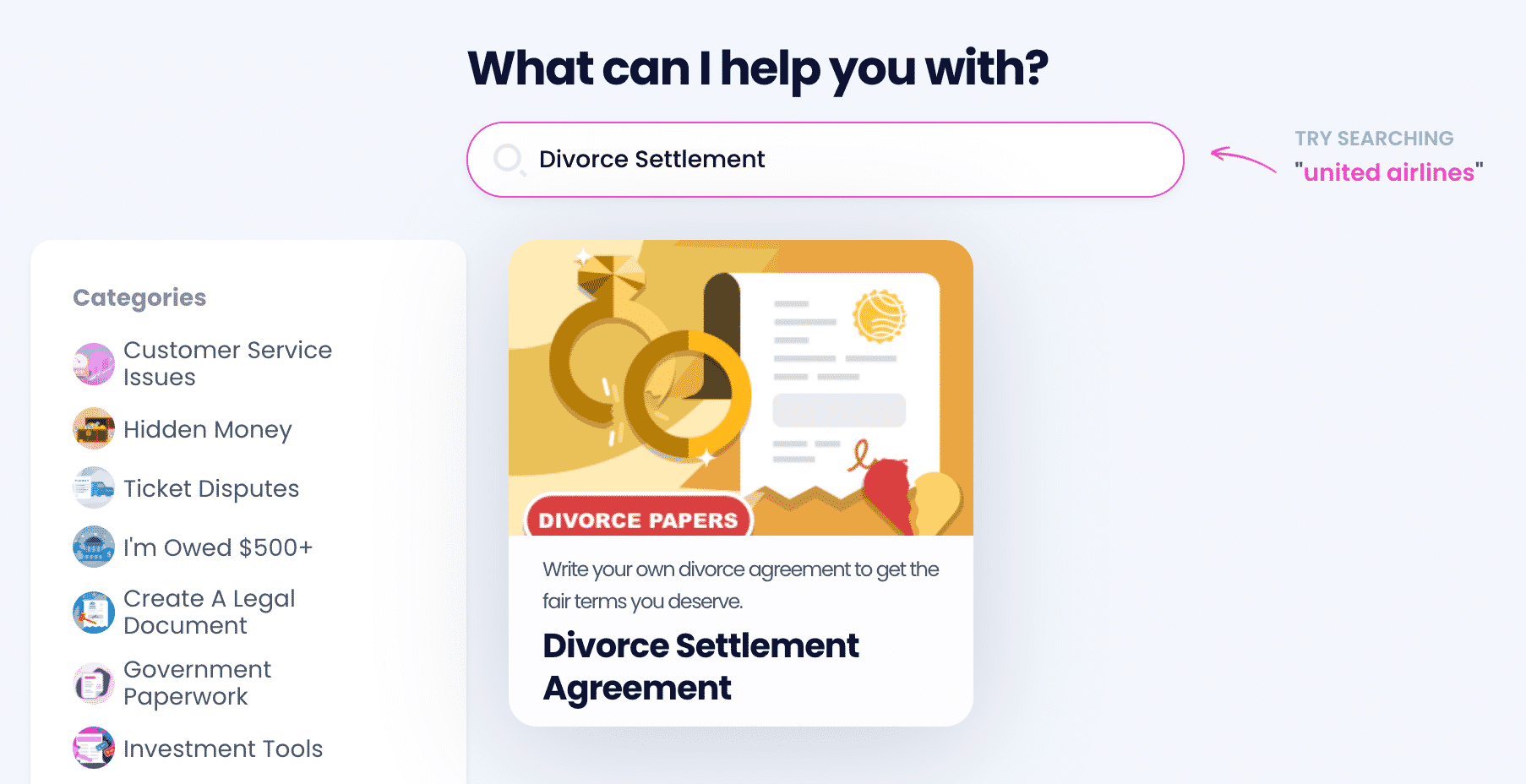 If you're pregnant and don't want to waste time writing a divorce settlement agreement yourself or spend a fortune on lawyers, use DoNotPay! You only need to follow a few easy steps:
Select our Divorce Settlement Agreement product
Answer our chatbot's simple questions
Choose whether you want to have your document notarized online
We will process your request instantly and send a tailor-made settlement agreement your way. Want to add legal weight to your document from the comfort of your home? Follow the link we send you via email and set up an appointment with an online notary! Keep in mind that DoNotPay can help you only if you're filing for an uncontested divorce.
Need Answers to Your Divorce-Related Questions? DoNotPay Has Them
Why stop there—our knowledge base can help you out with so much more! Check out DoNotPay's learning center and get the answers to frequently asked divorce-related questions, including:
We also have handy step-by-step guides, such as how to get divorced in your 40s or how to:
To Sue or Not To Sue?
Hiring a lawyer to help you sue a company can be helpful, but it can also cost you an arm and a leg. Luckily, you can avoid wasting hundreds of dollars and use our robot lawyer to sue any company in small claims court instead!
DoNotPay offers you a variety of other features you will find quite useful when dealing with bureaucratic issues. Check out the list below to see what else our app can help you with:
Shopping Without Dropping
Whoever said you should shop until you drop didn't have access to DoNotPay's various features. With our app, you can make your shopping experience smooth sailing and stress-free!
Here's a fragment of what you can accomplish by using our neat features: